The present quarantine lifestyle due to the COVID-19 pandemic has changed the shopping practices of consumers and many businesses are creating and strengthening their digital presence to reach their customers online. Amid these developments, Facebook has launched a new tool named "Facebook Shops" to make online shopping seamless.
Facebook Shop is set out to inspire people to shop and make buying and selling online easier with a 'social-first shopping experience. Let's have a look into how this Facebook Shops tool works and how it's going to affect different members in the Shopify ecosystem.
1. Facebook Shops: Helping Businesses Sell Online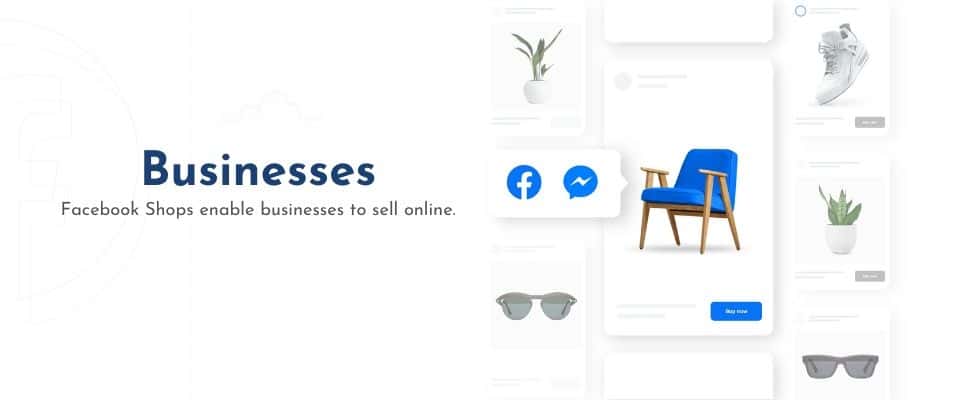 First, let's have an intro about Facebook Shops!
Facebook Shop is a mobile-first shopping experience where businesses can easily create an online store on Facebook for free and build their Facebook marketplace. If you have a business page on Facebook, you can add a Facebook Shop on your Facebook business page. You can use this Facebook Shop section to list your selling products and connect with more customers on Facebook.
While any businesses can create a Facebook shop for their business, It best serves eCommerce advertisers, merchants, and retailers. Especially it recommended for businesses selling clothing, accessories, baby & children's products and home furnishings items. But other businesses also use Facebook shops to reach more customers on Facebook. To have your Facebook Shop you must sell physical items and agree with Facebook Merchant Terms.
Key Features of Facebook Shops
You can turn your Facebook and Instagram page into the online store
You can easily import your Shopify product catalog into Facebook Shop.
It's easier to communicate and keep your marketing and sales activities aligned with a consistent experience across Facebook, Instagram, WhatsApp, and Messenger.
Facebook Shop is built into the social media platforms so shoppers don't have to navigate away from Facebook or Instagram to complete their purchase.
Shoppers can enjoy secure and private shopping.
Shoppers can swipe up from a story featuring a product to place their order directly on Facebook Shop.
Shopping tab available on Instagram, so, shoppers can check out different products available within different categories.
Shoppers can shop directly through live video.
Merchants can add their product collections, discounts, and more to enrich their sales through Facebook Shops.
Shoppers will be able to see their earned rewards, what they used, etc on Facebook Shops.
Shoppers can wishlist a product on Facebook Shop just like they save posts on Facebook.
Facebook Shop will be equipped with AI, so, shoppers will be shown items based on their preferences.
Using Augmented Reality (AR) shoppers can test our products and see how they would like it on them.
Already available features like Marketplace on Facebook and product tags on Instagram will be added to the Facebook Shop.
2. How Facebook Shops Benefits Merchants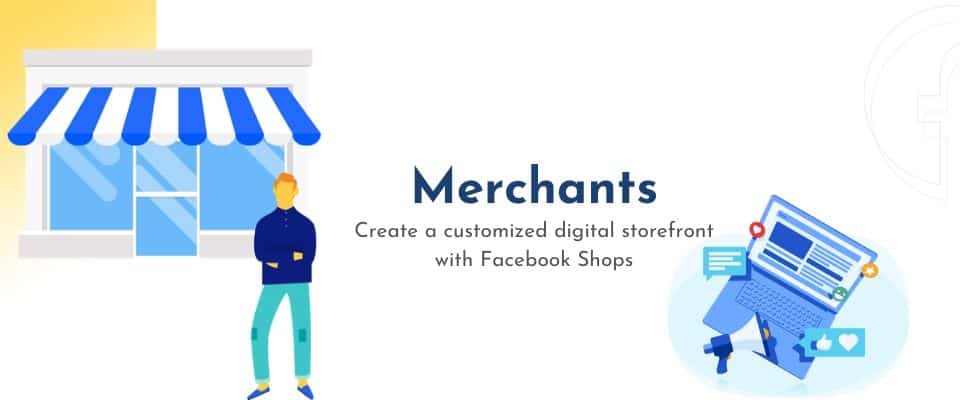 If you're a merchant, Facebook Shop is an easy way for you to create a customised digital storefront for your business across Facebook and Instagram. You can build your Facebook shop from your existing Facebook Page or Instagram profile.
Facebook Shop is simple to set up, seamless to use, load faster on mobiles and have global scale, so, they give you the ability to inspire your customers and help them to find the right products very easily.
The new Facebook Shops will give the entire shopping experience on Facebook or Instagram. With such an integrated shopping experience, you can reach your audience even better and you'll be able to tap into the new audience for your business.
Now, your marketing efforts will be much easier, as you can promote your new products instantly and urge your shoppers to purchase them. This seamless integration between your marketing and sales will help you to increase your sales and conversions.
We all know Facebook and Instagram have a huge audience base which is helpful for merchants who want to increase their visibility and brand awareness, especially for small businesses who are still trying to make their mark on the market to attract the audience.
Facebook Shop will also help offline retailers to make their stores online. If they would already have a social media presence, by using the Facebook shops feature they can tap into their social audience to buy their products within Facebook.
For new merchants, Facebook Shops will make it easier to launch their new eCommerce business and start selling. Facebook Shops also allow advertisements through Facebook feed posts and stories, so, new merchants can improve their brand awareness through ads that directly lead the audience to their products.
Facebook Shops will help you to align your communication with your consumers. Since they're already following you on Facebook and Instagram, you can deliver them instant information about your store such as changes in-store pickup time, delivery delays, etc. Also, customers can message your Facebook Page Shop with questions.
Merchants can see views, clicks and purchases for each of your product and also organise your products into different categories so that your customers can browse your Facebook Shop by category.
3. Facebook Shops Impacts on App Developers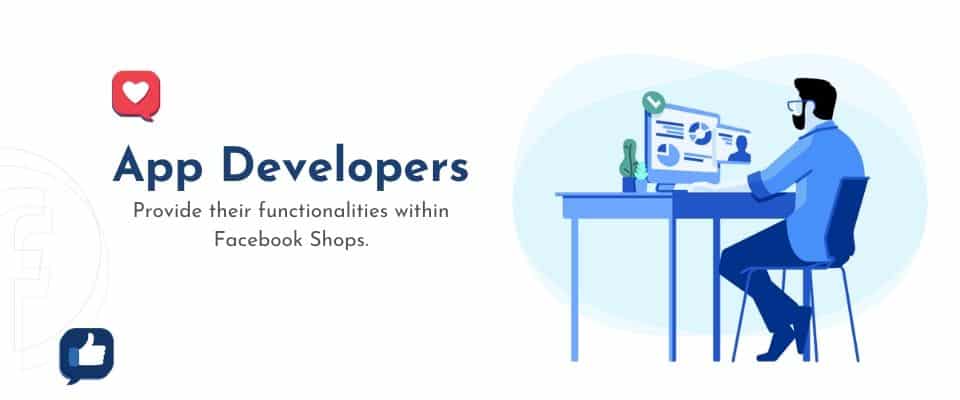 Facebook Shop feature sure has its impact on all the partners in the Shopify ecosystem, so, App Developers are no exception.
In nutshells, app developers need to find ways to provide their functionalities within Facebook Shops. Therefore, developers may need to rework their product functionality or adapt to the existing features to work with Facebook Shops.
Shopify apps that are providing functionalities on Facebook and Instagram need to be more vigilant about any new developments so that they can easily adapt their app for the changes. It's always good to plan ahead.
Facebook Shop will also provide fresh opportunities for app developers to build new apps. So, it's time for cheers! Once the feature is rolled out fully, merchants will need app developers to help to set up the Facebook Shops for their eCommerce business. Therefore, it's a good opportunity for the app developers who are already providing Facebook and Instagram related functionalities to hone up their career.
Besides app development, app developers can create helpful content about the different use cases of the Facebook Shop that will help merchants to learn more about Facebook Shops features. By creating content, app developers can get rank with keywords which help them to appear in search results when merchants searching for app developers.
4. Cost for Setting Up a Facebook Shop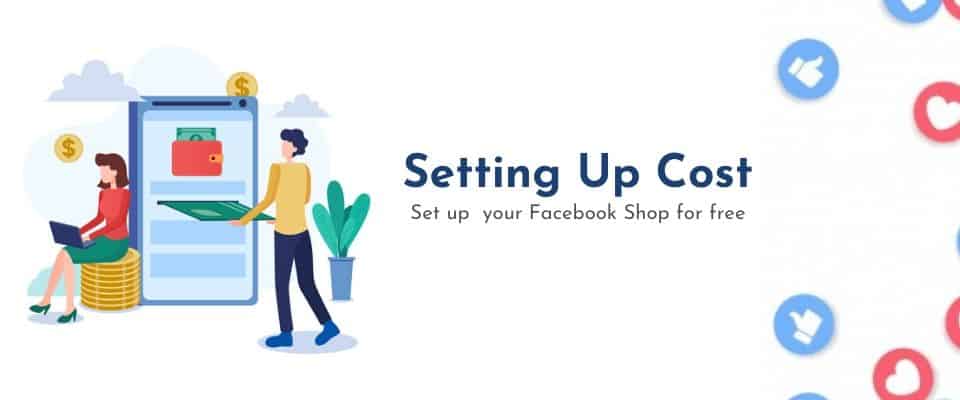 You can set up a Facebook Shop for free. But, merchants will be charged a small transaction amount on each purchase made through the Facebook Shops enabled sales channel.
According to Facebook's Vice President of Ads, Dan Levy statement, "Face will charge 'small fees' on each purchase, however, the real monetization will come from driving more advertising as Facebook Shops will be featured in Facebook ads and stories.
5. How to Make Your Shopify Store Ready for Facebook Shops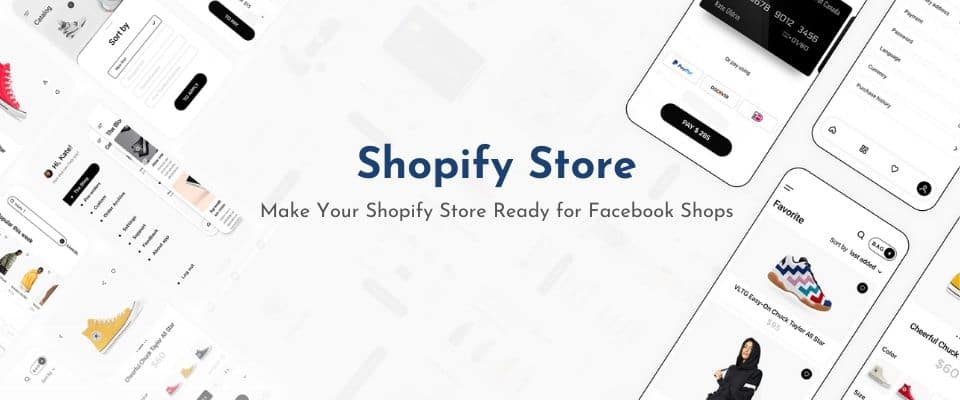 Facebook joined with partners like Shopify, WooCommerce, BigCommerce, CedCommerce, Cafe24, ChannelAdvisor, Feedonomics and Tienda Nube to give small businesses the support they need through its Facebook Shops feature. Hence, Facebook Shops offer powerful tools to help entrepreneurs, merchants, retailers and eCommerce owners run their businesses online.
Wondering how to set up a Facebook shop? Setting up your Facebook Shop is not that complicated, you can easily turn your social media pages into storefronts. All you need to create your Facebook Shops:
You must sell physical items
Agree with Facebook Merchant Terms
Add the Facebook sales channel on your Shopify store
Add your products catalog and connect it with your account
Enable the 'Shop' page on your Facebook Page
You can get to know more details about how Shopify merchants can enable the Facebook Shops feature on the Shopify blog. It will help you to learn about the Facebook store Shopify.
Revolving Online Shopping Experience with Facebook Shops
The Social-first shopping experience of Facebook Shop is sure going to change the way of consumers' shopping behaviours and the way merchants sell their products online!
I hope this article helped you to get an idea about Facebook Shops, also empathized with the need to prepare your business and online store for this new feature to adapt your business accordingly for the revolving online shopping.
I'll update this post once the Facebook Shops feature is fully rolled out. In the meantime, if you have any questions about Facebook Shops, Leave them in the comments. I'll get back to you with the answers!
More Resources to Learn about Facebook Shops
If you like to know more information about Facebook Shops, here are some resources for you. These articles will help you to get a better understanding of the Facebook Shops feature and its scope:
Read More