One of the foremost important aspects of each business or organization is to remain ahead within the market and to own a comprehensive understanding of our competitors within the industry. For this, we should always track, collect, store, analyze, and disseminate information and insights about competitors and customers and collect data from internal and external sources. For this purpose, we will use marketing intelligence tools that gather everyday data that are relevant to the marketing efforts of a corporation. Once collected, this data will be analyzed and accustomed to making informed decisions regarding competitor behaviours, products, consumer trends, and market opportunities. First, let's get to know about market intelligence tools.
1.

What are Market Intelligence Tools?
Market intelligence tools also called marketing intelligence software, help businesses collect and build up needed information about companies and individuals in their marketplace.
This includes:
Firmographic Information
Firmographic information is the sort of data that will be used to categorize organizations, like geographical area, number of clients, the form of organization, industry, technologies used, etc.
Financials and Funding Rounds
The funding round refers to the rounds of funding that startups undergo to lift capital. The startup company will bear several rounds of valuation which will increase as a startup proves its increasing probability of success, customer base growth, and proof of concept.
Competitive Information and Analysis
The competitive analysis involves identifying competitors in your industry and researching their different marketing strategies. you'll use this information as some extent of comparison to work out your company's strengths and weaknesses relative to every competitor.
Geographic Information
Geographic information allows users to look at and analyze information supported by its spatial location and relationship to other features.
Search Engine and Search Marketing Trends
Search engine marketing (SEM) could be a digital marketing strategy used to increase the visibility of a website on search engine results pages.
2. Why Are Market Intelligence Tools Important?
Market intelligence tools are essential for helping businesses to make brand awareness and increase their sales. Also, it can facilitate and understand your position within the market, evaluate your product, know your audience, and conduct competitive analysis. With this information, your marketing team is better equipped to position your company within the marketplace.
 The Top 10 Market Intelligence Tools of 2023
1. Lead411
Lead411 is known as one of the top-rated B2B market Intelligence tools that provide corporate and contact context to sales and marketing teams to increase their lead identification and conversion rates.
This can provide marketing programs with high-quality target lists that are more accurate and reliable than the traditional methods. Also, the customers can get accurate contact information and a well-rounded view of their business so that they can identify the best opportunity.
Features:
Data segmentation

Data Cleaning

Enrichment

Reporting

Lead Builder 

Marketing automation integration
Pricing :
 Lead411 has 3 pricing editions. A free trial of Lead411 is also available.
Basic: 

It is priced at $75.00 per month, It supports 200 exports a month, sending up to   300 emails per day, sending up to 600 SMS per month, etc.

Pro:

 

 

It is priced at $150.00 per month, It supports 

Lead Scoring

,

450 exports a month, sending up to   300 emails per day, sending up to 1350 SMS  per month, 

Team Shared Saved Searches,

 etc.

Enterprise: 

The Enterprise Plan is designed for enterprises that require flexible data for their marketing strategies.  For the Enterprise Plan, you need to contact Lead411 Team. through this plan, you can get 1000 unlimited records per month.
2. ZoomInfo SalesOS
ZoomInfo SalesOS ranks 2 in the top 10 marketing intelligence tools list. It is the modern go-to-market platform for B2B companies. It has the biggest, most accurate, and most frequently refreshed database of insights, intelligence, and purchasing intent data about companies and contacts.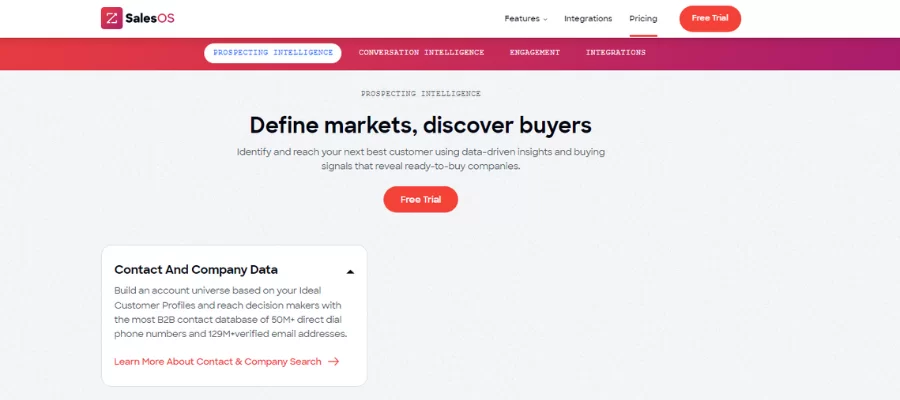 This provides an accurate, 360-degree view of customers, prospects, and opportunities. 
 Features:
Lead Builder

Integration to CRM/Marketing Automation

Identification of new leads

Industry information

Data Cleaning/Enrichment

Data Segmentation/Filtering
Pricing :
ZoomInfo provides pricing options based entirely on the solutions your business requires, Below shows the 3 pricing editions.
Professional+: This includes combining plug-and-play integrations with best-in-class contact and company data, Comprehensive professional and company profiles, Direct business and mobile phone numbers & verified email addresses, etc.
Advanced+: professional plus offers locations and hierarchy data, plus department org charts, Social media profile links, funding info and tech adoption insights, etc.
Elite+:  This plan supports Real-time purchasing Intent signals, Company attributes & employee counts.
 3. Similar Web
SimilarWeb is among the market intelligence tools that estimate the whole amount of traffic different websites get and it is a digital intelligence provider for enterprise and little to mid-sized business customers. It's a top competitive market intelligence tool that gives a general picture of a website's reach, ranking, and user engagement.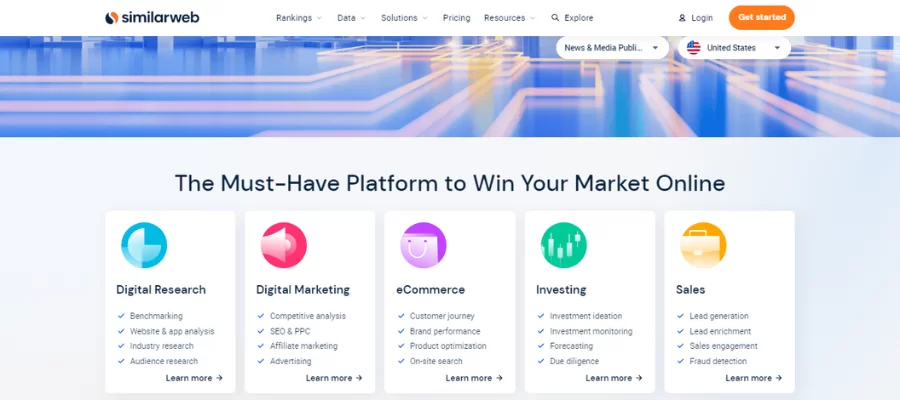 In addition, it provides Web analytics services and offers its users information on their clients' and competitors' web traffic and performance. Allows you to work out competitors' top traffic sources, broken down into six major categories, including referring sites, social traffic, and top search keywords. Allow clients to understand where they rank against the competition in their industry.
Features :
Fresh keyword Data

Engagement metrics.

In-depth competitor keyword analysis.

Side-by-side website traffic comparison.

Competitor website traffic analysis.

Uncover unique visitor data
Pricing :
Similarweb offers a free trial that lasts for 7 days. After, you can proceed to subscribe to the professional and Enterprise plan. You can determine the price of these plans with a Similarweb product expert based on your business needs.
4. SEMrush
SEMrush is an all-in-one suite of market intelligence tools to improve online visibility and find out about marketing information. . These tools and reports can help marketers that work within the following services: SEO, PPC, SMM, Keyword Research, Competitive Research, PR, Content Marketing, Marketing Insights, and Campaign Management.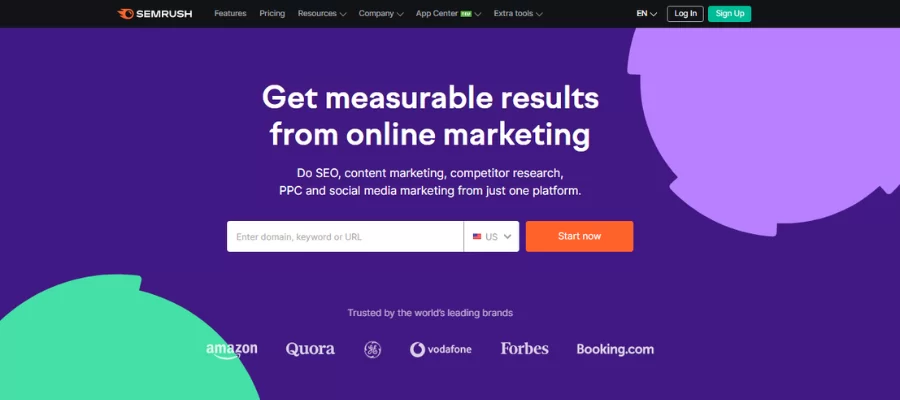 This is the perfect software for understanding how your URL domain, blogs, and web page rank on search engines. As well, it is easier for marketing teams to forecast advertising spending budgets.
Features :
Link Building

Rank Tracking

Social Media Management

Content optimization

Keyword Research

On-page SEO
Pricing :
SEMrush offers a free trial for 7 days. As a free user, you'll be able to create and manage only 1 Project and track 10 keywords in Position Tracking. Below are the three pricing plans offered by SEMrush.
Pro:

 

Pro is for freelancers, startups, and in-house marketers with limited budgets. it's priced at $199.95 per month.

Guru:

 

Guru plan is for little and Medium Enterprises, growing agencies, and marketing consultants. Guru plan you get all the features that were within the pro plan additionally you get a content marketing toolkit and branded reports. it's priced at $229.95 per month.

Business: 

This business plan is for big agencies and enterprises. Additionally, during this plan, you get White label reports, API access, Extended limits, and sharing options and it's priced at $449.95 per month.
 5. Crunchbase 
Crunchbase is one of the top market intelligence tools and is ranked 5th on the list. it's a platform for finding out business information about private and public companies. Beyond the business directory, you'll be able to uncover insights through information about investments and funding.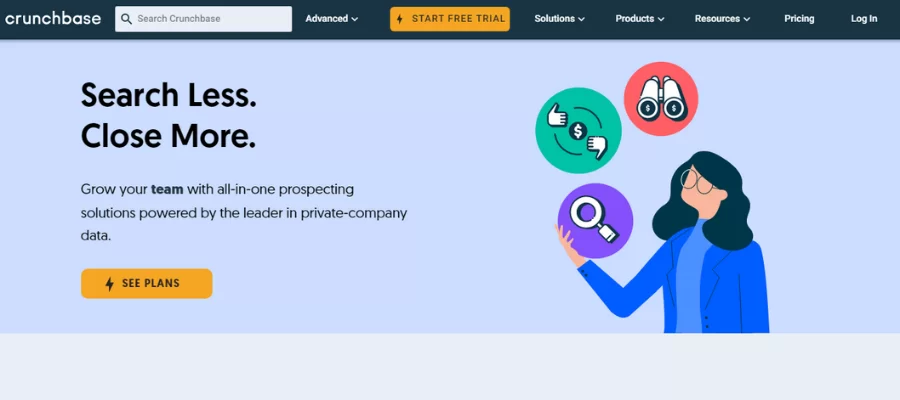 Crunchbase reports keep track of major changes you must remember, like emerging competitors. It alerts you to new search data that come within your targeted leads and takes you from the beginning of your prospecting to your business target. Crunchbase Pro has the functionality that enables you to observe companies of interest and industry trends to accelerate your lead generation process
 Features:
Alerts and reminders

Identification of new leads

Ideal customer targeting

fast and consistent access to lists & leads

Generate email contact information for leads
 Pricing :
 Crunchbase has 3 pricing plans,
Crunchbase Starter: 

This plan is best for individuals doing simple company research cause you can track and monitor the companies you care about for $348.00 per year.

Crunchbase Pro: 

Cruchbase pro plan is the most popular for monitoring up to 100,000 companies at $588.00 per year.

Crunchbase Enterprise: 

The Crunchbase Enterprise Plan allows you to access as many contacts as your team needs. The price for the CrunchBase Enterprise Plan varies according to the customization you requested.
 

6.

Ahrefs
Ahrefs is an SEO software suite that contains tools for link building, keyword search, competitor analysis, ranking, monitoring, and site audits which make it one of the top market intelligence tools in 2023. It's mainly accustomed analyze a website's link profile, keyword rankings, and SEO health.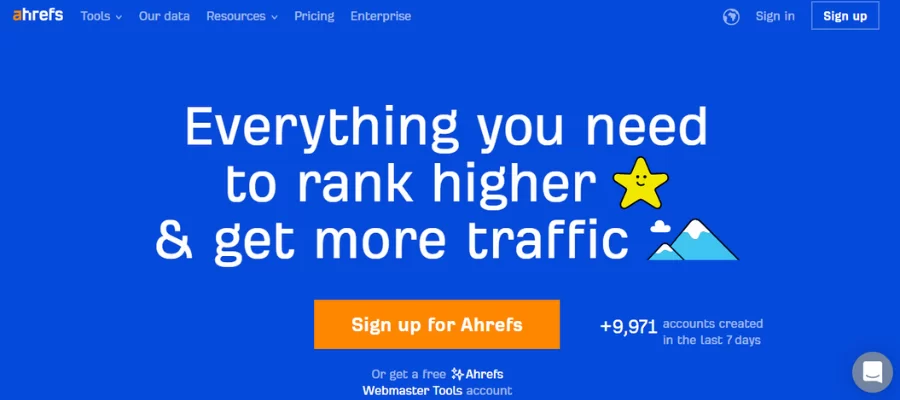 This helps users to go looking out for companies that are similar and supported their online presence. Ahrefs is famous for its backlink authority checker, which lets you see which is related to you and your competitors' content. This helps users to find companies that are similar based on their online presence. Ahrefs is known for its famous backlink authority checker, which allows you to determine who's linking to you and your competitors' content. 
Features :
Keyword analysis

SERP ranking tracking

Competitive analysis

Backlink management

Site audit / diagnostics
Pricing :
 Ahrefs has 5 pricing editions,
Ahrefs Webmaster Tools: 

This plan provides a free

 lifetime plan for any website owner to monitor their website health, keywords, and backlinks.

Lite: 

This plan provides Rank Tracker, Keywords Explorer, Site Audit, etc for $99.00 Per Month.

Standard: the 

standard plan is perfect for 

SEO professionals and in-house marketers. 

It is priced at $199.00 per month.

Advanced: 

This plan provides Site Structure reports in Site Explorer, Google Data Studio, and Dashboard folders. It is priced at $399.00 per month.

Enterprise: 

This plan is suitable for big agencies and enterprises   and it is Starting at $999.00 Per Month
7. Hubspot
HubSpot Analytics is a Cloud-based Customer Relationship Management (CRM) platform that brings everything scaling companies need to deliver a best-in-class customer experience into one place. This assists companies and management to align Sales and develop effective marketing strategies. It is one of the excellent market intelligence tools to help take you in the direction you need to go. It is centered on helping you optimize your inbound marketing strategy and aligning your sales and marketing teams.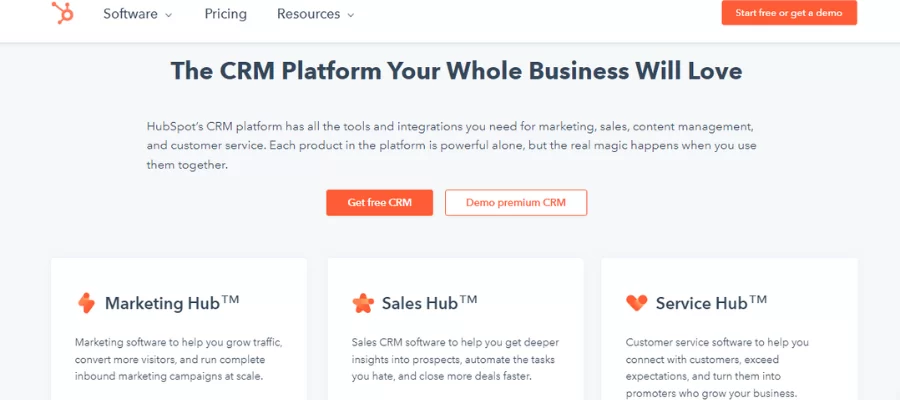 In addition, this platform offers 'hubs' focused on marketing, sales, customer service, CMS, and operations so that you can check out market research insights.
Features :
Ad tracking and management

Role-based user permissions

Social engagement

Interaction tracking

Opportunity management
Pricing :
 Hubspot has 4 pricing plans,
Marketing Hub Free: 

This plan is for marketers and business owners' website leads and tracking contact activity for free. This supports Contact management, Contact & company insights, Ad management, Conversations inbox, etc.

Marketing Hub Starter: 

This plan suits developing marketers who can capture forms, ads, contact tracking, and email marketing all in one place. for a price of $50.00 Per Month.

Marketing Hub Professional: 

As per the name this plan is for experienced marketers and growing marketing teams. This offers complete inbound marketing campaigns 

It is priced at $800.00 per month.

Marketing Hub Enterprise: 

This plan suits advanced marketing teams that Run scalable inbound marketing campaigns, with sophisticated analytics and revenue reporting. It is priced at $3,200.00 per month.
 8. Google Analytics
 Google Analytics is known as one of the best web analytics services offered by Google that tracks and reports website traffic and the performance of digital marketing campaigns.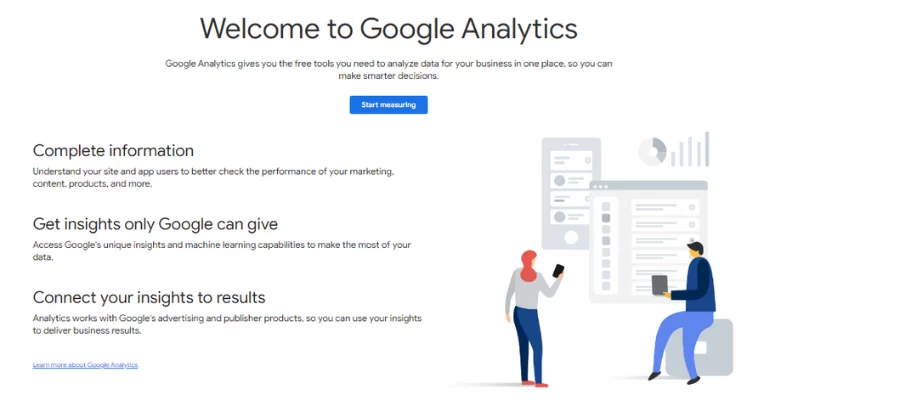 This delivers a clean interface that is easy for beginners to navigate and keep track of valuable data on customer habits and competitors. Charts, and graphs, help the customer to understand the changes over time meanwhile the personalized dashboard makes it easy to access reports and other functions.
Features :
Funnel Analysis.

Reporting and Visualization.

Data Activation

Integration

Smart goals
 Pricing :
Google Analytics is a completely free tool that any kind of business has free access to.
9. NetBase Quid
NetBase Quid is the best footing between market intelligence tools and consumer analysis. The speciality of this platform is its Intelligence connector which enables brands to solve more business intelligence problems with a more cohesive view of the entire conversation.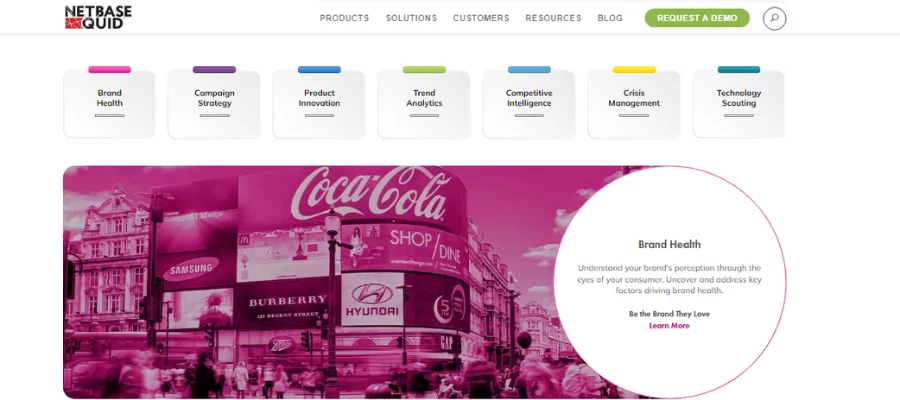 This platform provides Brands outstanding flexibility in meeting all market intelligence tools needs. Also provide background information to reveal business trends, communicate with consumers, and understand the story behind competitors and the market. The best-in-class sentiment analysis allows brands to extract the most accurate insights from a wide variety of sources including social media, news and blogs, forums, patents, and more. 
Features :
social media monitoring

brand health monitoring

campaign performance measurement 

dashboards and reports
Pricing: Need to contact them to know the pricing details.
10. Talkwalker Alerts
Talkwalker is a free tool that is like Google Alerts. It monitors every single mention of your brand and keywords across the internet including news platforms, blogs, forums, websites, and even Twitter, and merges all the social mentions and brings them directly to the inbox.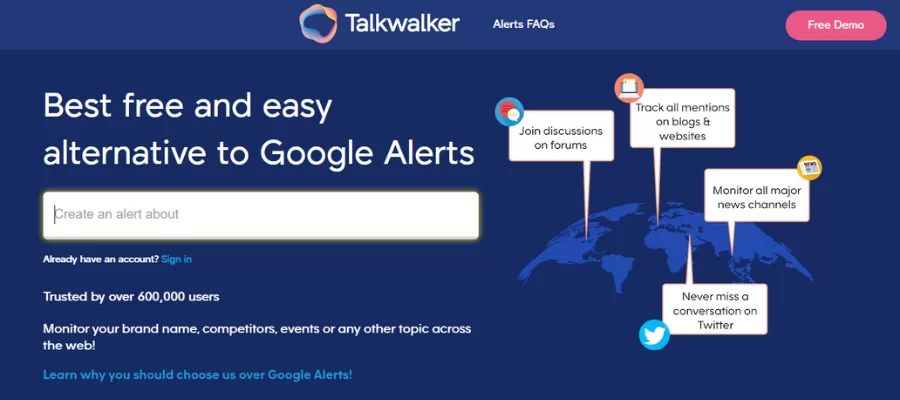 Talkwalker monitors audience mentions on the web, including blogs, news articles, public forums, and social media. It also helps users understand what clients are saying about you and your competition. Talkwalker offers flexible dashboards, APIs, and reports with complete filters and usable social media.
Features :
Social media Monitoring
Social reporting
Pricing :
 Talkwalker has 3 pricing plans, Also offers free trials.
Basic: Perfect for smaller brands – 

 

$9,600 per yea

r

Enterprise: Made for larger brands and digitally mature companies – Customizable Pricing

Corporate: Best for digitally active brands to analyze their owned & earned media and their competitors. –  Customizable Pricing
Conclusion :
Seems like we've come to the end of the top 10 market intelligence tools of 2023. These market intelligence tools are helpful for seeing what your competitor is doing and where you are in the market landscape. Through these top market intelligence tools, we can gain a better understanding of market demands and consumer views. 
So out of the above, let us know what marketing tool does your business use?
Feel free to share your thoughts in the comments!
Read More