Business intelligence tools can help you make more informed decisions that lead to better opportunities, and improve the way your business runs. So it's vital that you choose the right one for your company, especially when there are so many options to choose from. Based on predictive analytics, I've created this list of the top 10 business intelligence tools of 2022 to help you get started. No matter what kind of industry you work in or how large or small your business is, these BI tools help you collect, analyze, monitor, and predict future business scenarios by creating a clear perspective of all the data your company manages.
Today, I'll explain what are BI tools, the most prominent benefits that a company can obtain by using business intelligence tools and provide a list of the top business intelligence tools in the market with a detailed review of each.
1) What are BI Tools?
Business intelligence (BI) is a term that refers to a broad spectrum of technologies and techniques used to turn raw data into information, which can then be acted upon and reported on. Using Business intelligence (BI) tools help you collect, organize, and report on large amounts of data in a way that's intuitive for users. Often called dashboards, BI tools present data via tables, charts, graphs, and other visualizations. While BI software can be expensive to implement and maintain, but, BI tools are less costly alternatives that can provide business insights without much in terms of setup or upkeep. Business intelligence tools also help you to access business reports from multiple departments and teams, as well as use advanced analytics to access historical data and apply forecasting models in order to predict future sales. Businesses are investing in business intelligence because it makes them more competitive by giving them an edge over their competitors, helping them make better decisions, improving their business operations and sales.
2) The Benefits of Business Intelligence Tools
Business intelligence tools have an array of benefits that range from strategic to tactical and even operational in nature. Today, let's take a look at some significant benefits of Business Intelligence Tools.
Faster analysis, intuitive dashboards
You can get trusted and governed data
Increased organizational efficiency
Help to make data-driven business decisions
Help you to provide improved customer experience
Increased competitive advantage for your business
You can get accurate reporting with valuable business insights
You can offer improved employee satisfaction
Able to identify market trends
Help you increase your business revenue
Top Business Intelligence Tools in The Market
1. Datapine
Datapine is one of the top business intelligence tools today that provide interactive visualizations with various features, including Dynamic Dashboards and Storyboarding. Datapine takes care of all the tedious work for you by curating visually appealing charts and graphs from databases that are already in place. The interface is easy to use while enabling sophisticated visualizations. You can easily integrate it with any other business software. For businesses who want to include data visualizations in their reports but don't have time or resources to learn how to create them themselves, Datapine can help streamline their report creation process. Besides, with this tool, you can create dashboards and analyze data faster than ever before. It's also cloud-based, which makes it accessible from anywhere with an internet connection. Additionally, you can share your visualizations and storyboards in real-time via social media, email or even a phone call to build better relationships with your team members and customers. Plus, Datapine supports 11 different databases including Google Analytics and Facebook Ads Manager so you can access all your data in one place, and ultimately increase revenue as a result.
Best Features 
Predictive analytics that is simple to use
Intuitive drag-and-drop interface that is easy-to-use
Numerous interactive dashboard features.
Various reporting options.
Artificial intelligence-based smart insights
Cons
Although they provide mobile access, the dashboards are not directly available unless you download their app and customize them for the mobile view.
2. Zoho Analytics
The successor to Zoho BI, Zoho Analytics is now one of the standalone business intelligence tools. The business intelligence software platform comes equipped with core reporting and visualization tools that allow you to create compelling dashboards. Also, you can connect your Google Drive files and analyze their contents. This cloud-based BI tool comes with a whole host of business analytics tools, including machine learning, predictive models and reports. It's ideal for small businesses and entrepreneurs who want to stay on top of their game. Zoho Analytics enables you to gain a deep understanding of your business, monitor key metrics and give you insights into what's working, what isn't, and how you can improve. You can explore multiple data sources such as Salesforce CRM, Google Analytics, and many more in one platform to analyze performance metrics across all business verticals. It also offers additional features like Custom Dashboards, Alerts and Data Sharing. With the Zoho Analytics BI tool you can get started within minutes and begin using powerful analytics to understand your business better!
Best Features 
Offers data blending and visualization
Provide better supports with intelligent assistant Zia
Have a commenting section in sharing option
Visualization of geographic data
A spreadsheet-like interface is available for extensive
Cons
If you wish to use this business intelligence tool for more advanced tasks, you'll require additional development knowledge.  Plus, it will take time to get familiar with the tool's workflow and features.
3. SAS Business Intelligence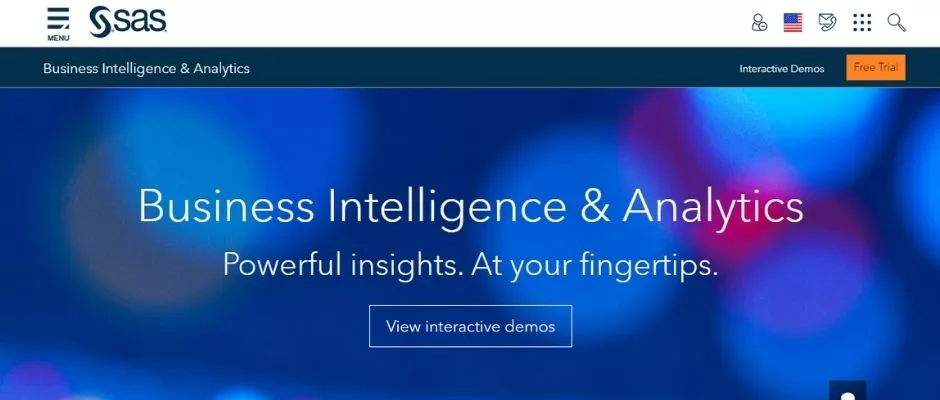 SAS is an industry expert when it comes to business intelligence tools. Their technology also provides you with visibility into any data stored in your enterprise's systems or cloud platforms like Salesforce, Oracle or Amazon Redshift. You can even run analytics through their dashboards and get reports that you've created. SAS Business Intelligence also offers software to turn your company data into an actionable plan for improvement. In addition, it provides a wide range of products to help you break down these processes into accessible chunks: SAS Base, BI Platform and Predictive Analytics are just some of its options. These tools make it possible to dig deeper into consumer tendencies, needs and wants which allows you to build smarter business plans. In nutshell, SAS is one of the great business intelligence tools that will allow you to dive deep into all aspects of your company's performance. This can be especially helpful if you are working with limited resources or trying to make sure every dollar you spend is being used efficiently.
Best Features
SAS provides a variety of business intelligence (BI) solutions and technologies.
Machine learning-assisted data exploration
Text analytics abilities
Reports and dashboards that are dynamic across all devices
Easy integration with other apps 
Cons
According to most users on Capterra and G2crowd, the higher price range and limited customization choices can be significant factors in deciding if this business intelligence tool is the right choice.
4. Qlik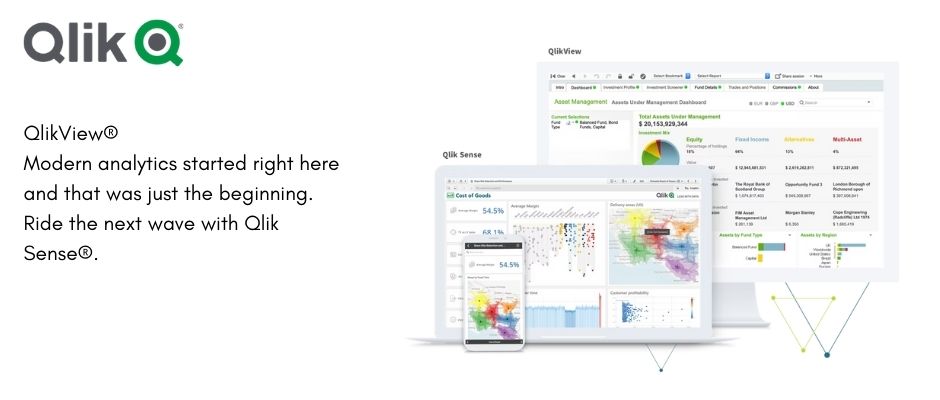 Currently, in its third decade, Qlik Technologies develops business intelligence software. If your company depends on accessing information quickly, Qlik is one of the powerful business intelligence tools choices for you: It's a data visualization and analytics platform designed to let you access information almost instantly. Qlik lets users create highly interactive dashboards to track important metrics across different industries and sectors; it also allows for complex querying of huge amounts of data, so companies can come up with unique insights. Users can analyze data and make better decisions using interactive dashboards offered by the Qlik BI tool. Rather than focusing on raw data only, Qlik's tool also allows you to display charts or even Gantt charts and get a real sense of what your numbers are telling you. That's why more than 250,000 organizations use Qlik software today to run their businesses more efficiently.
Best Features
Visually highlighted dashboards
Associative exploration
Developer's platform
Associative Engine
A dual-use strategy
Cons
You must be willing to learn how to use this tool because it needs technical skill at several points, and small to medium businesses may find it prohibitively expensive.
5. SAP BusinessObjects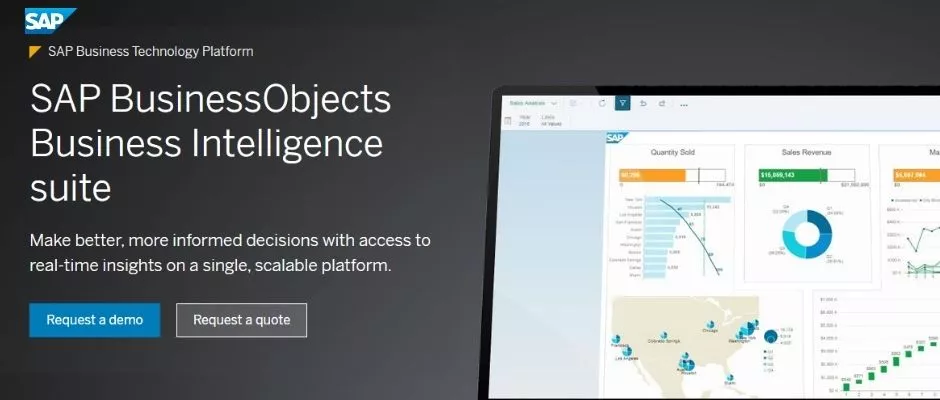 SAP provides business intelligence tools that help organizations make better-informed decisions faster. SAP provides an integrated set of BI software, supporting self-service reporting and advanced analytics for enterprises of all sizes. While its traditional business intelligence solutions focus on analytics and reporting, SAP BusinessObjects is now integrating HANA into many of its offerings, providing added capabilities such as real-time analysis, predictive analysis and big data analysis. Also, by extending its offering to include cloud computing capabilities along with traditional on-premises implementations, it's positioned itself to remain on the list of top business intelligence tools for years to come.
Best Features
A business intelligence (BI) enterprise reporting system
Dashboards that are self-service and role-based
Enterprise-to-enterprise collaboration
SAP Warehouse with HANA integration
Easy integration with Microsoft Office
Cons
According to some reviewers, extensive analytical functions are rarely usable without further user training. Moreover, individual module costs are relatively high for a few feature updates.
6. Domo
Domo offers cloud-based platforms for collaboration, analytics and data visualization. It also has a lot of integrations with other popular business apps such as Slack, Salesforce and more. So, you'll be able to connect your company's CRM with any number of business intelligence tools in no time. Plus, this BI tool offers an intuitive user interface, providing an easy way to get business insights and turn them into action. Domo makes it easy to view and analyze data across multiple platforms. It features drag-and-drop functionality, so even users without a strong technology background can enjoy using it. The software also connects to databases, making it a unique choice for teams who want to collect information from multiple sources and then easily share that with their team members. Domo BI software is already shaking up the Business Intelligence Tools space. It doesn't have as many features as some of its competitors, but it does do everything very well. Companies can access hundreds of tools (Google Analytics, Twitter data, Salesforce reports) in one place and view that information on graphs and charts based on their personal preferences. Domo is an ideal BI tool for monitoring social media trends or business process management and anything you want to keep an eye on but don't want to add to your email inbox.
Best Features
Numerous pre-built cloud connectors
Magic ETL feature
Automatically suggested visualizations
Roboto as an AI engine
Domo Appstore
Cons
Domo is not designed for newbies because the learning curve can be steep; however, they do provide training, so be ready to learn. Their pricing models aren't transparent, but based on the facts available on the web; you may conclude it's one of the most expensive options on the list.
7. Oracle Business Intelligence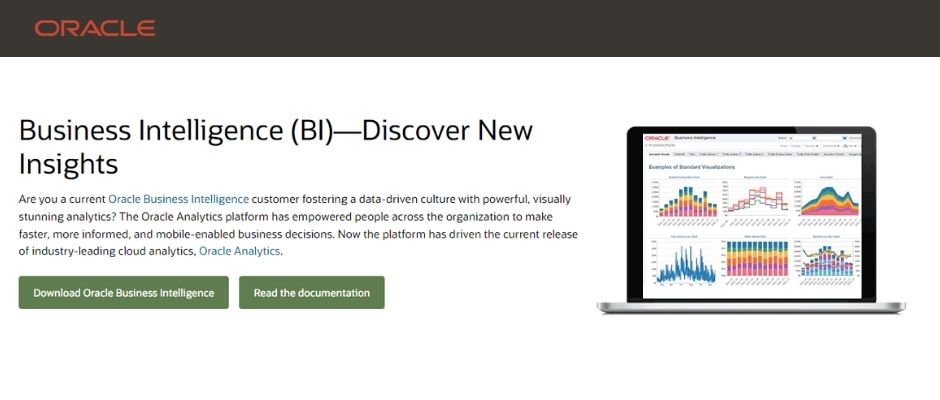 Oracle BI is one of the enterprise-class business intelligence tools that provide industry-leading functionality and analysis that companies of all sizes can use to transform their business. With Oracle BI, you have access to a variety of platforms and tools that allow you to collect information from different sources, create interactive dashboards, identify patterns in your data, share insights with others across your organization, and more. This BI tool has been instrumental in helping companies become agile and adapt to change quickly—it helps organizations not only perform well today but be prepared for tomorrow as well. Plus, the Oracle Business Intelligence platform provides a wealth of information that can help companies analyze their operations more effectively. The only downside with the Oracle Business Intelligence tool is that it is not free for every customer.
Best Features
Ad hoc capabilities Oracle BI answers
Personalized Oracle dashboards
Custom alarms features
Oracle BI Publisher to generate scalable reporting
Real-time decision server with predictive analytics
Cons
According to reviewers, Oracle BI can be slow at times, especially when generating reports. Complicated and time-consuming operations are reported for some functions, such as adding information to data models.
8. Dundas BI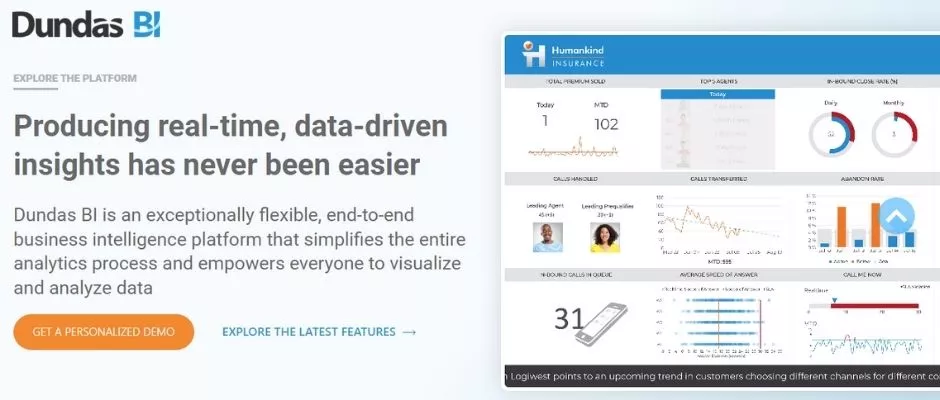 Dundas BI is definitely one of the top business intelligence tools in 2022. Data visualization is a major component of Dundas BI software, allowing business users to create interactive dashboards that provide at-a-glance insights into their company's performance. The tool allows you to connect to a wide range of data sources, from relational databases and spreadsheets to cloud services like Salesforce and Twitter. The Dundas BI dashboard is capable of producing real-time reporting across all platforms that can be viewed on any device. The dashboard has been designed for simplicity, allowing users with no prior knowledge of coding or programming to set up complex reports and queries. Users can also incorporate charts, maps, gauges and graphs into reports that provide key information about sales figures, financials and much more. Dundas BI also announced its new Dundas Dashboard for Power BI 2.0 – a free, visual tool for creating data-driven business dashboards from Excel or CSV files.
Best Features
Immersive Mobile Experience
Customizable data views
Seamless integration
Personalized Analytics
Interactivity BI tool
Cons
The tool has a steep learning curve and no undo feature, so users can't go back if they've made a mistake. Moreover, reviews state that several of their features are still in the early stages of development and have flaws.
9. Yellowfin BI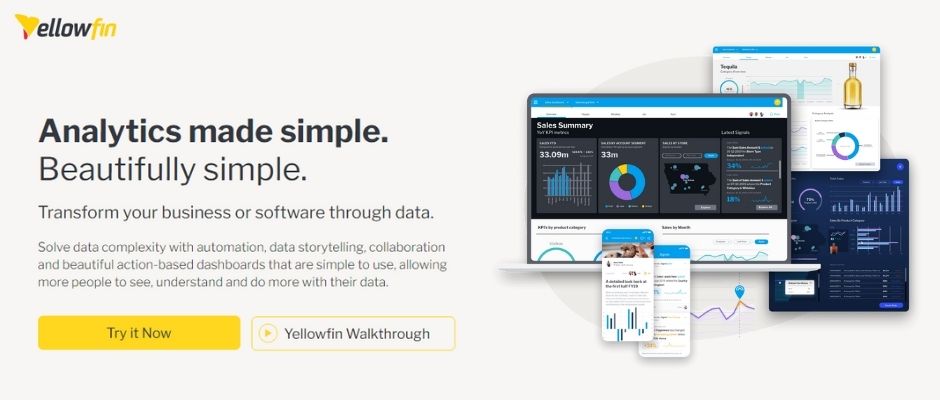 Yellowfin aims to be a true all-in-one tool for BI, rather than a traditional data visualization tool with limited options. Yellowfin's one-stop-shop approach combines BI and analytics for easy reporting, without complex setups or workarounds. Not only is it simple, but it's also cloud-based and can be installed on your own servers. And while all of these features are impressive in their own right, they would count for nothing if they didn't actually work well – but in fact, you have a hard time imagining how better tools could exist in Yellowfin's place! From flexible dashboards to simple real-time dashboards, it's hard to see anything missing from Yellowfin's arsenal of useful features. Yellowfin BI's greatest strength is its open-architecture approach—as with most business intelligence tools on the list, users can access data from virtually any source they choose. Its built-in analytics (predictive modeling, A/B testing) are also top-notch.
Best Features
The Yellowfin BI combines 5 main products: Yellowfin signals, stories, dashboards, data discovery, and data prep
Provides enterprise analytics, embedded analytics, and analytical application builders.
Yellowfin signals via smartphone
Offers persuasive data stories
Offers trigger-based smart tasks
Cons
Some consumers complained in their reviews that some critical analysis functions that are present in other BI platforms are not available. They also reported performance issues when working with larger data volumes.
10. Board BI Tool
Board provides powerful business intelligence tools and features, from interactive dashboards to predictive analytics. Board's Data Discovery uses a guided approach for visual exploration and ad-hoc analysis. You can use Board to build interactive dashboards that look like Excel spreadsheets but also let you build queries and run advanced statistical models. This way, users with basic training in data science can get value out of their data without knowing SQL. The result is self-service business intelligence (BI) using live data with simple drag-and-drop functionality—without programming or running ETL jobs. In addition, Board offers intuitive data analytics solutions for decision-making, business planning, and performance tracking with enterprise-wide data governance.
Best Features
Hybrid Bitwise Memory Patter (HBMP) is a unique in-memory technology that powers the board platform.
Offers calculated metrics
It's simple to compare and simulate different data measures.
Provides enhanced workflow
The reverse algorithm allows users to modify calculated fields across dimensions and hierarchies.
Cons
According to the reviewers, installing and updating add-ons is difficult. Also, the software's documentation should be updated; otherwise, some functionality may be used wrongly.
Conclusion
Business intelligence has become essential to competitive success as a result of technology, customer expectations and market conditions. And while business intelligence might have its roots in corporate management and decision making, it has evolved into something that touches every part of your organization – whether you're using data to improve operations or sales, or looking for a new way to capture valuable customer insights. And, by delivering valuable data business intelligence tools can drive positive business decisions. So, before you invest in any new tool or purchase additional licenses, consider these top 10 business intelligence tools listed above to help you ensure that you make informed business decisions based on current data.
What are the business intelligence tools you use for your business? Let me know in the comments!
Don't forget to share the article with others, they may benefit from it as well.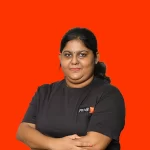 About

Abirika Soolabanee

Abirika Soolabanee is a certified content marketer with four years of experience as a Content Manager. Bringing expertise in content marketing, inbound marketing, blogging, copywriting, SEO, keyword research, and research & analytics. She is passionate about Blogging and Inbound Marketing. She writes in-depth articles and guides about digital marketing trends, technologies, and other lifestyle topics since 2018. Through her writings, she loves to help people in all aspects of their life.