The content marketing industry is growing rapidly since the early development of the internet. Approximately 70 million new blog posts are created every day and 77 million new comments are getting each month from the internet users. Starting a blog is very easy, but the point is where you post. To get started with blogging, many people tend to choose WordPress, the reason is 409 million people view more than 20 billion  WordPress blog posts every month and at the same time compared to other various blogging platforms WordPress is very easy to manage. Other than that, people mostly prefer to create WordPress for their business purpose, news, magazines as well as portfolio creation. Fortunately, there are plenty of Recommended WordPress plugins out there that can help you to boost traffic and user engagement.
The top 10 WordPress plugins for bloggers!
In this post, I'm going to introduce the top 10 WordPress plugins for bloggers. In the following list of plugins are tested with their most advanced features and have been verified to work quite well to amplify your blog's performance.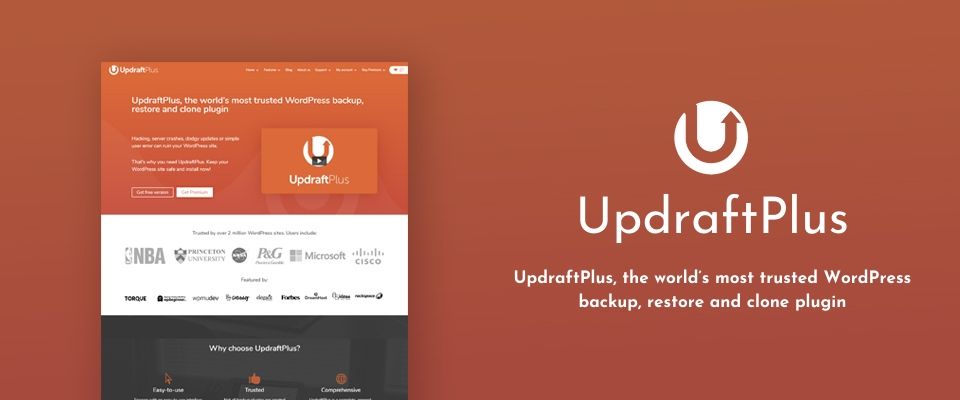 There are many more plugins that enable you to back up the WordPress site. From them, UpdraftPlus is the World's Most Trusted WordPress Backup plugin, restore and migration plugin that allows you to create backups, transfer them to remote locations such as Amazon S3, Dropbox or Google drive. If there any technical difficulties may come to your WordPress site, UpdraftPlus can be more helpful for you to handle the situation. UpdraftPlus is one of the best WordPress plugins for blogs that will simplify the process of the backup and restoration for your WP sites. You can restore your backup and get back on your blog within a short time period.
If you add three or two blog posts per week, then you can select a weekly backup of the database. But you need to choose where you are going to store your backup files. That's really important. I'm not recommending you to save your backups in the same location. Because losing your access to that particular location means that you will also lose access to your backup files as well. So, I strongly recommend you to choose a remote cloud storage service to store your backups.
Key features:
 

Automatic scheduled backup for your contents.

 

Use fewer server resources for faster processing.

 

Enables you to back up your content on multiple cloud services.

 

Easily duplicate or migrate websites with the help of Migrator.

  

Free dedicated expert support.

 

After WordPress finishes installing the plugin, with a click you can Activate the Plugin.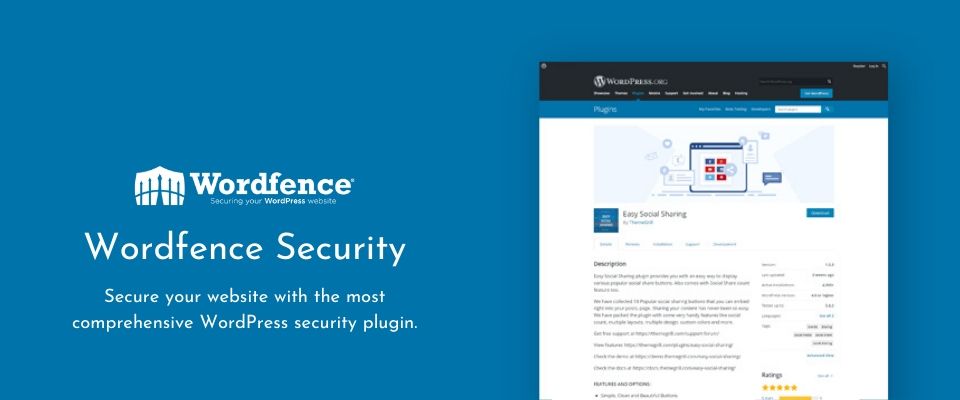 Wordfence Security delivers Firewall solutions developed particularly for WordPress and blocks attackers scanning for vulnerabilities on your blog page that makes your site 50 times faster and more secure. I strongly believe this is the best security hardening plugin that should be addressed first before anything.
Many hackers and bots out there will try to get an attack into your WordPress site by brute-forcing your password. If you can use Wordfence, there is an option to block every IP that guesses 10 wrong passwords. At the same time, Wordfence will scan your site every day such as upgrading your themes (if you needed, you can), or WordPress plugins updates if the new version is available, having weak passwords and much more. Therefore, I would recommend you to have this plugin as it's an absolute must-needed plugin to be safe from hackers and make sure everything stays up-to-date in your site.
Basic Options
Firewall Mode

Protection Level

Real-Time IP Blacklist

 
Advanced Options
Delay IP and Country blocking until after WordPress and plugins have loaded.

Whitelisted IP addresses that bypass all rules.

Whitelisted Services.

Immediately block IPs that access these URLs.

 

Ignored IP addresses for Wordfence Web Application Firewall alerting rules.

Brute Force Protection.

Rate Limiting.

 

Whitelisted URLs.

Monitor Background Requests for False Positives.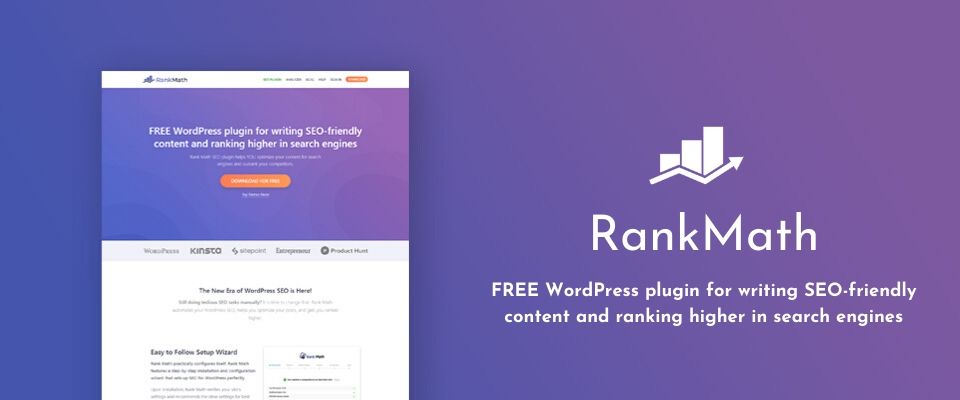 If you are interested to start blogging, you can't go far without a good search engine optimization. To do SEO optimization, Rank Math is the best WordPress SEO plugin for blogs that allows getting rank higher in search engines. It has been trusted by most of the WordPress site owners because all the main functionalities are included in this tool, also it's frequently upgraded and to be more compatible with Google algorithms. Meantime they provide much more features that can make your blog effectively better. In my experience, it is one of the most mind-blowing and SEO-friendly plugins to get our content worthy of featured Position.
Do you know why the Rank math is best compared to the YOAST SEO plugin? The unique difference is that Rank Math provides lots of unique features for free, but you need to upgrade the premium version for getting all the features which are provided by Rank Math. Especially the All in One SEO plugin, really that's the reason we called Rank Math is a game-changer, Have a Look at the feature by feature comparison of three of the plugins to understand why Rank Math is an absolute game-changer for WordPress SEO. Moreover, this plugin helps you to optimize your content properly and give much more power to control over the snippet of your post on Search Engines.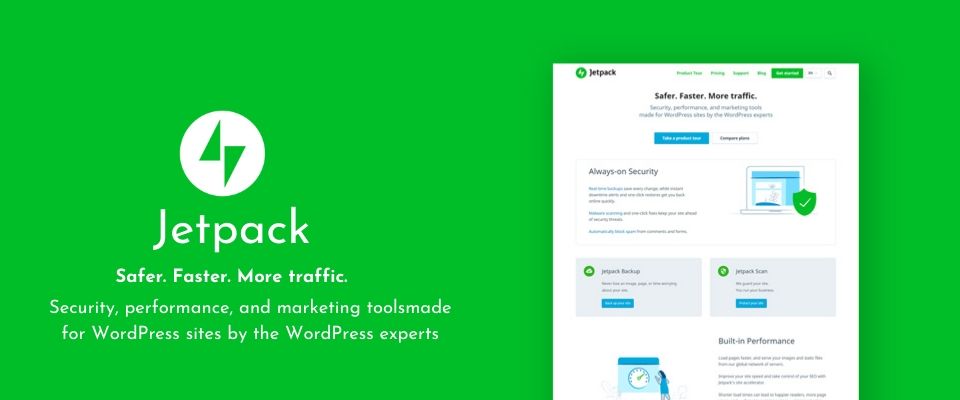 Jetpack is one of the top WordPress plugins to manage your blog. It helps to speed up your website, provide security, improve website performance & traffic, and many more. Meantime this plugin will also help to monitor the site downtime. This single plugin has many more features that you can enable and disable according to your needs that will help you to lower down at least 10+ plugins on your blog. I have listed down the features of the free version of Jetpack here:
Key Features:
Unlimited static files hosting.

 

Unlimited image hosting with CDN.

 

lazy loading image.

Brute Force attack protection and Secure logins.

Downtime monitoring.

Automate Social Sharing and Social Buttons.

SEO tools and Grammar Checking.

 

Email Subscription and Blog Followers.
Are you looking to improve your blog performance and attract new readers?
Jetpack provides features to help you manage these tasks a little easier; because of their features you can easily accomplish these goals. If you already upload images on your blog, Jetpack's features will make them stand out even more attractive. Let me show you one of the examples: If you can Activate the Tiled Galleries feature when creating a gallery within your blog post to showcase multiple images in a way that's much more attractive than a standard grid of images. The same time, the key to a successful blog is getting more readers to our blog and engaged followers who are keen to read and share every one of your new posts. Isn't it? Yes, Jetpack is an Essential WordPress Plugins for Bloggers to get more readers, so try this Jetpack features and I can ensure you that you can boost readers' engagement on your blogs.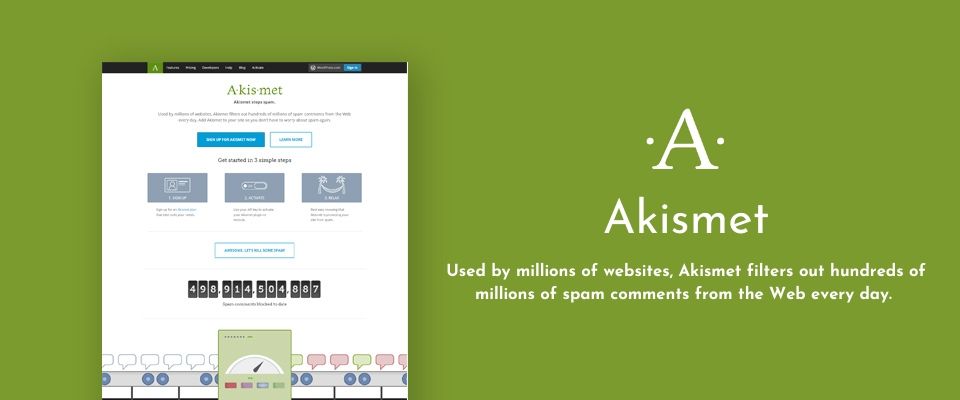 Akismet is a spam-fighting plugin that protects WordPress sites from spam comments and spam contact forms. When it comes to blogging, we always enable the comment option to get engagements. Yes, we all know some of the bots and visitors will write spam comments like advertisements in our blog comments. To omit the spam out of your entire blog website, Akismet is the best solution for you.
The Spam comments are totally irrelevant for any blog content and down your website ranking as well. So, Akismet is a very essential plugin to eliminate the spam comments. As far as I know, many of the bloggers are struggling with how to avoid spam comments and contact forms. So, the Akismet plugin will help you to solve this issue and this Plugin will monitor all incoming comments and figure it out the Spam one.  It's a pretty awesome Plugin.
Key Features:
 Automatically checks all comments and filters out the ones that look like spam.

Each comment has a status history, so you can easily see which comments were caught or cleared by Akismet and which were spammed or unspammed by a moderator.

URLs are shown in the comment body to reveal hidden or misleading links.

Moderators can see the number of approved comments for each user.

A discard feature that outright blocks the worst spam, saving you disk space and speeding up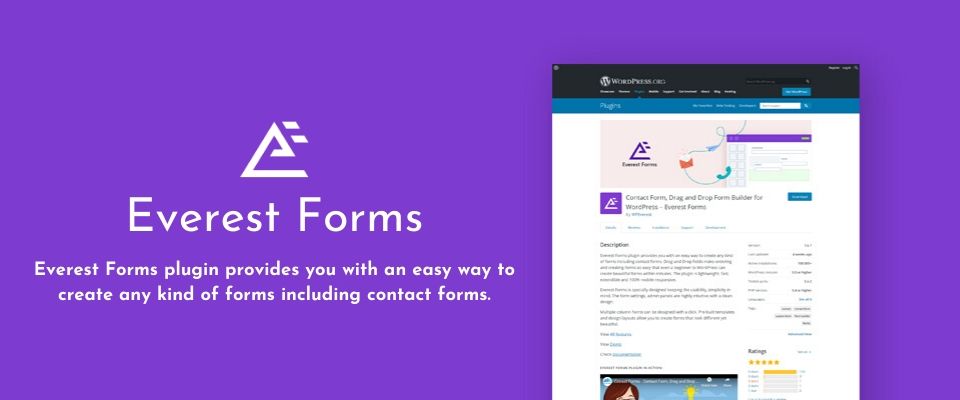 There are plenty of free contact form plugins available but the widely use one is Everest Forms plugin. You can go through it and get to know that it's one of the greatest WordPress contact form plugins which let you to create forms efficiently. That means you can easily drag-and-drop form builder. When publishing your blogs, the readers might be even more than keen to contact you to ask some questions about it. These are the things that bloggers expected from their readers. So, you need to create contact forms for conditions like these. There is no doubt at all, you may straightly go with one of the best plugins for blogs when it comes to adding a form as this plugin is a very user-friendly interface for customizations as well as the drag and drop fields. So, you can simply modify your forms however you want.
Key Features:
Create unlimited forms without any restrictions.

Drag and Drop Form fields.

Supports all commonly used form fields including radio, dropdowns, checkboxes, date and more.

100% responsive form template.

Supports multiple column layout.

Shortcode support.

Multiple email recipient.

Mulitple email notifications.

Smart Tags for dynamic email message, subject and more.

View Form entries from your dashboard.

Quick Form Preview option.

CSV exporter for entries.

Provides two different form template design.

Google Recaptcha Supported.

Editable successful form submission message.

Redirect option after submission.

Editable Email Settings.

Editable form validation message.

Translation ready.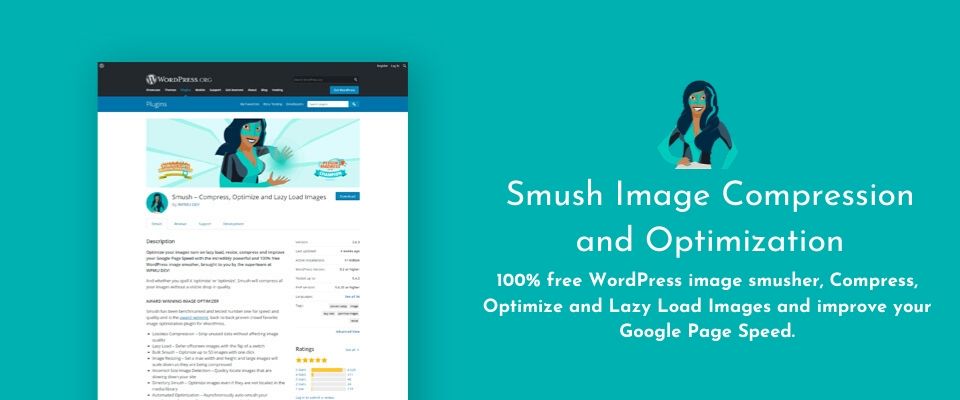 Smush is the most popular image optimization plugin, do you know why the blog pages are taking too much time to load? Yes, one of the important factors for slowing down the WordPress blog is Image. It's very true, If the Image is not optimized properly, your blog page will load slowly. The Images can be compressed and reduced in size. For this purpose, I highly recommended you to choose Smush Image Compression plugins to optimize images without losing quality. If you don't have any knowledge in image optimization, this plugin will help you to automatically compress the images after you upload it on your website. Also, it has a feature to resize the image for responsive design.
WP Smush is very easy to use, and you can optimize your images without losing quality. You may want to optimize your old images, you can directly go to your Media section and find out the WP Smush to bulk smush, here you can smush 50 images at a time. So, this is a very easy way to optimize your images and improve your blog performance.
 Key features:
Bulk Smush: Optimization of existing images in your media library (limit 50 on the free version).

Directory Smush: Optimizing images outside of your uploads directory.

Integrations: Integrates with Gutenberg, Amazon S3 and photo galleries.

CDN: A premium feature that utilizes WPMU DEV's CDN for multi-pass lossy compression and auto-resize features.

Lazyload: This feature defers the loading of below the fold imagery until the page has loaded, adjustable by page/image type.

Settings: General plugin settings.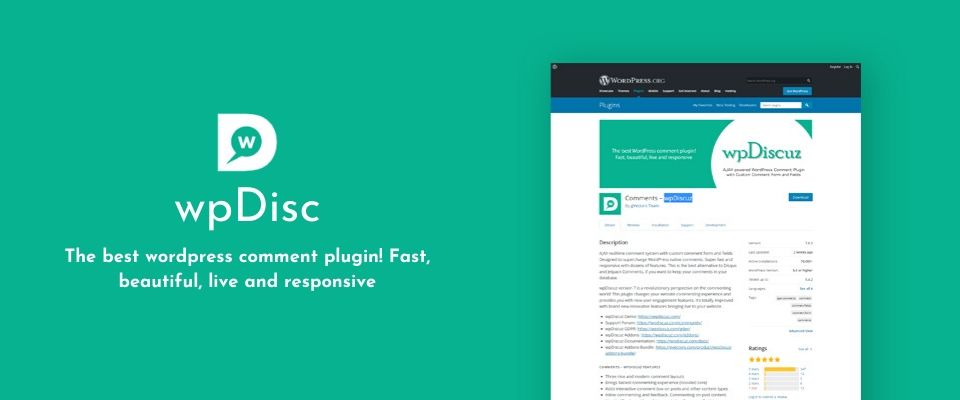 Blog post comments are the most reliable way for you to get feedback from your readers. Notably, this is a great idea for all the bloggers to connect or interact with their readers. But, the core WordPress comments method does have some capacity for improvements in it's functionality.
When we look at the past there are a couple of plugins that can help us to enhance the commenting system with real-time discussion capabilities including a Thank page which is displayed to your readers after they've left their comment and also an additional option for enabling email notifications for comments. The wpDiscuz plugin recently released the core blog post commenting solutions to help WordPress users. It allows you to customize the appearance of the comments form that includes changing the text, altering the colors, and even adding your own custom CSS code as well. As a blogger, you must have this plugin for your WordPress blog.
Some of the highlights of this plugin includes:
Comment voting with positive and negative ratings.

Multilevel nested comment threads.

Auto-update to display latest comments.

AJAX load more comments button.

Automatic image sourcing from URLs.

Comment author notifications.

Built in anti-spam protection.

Posting sharing options.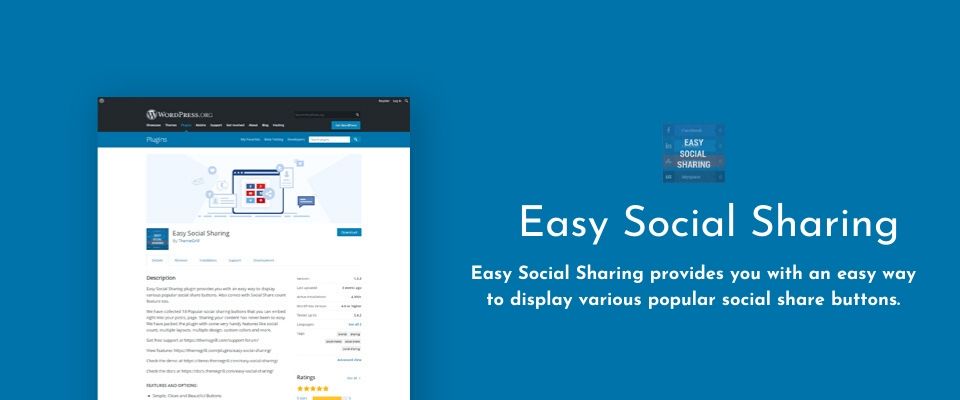 I would recommend you to add a very essential plugin which is the major part of driving traffic to your blog. There are many plugin supports to enhance the blog performance but the Social Sharing plugin is one of the easy ways to drive more traffic to your blog post. Easy Social Sharing plugin helps your readers to share the content in their social media. We are well aware of social media and how it's growing consistently. Accordingly, we can easily reach our target audiences through social sharing. So, Easy Social Sharing is a social media plugin that can help your blogs to reach your audience very quickly. This plugin has more features and your content can be shared on more than 18 different social media networks.
Key features:
Floating sidebar layout attached and fixed to the screen border.
Sharing counts to display the number of shares on social media.
Live preview of the sharing design at the backend.
Six different design layouts to choose from.
Easy user settings with the intuitive settings panel.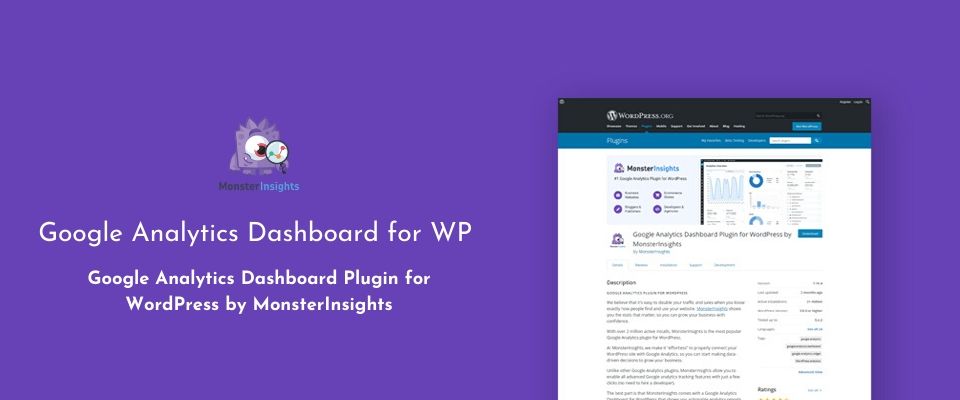 One of the best things you need to do for your business is to pay more attention to the traffic. When it comes to the blog, you have to keep your eye on who visits your blog and how long they stay at your blog, and then it will help to formulate a plan on how to make them respond even more positively. This is not an ideal solution but if you plan to use analytics that will definitely evaluate your site's performance very easily. 
Are you Looking for the most reliable analytics plugin for WordPress? According to my analysis in the market, MonsterInsights is the best Google Analytics plugin that comes with Google Analytics. It delivers you more profound insights without affecting your site speed or any other WordPress security. More than two million WordPress websites are using this plugin. So, I and most of the WordPress site owners believe that it's a very easy way to double the traffic for your blog page.
 Key features:
 Audience Report

Behavior Report

Content Report

Ecommerce Report

Forms Report

Search Console Report

Custom Dimensions Report
Wrapping Up:
Before we wrap up, I want to share one tip for you all. You will get success if you can honestly care about the User experience and publish well-informative content through your blogs. I hope the above Top 10 Recommended WordPress Plugins will help you to amplify your blog performance and to achieve your business goals. But, before you start choosing and installing the plugins, make sure that you have a suitable WordPress blog theme for your website. I can understand that you guys are on very busy schedules and don't have enough time to read lengthy blogs. I'm here to help you. If you are looking for professional  WordPress SEO provider or need the advice to get more traffic to your website, feel free to contact us via [email protected]
Read More