There's no other way to say it – Starting a company is tough, and venturing into entrepreneurship is not intended for the faint-hearted.
Entrepreneurship offers boundless potential for those who tender absolute belief in it and live by its norms. At the same time, however, it is also a way of living that can rework the entire course of your life.
An extremely fine line that separates success and failure in the field of business and Entrepreneurship offers no way around it – you either head in the right direction or not.
So what defines success if there are so many variables that can lead to failure impacting revenue, confidence, and even moral strength?
No one's ever born an expert. Before you learn how to run, you need to learn to walk and how many times have you fallen down before you took your very first steps?
We've compiled a list of entrepreneurs who were initially struck down by questionable decisions. Having understood and rectified them, they are now successful entrepreneurs. Don't you want to be one too?
There isn't any success Manthra for an ideal entrepreneur experience. And by this article, we try to represent the strength every person needs to possess in turning defeats into victory – "The Entrepreneur Mindset".
1.    Leo Laporte- Founder TWiT Networks
Leo Laporte had initially struggled over the course of starting the company. He developed a range of skills in multiple respects and tried to do everything on his own, which even you would be under the decision right now. This ultimately ended with him having a lot more on his plate and not finding enough time to actually run his business.
But after hiring a business partner and successful delegation of duties, he was finally able to manage the business and finally obtain a profitable turnover.
Effective leadership is when you take in your workforce into a single entity that works effectively towards a commonly manifested objective.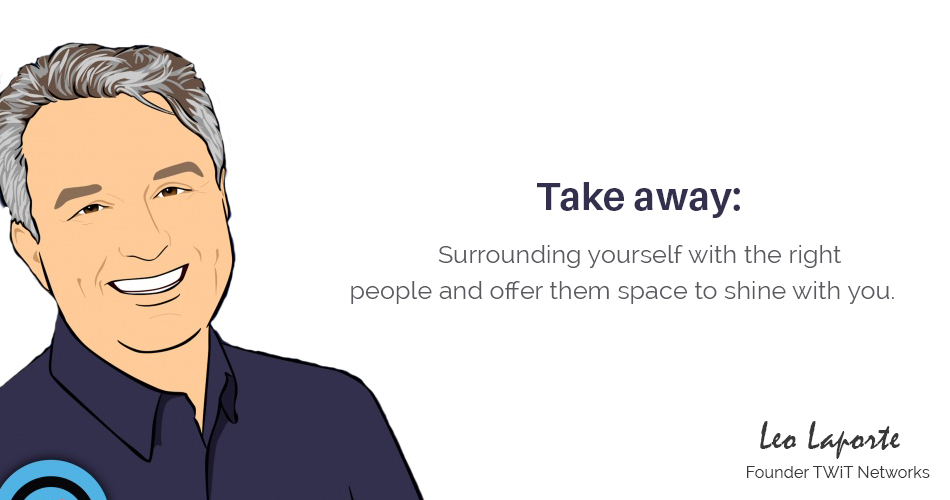 "Deleted Twitter and Facebook from all my mobile devices and it feels so good!
I just dont need the drama" 
2.  Rand Fishkin – CEO of Moz, Co-Founder of Inbound.org
Rand was initially fond of only "big-bang" projects, ones that had a development time of more than a few years. Although a few of them clicked right away, as time went by unexpected delays caused them to shelve many of them, which took a profound toll on their revenue.
He says that "Missing something you budget and plan for by more than a year is really bad news in the startup world."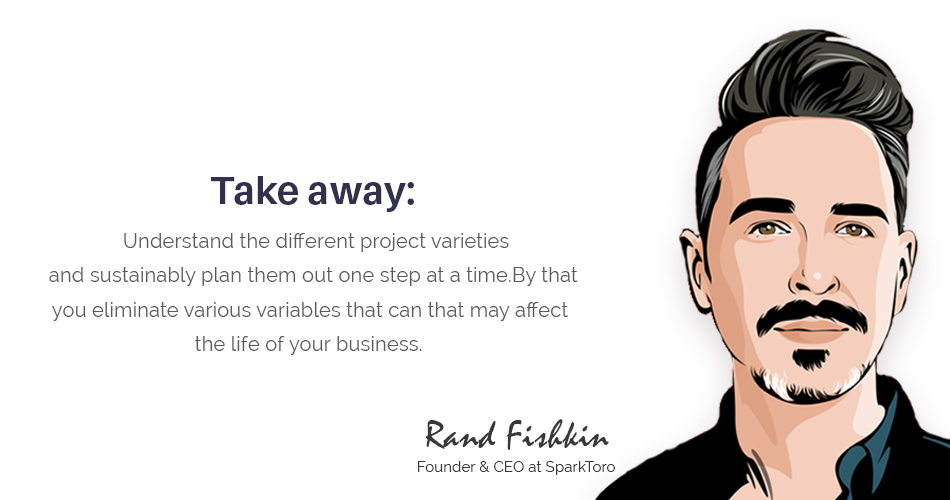 "Best way to sell something: don't sell anything.
Earn the awareness, respect, and trust of those who might buy."
 3.  Sandi MacPherson – Editor-in-Chief, Quibb
Sandi went almost 6 months developing a product that believe it or not, she thought she wouldn't even use quite often. Making a product that isn't sold brings resounding losses in money, time, and most importantly your company's stature in the market.
Every CEO needs a distinct understanding of the market understanding the trends of sales with a fair share of experience in investing in the right opportunity.
"The welcome email is your best opportunity to develop a relationship with
someone who's already interested in your product.."
4.  Dharmesh Shah – Co-Founder and CTO, HubSpot
Having successfully built a software company with $10million+ revenue, Dharmesh went on ride his luck by being a parallel entrepreneur by building a different startup. That proved to be more bane than a boon for him. His initial team felt left abandoned while the new one couldn't gather enough revenue in the market.
Startups require a lot of effort to stay successful in the market with everyone trying to better their competitors. It's a full time- consuming job that requires your complete and vigorous passion.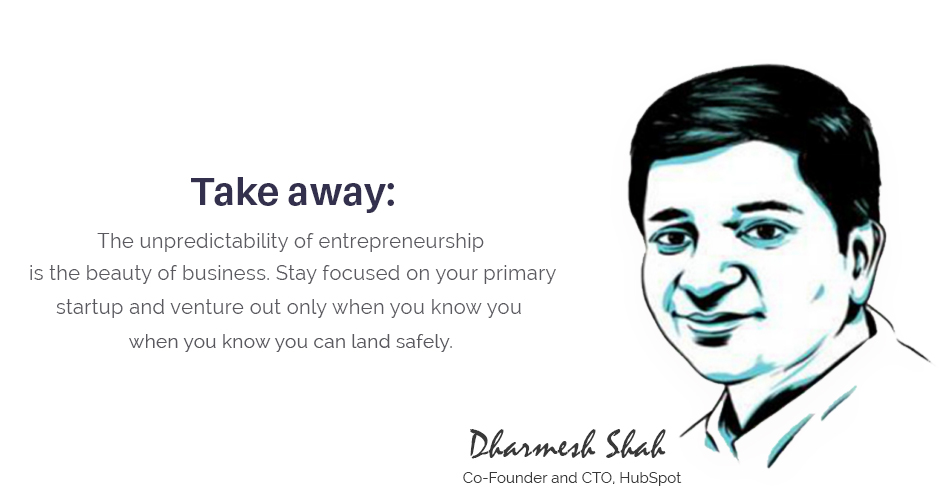 "Sleep is that time you're working on startup problems with you eyes closed."
5.  Hiten Shah, Co-Founder at KISSmetrics
Hiten Shah spent close to a million dollars on a web hosting company, by perfecting in all respects. However, the company failed in being a genuine crowd-puller leading to a heavy loss of revenue.
However, by focusing on the needs of the customer together with analyzing growth potential Hiten was able to co-found two highly successful analytic companies –KISSmetrics and Crazy Egg.
Starting a company with simply the initial urge will only lead you in the opposite direction. Entrepreneurship is all about choosing the smartest way to work.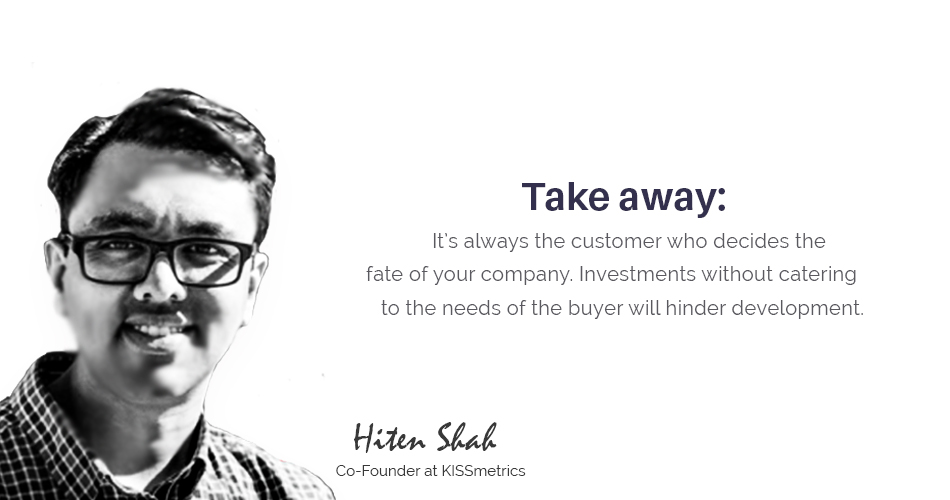 "In my experience, human problems are the biggest threat to a company's well-being, and it usually happens when there's office politics, you're too distant from your team, or you're way too involved (two extremes)."
6. David Lucatch, founder and CEO of Yappn Corp.
The initial years of Yappn Corp. were filled with the struggle for David Lucatch. However, nothing was proving to be heading in the right direction.  Failure tends to leave a mark on oneself that can only be confounded by success.
David Lucatch continued persevering and after a few months, Yappn started gaining remarkable market share.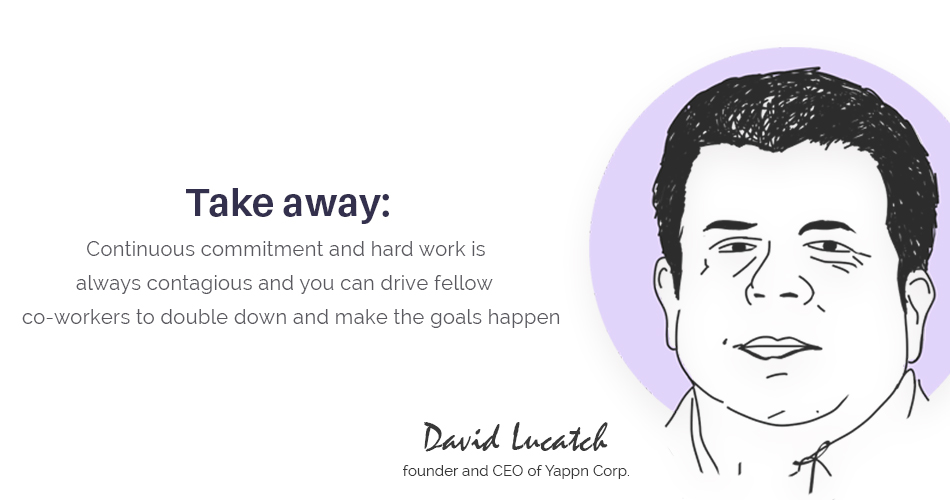 "During these trying times, I poured all my energy and focus into doing whatever it took to succeed and leading my team by example."
7.  Derek Sivers – Founder of CD Baby
Derek Sivers had a rather confronting experience in the past with his employees who staged a mutiny to get rid of him. They were focused primarily on benefits rather than cliental.
However, only in the future did he realize he could easily have prevented an occurrence that impacted the culture of the organization.
His words – "Fire the rotten apple in your bunch immediately".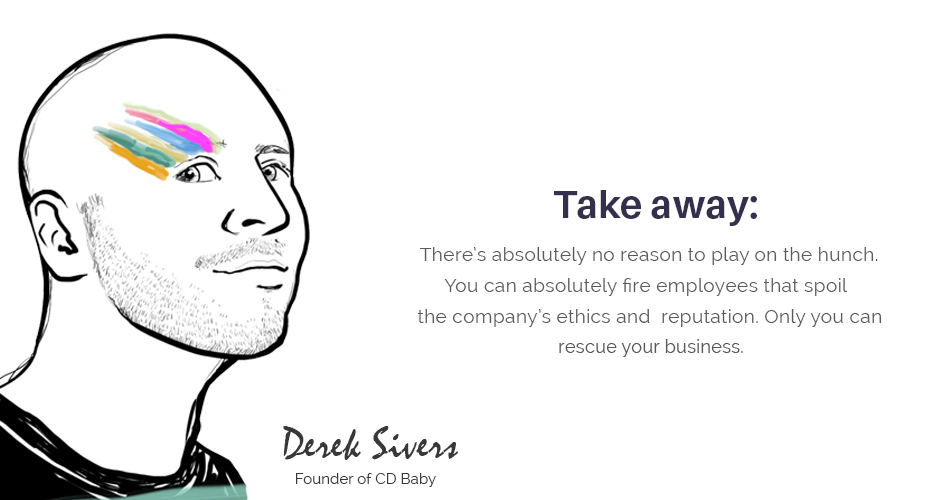 "Don't be on your deathbed someday, having squandered your one chance at life, full of regret because you pursued little distractions instead of big dreams."
8.  Fred Smith – CEO, FedEx Express
FedEx was able to build its business model revolutionized the shipping industry but before its success, Fred Smith's college professor disagreed to it and he even received a poor grade on an assignment where he pitched the idea for the company. No one remembers the professor, but now everyone remembers Fred.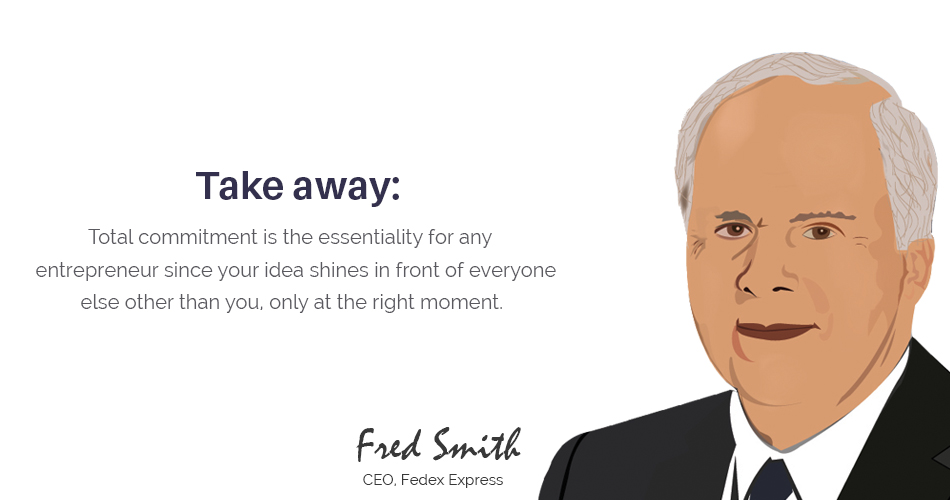 "Leaders get out in front and stay there by raising the standards by which they judge themselves—and by which they are willing to be judged."
9.  Leo Babauta – Best-selling author
Leo toiled at a dead-end job he hated for a long period of time and attributes it to "the fear of failure and lack of belief".
Finally, his venture into blog writing has now made him a bestselling author and now he says, "Knowing what I know now, I'd have started a decade earlier."
Starting late indeed is the worst-case scenario. Attributing fear to fuel your desire can certainly drive you to maintain your goal of being a successful entrepreneur.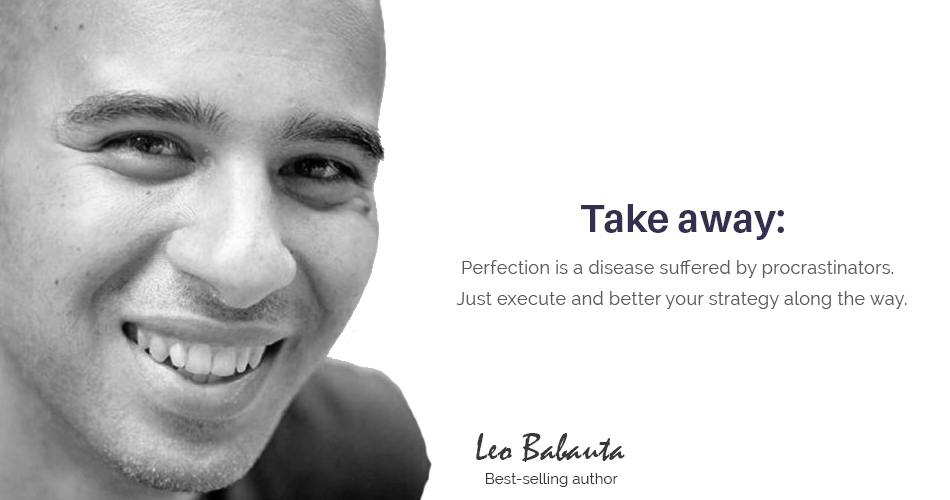 "Doing a huge number of things doesn't mean you're getting anything meaningful done."
10. Jeff Bezos- CEO, Amazon
Before Amazon became a household name, Jeff had several failed ideas- one of which was an auction website, zShops that failed miserably. However, he repurposed the idea into what would eventually become the Amazon Marketplace.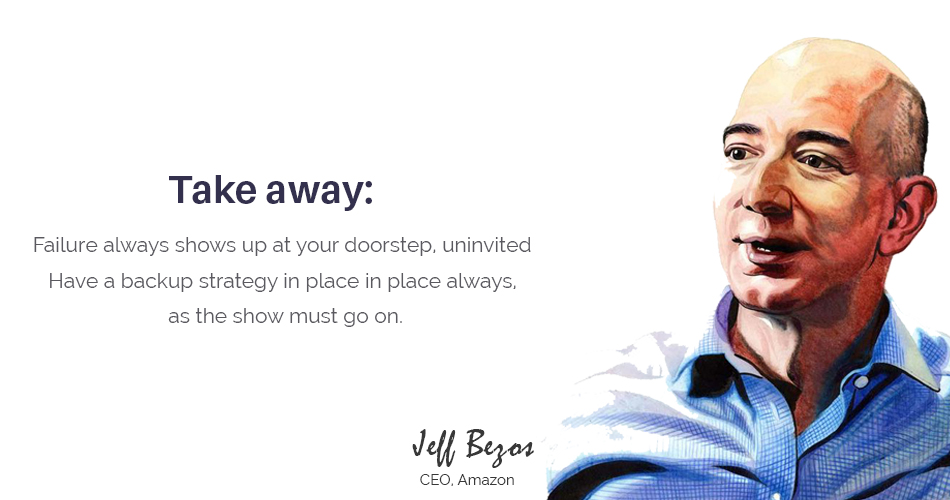 Blood, Sweat, and Tears; paired with countless sacrifices, pains and losses is what a startup is made of. Market Validation is vital because you won't get investors if you don't know your numbers. Your idea is your brainchild, so stick to it even when all the odds are against you.
Each and every one of these entrepreneurs you saw above is human. They take failure as stepping stones to success without losing an ounce of self-belief. Their positive reaction to defeats is what allows us to label the term "successful" before their designation as Entrepreneurs.
"We see our customers as invited guests to a party, and we are the hosts. It's our job every day to make every important aspect of the customer experience a little bit better."