Every day, more than 1 million websites go online – Do all of them attract a steady amount of traffic? No. In fact, more than 50% of these websites go out of business in the next six months, because they are unable to keep pace with the ever demanding search engine requirements.
It is hard for a website to flourish online without any search engine traffic, even if the business is providing a valuable service. There is substantial cost and effort involved in Search Engine Optimization for obvious reasons.
SEO takes a lot of time. Your website needs to get indexed, and then you need to keep updating it, do your reputation management, blogging, PR distribution, link building, social media management etc., and pray to god that your website moves up the rankings. Another big problem with newer websites is that they lack in metrics like PR (Page Rank), Trust Flow, Citation Flow, Domain Authority, Page Authority – all of which, can only be acquired over time. THIS IS WHERE PPC (Pay-Per-Click) Comes into play.
PPC through websites like Google, Bing, Facebook, Twitter and LinkedIn will bring targeted customers to your website based on the keywords that you select, immediately. Unlike SEO, you don't have to wait for your website to rank first, before you start receiving any search engine traffic with PPC. Some of the best things about PPC are:
It is a cost effective form of marketing

It brings immediate results in the form of targeted customers

It is good for landing page testing, split testing, squeeze testing etc.

It can be tied up with great analytical tools to get better insight into customer models

A good campaign has the ability to pay for itself, time and time again

If a website is already ranking organically, then adding PPC ads to SERPs increases their customer retention by 89%

Top 3 sponsored links on Google get 43.7% clicks from search results
And lastly, PPC is a very precise form of marketing strategy that can be highly effective when executed properly because it can provide comprehensive information on cost per click and conversion rates, impressions, CTR and reach.
---

HOW TO SELECT THE RIGHT Pay-Per-Click Marketing Firm
The key attributes you want to check for in a good PPC Marketing Firm include:
Transparency – The rule of the thumb before selecting any marketing agency is to look for transparency. The marketing firm should be willing to share their expertise and information with you. You should be aware of what exactly is being done to your account and how it is being done. The lack of transparency of a firm is a clear indicator that the agents are not devoting as much time as they should to your campaigns, or they do not know what they are doing.
Expertise – PPC is a game that you get better at with more practice. So, ideally you would like to opt for a firm that has been in the industry for a very long time. The firm should be able to demonstrate some of their past case studies along with a portfolio of their past and present clients to showcase their depth of expertise in the PPC field. The PPC Agency, should at least dedicated one PPC Manager for your firm.
Control – This factor is somewhat similar to our first point. The Marketing agency should be willing to make you a part of their team, or become an extension of your business and work with your employees. You should always have the ability to retain control over your campaigns and make critical decisions based on your primary focuses, goals and in certain cases, even execute your campaigns under the supervision of the company.
When you have these basics clear, the next step is to underline a set of key questions for your ideal PPC Agency to answer about the qualified features that they will offer your firm in exchange for your money and trust.
---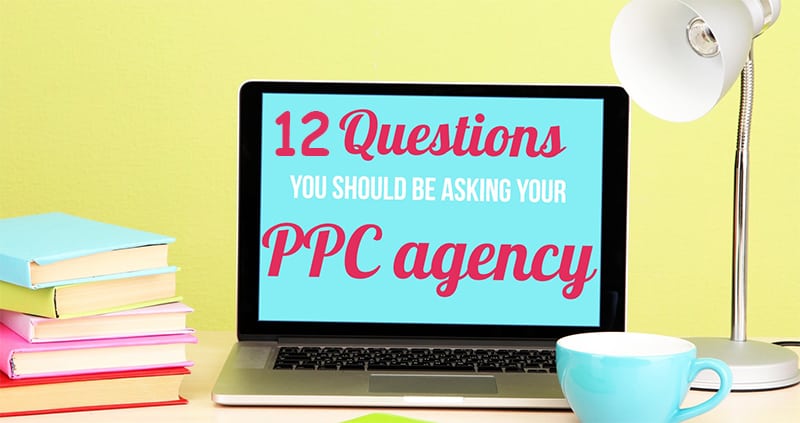 Interrogating your potential PPC Firm about their experience, background and approach can be extremely beneficial maneuver. Do not select a firm on the basis of their outward appearance as, "All that glitters is always not gold."
Here is a list of questions you should ask your to-be PPC Agency to help you get a clear grip on their approach, methodologies, understanding, transparency and level of expertise you can expect from them during your partnership phase:
How many years has your agency been doing PPC Marketing?

Are there any PPC Marketing Certifications or Degrees that you have acquired?

Can you give us a list of Past and Present Clients for whom your agency has been managing PPC?

How many dedicated PPC Managers do you have in-house? Do they only focus on PPC Management or other SEO Fields as well?

Does your firm offer other Digital Marketing Services like Enterprise SEO, Local SEO, Social Media Management, Web Design and Development? If so, what is the ratio of employees in those sectors and PPC?

Will your company be proactively sharing required reports with me on a timely basis? Can I demand certain hap-hazard reports so that I know what is happening with my money?

Has any of your PPC Managers had an experience with working with a company in my niche?

Do you only offer AdWords or other PPC platforms like Twitter, Facebook, LinkedIn, Bing etc. as well?

Can you show me a standard PPC Report that you provide? Will I be able to ask for other metrics on demand? Can you elaborate about the various metrics, which I can inquire about?

Do you use any standard tools or do you use proprietary tools to manage campaigns and generate reports? If I decide to leave your PPC Management Services in near future, will I be able to transition to another company with my existing campaigns and reports?

Will you agree to let my in-house staffs, handle certain parts of the PPC Campaigns, while your company handles the rest? How do you typically plan to synchronize my staff?

How to you determine the success of a PPC Campaign? How do you plan to go about making my business achieve its goals? Will you collaborate with me to understand the requirements of my business to refine my goals and increase the ROI?
Feel free to alter these questions to suit your requirements. Once you have found the right PPC Agency for your business, it is time to move onto the planning and execution of your PPC Campaigns, which calls for the –
[call_to_action image="" title="" btn_title="Click Here To Download Your FREE 2015 PPC Checklist" btn_link="https://www.primeone.global/wp-content/uploads/2015/10/The-Extreme-Google-Adwords-Pay-Per-Click-Checklist-2015.pdf" class=""]
Click on the link above to download the checklist for Google Adwords PPC. It contains modules that will help you setup a successful campaign and monitor it daily, weekly, bi-weekly and monthly to conversion optimize your campaigns and get the best ROI possible.
Be sure to bookmark this page and keep this handy PPC checklist in your mobile device for easy access. Connect with us on our Facebook Page or leave your feedback in the comments section below if you would like us to cover a checklist on other important forms of Marketing. Have a good day!