Web analytics is a method of analyzing the activity of users on a website. It allows website owners to attract more viewers and improve the quality of their content. Web Analytics will help you to identify what you do next in your digital marketing strategy, what you should change or what you should stop doing. The very first step in web analytics is to identify the right web analytics tools to get the most accurate data from your site. To that end, here are the top 10 web analytics tools that may help you shape your website's traffic patterns by offering useful Insights.
Top 10 Web Analytics Tools for 2022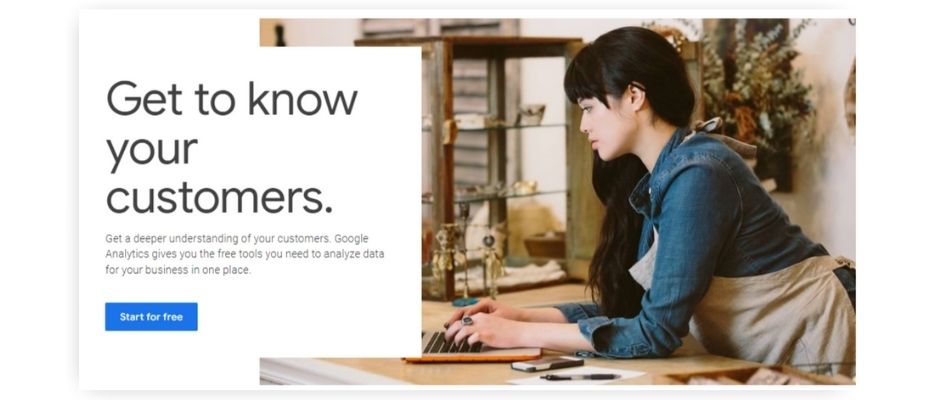 Google Analytics is the most well-known and popular free tool today. According to a survey, 56% of digital businesses rely solely on Google Analytics for their web analytics. Its well-organized dashboard will give you a clear picture of analyzing various factors, including website traffic, bounce rates, and conversions. It's an excellent choice for anyone, including beginners and startups businesses. Even though it has advanced features for the paid version.
Key Features:
Traffic Reporting
Conversion Tracking
Keyword Referrals
Third-party Referrals
Custom Dashboard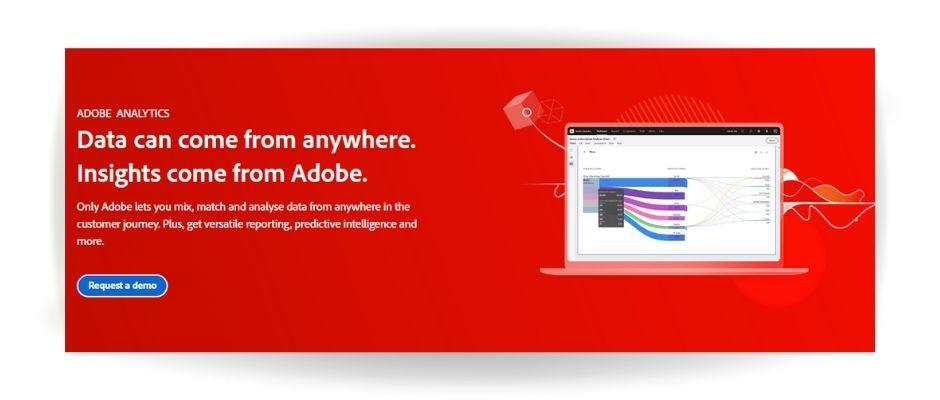 Adobe Analytics is a paid leading solvent for real-time web analytics. It'll help you to determine high-profile audiences and power customer intelligence for your business. Adobe Analytics provides a lot of options for incorporating your most important customer data into key business processes.
Key Features:
Beginner free interface
Reliable tracking for a digital marketing campaign
integrated 3rd party tools for better accuracy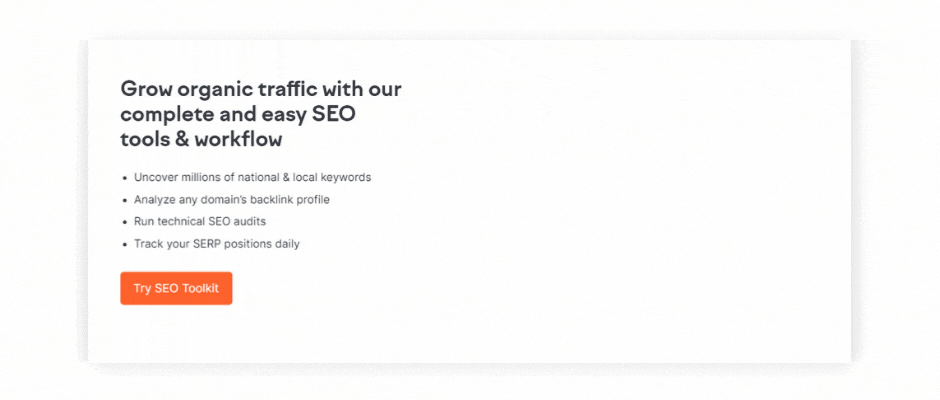 SEMrush is the online visibility management content marketing platform that offers various tools for marketers. It also offers premium web analytics tools that will help you to gain insights you need about much traffic keywords and topics get. With Its analytical intelligence, you can decide where to focus on to build traffic for your site.
Key Features:
Customer behaviour mapping
Funnel analysis
Heatmaps
Performance metrics
Bizintel is a Data Analytics and Data Visualization company. With its AI-Powered Self-Service Advanced Analytics Platform, it offers a paid advanced web analytics tool that will help you to monitor, measure, and improve your E-Com Sales and Marketing on the right medium and also it'll help you with its cloud-native advanced analytics platform that provides data supply and intelligent real-time analysis across the enterprise without any programming knowledge.
Key Features:
Real-time website tracking
Track keyword performance
Search query performance
Campaign performance
Measure bounce rate
Click-through rate
Visitors counts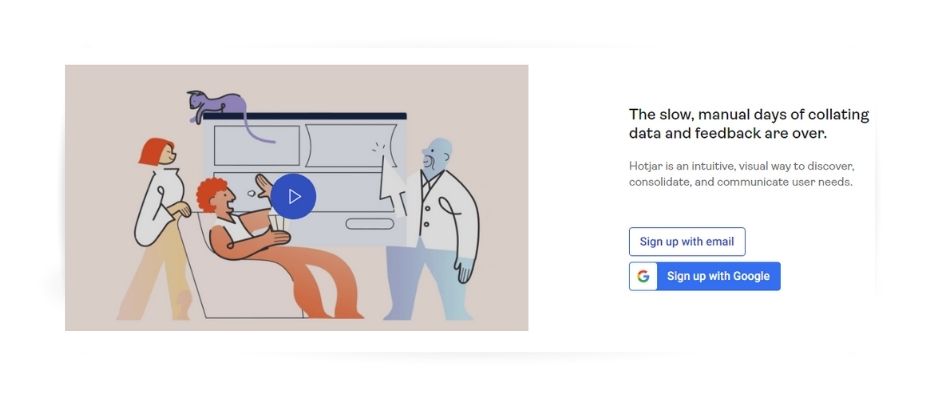 Hotjar is a powerful Web Analytics tool that reveals all the data and metrics about your website's visitors. It will offer you the data to understand how users behave on your site, what they need, and how they feel with its simple and quick approachable dashboard. Hotjar has everything a team needs to gain fast visual feedback, observe how users are using the platform, and take advantage of new features.
Key Features:
Web analytics
Customer behaviour analytics
User research analysis
Problem area alerts
Kissmetrics is a powerful marketing and product analytics tool. Another alternative to Google's Customer Engagement Automation. It will help you to understand the growth of the website and App. Based on the idea that data is more than just a number that you put on a graph for others to view. Kiss metric will help you to quickly identify and act on any roadblocks across our growth cycle. That's how Kissmetrics helps you to obtain the greatest marketing metrics possible.
Key Features:
Customer journey analysis
Real-time conversion tracking
Data visualization
ROI analysis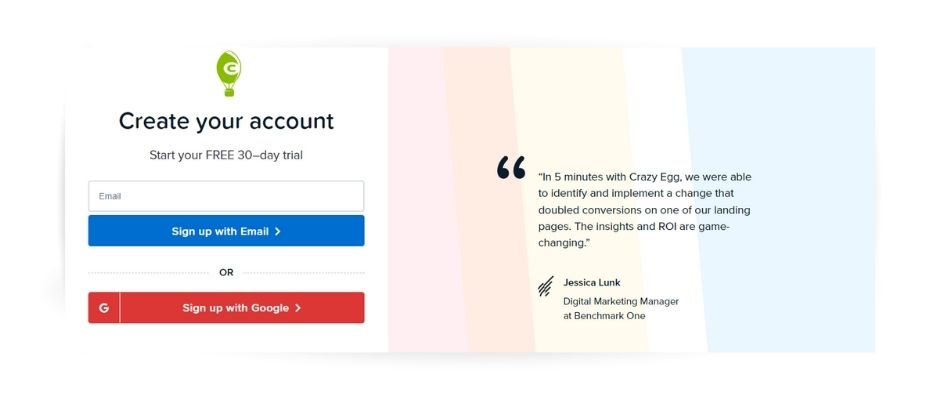 Crazy Egg is one of the powerful web analytics tools. With its mouse-tracking technology, it'll give you a clear picture to understand general patterns of how people browse your site or investigate a particular point in the buyer's journey where people are dropping off. The technology can replay client sessions, calculate AB and surveys using five different types of thermal maps.
Key Features:
Customer behaviour mapping
Funnel analysis
Heatmaps
Performance metrics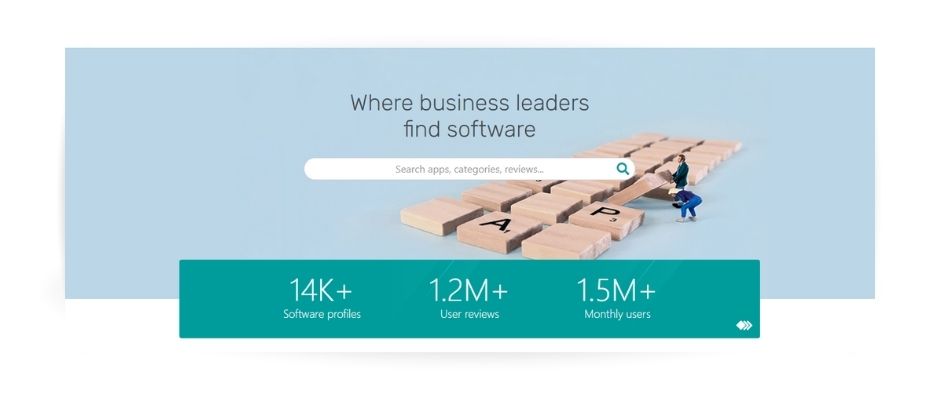 Chartbeat is a clever and powerful web content analysis tool to monitor and improve user engagement, inform editorial decisions, and increase loyalty. It offers real-time analytics, insights, and transformative tools for content teams over the world.
Key Features:
Real-time user interaction
Search engine optimization
Pageview Tracking
Website management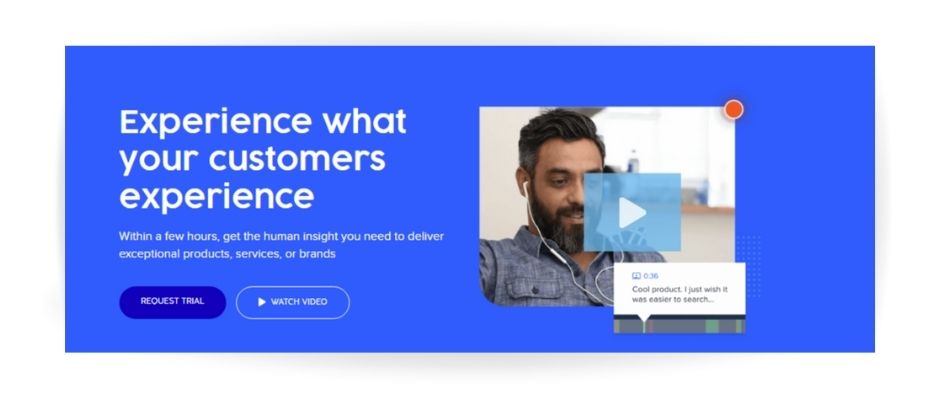 User Testing is one of the fast and quick web analytics tools to get to know your website visitors activities on the site. User Testing tool provides all the information that a team needs to get instant visual feedback, most business people are using the platform to gather the most relevant updates about their websites.
Key Features:
Target anyone
Engage & empathize
Discover & analyze
Share insights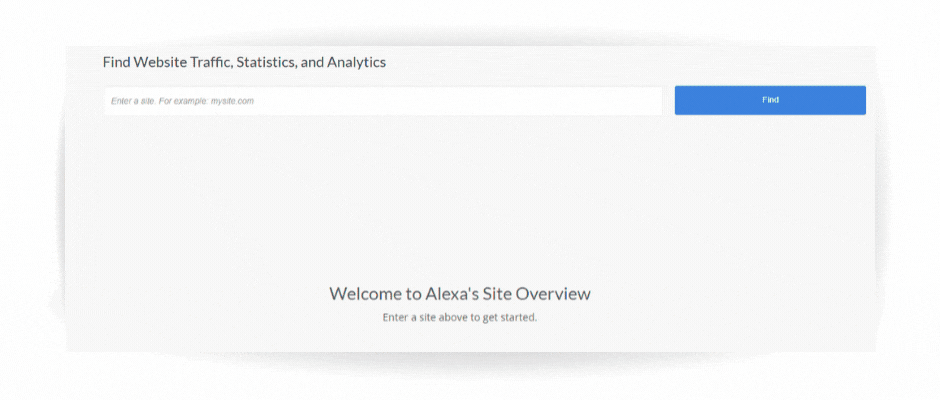 Alexa is one of the best Web Analytics tools by Amazon. It claims to have data on 30 million websites, including traffic, global rankings, and other information. It has been visited over a million times as of 2015. Alexa uses a sample of millions of Internet users who use browser extensions and sites that have chosen to install an Alexa script to calculate page traffic. It will assist you in promoting market analytics as well as a strategic strategy for traffic measurements.
Key Features:
Real-time analysis
Quality checkup
Beginners friendly
Inbound link analysis
Conclusion
And,  here they are, top 10 web analytics tools and their features! When it comes to enhancing your website and converting visitors into long-term committed customers, it's essential to understand your customers' behaviour and wants. Website analytics tools can help you learn everything you need to know such as your users' habits, expectations, and needs, also they'll help you maximize your website's potential. However,  you must consider a few things before choosing the right web analytics tool for your websites,  such as your preferences, requirements, number of features and Pricing.
Hope this article helps you to find the right web analytics tools for your website. Let me know your favourite web analytics tools in the comments!