Are you thinking about your SEO strategy for 2022? Do you need some statistics and figures to help you formulate your strategy?
We're all on the hunt for new information at all times. That is why search engines exist to make our lives easier and to fulfill our restless interest in the world.
Now we have access to an enormous amount of information at the push of a button thanks to search engines. It's difficult to picture a life without such ready access to information.
Google, the world's most popular search engine, is the first place to go for every form of internet question. The search engine has grown so familiar that the term "Google" has become a part of our day-to-day life. Also, Google has grown so close to you and me that it has become a verb.
By digging into the Google search statistics, you may understand user behavior and internet search patterns, as well as how to optimize your website to get the most out of your resources. And they can be interesting if you're searching for some quick Google statistics as well.
So, here are the top ten Google Search Statistics you should be aware of in 2022.
1. Google is the most popular website on the internet.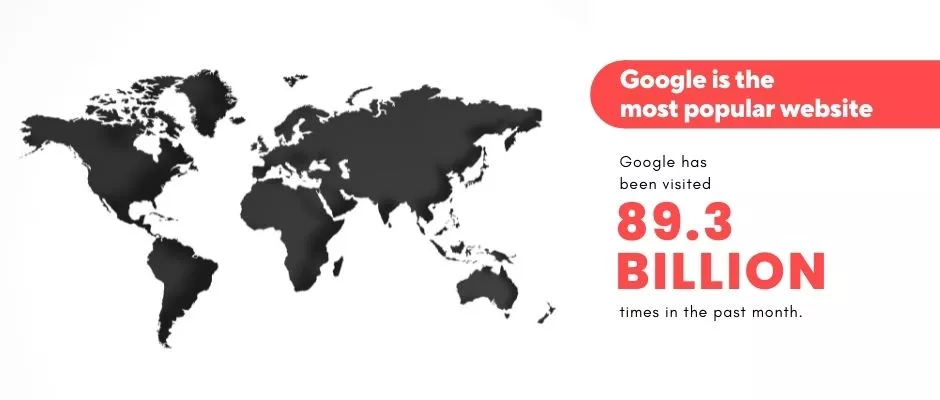 "If it isn't on Google, it doesn't exist". That's how you trust Google right?
This google search statistic which Google is the most used search engine is unsurprising. To put it another way, Google has been visited 89.3 billion times in December 2021. (Similarweb, 2022).
Google is used by billions of people every day to do their everyday searches. But, in addition to being a search engine, Google offers a variety of other services. This includes Gmail, their well-known email service, as well as News sites, Google shopping, and video and as well as image hosting.
One of the interesting google search statistics is that visitors searching for the phrase "Google" account for 16.3 percent of Google's US organic traffic.
2. Google has a monopoly on the search engine market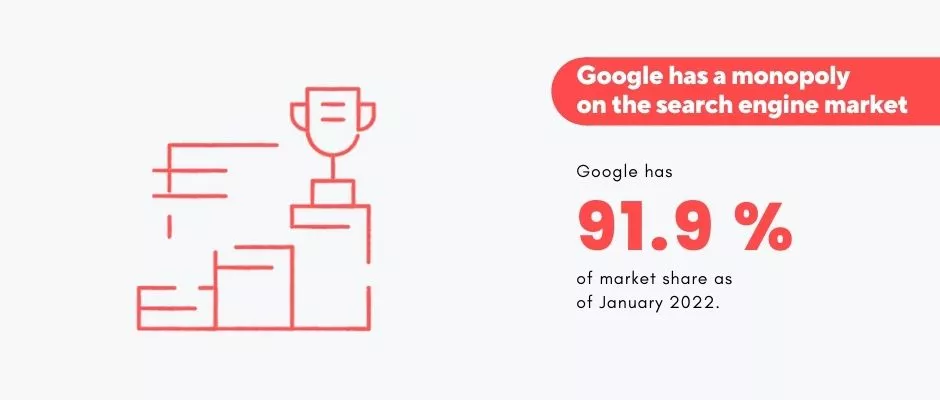 Google is the most visited search engine on the planet, and the below fact should come as no surprise. The search engine market is dominated by Google. In reality, Google has a 91.9 % market share as of January 2022.
Let's put this search engine usage statistic into context by comparing Google's search engine market share to that of other popular search engines.
Bing has a market share of 2.88 %
Yahoo! has a market share of 1.51%
YANDEX has a market share of 1.27%,
And Baidu with 1.16 % of the market share.
Since the launch of Google search in 1997, all other search engines have struggled to compete with Google. Google has retained a large proportion of the search engine market during the last decade. It also makes the majority of its money through advertisements.
However, Google has broadened its offerings to include mail, productivity tools, mobile devices, and other businesses over time. As a result of this integration, Google will have one of the top tech firm revenues in 2021.
3. Google Search Statistics – How many Google searches per day?
Now your mind: "Idk, should Google it!"
This google search statistic has evoked our interest. Every day, we know that Google receives a large number of searches. But how many actually are there?
According to the most recent data, Google handles over 99,000 searches every second. This amounts to about 8.5 billion queries every day.  (Internet Live Stats, 2022).
Curious about how Google's search volume has changed over time?
Google processed little over 10,000 search inquiries per day in 1998.
By the end of 2006, Google would have processed the same number of searches in a single second.
So, in less than a decade, Google moved from being a little-known search engine to becoming a vital part of the daily lives of searchers all over the world.
Google's success and popularity as a search engine can be attributed to its ability to produce quality and relevant results for its customers. This is performed by evaluating and interpreting the search goals of its users and matching them to the websites that provide the most correct responses.
4. How many questions have been asked on Google lens?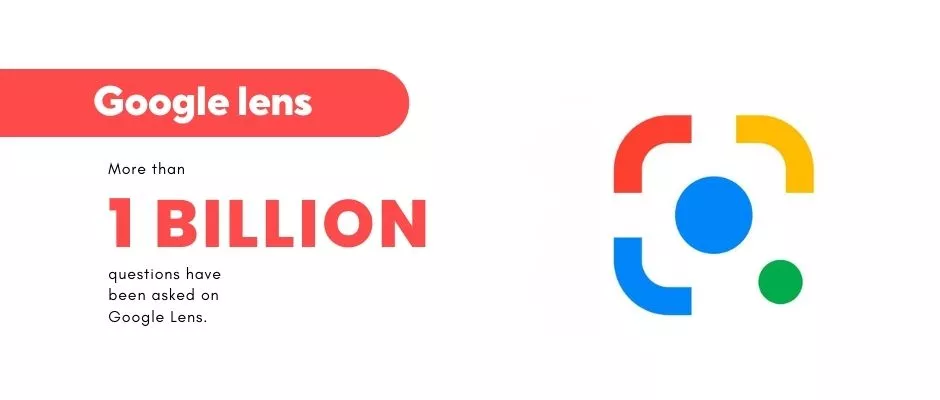 This is an interesting google search statistic that It has received over one billion questions till to the year 2019 (Google, 2019).
Google, being the king of search engines, makes it extremely simple for its users to conduct searches.
Google searches are conducted not only through traditional channels such as mobile and desktop browsers but also through innovative choices such as Google Lens.
Google Lens is a machine learning and artificial intelligence app that was released in 2017. It uses the camera of your smartphone to assist you to recognize objects. Simply point your camera towards the item and let Google Assistant identify it.
Its features are also upgraded on a regular basis. Google Lens was able to recognize up to a billion different products just over a year after its launch. (Google, 2019). With everything it has to offer, it's easy to see why it's so popular.
It also has a search option that isn't limited to photographs. Google Lens can also translate text and read material aloud, which is very useful for those who have trouble reading small words. And even it supports over 100 languages.
5. The Total Number of Google Mobile Searches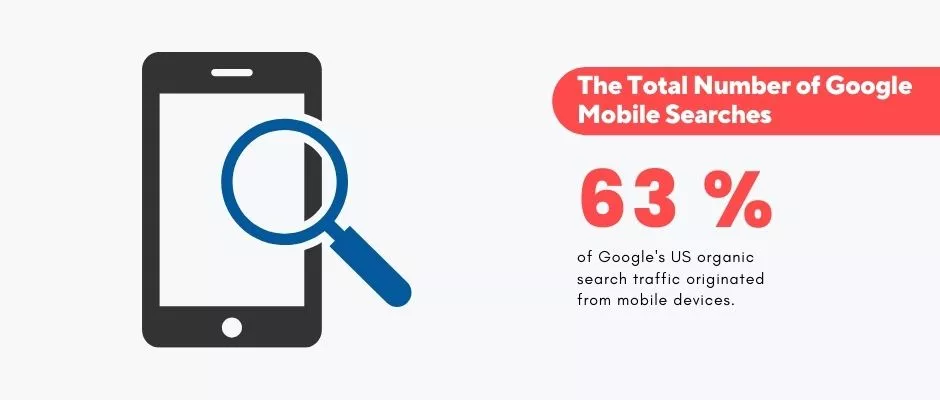 Curious huh!
Google search is no exception to the growing popularity of mobile devices. That's why Google prioritizes mobile searches. When we look at the amount of Google searches by device, we see that mobile devices accounted for 63% of Google's US organic search traffic.  (Merkleinc, 2019).
Google searches performed on a mobile device such as a smartphone or tablet are referred to as mobile searches. Smartphone searches on Google have grown since the last quarter of 2013. When comparing the types of searches performed on different devices, users of tablets and smartphones are more likely to do local searches, looking for answers to questions that are more likely to be location-based. Mobile device searches are often conducted with less complex outcomes in mind, such as quick facts, rather than learning complex subjects.
6. What is the #1 searched thing on Google?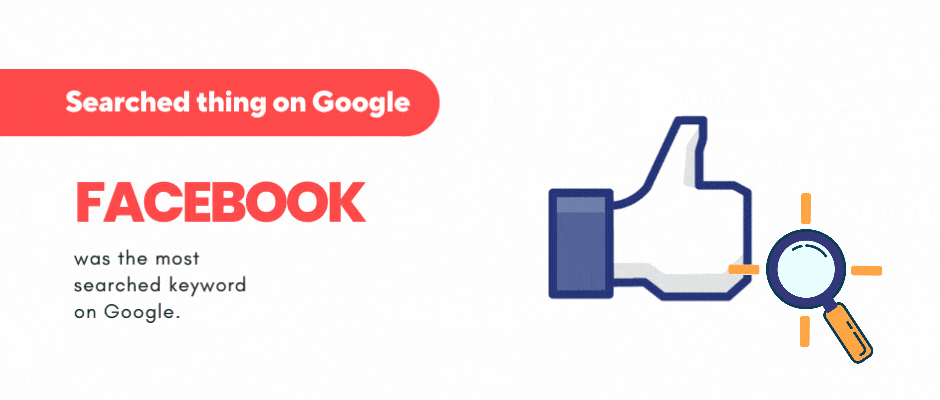 This is one of the most curious google search statistics we are seeking for. We know that people use Google a lot, but what is the most often searched phrase on Google?
In 2021, the most frequent search query on Google was "Facebook". "YouTube" came in second place while "Amazon" was third.
Branded searches dominate the list of most searched queries, which is unsurprising. The top three most frequently searched queries on Google each receive over 100 million searches every month.  This search volume reflects the number of times a keyword is searched on Google in a given month. However, the search demand for many keywords varies from month to month; the figure is derived as an annual average.
7. How Frequently Do We Use Google?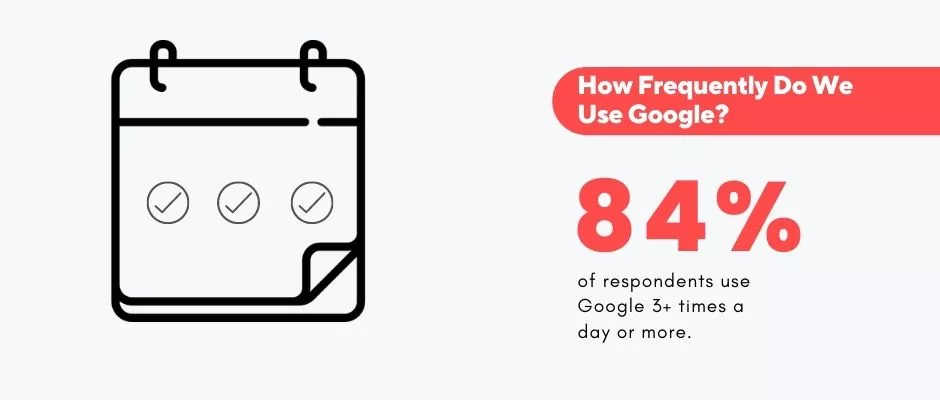 Without even looking at this google search statistic, we can see how reliant we are on Google.
We use Google to find answers to our questions several times a day. To be more specific, 84% of respondents utilize Google three or more times every day.
In the last few years, Google search has seen a lot of modifications. Google has also added a slew of additional features to the standard search results that we used to get a decade ago. Owing to Featured Snippets, or Information Panels, many rapid searches are now answered even faster. We receive better results for what we're looking for in terms of videos or photographs, which may have been the searchers' preferred option in the first place.
There's a funny quote for Google "Please stop behaving like WOMEN, will you please allow me to complete the whole sentence before you start guessing and suggesting!". Haha, that's how Google can predict us!
And Google took it a step further by introducing the "People Also Ask" boxes. Pretty sure you've experienced that it allows you to delve deeper into your original quest by displaying additional queries that may be relevant to you.
8. Google is the starting point for nearly every product search.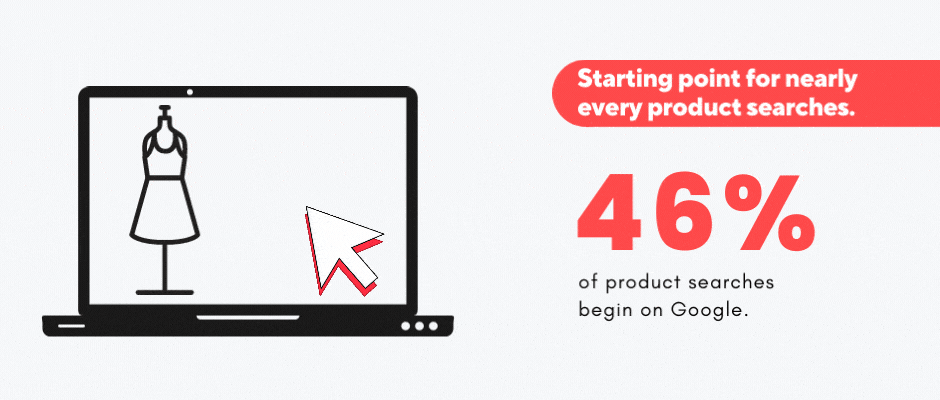 Google is a starting point for nearly half of all product searches, just like it is for many other searches. Google is the starting point for 46% of product searches. According to the most recent data, Amazon outperforms Google in terms of product searches, with 54 % of searches beginning on Amazon. And then, Amazon and Google have switched places in terms of being the preferred site for users to begin their purchase search from 2015 to 2018.
This can also be quite valuable for marketers who are trying to figure out how to better understand the buyer journey and how to make their consumers' lives easier. Knowing where product searches begin can help marketers understand their potential influence at various phases of the client buying process. This might be useful to ensure that marketers are delivering the correct information to searchers to assist them to make the best purchasing decision, whether they're attempting to rank organically or run effective Google advertisements.
9. The Importance of the First Page of the SERPs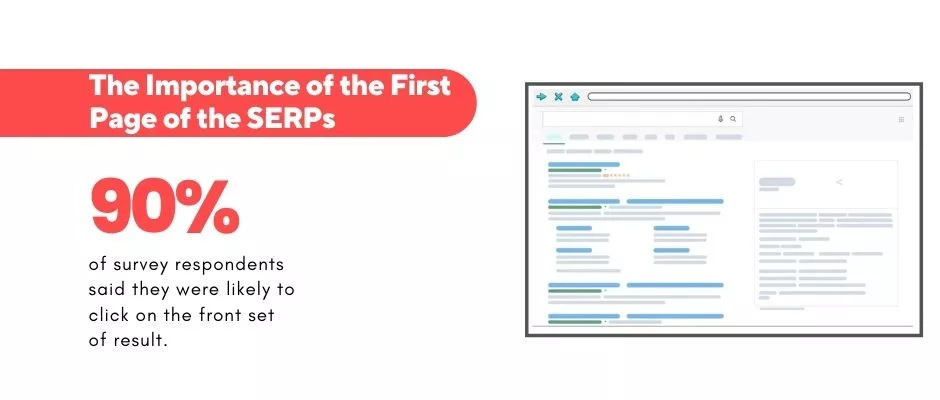 Somebody said that: "The best place to hide a dead body is the second page of Google search."
You'll probably stay on the first page of Google if you're looking for something. 90% of those polled stated that they were more likely to click on the first set of results. If you don't find what you're looking for on the first page, you'll probably change your query rather than go to the second. Agree?
And if you are a mobile user, 60% of mobile users are "extremely inclined" to click on the first two or three search results that appear. This is putting a greater emphasis on the importance of organic first page rankings. You want to rank higher for several reasons, the most significant of which is to boost your visibility to users. You should aim to be on the first page of Google SERPs, especially if you're a business. By going beyond Google's first page, you substantially diminish your visibility.
10. The Outcomes of Organic Searches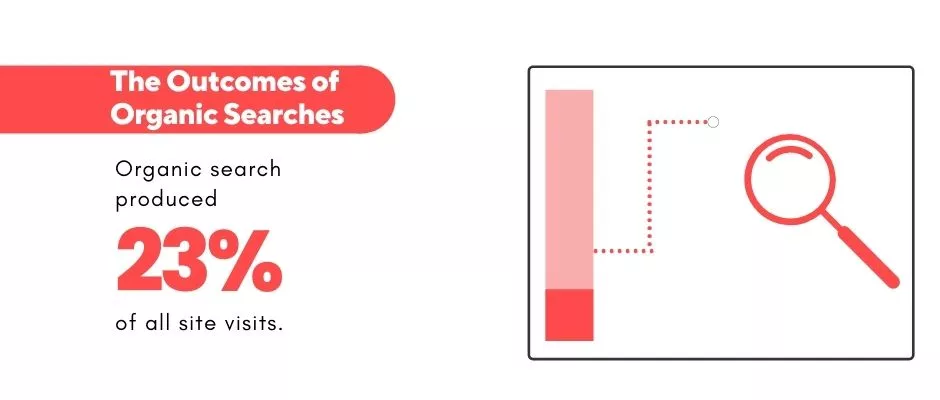 In the second quarter of 2019, organic search accounted for 23% of all site visits.  According to the data, organic search decreased month over month in Q2 2019. Organic search visits were decreased on all devices, but mobile phones showed the most evidence of this trend.
A rise in paid search and direct site visits could be the key reason for the reduction in organic searches. This isn't to say that organic search results aren't significant; it just means that other sources are becoming more visible. In fact, organic traffic is targeted the most, so, organic results will stay your greatest buddy. You'll be more likely to gain a new customer if you tailor your results to provide a solution to a specific user question.
Conclusion
It is undeniable that Google continues to dominate the search business. Therefore, understanding Google search statistics can help marketers boost their click-through rates and conversion rates. However, this does not rule out the possibility of using other search engines. Bing, Baidu, and other search engines are gaining in popularity. That is why, to target specific populations, marketers must keep other search engines in mind. Not only that, platforms like Facebook and Amazon retained their popularity over time.
I believe I've managed to ease your curiosity a little. Hope I've answered all of your nagging queries about Google search statistics.
In case, if I overlooked something, please let me know in the comments section below.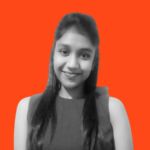 About

Rashmi Rathnayake

Rashmi Rathnayake is an undergraduate of the Sabaragamuwa University of Sri Lanka, who is following a Bachelor's Special Degree in Business Management with a keen sense of business environment. And a passionate content writer, copywriter, and blogger who loved to be explored and excel in writing to grant perfection to the desires of readers. As well as a good reader and a painter who has a good eye and sharp sense of observation.