In this blog, I am essentially going to discuss Search Engine Optimization (SEO) for your wix websites. If you are unaware of what SEO means for a website, it is the process of improving your website's rankings in Search Engine Results.
Managing your websites Search Engine performance is one of the most important and cost effective ways you can go about promoting it.
Being able to rank for Industry Specific keywords will give you an edge over other competitors in your niche, bringing in a recurrent inflow of highly qualified traffic that is interested in what you have to offer i.e., your core services.
But Before I Talk About Wix SEO…
I would like to clear a big misconception about the Wix vs. WordPress war. WordPress is undoubtedly one of the most popular website building platforms on the Internet, the primary reason for this is, it being an open-source platform, which introduces the possibility of crowd sourcing.
However, this popularity doesn't contribute to any Search Engine Ranking Factor. To put it clearly, I haven't come across any clear evidence yet that WordPress websites are given more priority in Search Engines than Wix Websites.
And neither is this fact true that, Wix websites are impossible to rank in Search Engines. I see numerous webmasters complaining about the fact that Wix Websites never rank. The fault, my dear friends, is not in the website builder, it is in the website optimization.
To give you some food for thought, I have found some great websites built using the Wix platform. I will show you the websites, along with some very popular keywords that they rank for…
Here They Are…
The first website on the list is www.bakeuhappy.com
Here is the built report of the website to prove that it is a Wix website.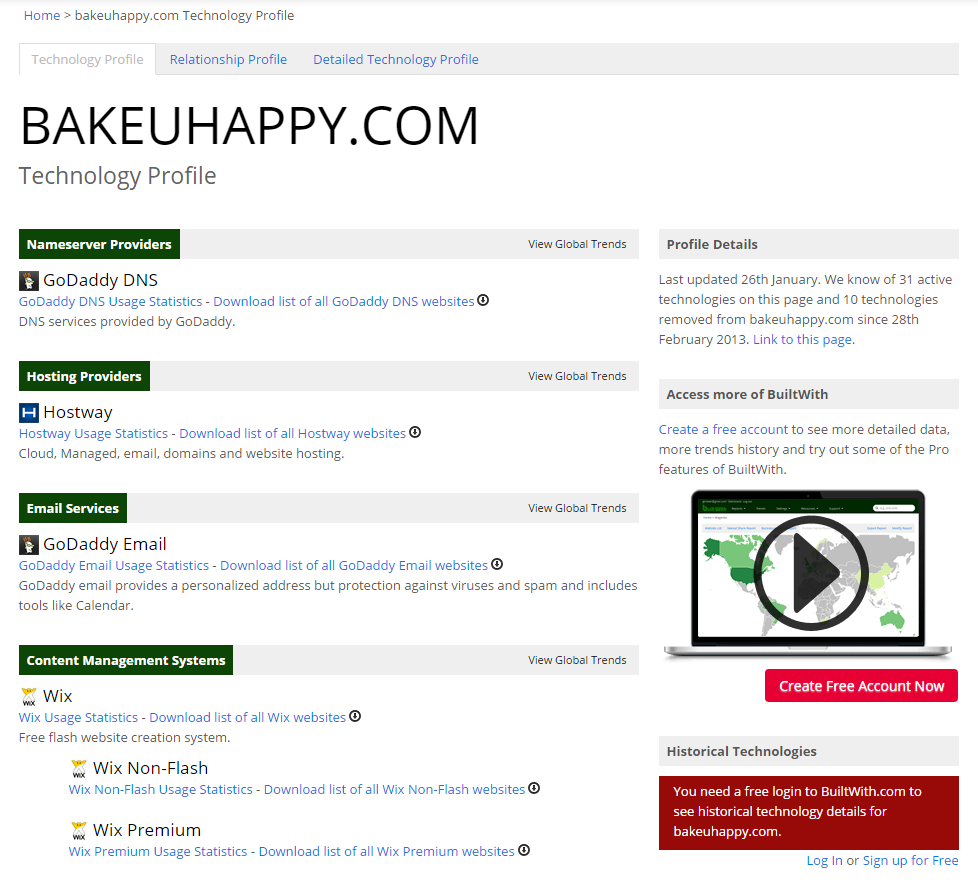 Now, that you can see the website is using a Wix builder. Let me show you some of the keywords for which it is ranking on the serps..
| | |
| --- | --- |
| Keywords | Position In Search Engine |
| cake jars for sale | 3 |
| jar cakes for sale | 3 |
| mini cupcakes near me | 3 |
| cupcakes santa clarita | 4 |
| bakeries in santa clarita | 5 |
| mason jar cakes for sale | 7 |
| custom shortbread cookies | 8 |
In total, this website is ranking for over 500+ Organic Keywords. And that's not too bad, is it?
If you have a Wix Website, and are wondering how to get traffic from Search Engines irrespective of your efforts, then you must be doing something WRONG, the thing that these successful businesses have done right.
I am going to walk you through some of the Search Engine best practices that these websites are following…
First and foremost, (refer point 1), Provide Your Contact Information and Business Hours Clearly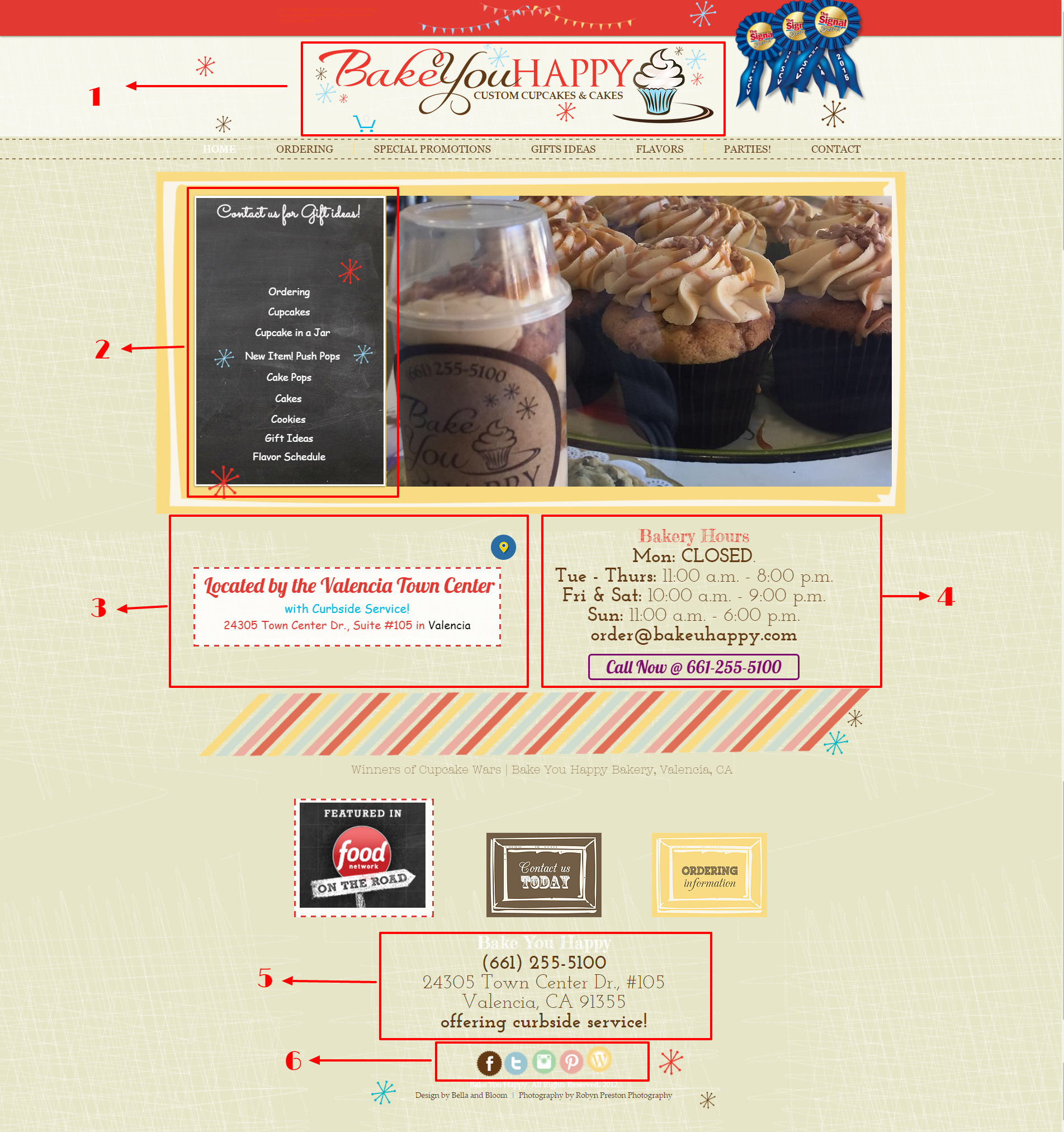 Firstly, Never Use Pre-Designed Logos or Text Logos for Your website that are provided in the Wix repository.
By using such images that are publicly available, your website will be lost amongst a pool of thousands of other websites who are using the same graphics for their business as well.
To be found by search engines, you need to differentiate your business from the rest, you need to do what others aren't doing, and show effort.
Always use Custom Designed Logos for your website, and don't forget to give an appropriate Alt-text to your Logo Image, which will help search engine robots understand more about your business.
In this case.. BakeUHappy Uses The Alt Text "Bake You Happy – Cupcakes, Cake Pops, Custom Cakes, and Cookies," which clearly tells search engines that their Business Website is about CupCakes, Cake Pops, Customized Cakes and Cookies.
Takeaway:  Remember to use Alt Text For All Important Images On Your Website, Not Only Your Logo Image. Alt Text Helps Search Engines Decipher the Topic of The Images and add value to the keywords or niche that you might want to rank for.
Secondly (refer to point 2), Link Out To The Most Important Inner Pages On Your Website From Homepage.
You will notice that I have ignored the Main Menu Bar of the website.
I do not consider that as a part of advanced optimization because it is taken for granted, any website, be it Wix, or WordPress or Joomla, Opencart anything, must always have a clear and concise Navigation Structure, with all pages of the site being accessible in not less than three clicks from any location.
With, that being said, I will move onto the second point. BakeUHappy has clearly provided links to all its important inner pages. Some of which ..Cupcakes Santa Clarita, Custom Shortbread Cookies…it is already ranking for, and I can bet my last penny that these Homepage Links are a major contributing factor to those rankings…
Takeaway:  Remember to link to your most important inner landing pages from the homepage that will get home the bacon at the end of the day. As the Homepage is undoubtedly one of the most linked-to pages on your website, sending links to inner pages helps pass the link juice your website acquires overtime to these important pages as well.
Third and Fourth (refer point 3 and 4), Provide Your Location, Contact Information, Email Address and Working Hours (if applicable) on your homepage…
Doing this not only fetches you SEO benefits, but it also helps build credibility for your website in the eyes of your visitors.
When curious visitors who are looking for services that you offer come to your website, your Physical Address, Working Hours, Phone Number and Email Address, work as a trust signal about the integrity of your business operations.
Along with that, this information is also at times picked up by search engines in this form…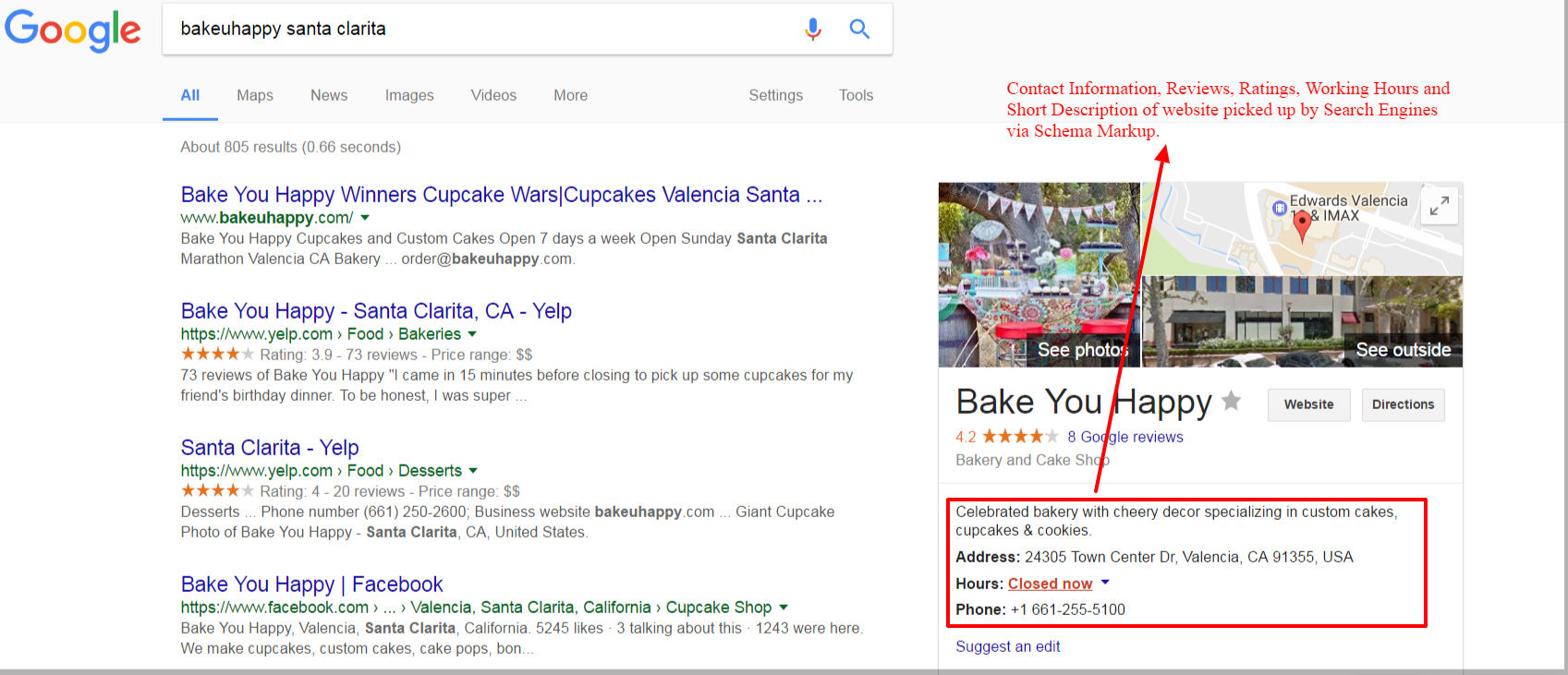 Takeaway:  Provide Clear Contact Details and Working Hours On Your Homepage. This builds trust and credibility for your brand, not only in the eyes of Search Engines, but also for your actual visitors.  
Fifth, Provide All Your Contact Information In The Footer Of Your Website,
This maybe a re-iteration of the 3rd and 4th point, but there is a slight difference. The above contact Information was provided in the main area of the page, which helped visitors instantly get all the information they need without scrolling to the bottom of the page.
The Contact Information here, is provided in the Footer Section, You can ideally also include your Working Hours in the footer section as well, as skip having it in the main content area altogether.
The bottom line is that you should provide these details on each and every page on your website, not only on your contact us and homepage. So Footer is the best route to go, because putting this information in the footer will help you make it available site-wide.
Takeaway:  You can provide Contact Details and Working Hours in the Footer of your website, which makes it available site wide, so that people can access this information from any part of your website.   
Sixth, Add Social Icons to Your Website to Connect Your Wix Site to All Your Social Profiles…
Doing this not only adds a bunch of colorful icons to your website and makes it visually appealing to visitors, but it also links all of your Business Social Profiles to your website. Meaning, whatever activity you do on your social profiles, contributes in one way or the other to the rankings of your Wix Website.
Being Active on social media is a powerful ranking signal for any website, and it is no difference for your Wix website. Search Engines want to display those types of results where the website owners also care about their visitors, and are not just bent on selling their services.
By including links to your various Social Profiles, you show search engines that your business is based around discussions, engagements and betterments, instead of mindless sales pitches.
Takeaway:  Don't forget to Add Social Icons To Your Website, preferably in the Secondary Header Menu or your Footer Menu. This not only let's visitors reach your social profiles faster and be able to interact with your business, but is also a major ranking signal for Search Engines.
Let me show you a few more examples of Wix Websites nailing their SEO Game…
The second website I am going to show you is a bridal boutique… http://www.ladiesoflineage.com/
This website is also made with Wix, here is the built report screenshot.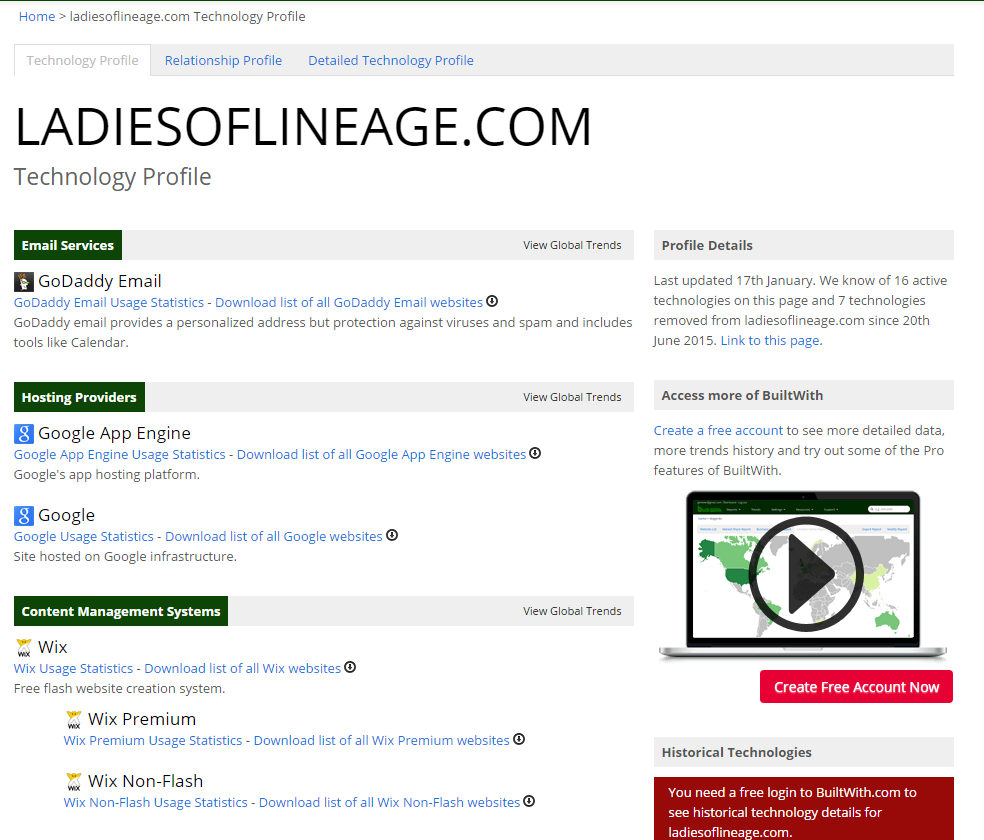 Another great example of a Wix website,
Let's take a look at some of the keywords this website is ranking for in the serps..
| | |
| --- | --- |
| Keywords | Position In Search Engine |
| charlotte bridal | 3 |
| wedding dress shops in charlotte nc | 5 |
| bridal shops in charlotte nc area | 6 |
| charlotte nc wedding dress | 6 |
| charlotte bridal shops | 7 |
| bridal boutiques charlotte nc | 8 |
| wedding dress boutiques charlotte nc | 8 |
Pretty amazing, eh? This website too ranks for over 800+ Keywords in search engines..
Apart from the afore-mentioned points that BakeUHappy is following. Let's take a look at another important point that should be taken into consideration when making your website SEO Friendly…
And this example I will give you with the help of our Bridal Boutique website… Ladies of Lineage.

When you type Bridal Dress Shop in NC, their home page is ranking on the 3rd spot. Needless to say, they have done a fantastic job at including their Primary Keyword in their Homepage Title.
That is one of the reasons why their website is ranking for such a high qualified Buyer Intent term for customers in NC looking for Bridal Boutiques in their area. Right?
Takeaway: Every page on your website, or at least the most important landing pages on your website should have a properly optimized Header Title, which is also displayed in the search engine results pages. These titles should not target more than one or two Page Specific Keywords.
Now.. moving onto..
And the Last One for Today…
…is a restaurant website… www.chiles-grill.com, apart from doing their Mexican Food right, they are also doing good SEO!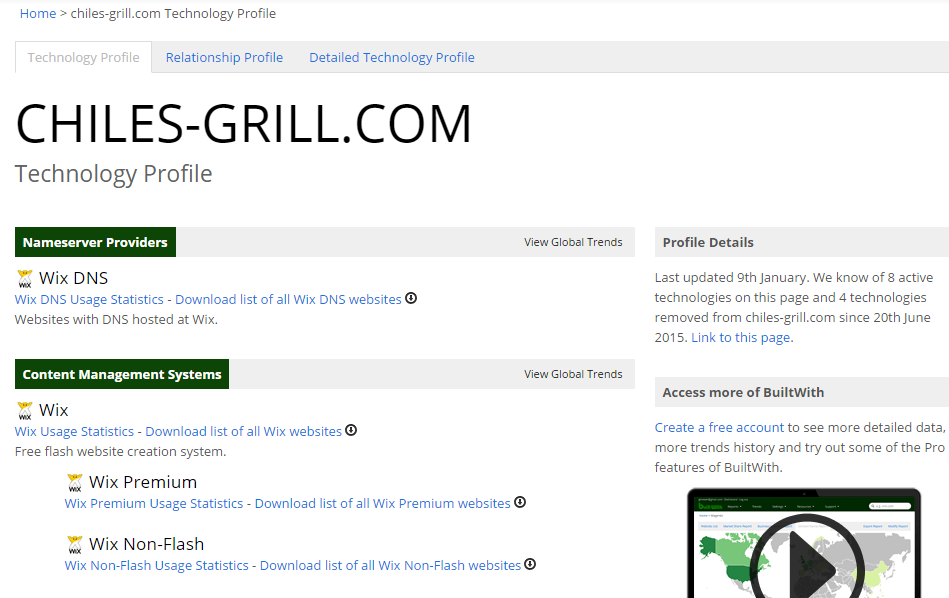 Here are some of the 600+ Organic Keywords that they rank for…
| | |
| --- | --- |
| Keywords | Position In Search Engine |
| mexican food tokyo | 3 |
| mexican restaurant in japan | 5 |
| mexican restaurants tokyo | 10 |
| japanese mexican food | 6 |
| harajuku food | 7 |
You get the idea, right?
Now let's take a look at some more ranking signals, but this time with the help of our Mexican Food search winners!
When we type, Mexican Food Tokyo in Google Search, guess who pops up? You guessed it right.. Chiles Grill,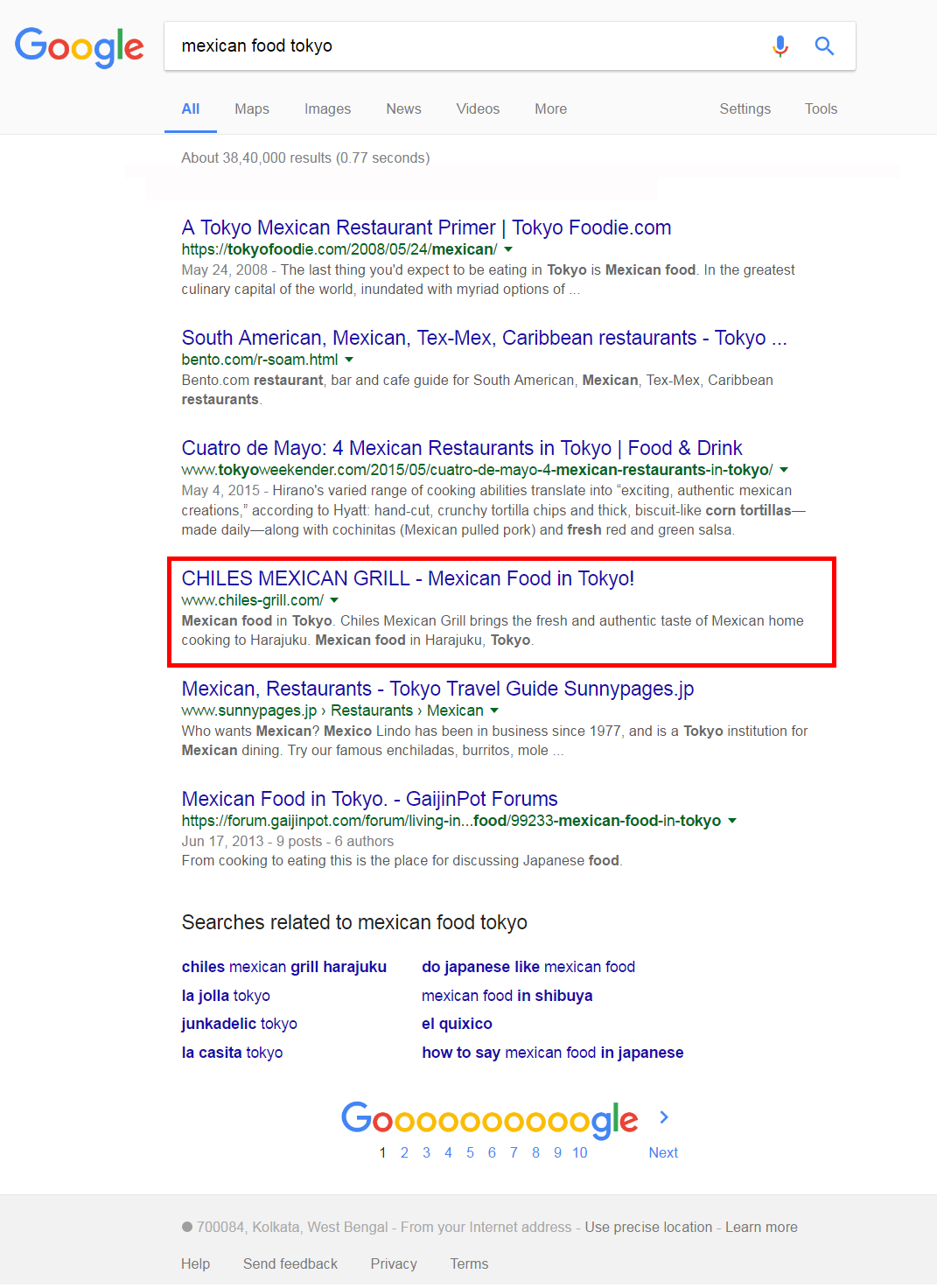 And they are not just ranking for the term, they are doing it in style. Chiles Mexican Grill is ranking on the 4-5th spot for Mexican Food Tokyo (a hot search term), which has over 4 Million Results.
I checked their Website and found they have everything in place,
Image Alt Tags, Check
Contact Information, Check
Inner Page Links, Check
Social Profile Links, Check
Optimized Header Titles, Check.
Well you can confirm this by going to their website itself. Take a look at the Screenshot of the Search Results page, they have got their Hearder Titles Optimized, and also their Meta Description.
This is what it reads..
"Chiles Mexican Grill – Mexican Food in Tokyo!
Mexican Food in Tokyo. Chiles Mexican Grill brings the fresh and authentic taste of Mexican home cooking in Harajuku. Mexican Food in Harajuku, Tokyo!"
They have properly optimized their meta description for the Keyword Mexican Food in Tokyo, Mexican Food Tokyo, Harajuku Food, and they are successfully ranking for all these terms.
You can do a reverse check for these terms in the Search Engine, but be sure to conduct the search in an Incognito Window, so that Google doesn't display you results based on your location and tracking.
Takeaway:  You should write a proper Meta Description for all the important landing pages of your website. This not only assures your chances of Ranking Higher in Search Engines, but will also insure a higher click through rate than other unoptimized websites when you do.
Secondly, Don't Forget To Use Page Specific Keywords, and Target Not More Than One – Two Keywords Per Page…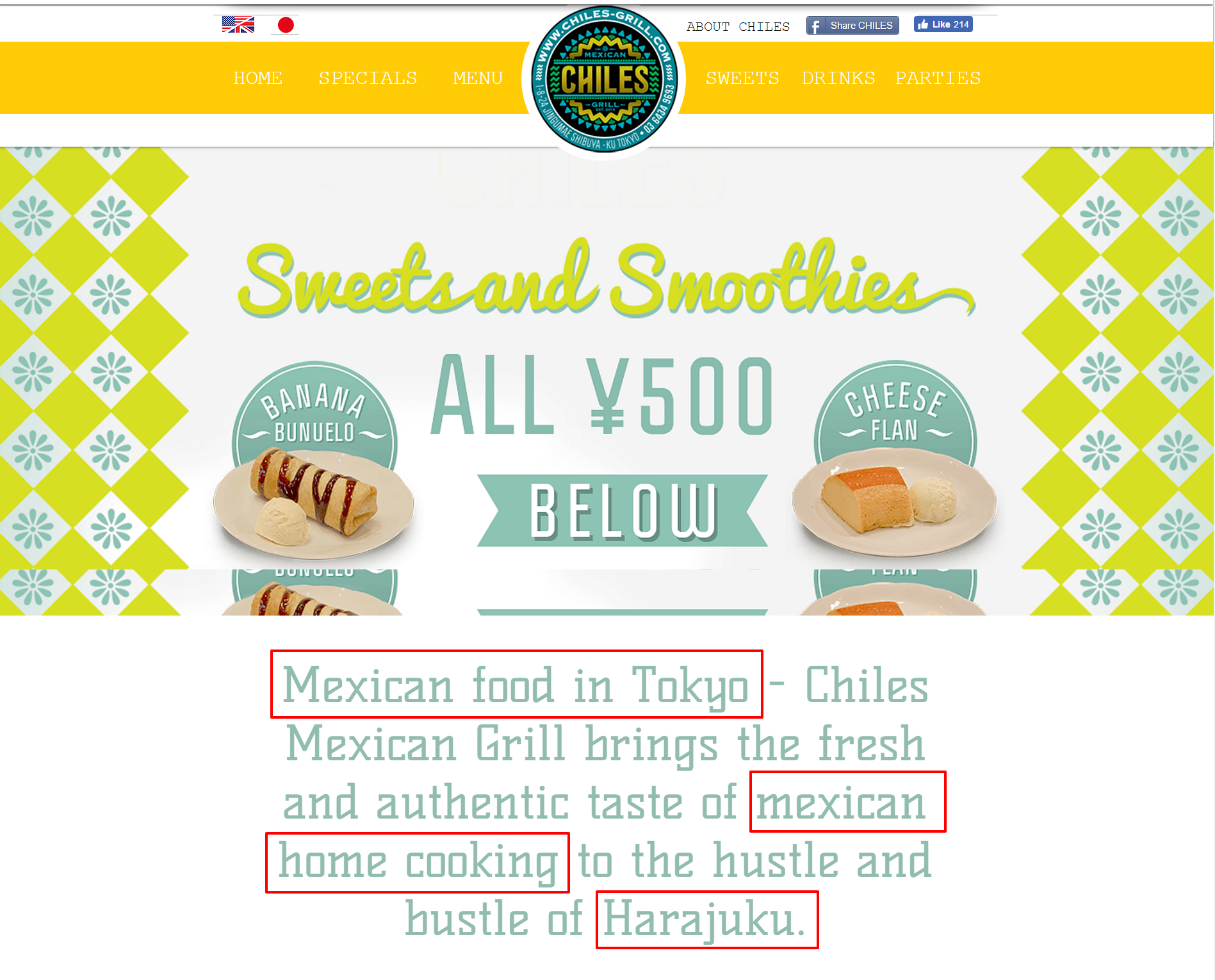 This above screenshot is taken from their homepage. I have highlighted some terms, which they have used on their homepage, to make their website rank for them.
Takeaway: It is not only important to use your Primary Focus Keywords in the Title Tags and Meta Descriptions of every page, but also inside the content of the page. Don't over use the keywords, or stuff them in the pages as it might do more harm than good to the readability and rankings of your website. Instead focus on evenly spreading them across the page, in the Titles, H2, H3, H4 Tags, Paragraphs, Bulleted Points etc.
So, that's about it for my Advanced Guide to On-page Optimization for Wix Websites. I hope you take inspiration from these examples that I have given and use it to better the rankings of your websites.
Before You Go…
Let's do a quick recap of all the things that we learnt and I will also include some basic things that I did not mention in this post. To be able to properly on-page optimize a Wix Website, you should focus on doing these things:
Select right URL
Tailor Google Titles for Your Pages
Create descriptions for each page
Employ anchor text
Add alt text to all your images
Use right headers
Write Quality Content
Use Page Specific Keywords
Use a 301 Redirect
If you are wondering what a 301 Redirect is, it is a form of redirection that is used to direct (maybe) your old website, to your newer version, to retain its SEO juice. This is primarily used by businesses who change their domain name or delete some old pages of their websites that were essentially getting a lot of traffic or ranking on Search Engines.
You should also know that On-page Optimization is just one side of the SEO Coin. Most of the things in On-page optimization can be done by a webmaster (such as yourself). The other side of the SEO Coin is the Off-page optimization, which holds a little more emphasis in the Search Engine Ranking Algorithms.
Off-page Optimization requires a lot of industry knowledge, depth, research and expertise, all of which my SEO Team can provide for you. In case you have a Wix Website, and are stuck on the SEO process, we will help you get stuck.
You can reach out to me on our Official Facebook Page, or drop a message in the comments section below and I can help you make a complete Online Marketing Plan for your Wix Website, that will help you get targeted visitors and convert them into successful leads of your business.
I hope you have success in your Online Business Venture, till we meet again! Stay Healthy and Have a good day!
About

Anita Sharma

Anita Sharma is a Digital Marketing Strategist based in Kolkata, India. Anita covers SEO, SMM, E-commerce and Content marketing. A Marketer by day and reader by night is a graduate of the University of Calcutta with a degree in chemistry; she previously worked as a Tutor for 5+ years. Anita has a passion for helping people in all aspects of Digital Marketing through the latest industry blogs she provides. She is always up for consultations. Want her to plan and execute your Online Marketing Campaign? Contact her via her LinkedIn.