You've probably heard the saying, "Content marketing can take the marketing game to a whole new level."
But can you tell, why?
Let's start from the beginning..
As you can see, content marketing is there since ages.. It's of no surprise – Content has been there to help marketers let their messages reach their audience.
Content is the base of any marketing strategy that brands not only imply to drive leads, but also to increase their overall bottom line by building credibility amongst the audience.
While it's true that brands and their content has to flow in the same direction but, most of the marketers don't know why. Before we get into this, let's take a look at what content marketing really is, now, since it has come a long way from the start.
What is Content Marketing?
Content marketing is a marketing strategy of producing and allocating valuable, relevant and reliable content to attract and acquire a potential audience – with the objective of driving profitable customer deeds.
It's about developing and leveraging relationships with people of influence within a particular industry to help spread your brand message or to help build on the same foundation as content marketing. It's no wonder content marketing is seen a truly effective form of marketing.
Let me break it down for you!
Content Marketing Growth In The Industry
Without a doubt, content marketing, once done properly, can produce striking results for your business.
"51% of B2B buyers depend more on content to research and make B2B buying decisions than they did a year ago." – says DemandGen Report.
Content builds trust among the buyers by helping them understand your brand's psychology and ethics before making a purchase decision.
According to research done by DemandGen, "47% of buyers viewed 3-5 pieces of content before engaging with a sales representative."
As they say, use your words wisely and carefully to get noticed. Those 3-5 pieces of content should have enough convincing power to make the customers understand the value your brand can bring to the table.
Here's what our Industry Experts have to say about content in 2017.
Synopsis of the Video – "In this video, Content Marketing Gurus are sharing some insights on how it is going to take a turn in 2017."
According to a report by Curata – "75% of marketers are increasing investment in content marketing."
Still need more reasons to focus on Content in 2017?
Keep Reading.. 
Content Marketing Demand In The Industry
"94% of the marketing professionals surveyed said it is critical that content marketing be part of a company's business strategy." – says PR Newswire.
Content marketing can be time taking process for B2B marketers but, it's an enduring approach to get remarkable results and to refine your brand's discernibly online. It also helps you cherish a longer relationship with your clients.
According to a report by Pagefair, "Approx. 200 million internet users have installed ad-blocking software globally."
So, if you are among one of those Ad-savvies, probably thinking of getting quick returns on paid advertisements, sorry to say this but you won't be able to survive for too long, especially when the marketing techniques are taking twists and turns in 2017.
Period.
To thrive your business in future in all aspects, you have to stick to content marketing to the core, and there is no way around it. Because today's people are looking for information before they can rely on your services.
If they leave your website having a feeling that this company understands me, you can be assured that you are on the right track of Content Marketing. Make your content consistent that can engage with the audience. You'll definitely succeed if will be able to achieve this milestone.
5 Brands That Made it Big With Content Marketing
Content marketing is getting a bigger picture because you don't sell anything directly. People who are coming to your website don't experience that irritating selling tone rather than that; they leave your site with the exact information what they have been looking for.

ADP is a leading solution provider of human resource management to businesses. The company leveraged their expertise to create white papers, which have proven to be highly valuable to their customers. They provide whitepapers on human capital management to their customers.
Key takeaway: If you're thinking, White papers don't have any impact on marketing, then you are wrong my friend.  It might be overlooked in the industry, but not dead. If your customers prefer more whitepapers then, you won't mind creating a huge number of this resource for your customers.

Cisco is an IT solution provider that sells networking hardware and high-technology telecommunication equipment. The company came to know the power of content marketing when they launched a new product on social media and promoted it.
Key takeaway: With the evolving world, Social media has become a center of attraction of billion people, and it is obvious to draw attention from this platform, once done properly. Promote your products through social media with right strategies for a successful campaign.

DemandBase is an account based marketing technology provider that leverages the expertise in serving B2B brands by using white papers, SlideShare, infographics, and webinars for new leads for their campaigns. And, it generated over $1million through content marketing.
Key takeaway: To get the remarkable results in ROI, you need to develop a content strategy for your audience over a period.

Cox Media Group is one of the largest integrated publishing, broadcasting and digital media companies in the world. Though having maximum exposure on television, Cox Media Group has generated new technique of "Success Kit" online that provides a solution to SMBs through eBooks and videos and got more than 2000 leads through 5000 downloads.
Key Takeaway: You'll surely get more leads by creating an informational content for your audience. This might take some time to get started, but it will be worth it for a longer run.

Toshiba is a Japanese conglomerate corporation that provides products and services including IT and communication equipment.
In 2011, Toshiba created a "Smart Community" endorse awareness of its renewable energy solutions. They invested in a massive SEO campaign to boost their rankings. Their campaign generated over 160,000 followers on LinkedIn worldwide.
Key takeaway: Investing in SEO to push your services on top of SERRPs is a great strategy for content marketing to get maximum traction.
 What worked for them may or may not work for your business, but they are surefire inspirations to get you started with your Content Marketing efforts in the coming year.
Mistakes To Avoid In Content Marketing
If you are doing it wrong, then better not do it at all.
1. Your Content Sucks
Still writing for the search engines? Merely stuffing keywords and writing for the bots is not going to cut it anymore. You need to have content that is well received by your audience. At the end of the day, poor content doesn't achieve anything.
2. Your Content is Useless
Now, you might be saying that your content is really high quality, but consider again. If your content doesn't help solve a problem or answer a question, then it will not get any recognition from your audience.
3. Your Content is Promotional
No one ever came to your blog or gallery to read 2 pages worth of features about your product and how you are the "Best + ________ + Company in + Area."  The focus of your content should be to educate your readers and give them information. In most cases, you should never even mention about your product or service until the end of the content.  There is nothing better than being able to teach your reader to solve a problem.
4. You Are Not an Authority on Your Subject
Well, there is no point in trying to be someone who you are not. If you are not good at something, it is always a good idea to have an expert do the task for you. If you do not have complete knowledge about your field, then your audience is going to apprehend you. And once they know that you are not a guru, they are going to stop coming back. One of the biggest mistake businesses make is it have rookie bloggers or cheap artists create their content. This is actually worse than not making an effort at all.
5. You Are Not Mixing Your Content Marketing Efforts With SEO
Far too many businesses, see SEO as an avoidable expense for their business. But, they are totally wrong. Enterprise Grade SEO is and should be the foundation of your online marketing efforts. One, because it helps reduce the overall cost of consumer acquisition in the long run, and Two, because SEO helps spread your business in a completely new market, the Search Engines. I am a content marketer and an SEO consultant, so I know how these two fields are equally dependent on each other to be most effective.
Best Places To Find Content Creators
Content development can be a very resource-intensive task unless money is no bar, hiring designers, writers, coders, developers, animators, etc. in-house can seem to be a massive burden on small businesses and startups. If you are starting out, it's always better to hire freelancers on a contract basis to get your work done for you. There is no dearth of freelancers on the internet. Here is a list of places where you can get artists and content developers at exceptionally affordable rates:
These are some of my goto places for exceptionally good content at exclusive rates. Disclaimer: Use these services at your own risk, because not all sellers on these platforms are delivering good work. So be sure to check out reviews, a number of sales, reply time, orders in progress, etc., before you try any of the services listed on these platforms.
What's Going to Work and What's Not Going to Work in 2017
Coming onto our takeaway from this post. Many things come to our mind when we think of consumable content, be it whitepapers, blogs, videos, podcasts, infographics and more. But there are two factors that can impact your bottom line when you start out content marketing:
What used to work a year back, may not be a great option today. Maybe you have better alternatives.
What works for someone else, may not necessarily work for you: A brand might be leveraging Pinterest, by creating more infographics and images for their consumers, but what if your consumers are on YouTube? So, it would be a wise decision to create videos for your brand, instead of Infographics. You get the idea, right??!?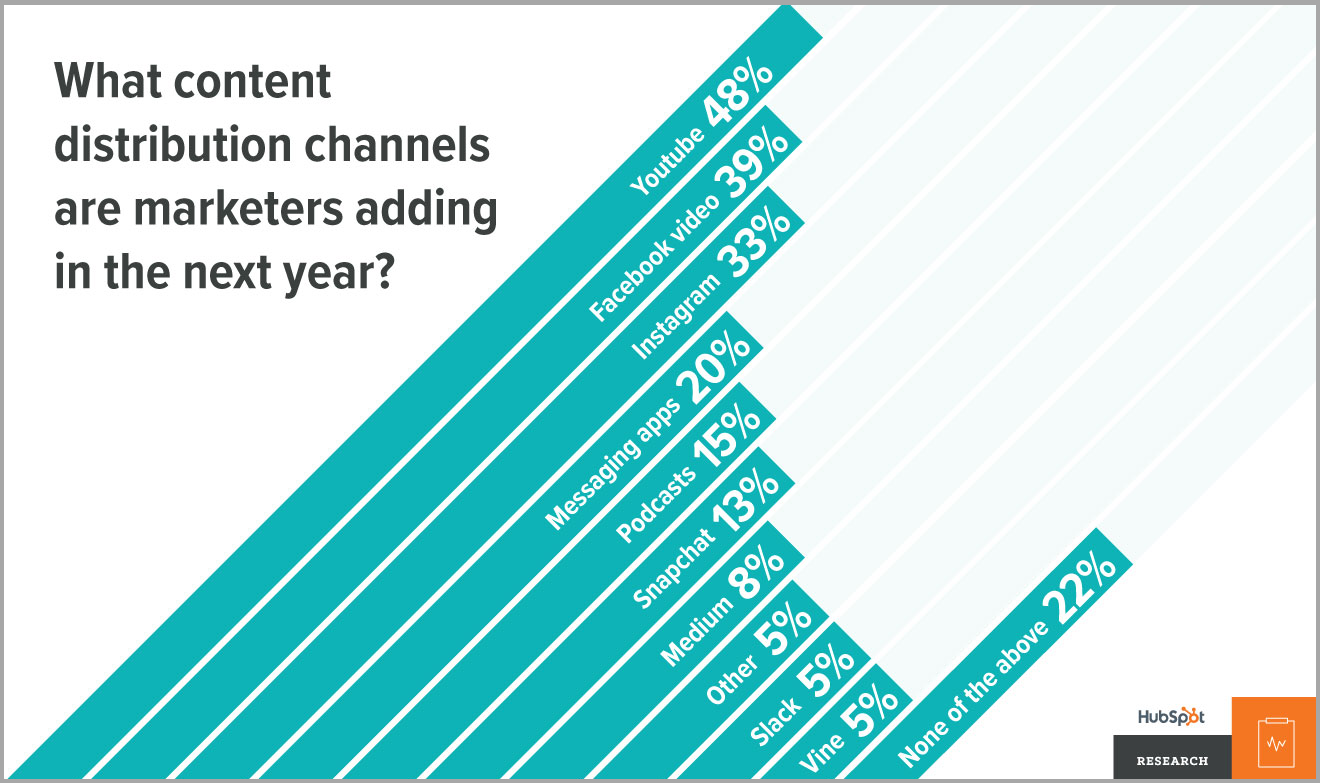 So, keeping these two factors in mind, let's look at the best practices for 2017:
Live Streaming Increasing in Popularity:
Recorded videos will never go out of fashion, but the recent trends in 2015-2016 show that live streaming is now the most easily consumable content available to viewers. The rise of applications like YouTube Live, Facebook Live and Snapchat, make it all the easier to host live product tours, launch events, tutorials, briefing and another form of content.
Virtual Reality Will Set the Stage:
With companies like The Outdoor Clothing Company and The North Face embracing VR Technology to showcase their clothes and athletes, we know that VR is already being accepted. Though this feature will not be available to small and mid-sized businesses anytime soon, due to the cost, we are sure to see all big companies taking advantage of it. You too should keep this in mind, if you can afford this technology.
Native Advertising to replace Push Advertising:
AD Blockers and the genuine hate for banner advertisements is making it difficult for companies to take advantage of Pop-ups, Pop-under, Banner and Exit Intent advertisements. This does not mean that banner ads are dead, but consumers are evolving and so is advertising.
Storytelling Will Be the Most Important Form of Marketing:
Consumers are tired of reading advertisement copies and bland content. They want more. Good Storytelling is and will continue to be the source of prime brand inspiration for consumers. Storytelling doesn't only refer to case studies, but a lot more. Brand's need to think outside the box to promote themselves in a manner which is better accepted. So simply blogging for the sake of blogging or updating social networks is not going to cut it, you need to find better ways to engage with your audience.
Email Newsletters Are Not Dead:
Nor will they be, anytime We have been discussing the death of email for the past few years, but with the rise of open-rates in 2016, it feels that we are having been making a premature decision. Again, sending out emails for the sake of sending them is not going to work, needless to say, it never did. You need to write your emails in a way that each one connects with a previous, letting your audience keep waiting for more.
How You Can Make the Most of What's Going to Work!
Now since you know how top brands are leveraging content marketing, mistakes beginners tend to make and places where you can get affordable content developers and also what is working in 2017, you have all the right ingredients for the recipe.
Remember, the food can only be as good as the cook, so you need to make the most of these pointers that I have mentioned in the post. Give it a try. When doing business, there are bound to be cliffhangers and risks, so don't be afraid to take an attempt and fail. After all, with failure comes perfection.
I believe that 2017 should be a real fruitful year for businesses that are thinking of stepping into the online marketing scene because a lot of evolving technology is setting the stage. And with this evolving technology, there is an advantage of starting out early and being head to head with the big fishes.
If you want to take advantage of the Online Marketing Scene in 2017, you should be planning ahead to spend in Search Engine Optimization, Email Marketing, Story Telling via Blog and Newsletters, and of course Virtual Reality showcasing, if it fits your brand strategy.
With that said, I will close this overly long post because I am sure you are left with more than one idea tingling in your head. Moving to you: If you were to bet your money on that one marketing strategy in 2017. What would it be?
About

Anita Sharma

Anita Sharma is a Digital Marketing Strategist based in Kolkata, India. Anita covers SEO, SMM, E-commerce and Content marketing. A Marketer by day and reader by night is a graduate of the University of Calcutta with a degree in chemistry; she previously worked as a Tutor for 5+ years. Anita has a passion for helping people in all aspects of Digital Marketing through the latest industry blogs she provides. She is always up for consultations. Want her to plan and execute your Online Marketing Campaign? Contact her via her LinkedIn.