Running a marketing campaign is not what it used to be in the early years. Earlier, starting a campaign meant planning, spending the money and then praying that your strategy hit a home-run.
Marketing has forever been a game of analytics, and with the advancement in technology in the recent years, it is easier than ever to measure the output of your digital campaigns in real time. This factor also makes survival tough for the unorganized.
The aim of this free checklist is to help you connect all your various channels for Marketing, so that your prospects do not feel left out during the lead nurturing life cycle.
By following the steps mentioned in the Extreme Checklist for Digital Marketing in 2017, you will be able to:
Stay on top of key industry trends and make changes to your brand strategy in advance, to be better prepared for the future.
Connect your Digital Efforts, so that your Online, Search and Social Presence work together to enhance the return on your marketing spend.
Be in a better position to review the results of your marketing, and make critical changes that will increase the value of your customer acquisition process.
For ease, I have broken this checklist into five parts namely, Web Design, SEO, Analytics, Content Marketing and Social Media Marketing.
So, without further ado, let's move onto the first section of your checklist, i.e., Web Design.
 Web Design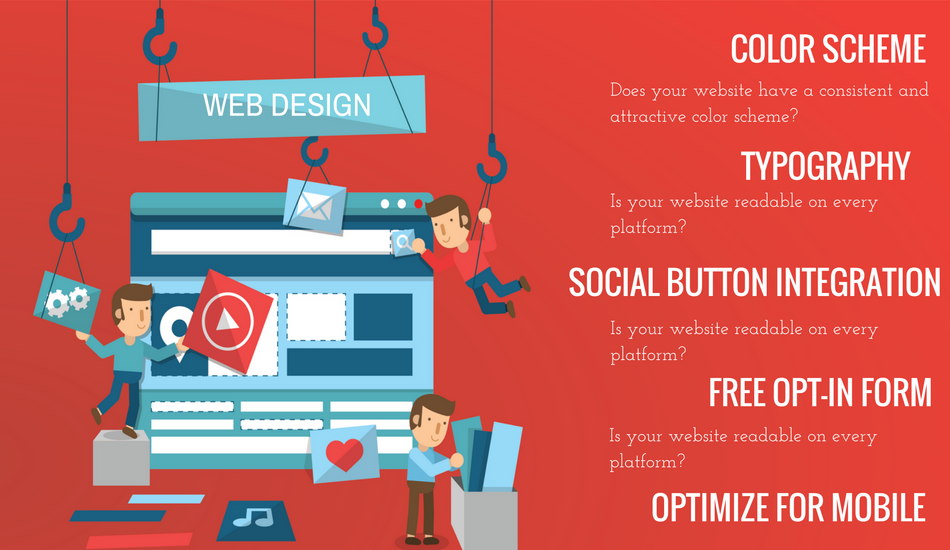 Color Scheme
Does your website have a consistent and attractive color scheme?
Are you using the right color combinations for your website?
Never go overboard with colors, unless your business calls for it. If you are using more than 5 colors on your site, then use it wisely. Take help of web Designer and maintain color consistency in your site.
After all, you don't want to end up with a site looking like an art of a 2-year-old.
My recommendation is never use more than 5 colors. 3 colored website is a standard practice in the industry.
Typography
Is your website readable on every platform?
Choose the right fonts. If people have difficulty in reading your content, they will leave your website immediately.
Marketers these days are paying more attention to their site's typography. Why?
Read Here: The Effect of Typography on User Experience & Conversions
Social Button Integration
Have you integrated social sharing buttons into your posts?
Perks of having social sharing buttons is that, if your readers like the post that they are reading, they can immediately share with their friends on social channels. If you are using a WordPress website, this can easily be achieved with a plugin. Always give your viewers the quick and easy option to share your articles.
Free Opt-In Form
A free opt-in form asks a visitor's name and email id in exchange of free resources. Install this feature on your site to build credibility towards prospects, by giving them value in return for their contact information.
Optimize for Mobile
A detailed insight by ComScore shows how people are accessing the internet through smartphones, as opposed to desktops. So, I am sure that you don't want to have a website that is not accessible via mobiles. A mobile friendly site increases the usability of your website for smartphone users.
Is your website responsive? How does your website look on mobiles and tablets?
Takeaway: Consider using responsive themes or implementing mobile-first CSS to make your site user-friendly. Review your website using Google Mobile Site Checker.
[divider height="30″ line="1″]
Analytics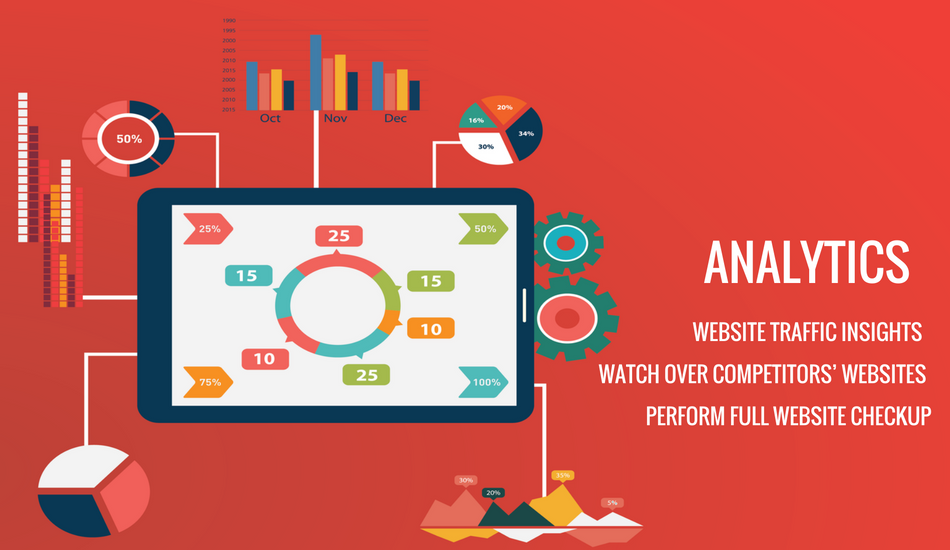 Website Traffic Insights
Website traffic is directly correlated to the success of your marketing campaign. Review your website's top performing pages and analyze the traffic. Understand how many visitors come to your site, how many of them are unique and what elements have helped you capture leads or convert visitors the most.
After all this scheming, you will be able to understand, which traffic sources are most beneficial for your business.
Did you review your website performance?
Takeaway: Use these  Top SEO Tools to review your website performance.
Watch Over Competitors' Websites
Run an audit of your competitor's website. Keeping an eye on your opponent's activity will give you a clear picture of what is pushing them on top. You can take a hint from them and implement certain things from their strategy for your business. This will keep you on the edge, and you won't miss out any chance of being ahead of your competitors.
Review competitor strategy to understand how they fare against your website?
Takeaway: Use tools like SEMrush, Ahrefs or SEO SiteCheckup for auditing your competitors' websites.
Perform Full Website Checkup
Monitor your websites broken links, loading speed, cross- browser compatibility and navigation. Fix problems, if you find any. Make your navigation smooth for visitors as well as for Search Engine Spiders.
Does your website have broken links? Remember to check broken links, plagiarism, loading speed and browser compatibility for your website.
Takeaway:  Use tools like HubSpot Website Grader or Woorank to find out issues and fix them.
[divider height="30″ line="1″]
Search Engine Optimization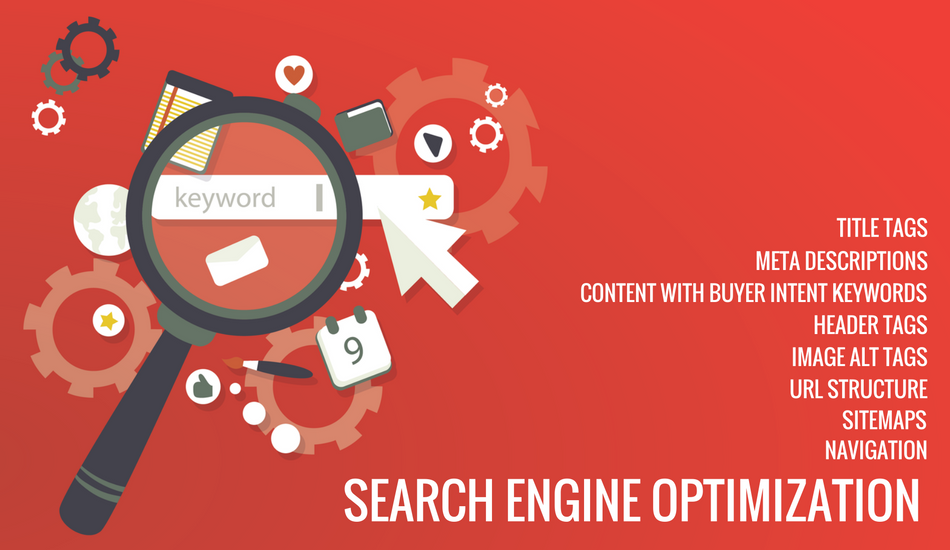 Okay, so your website has top of the line design, great content and images. But, what if I tell you these don't matter if your SEO is not in place.
It doesn't matter how beautiful your site looks if prospects can't find your website. All your effort will be go down-the-drain, if you don't optimize your content for Search Engine. It is extremely crucial to optimize each page of your site if you want to attract more traffic.
Check your website for the following On-page SEO Factors:
Title Tags – Are you using focus keywords in your page titles?
Meta Descriptions – Do all your web pages contain meta descriptions?
Content with Buyer Intent Keywords – Include Buyer Intent Keywords in your main landing pages.
Header Tags – Have you followed the six-heading tag format to give your page some structure? (i.e. <h1> to <h6>)
Image ALT Tags – Use Image ALT Tags for SEO purpose.
URL Structure – Make sure your URL is short and related to the page and includes keywords.
Sitemaps – Use sitemap to allow users to navigate around your site quickly when at the bottom of the page.
Navigation – Make your navigation easy and smooth, so that Search Engine bots can crawl smoothly.
Have you optimized your site for Search Engines?
Recommended: Read about creating a proper navigation structure for your website here.
[divider height="30″ line="1″]
Content Marketing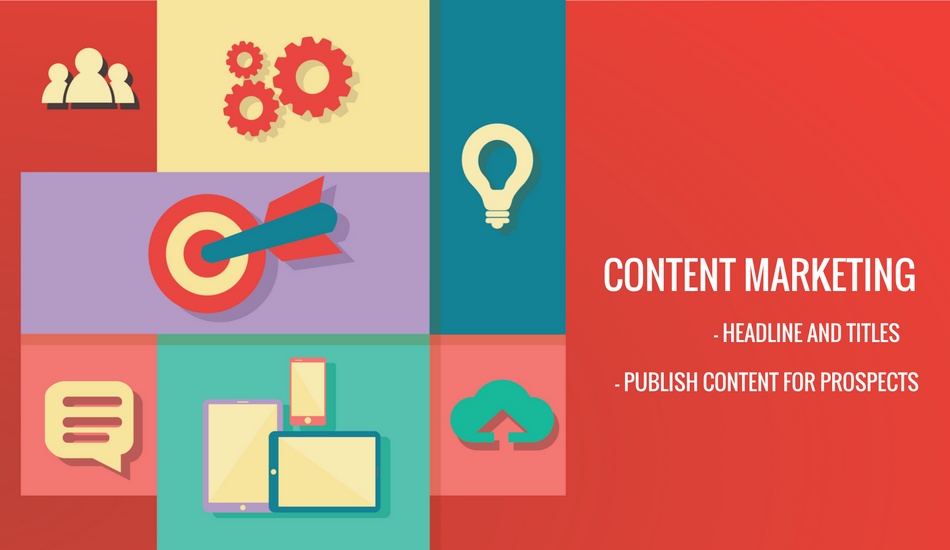 Does your content attract enough traction for your brand?
Content is the King! You need to publish fresh content for both visitors and Search Engine Bots. Publish 4-5 blog posts a month, between 1000-2000 words. Make sure, your content is free from grammatical mistakes and spelling errors and should include eloquent CTA's.
Have you put the important information in the first two paragraphs of your content?
Consider Reading: Here's Why You Need to Focus On Content Marketing In 2017?
Headline and Titles
 Do the headings on your web pages describe what the content below is about?
Research has shown that 8 out of 10 people only read the headline. Make sure, your headlines include keywords and have an engaging tone to attract an audience.
Publish Content for Prospects
Optimize your content for your visitors, not just bots. Don't just stuff keywords for Search Engine Robots, but provide value to the readers. If visitors can't make head or tail out of what you publish, it is better to not publish at all.
Check if you are producing consistent and valuable content for readers?
Read – Why should you focus on making your content better for the coming year?
[divider height="30″ line="1″]
Social Media Marketing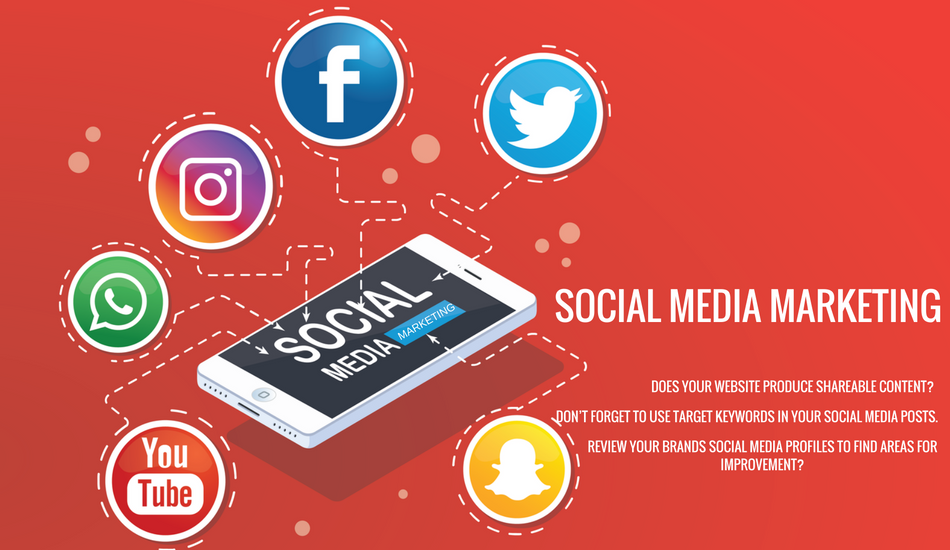 Does your website produce shareable content?
Address the pain of the target audience, help them solve problems, and answer questions being asked about your brand.
Don't forget to use target keywords in your social media posts.
Review your brand's Social Media Profiles to find areas for improvement?
Facebook
Update the profile image and cover image of your Facebook page.
Promote content and offers of the page to increase the traffic of your site.
Invest in paid advertisement and run a campaign to create awareness about your brand.
Run contests and quizzes to attract people to your page and use a referral chain for registration to the contest. Do not hesitate to spend few $$$ in organizing giveaways. People love getting pampered by gifts. You can do this occasionally at special events.
Try posting different types of content like images, videos, gifs, blog posts, offers, etc.
Twitter
Post at least 3-5 tweets a day. These may also include retweet's from influencers and blog posts including CTA's.
Monitor mentions and thanks to them.
Add images and #hashtags to your tweets to get found.
Pro Tip: Use automated software like Twittercounter, Tweepi, IFTTT to automate your tweets and manage your Twitter Profile.
LinkedIn
Update your company profile. Circulate articles and job openings.
Take part in discussions.
Upload relevant content weekly.
Promote your services and post valuable information.
Encourage your employees to establish an online reputation and expand their networks.
Google Plus
Follow new people or companies to be on the trend.
Circulate your blog posts, share other content, and promote your services and events.
YouTube
Find new videos to share on your page.
Publish one video weekly. Try to make whiteboard presentations, DIYs, tutorials, etc. to engage the audience.
Subscribe to new channels of your industry monthly.
Circulate your videos to different channels. Try replying to comments under your videos.
Wrapping Up!
There is no shortcut to success. If you want to make your mark in 2017, then this checklist should help you reach your core objectives.
But, before you begin, you should take the time to evaluate your progress in 2016. What strategies worked for you this year, which channels performed better, which sources contributed to most of your qualified traffic etc.
You can use these metrics along with our Checklist to understand what you need to do to nail your marketing and get ahead of your competition in 2017. And if you face any problems along the way, I am just a nudge away. Shoot me your queries in the comments section below, or get in touch via our Official Facebook Page.
If you found this Checklist helpful, do not forget to share it with people in your connection who will benefit from it.
And before you leave, here is the Free Link to The Digital Marketing Checklist for 2017!
[button title="Get Free Checklist Now!" link="https://www.primeone.global/wp-content/uploads/2016/12/Extreme-Checklist-of-Digital-Marketing-in-2017.pdf" target="_blank" size="" color="" class=""]
About

Anita Sharma

Anita Sharma is a Digital Marketing Strategist based in Kolkata, India. Anita covers SEO, SMM, E-commerce and Content marketing. A Marketer by day and reader by night is a graduate of the University of Calcutta with a degree in chemistry; she previously worked as a Tutor for 5+ years. Anita has a passion for helping people in all aspects of Digital Marketing through the latest industry blogs she provides. She is always up for consultations. Want her to plan and execute your Online Marketing Campaign? Contact her via her LinkedIn.