The future has never looked brighter for E-commerce Trends than in 2017. After completing a year of big achievements and record breaking in sales and conversions, many e-commerce platforms are already gearing up for what looks like another year of promise in the area of profit maximization.
Most have set their sights on pulling as much traffic as they can from brick and mortar stores and redirecting it to their platforms, and the odds seem to be in their favor so far. 2017 has already had its share of unprecedented trends in the e-commerce industry, shown by online stores opening physical branches while brick and mortar stores continue downsizing and closing half their branches to go online.
And as with any other industry, there's more change to come.
As for growing trends, that's not all the e-commerce industry can expect this year.
Here are the other e-commerce trends that are expected to cause a stir in the industry in 2017.
In summary
Surge in use of digital payments
Expansion of same day delivery
More personalization of searches
More loyalty offers and coupons
Pure play online stores joining third party seller marketplaces
Integration of Chat bots
Integration of artificial intelligence
Development of mobile friendly websites
Growth of real-time analytics
Growth of the power of mobile
Reduced dependence on Google for search visibility
[divider height="30″ line="1″]
Surge in Use of Digital Payments
2016 set a precedent with digital payments in the e-commerce industry when over 20% of customers chose to make transactions online without using their using their cards or exchanging physical cash in brick and mortar stores. This trend is expected to grow in popularity throughout 2017, with the use and advancement of payment options such as e-wallets and online pins becoming commonplace. The presence of platforms such as PayPal, Amazon and Amazon Pay is expected to make a move to digital payment easier for online retailers as they integrate them on their platforms.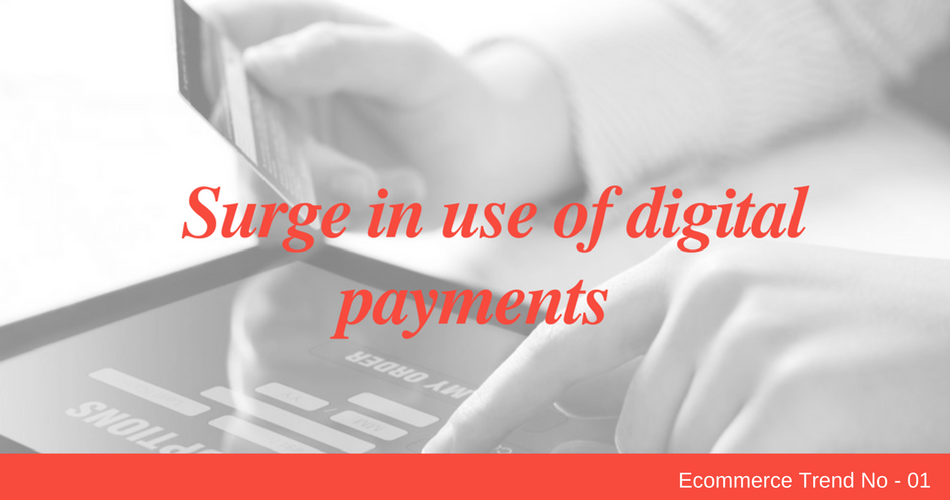 [divider height="30″ line="1″]
Expansion of Same Day Delivery
Expect more same day delivery from e-commerce platforms as technologies improve and the need for instant customer gratification increases. Previous years have seen delivery times of items from e-commerce platforms reducing from weeks to mere days, with a few online retailers even going as far as delivering items within a day. (Amazon Prime). 2017 will see more retailers provide same day delivery while offers such as '1-hour delivery window' are also expected to take root. The other trend expected to grow in 2017 is the 'Click and Collect' option that some online retailers already started on last year. It involves retailers sending purchased items to particular drop-off sites where customers can test and pick them conveniently.
[divider height="30″ line="1″]
More Personalization of Searches
Customers have grown to expect a personalized experience when they browse the internet or shop at online stores, thanks to product recommendations and reviews, alternative suggestions, product comparisons, etc. Online retailers are expected to fuel the aspect further in 2017 by expanding and investing more in the collection of behavioral data of their customers so as to show them the right product at the right time and not otherwise. This is expected to extend to email marketing, where unlike with generic broadcast emails, customers are going to be shown only the product they might be interested in.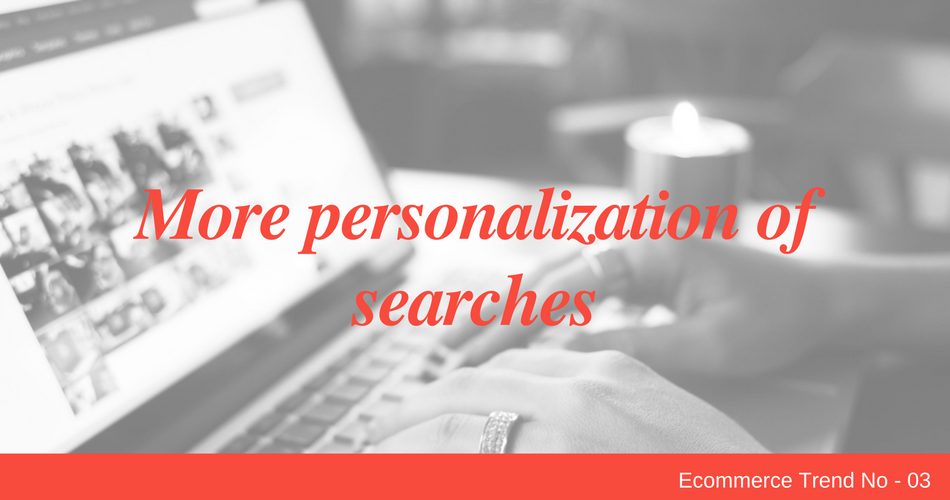 [divider height="30″ line="1″]
More Loyalty Offers and Coupons
With an ever increasing number of online retailers sprouting up on the web and selling similar/related products, the competition for customers has always been at the forefront of the e-commerce industry. Online retailers are expected to strengthen their strategy by adopting new loyalty programs and expanding their already existing ones as an attraction scheme for more customers. Customization of rewards associated with loyalty programs according to the customer's interests is also expected to take root as 2017 rolls out.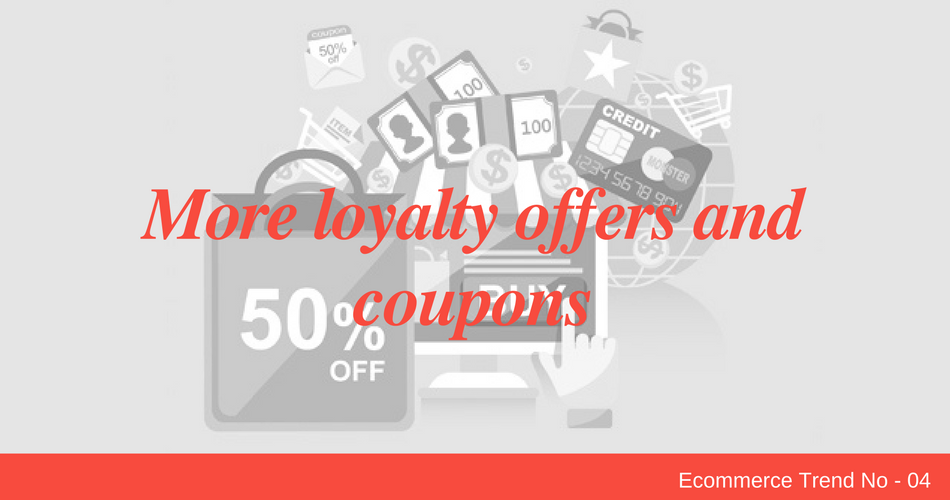 [divider height="30″ line="1″]
Pure Play Online Stores Joining Third Party Seller Marketplaces
This trend may have started years back, but 2017 is expected to be the year most pure play online retailers try out the third party seller marketplace option provide by big name online retailers such as Amazon and Ebay. The big online retailers still attract the largest percentage of customers and offer added visibility to third party sellers as a result. Smaller online retailers looking to make more conversions and sales this year are expected to make this move as the year goes by.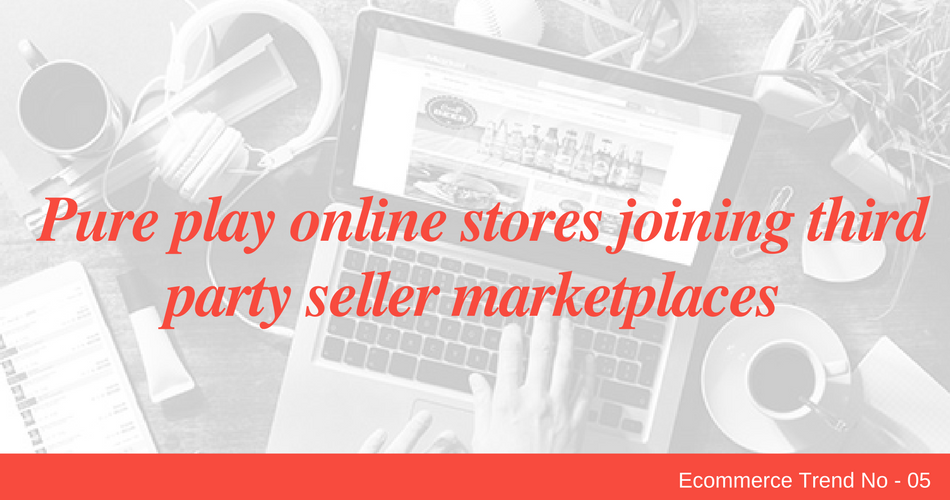 [divider height="30″ line="1″]
Integration of 
Chat bots
Developments and innovations in artificial intelligence and technology have lately cemented the possibility of chat bots being integrated into e-commerce too. While still undergoing development, some platforms such as Facebook have already tested chat bots on their platforms to provide immediate answers to customer queries, and their results are promising. With their programmable abilities, chat bots can be used to aid engagement by helping customers with product suggestions, making orders, finding stores and answering customer queries. As such, most online retailers are open to the idea of integrating them on their platforms after they are fully developed. The trend is expected to roll out fully in the later months of 2017.
[divider height="30″ line="1″]
Integration of Artificial Intelligence
2016 saw the popularity of digital assistants including Cortana (Microsoft), Siri (Android) and Alexa (Amazon) go through the roof as lots of people discovered how convenient they made different aspects of life. Their search precision has now led people to integrate them into almost every area of life. Their influence is expected to expand in 2017 to encompass e-commerce and retailing further, with customers being expected to use it more often when searching for online stores near them, searching for particular products and making complete transactions.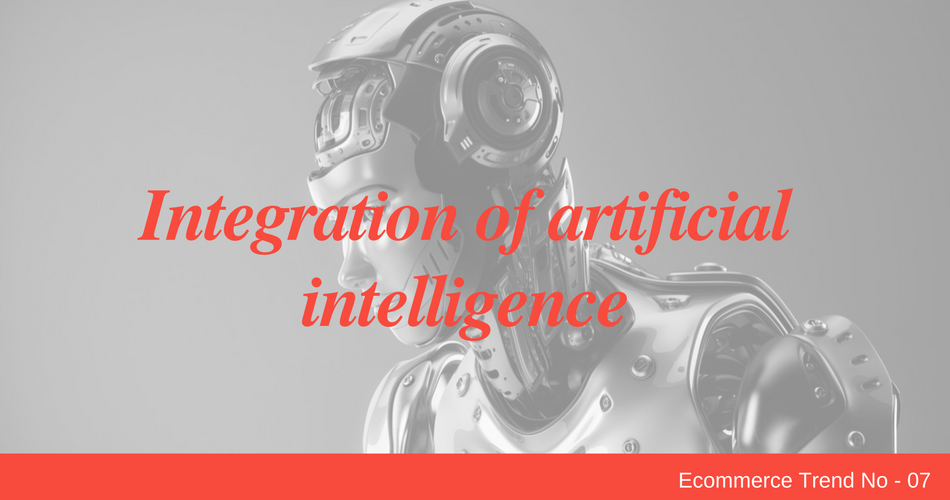 [divider height="30″ line="1″]
Development of Mobile -friendly Websites
The figures say it all. More than 50% of customers last year chose to make their purchases online using mobile devices, revealing how influential the platform is. Online retailers have long been aware of this sales opportunity, and most have already embarked on maximizing it through optimizing their websites to make them more mobile friendly. This year is going to see more e-commerce platforms picking up the trend and getting optimized for viewing and navigation on various mobile devices.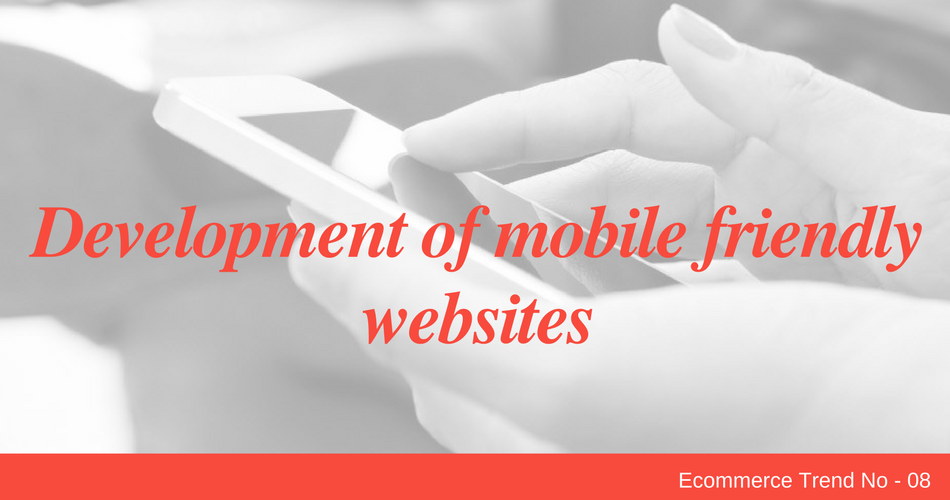 Recommended: Top 10 Ecommerce Platforms of 2016 Compared
[divider height="30″ line="1″]
Growth of Real-time Analytics
While this tool is already in use by many online retailers today, some e-commerce platforms haven't yet decided to make use of it, opting for delayed reports as alternatives. But after various online retailers experienced higher returns on investment (ROI) after integrating real-time analytics tools on their platforms in previous years, everyone else is gaining interest. More retailers are expected to integrate real-time analytics tools such as Google Analytics on their platforms throughout 2017 in order to harness the benefits associated with viewing real-time data from product sales, views, and conversions.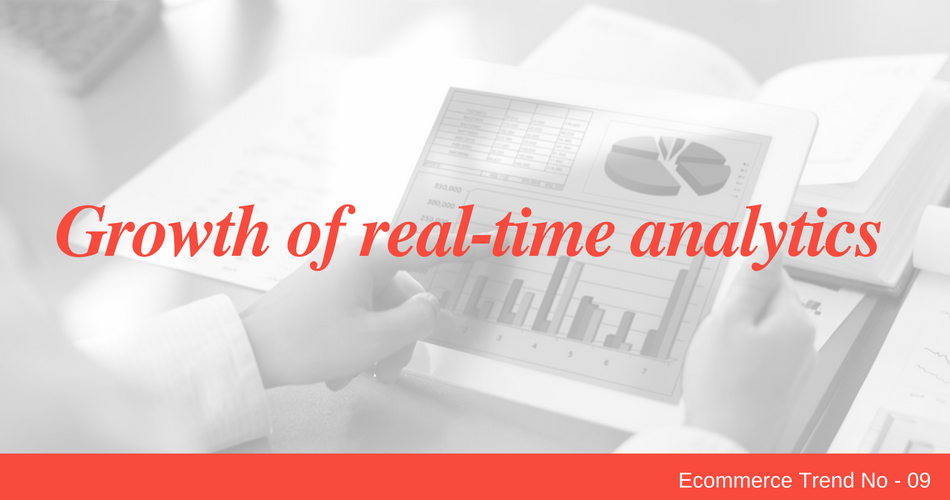 [divider height="30″ line="1″]
Growth of the Power of Mobile
Even after surpassing sales made from desktops in 2016, mobile sales are still expected to soar this year, thanks to the ease and convenience associated with many customers to shopping on mobile devices. Research shows that even customers who make their purchases on desktops/ laptops are most likely to do initial research about the product on a mobile device first. This can be attributed to better e-commerce platforms (most are now optimized for mobile), larger device screens and the fact that shopping has now been made easier by mobile apps. To keep up with this trend, online retailers are expected to not only optimize their platforms for mobile but also consider mobile users first.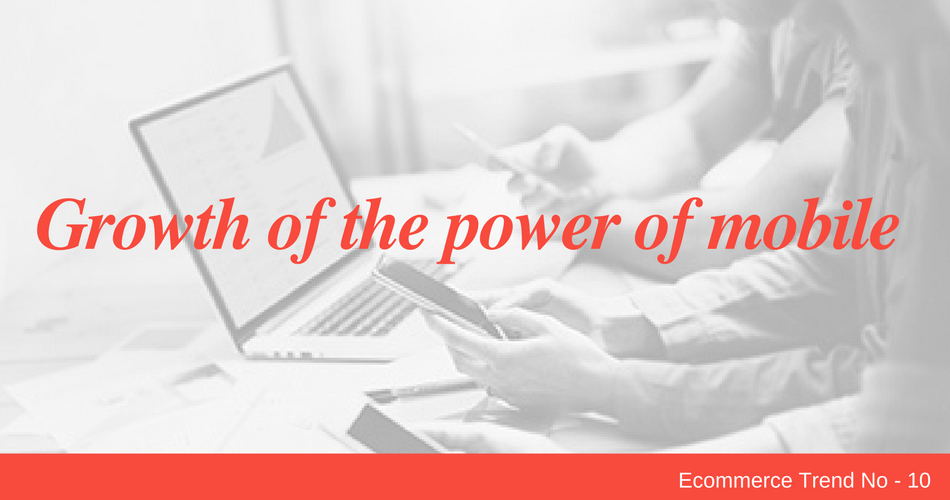 [divider height="30″ line="1″]
Reduced Dependence on Google for 
Search Visibility
It has always been the norm that Google, being the most powerful search engine around, is the one e-commerce platforms optimize their web pages and content for if they wanted to be listed in search engine results and made visible to their potential customers. But with constant algorithm changes that have proven to affect rankings negatively, appearing in search engine results is no longer a sure way of staying visible to your customers. Online retailers have been testing alternative tools such as content creation and promotion on other websites to expand their audience, and 2017 is the year this trend is expected to gain popularity.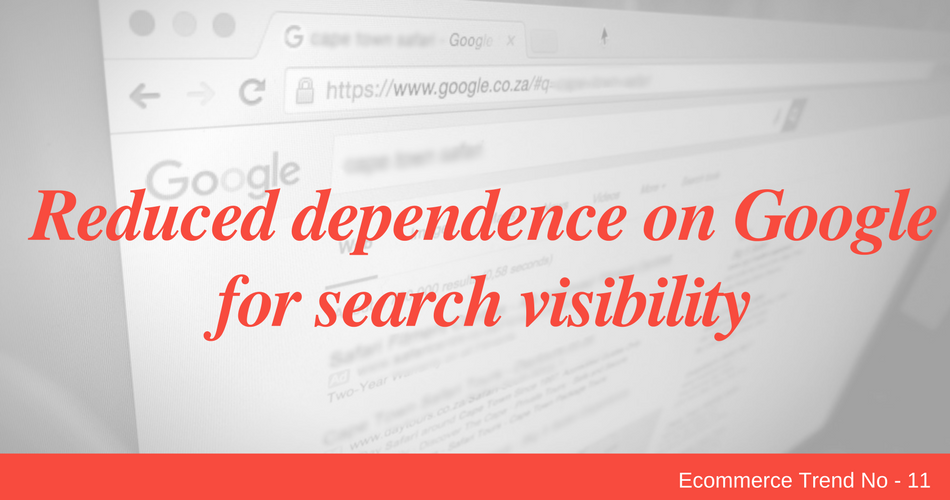 [divider height="30″ line="1″]
Other E-commerce Trends to Watch Out For
Surge in sales from affiliate marketing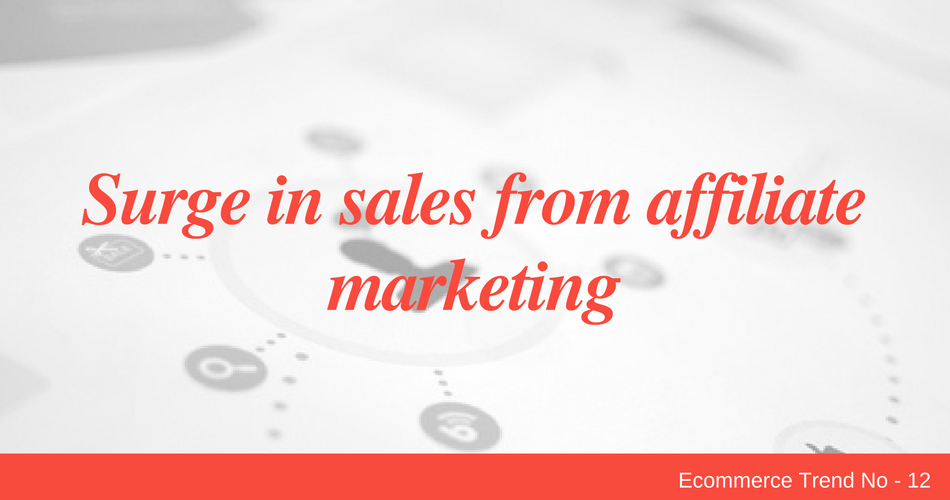 As with past years, 2017 is expected to see an increase in affiliate sales for e-commerce platforms.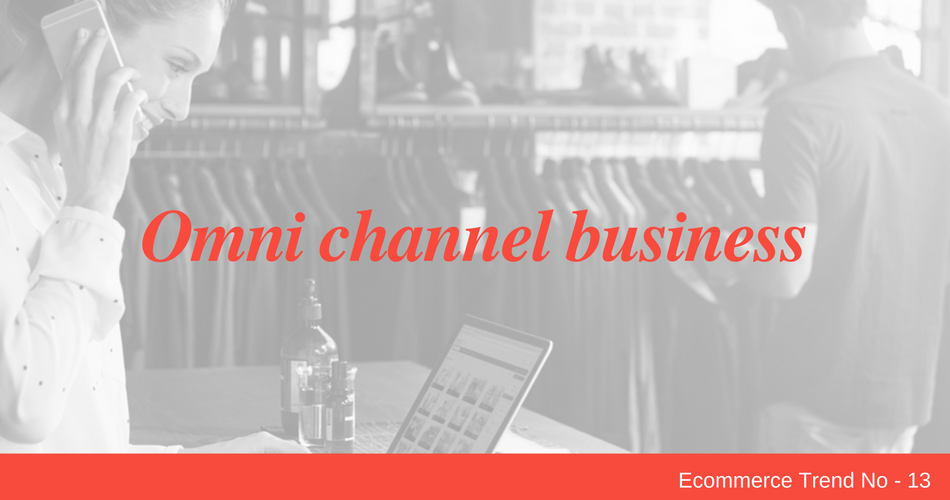 E-commerce businesses are expected to pick up the 'omni channel' business model by being wherever their customers are and engaging them.
[divider height="30″ line="1″]
Before You Go!
Whether you're a small online retailer or a big name brand in the e-commerce industry, there's a host of new trends to watch out for. 2017 is going to be a year of big leaps and bounds for your business, and you should get prepared to make the most of every opportunity that comes with each or any of these trends.
If you have been looking out for new trends that may take over the industry this year and wondering how they might affect your e-commerce business, you now know what to expect. The e-commerce has always been flexible to changes and innovations, and these come as the latest additions to make it better.
About

Anita Sharma

Anita Sharma is a Digital Marketing Strategist based in Kolkata, India. Anita covers SEO, SMM, E-commerce and Content marketing. A Marketer by day and reader by night is a graduate of the University of Calcutta with a degree in chemistry; she previously worked as a Tutor for 5+ years. Anita has a passion for helping people in all aspects of Digital Marketing through the latest industry blogs she provides. She is always up for consultations. Want her to plan and execute your Online Marketing Campaign? Contact her via her LinkedIn.