If you have been shopping around for SEO Services in the market for some time, you are probably aware of the fact that companies are selling SEO Services at 50 bucks a month and there are companies selling as Expensive Enterprise SEO services at $5000 a month.
This major rift in the price is an aggravating factor for most new businesses entering the SEO game.
But we stand by the saying that "Good SEO is never cheap, and cheap SEO is never good!"
Most of our past clients will tell you that SEO is by far the best ROI they have ever experienced. We have customers spending $ on Television Advertisements, Radio, Newspapers, Magazines, Celebrity Branding, and whatnot, but SEO is the most compact and measurable form of investment.
If you are reading this blog right now, then chances are you were looking for an SEO Provider, but are facing one of the following problems if I am not mistaken:
You LACK THE KNOWLEDGE to implement SEO for your company
You don't have access to EXPERT INFORMATION you can blindly trust
You have been BURNT IN THE PAST by an SEO company
You are confused about where to ALLOCATE MARKETING BUDGET
Your BUSINESS IS STAGNANT, and you are out of ideas
Needless to say, you have one of the following goals as well, but you are far from them:
You want MORE CUSTOMERS and LEADS
You want to PROFIT MAXIMIZE your current customers
You want to AUTOMATE your marketing and earn while you sleep
You want to free yourself from everyday business OPERATIONS and focus on other things
Whatever be your case, you should continue reading to understand the true cost of SEO for your business!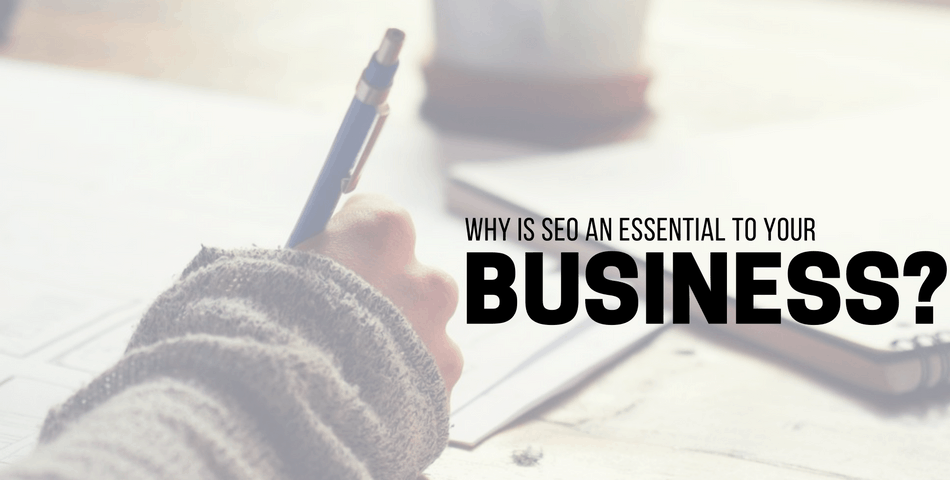 Who is Enterprise SEO for?
Business Owners and Marketers who want to grow their profits exponentially by selling software (SaaS), Platforms (PaaS), Infrastructure (IaaS), Information Products, E-commerce Products, or Online Services.
Entrepreneurs who are constantly on the lookout to tap new ideas and get their voice heard by people who matter.
Marketers who want to stay ahead of the competition by investing in the form of marketing that continuously adds value to their business.
Ambitious individuals who understand that being successful is a matter of Time and Effort. Luck is no excuse.
Who Enterprise SEO is NOT For?
People, looking for getting rich money schemes or people who want overnight results from their investment. (This mindset sucks)
Affiliate Marketers and Bloggers Looking for more traffic
Brick and Mortar store owners who sell low-ticket products or just don't have an investable profit margin. (We love you guys, but you are better off with a combination of Local SEO, Online Reputation Management, and Link Acquisition Services)
and Again, anyone who wants instant results just because they paid for the services.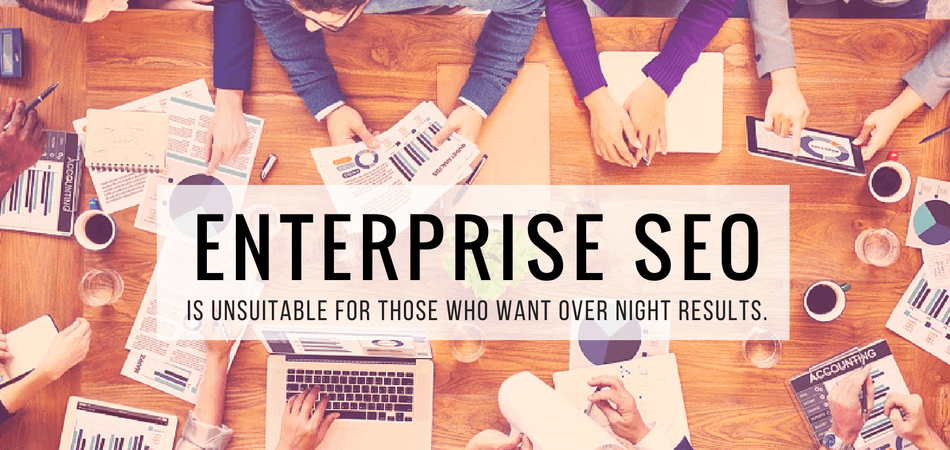 Good SEO Doesn't Necessarily Have to be Expensive, the Actual Cost of SEO is Relative!
Why I say relative, is because the term "expensive" is relative from client to client. For some customers, an SEO campaign for $10,000 might be intolerable, while others may call it a bargain for the value they are receiving.
There are 4.82 Billion Websites on the web. Source, and out of that 91 % of the websites are not optimized for SEO. Every site, niche, and the client has unique requirements, and a custom solution is of supreme importance in this case.
Though $10000 or even $5000 is not necessarily going to rate for our Enterprise SEO services, there are some cases where we have changed over those figures in the Web Hosting Industry (for example), which is entirely relative to the benefits they received for the price.
Good SEO Take Time and Research
While some uninformed SEO providers may tell you that SEO is all about using automated software and mindlessly building backlinks to your website, with the Penguin 4.0 rolling out in real-time, there is bad news for them, and their clients, and even for you if you happen to associate with them.
Note: If you have purchased SEO Services from such providers in the past, it would be good to get your link profile checked and quarantined immediately to avoid the Penguin Hammer!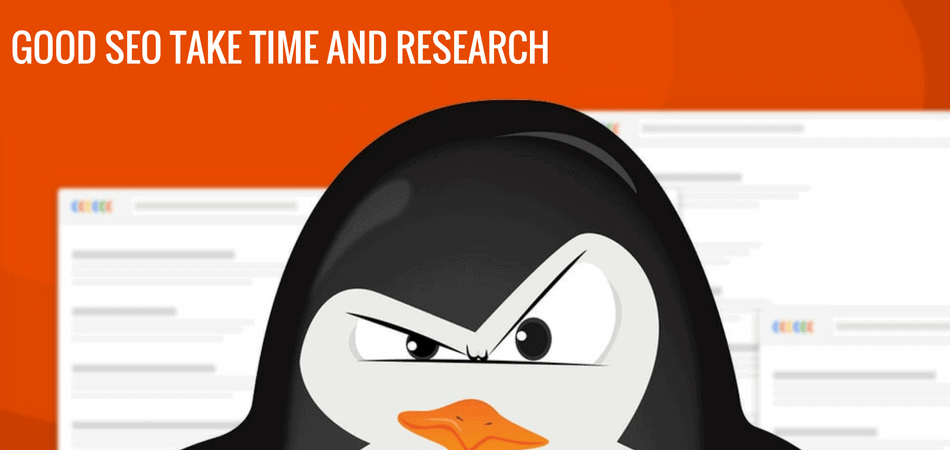 There is a lot of research and strategizing that goes into a full-throttle SEO campaign. Terms like on-page SEO, Email Marketing, Social Media Marketing, Conversion Optimization, and Inbound Marketing all come into play. After a fully run SEO Campaign, you might start to see some results right off the bat, but technically they are just the icing on the cake, as compared to the long-term results that you might aim for.
Just Like a Lawyer charges for the time spent on researching your case, the same is the case with a Search Engine Optimizer or Consultant. There are quite a few metrics and baseline reports that need evaluation before even starting industry research to evaluate the present standing of a client, by which a custom Enterprise SEO Strategy is developed.
Crawling deeper into the tunnel, SEO Research takes into consideration learning about the Industry and the Area where the client wants to compete in. Learning more about the direct and indirect competitors in the market. Finding the Achilles Heel of your competitors and capitalizing on their mistakes. When doing SEO, you not only have to deploy as many strategies as your competitors are using but also more if you want to beat them shortly. Such influential factors are the primary reason for the relatively high-end price of SEO.
Good SEO Takes Strategy and Expertise
Every professional SEO firm will have some trade secrets of their own, which they have picked up from their years of research or Top Dogs in the professional SEO Network. Either way, these strategies are their ace of spade, and they use it along with Proprietary Tools and Tricks to get results for their clients. Though every client might require a custom strategy, the base of all SEOs will remain the same.
SEO is an art. Thus an SEO Firm is an artist. We believe the measure of SEO should not be in the price, but what it gets you in return for the price. In the last few years, especially after the launch of Penguin 3.0 in 2014, a vast majority of SEO businesses shut down. You know the reason why.
When you pay top dollar for the service you receive, you can expect a reliable SEO company (one that will not shut down after another Google Algorithm Update) always to use ethical and white-hat SEO strategies that will get you long term gains, not penalties.
How Do We Price Our Service?
Now, I can't speak for other SEO agencies, but if you are wondering why Prime One Global's Enterprise SEO Services cost as much as they do, then I can explain. Prime One Global has a unique way of operating SEO Campaigns. When you come to us, we treat you like our own. We treat your business like our own. We understand that actual business growth can only happen when our clients grow with our business. This is why we make it a point to learn about each and every aspect of your business to better manage your SEO campaigns.
All our services come with the following:
Around The Clock Dedicated Account Manager – We hold ourselves responsible for your business. This means that you will have access to a dedicated account manager who understands SEO, 24×7. You can contact your manager via Email, Skype, or Phone whenever you need.
Most of our clients understand that Prime One Global Account Manager is one of the key USPs of our service. They take guidance from the account manager on not only the proceedings of the campaign but also on other things like how to manage their online reputation, keep their blog active, respond to negative reviews or run advertising campaigns on Facebook or Google.
Full Suite Dedicated Support Team – Not only will you have access to the Account Manager, but you will also be connected to the various members of staff who are responsible for different parts of your campaign in our Enterprise Client Dashboard. In general, we have around 9-11 Members running a Digital Campaign and each member has a separate role to play, which you will be well aware of.
From task execution through task completion, you will be kept in the loop by the team members, and you can always ask questions about anything you do not understand. From Digital Marketing Strategists to SEO Consultants and Analysts, Website Auditors, Developers and Designers, Copywriters, and Social Media Managers, you will have them all in a single dashboard. Imagine if you had to hire them all individually and train them in-house. We take the hassle away and become an extension of your business.
Detailed Monthly and On-demand Reports – And no, our reports are not filled with technical Jargons that you cannot understand head or tail from. Our reports are neatly crafted to make you understand the value you are getting for your money at the end of each month.
Most companies provide SEO reports with a bunch of fancy numbers showing the amount of traffic your website is getting at the end of the month. But we understand that this traffic is no good to you if it doesn't help your bottom line. You will get actionable advice for the next months with the reports that connect your data to a number of leads that you acquire and how you can use the data to expand your business shortly.
So, as we said earlier, the cost of good SEO is relative and always reasonable to the number of benefits you receive for your money.
The Undeniable Truth Most SEO Firms Will Never Tell You!
As the adage goes – "You Get What You Pay For," the same is the case with SEO. Have you ever been offered low-key SEO services by a company saying they can do it all for like 50 bucks a month, better yet 500, if you are willing to take an entire year's plan? Well, guess what, when something appears too good to be true, it surely is.
One of the most important things that are required for Website Ranking is content. Web pages rank individually and not websites. So, a considerable amount of time, money, and research go into creating those materials. Proper care has to be taken into crafting the page titles, optimizing the meta tags, checking keyword density, outbound links, interconnecting links, call to action, and images to say the very least.
Thus, a considerable amount of time has to be spent on creating the content for your website, which no cheap firm is ever going to provide to you. One of the incentives of working with Prime One Global is that you get One or Two dedicated copywriters for your account. A perk, which most SEO companies do not want to give you.
Back in 2013, one of our clients left us, because they found an "Affordable" Solution to their SEO. The fact that the company was offering them the moon for pennies did not apparently strike them as obnoxious. They left us saying that we were charging too high for what they were getting only to come back to us in 2014 with Penguin 3.0 rolled out.
Their website traffic looked something like this.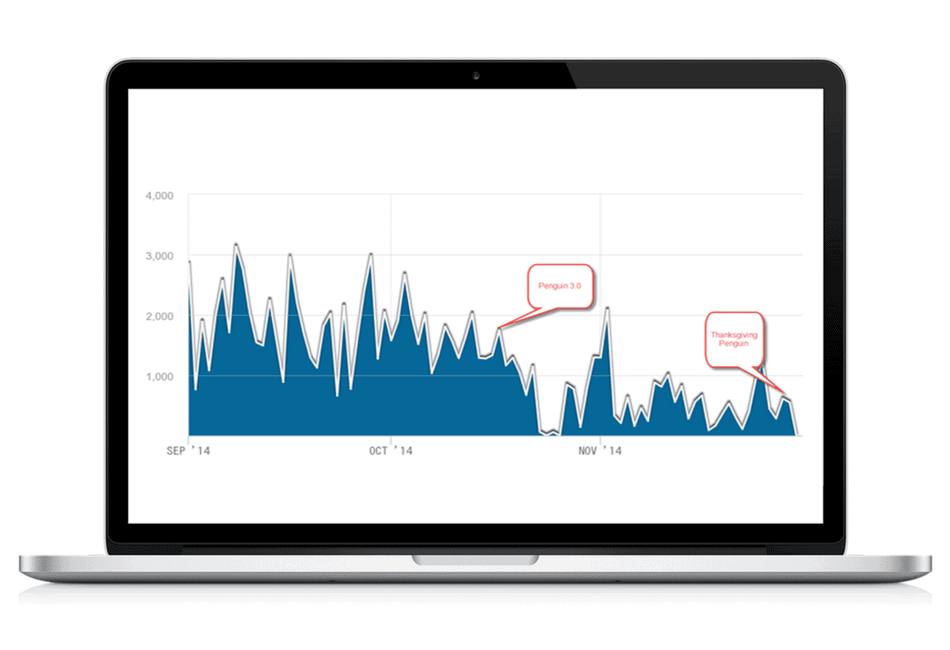 Similar was the case with their website. They started losing leads and lost a significant amount of business in consecutive months. Thankfully, this time, when they came back, we knew that we had earned a client for life. Immediately we got on with the link profile audit and link removal outreach plan. After a few months, we submitted their website for Google Reconsideration, and phew… they started to get back their old tracking in a year.
THIS IS THE ACTUAL COST OF CHEAP SEO. THE PRICE THEY HAD TO PAY WITH THEIR OWN BUSINESS.
They learned the hard way that using an unreliable and inexpensive SEO company is not a good idea for long-term rankings. So, should you learn from their mistakes?
Now tell me something.
Good SEO Doesn't Need to Be Expensive, Right? The Price is Relative. I would love to hear what you have to say about this in the comments section below.
Apart from this, there is also another breed of BAD DOGS (read SEO)
Some SEO Companies that don't charge you a feasible monthly fee (by feasible I mean the cost to at least support the infrastructure and staff for running a White-hat SEO Campaign), actually want to keep charging you for keeping your website Ranked. They want to lock you into a contract and as soon as you leave the company your rankings drop.
These companies only rent out links and create a very spammy link profile, which again is not an ethical way to do SEO. There are some businesses that do not give you ownership of your website and content, and when you decide to leave them, they tell you to part ways with your site and content. So, it is always a good idea to ask as many questions to your SEO Provider before hiring them.
The Verdict
SEO is termed relatively inexpensive if you look at it from the marketing point of view. Take it as an investment that you do for your business. When you compare the costs of marketing in other traditional media channels like Newspapers, Magazines, Billboards, Televisions, etc., the cost of marketing through Search Engines is comparatively lower. If you are already spending some budget on traditional marketing campaigns. You should compare that same spend to the value you would get if you were to invest in doing SEO for your business.
Now does the cost of SEO look too expensive to you? Take a look at some of our preset SEO Packages that serve as a base for most of our campaigns. If you are looking for a custom-tailored SEO Campaign for your business, then we would be happy to create one for you too.
Remember, SEO is not a one-night stand. SEO is trying to establish a long-term relationship with the search engines, where you keep the visitors happy, and the Search Engines keep you happy by sending in more and more visitors. If you still think that SEO is too expensive, then you are just not getting the right results from your investments. Contact Prime One Global today for a no-obligation, free consultation on how we can drive more leads to your business, and get more money in your bank. Good Day!