The all-new Google My Business app- why you should be using it  "GMB"
How do I manage my business profile on Google?
How do I engage with customers on the go?
How do I make my business stand out with photos?
Are you a business owner looking to manage your business profile? Eventually, every contact you have with your customer influences whether or not they will come back searching for you. So you have to be great every time you offer your service or else you will lose them! Try forming an emotional connection for your customers with your company. Meaning for instance: if you are the owner of a coffee shop your customers will always look to be a part of the family (your hospitality) for a better comfortable experience and loyalty, so is the same with auto-parts companies whose customers demand responsive high-quality service. The betterment of your business relies on the utmost level of customer service & satisfaction.
You are very much sure that people are searching for businesses like yours, twirl those people into your beloved customers, with the help of the Google My Business app.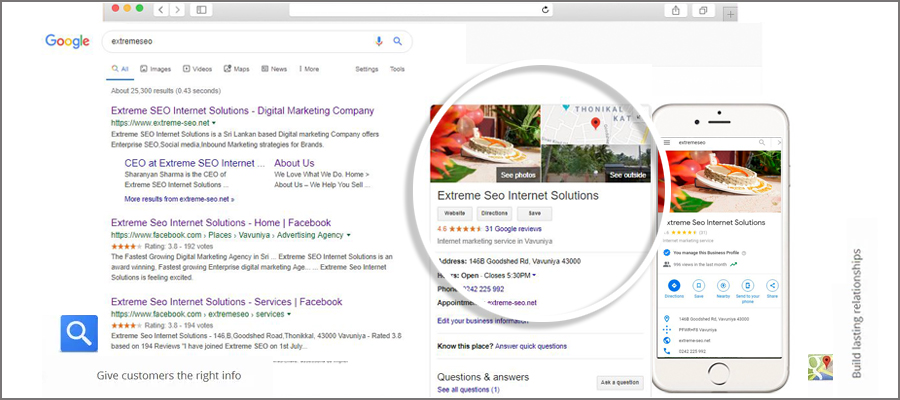 Get yourself started with the new, free Google My Business app! Google My Business app will help you with sharing your business stories and making a good bond with your searches. It is an easy-to-use free tool for businesses like yours to help manage your online presence across Google, by editing and verifying your business with the help of Google Maps & Search.
Let us look at some of the major interesting facts and the latest updates about the Google My Business app and how it helps you to make a better connection with your beloved customers.
Direct interactions:
The direct messaging option in the Google My Business app will help you with exceeding communication with your customers. When your customer has any questions about your product/service they can directly message you from any of their preferred devices, where you will instantly receive their message via Google Allo or to your messaging system.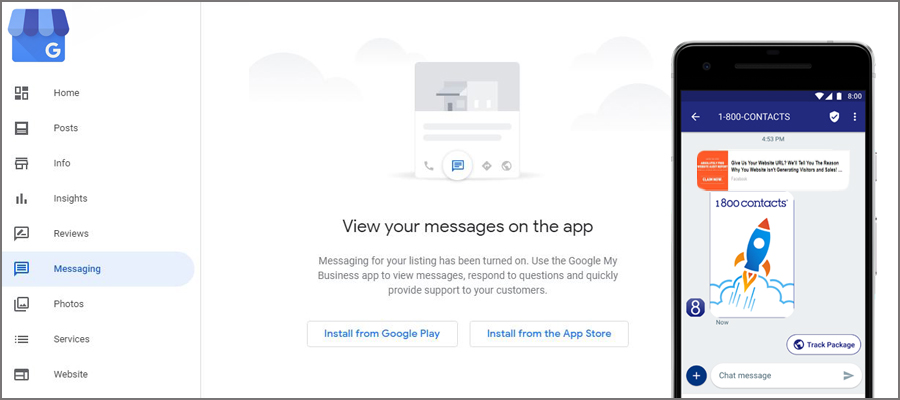 You can even set up a chatbot on times you aren't available.
Interacting with customers:
Your updates on photos would work efficiently in attracting your customers, this would create more attention to your customers for them to click into you. Customer satisfaction and loyalty are based on how much quicker your replies to their reviews are. GMB app will help you interact with your customers instantly to help you respond to them effectively leaving you a notification.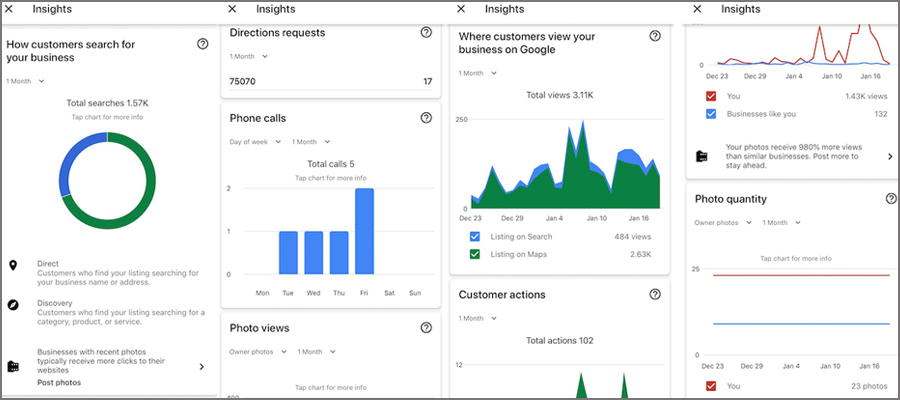 Businesses that add photos to their listings receive more requests from Google Maps for driving directions than those businesses that don't!
Manage your information:
Make double sure that your business is perfectly listed with the right information. So that your customer could easily contact you such as your website, hours, and street address. Manage the information you have provided for the products or services you have offered.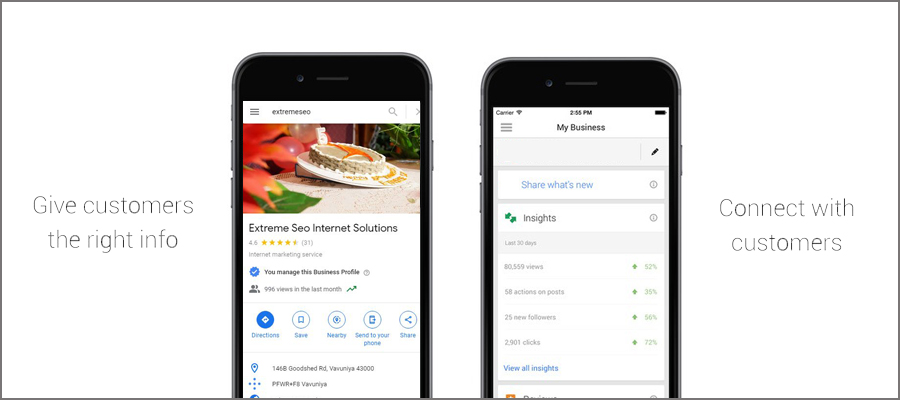 Businesses that often clearly verify their information with GMB app have an increased chance of customer's loyalty, making it easy for them to leave reviews instantly and making their preferred books
Understand your customer's presence:
Expand your business relationship with your customers by using Google My Business, as you can see insights into your customer's way of searching and where they are coming from. You can also know the number of customers who called you with the help of Maps & Searches.
Make way to your bookings:
Using this new easy app, customers can make short-in-hand bookings for them. And when you are done seamlessly track and create your smart campaigns to spread more wordings about you
So what is new about the latest version of Google My Business app v3.0?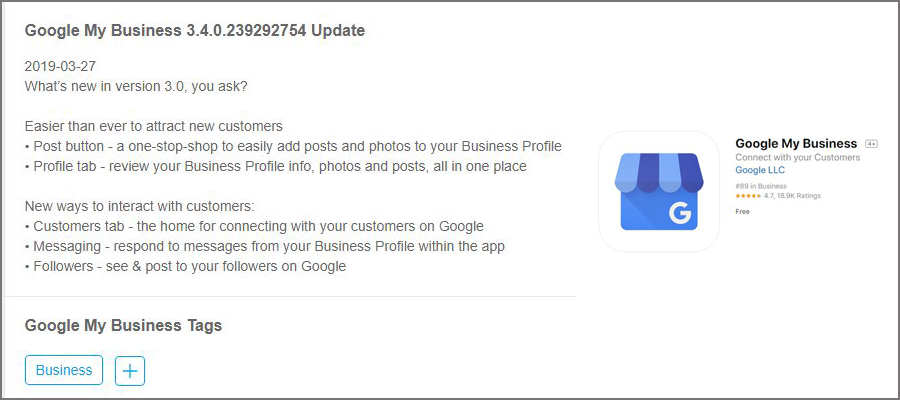 1) The

"

Post button."-
This simplified option allows businesses to upload their photos, create updates, events, special offers, and deals or any other additional information a customer needs to know.
2) " The Customer Tab."-
This option has allowed businesses to keep in track of messages and people who are following their profile, from those who have messaged them and their replies for the reviews. The " For You," section of the mobile maps apps allows seeing your clients who are following their Business Profile. Since these sections will show your posts.
3) Edit your business information:
The business editing thing once you were doing via your browser using business.google.com, can be easily done with your mobile through GMB app! You can edit in real-time within the profile Tab, across the Maps and Searches you use. Although this makes editing easy it can be pretty dangerous if your clients are not well educated about updating their profiles themselves, Always remind them that accidental editing can lead to a listing suspension!
Curtis Galloway- Engineering Manager, Google My Business
The little story behind, the Google My Business app!
Galloway came from a family of small business owners. His grandfather was a serial entrepreneur and an inventor, who built his successful machine tool in Arkansas. His father continued running the Galloway Lumber Company back then in the 40s & 50s. He was a strong man who always wanted to build strong bonding's with his customers as customer satisfaction was his priority! Curtis Galloway's team helped him to build the new Google My Business app, so what Curtis did was he kept business owners like his father and grandfather and mind and focused on giving priority to customer satisfaction this is where he came up with the idea of building the GMB app!
Final Thoughts!
Watch your business grow. Say hello to your next customer!
Google wants you to spend more efficient time on your profile, so what Google will organically do is help you to gain, see & do valuable things. I can predict that we will see more of the new updates on this in the upcoming years, with new updates on how your profile and posts are doing hopefully! How does Google My Business app help you? What do you make of it? Is it giving too much of an advantage in the hands of your clients or are you satisfied to see the way the ROI of your business more transparently? I would be so much interested in hearing what you think down below in the comments.
About

Gowthamy Sivaneswaran

Hey there! I'm Gowthamy, working as a Professional Blogger & Creative Content Writer here at Extreme Seo Internet Solutions. Formally completed my Business Management (Pearson Edexcel) and now clearly into blogging & creative writing. Prior to writing blogs & contents, I worked as an English lecturer and Content Manager and later on making a career shift into writing blogs & contents in the present.