"Marathons are more than just a single run, digital marketing are more than just a single activity."
The future of every single business is being transformed into technology! Keeping this in mind, Here's a quick elegant question possibly you could think of at times in digital marketing trends.
"What is the biggest obstacle for your company's growth?"
While thinking about the answers to the above question, how does a business with the latest technology conquering the world function without the help of digital marketing? Can you remember seeing artificial intelligence and visual searches in movies? For example, I Robot movie ( could you go back to those memories?) Leaving at in your good old memories these technologies have been coming into reality for businesses in the present. Brands and businesses do need to use digital marketing trends to succeed in their efforts because what worked for you in the past years might not work for you in the upcoming years. Social media, SEO, content marketing and a lot more are experiencing a dramatic shift in 2019.
This article will help you give a quick insight into the latest trends of digital marketing that you can not simply ignore. And to stay ahead of the competition you might want to invest in these insanely futuristic technologies down below.
 1)  Artificial intelligence taking over the digital marketing trends in 2019
AI will take over the world and currently is!
Well, what does AI do?
Putting this in simple terms, Artificial intelligent can easily study consumer behaviour by using the data that is available on the internet or social media by the user. This simply helps all your businesses using AI to increase the optimization of your business activity efficiently. AI has made jobs much simpler. For example, email service providers like Gmail, Yahoo have customized smart email categorization. Many government organizations are using AI for security purposes.
Did you know: Some of the tech leaders are worried about AI
Elon Musk- CEO of Tesla– is no stranger to you. Has made a confession that artificial intelligence could eventually be dangerous to the entire human race. He wants people to follow certain regulations and ban on any type of autonomous weapons, to save humanity. Keeping this aside, governments are already working on hidden projects on AI-controlled weapons.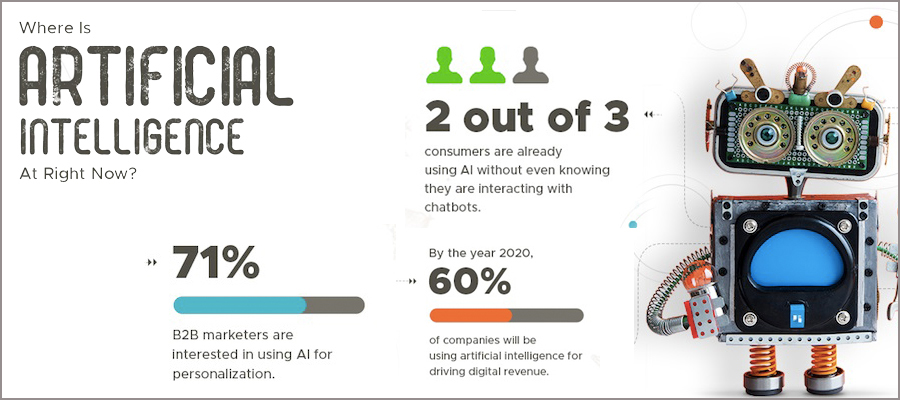 Another example is companies like Uber and Microsoft- you can try using robots in parking lots that could read license plates and report suspicious activities to prevent crime. They do this by collecting data and reporting it to their owners. This technology has been in use which seems to be less expensive compared to hiring a human security guard!
2) Voice search: The dictators!
In the current world, for example, you will find it easier to ask Siri about the distance of your top travel destination in Sri Lanka rather than manually typing in the query. With this keeping in mind, further, it is estimated that by the next upcoming year's a higher percentage of web browsing will be done without tapping the screen. This is because of Alexa and Siri's engagement with the human-level smartness becoming incomparable. However, the disadvantage of voice search is that it is quite different from the typical text search.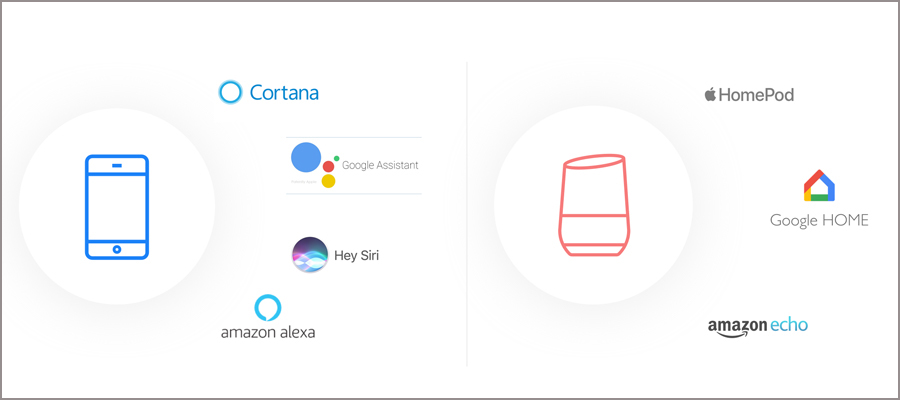 For example, when you Google a question you will get hundreds of result pages. But if you ask the same thing to your voice assistant, it will only give you certain results (a few) more than that you will only get one result!
3)  Video marketing 
You might question yourself whether using videos for promoting your business would worth it? The answer simply is: Yes, not because every business is using it but moreover, it is a very profitable tool for digital marketing trends in 2019. To deeply get connected with your target audience, video marketing can be the best way as they are dominating photos and infographics compared to other ordinary advertisements.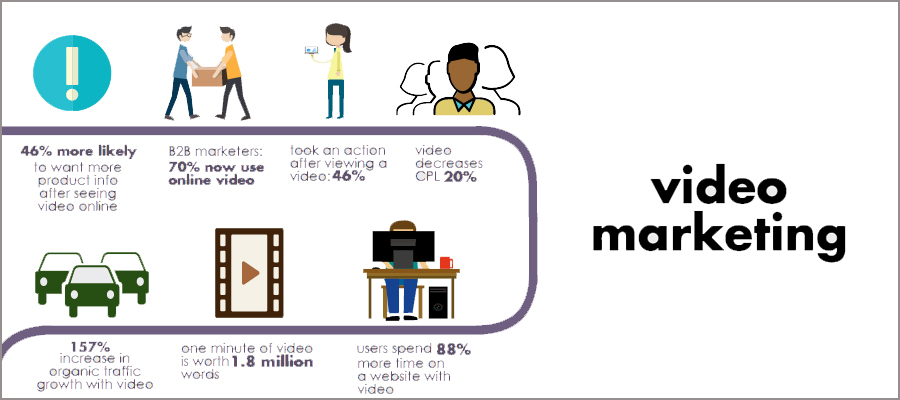 Since videos are more appealing and easier to share than large content. With inexpensive methods, such as quality smartphones, and film equipment. Companies all over the world are using personalized videos to create "real authentic publicity." Do not just think that YouTube plays here. To get more engagement using your video marketing, you can go live on Instagram, Facebook, or Linkedin.
4)  Chatbots:
You might have definitely experienced online purchasing. And you might have noticed yourself being answered for your queries in a few seconds or minutes by a chatbot, that will have instantly answered your questions. This will bring a closer connection to you towards your customers. Many customers prefer communicating with chatbots since they are quickly responsive. Giving instant answers to what you are exactly looking for modestly and responding to you without losing its patience. These virtual assistants aid in customer expectations, customer service and performing accurate tasks, which means you can literally focus on your other important tasks.
Many businesses have already started using chatbots which include, for instance, Uber helping customers to communicate and making it easier for them to hire Ubers easily. Other brands such as Facebook Messenger, Google Maps, and Slack have started using Chatbots & digital marketing making it efficient. Chatbots have completely changed the way digital marketing looks at its services. Giving companies a better perspective of market sustainability.
5)  Social media stories:
Brand awareness can be easily be promoted and engaged by making good use of live videos. Instagram, Facebook, and YouTube stories have been coming alive for the last half-decade. First came Snapchat with the concept of "My Story," followed by Instagram, Facebook while Youtube unrevealed their story format.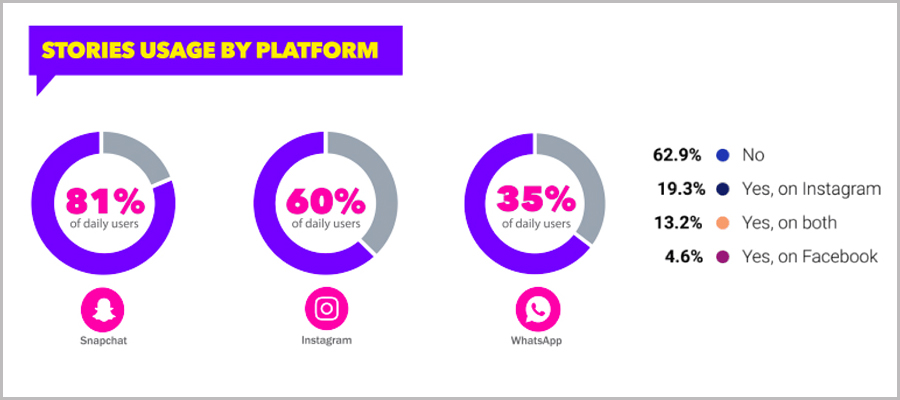 Through social media stories, businesses can directly market themselves to their audience by reviewing their product, showing them " behind the scenes," of the products, or about the employees who have been apart? With these effective methods, you can easily target your desired audiences effectively almost anywhere and everywhere!
6)  Social Messaging apps:
You and I every one of us are into messaging with each other. The recent trend is social messaging apps whereas people are spending more time texting each other, it makes total sense that marketing your products and services here is the right place for you to engage with your potential customers.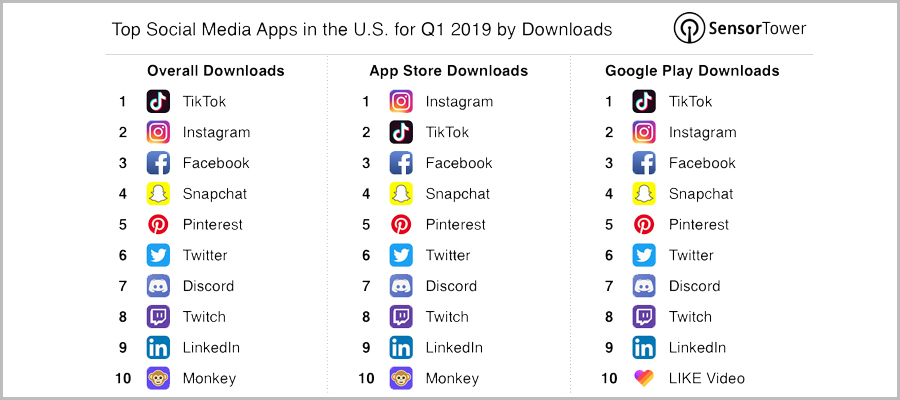 These apps can be very beneficial in sending messages to your customers directly, whether it is an instant sales reply or feedback! Furthermore, people expect businesses to be present in messaging apps so that they could directly deal and interact with you. Also, 70% of the world's population are willing to shop at companies that interact with enough social messaging apps.
7) Virtual Reality & Augmented reality:
Virtual reality aims at creating a computer-generated experience for customers using specialized technologies and software. You can use VR to make your products/services advertisements 10x more appealing to your customers than an ordinary advertisement. Augmented reality for digital marketing trends in 2019 has made businesses in recent times to reach out customers effectively in different technologized ways. If you are not sure whether to use this tech or not, you should probably clearly understand the benefits and what it offers to you in real tech life.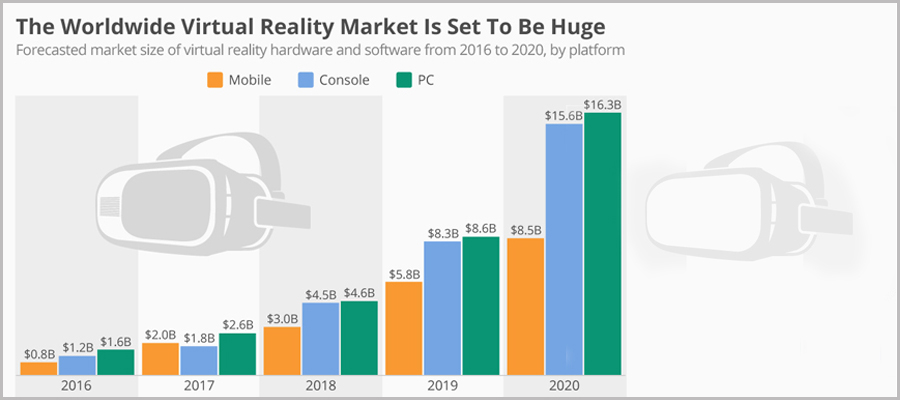 For example, an international brand in India IKEA is where it allows and helps place their furniture accordingly to your customers' expectations. Here, customers can enjoy every bit of looking at their furniture placements.
8) Geo – location-targeted advertisements will become popular.
 What is the significant thing in any digital marketing strategy? Location!
Location is the main key role whether it is advertising or marketing your product. Showing your product/service at the right time in the right place is an important digital marketing trend in 2019.
Other than that, appearing in the right location is equally important. If you want to make your brand withstand the most compared to the rest of your competitors then you will have to start communicating brand messages in the user's native language, which will make a difference.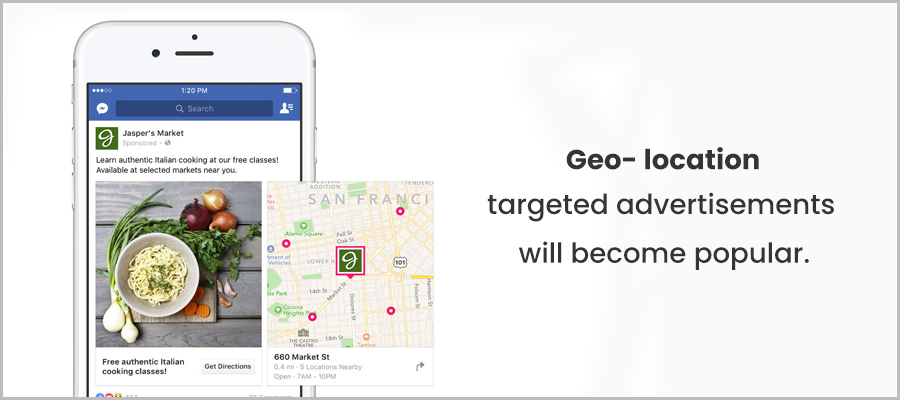 On the other hand, also demonstrating geo contents to your users will help you get into business more easily. For successful branding, you may also implement local content marketing strategies for your campaign leading it to a trend. Therefore, partnering with local influencers will help you get easily handle local advertisements around!
Final Wrap:
The era of digital marketing has absolutely no ending for the upcoming decades in trends changing, until dusk till dawn!
Being said this, meantime I hope the above given " Digital marketing trends in 2019," might have brought in some ideas on how the newest trends that already exist looks like, also helping you with foreseeing the upcoming trends for the next decades.
Have you started following them, yet for your business? On the downside topic, I have given you the top 08 digital marketing trends currently conquering the 21st century. Take a deep look at every trend and know how it is or would work for your business and customer relationship. Further side, it would be great if you could come back here and tell me about your most beneficial trend that would help your businesses' enhancement. I bet you will have something to say!
About

Gowthamy Sivaneswaran

Hey there! I'm Gowthamy, working as a Professional Blogger & Creative Content Writer here at Extreme Seo Internet Solutions. Formally completed my Business Management (Pearson Edexcel) and now clearly into blogging & creative writing. Prior to writing blogs & contents, I worked as an English lecturer and Content Manager and later on making a career shift into writing blogs & contents in the present.