How do you feel about the result of your SEO techniques through 2016?
Starting a Digital Marketing Campaign is easy; anyone can do it. However, managing campaigns, building an audience, and implementing the right SEO strategy is not so easy task. Running an SEO campaign is crucial for you to get found in SERPs. And, it's high time to evaluate the effectiveness of the tactics and measure the good or bad over the previous 11months.
No campaign is complete without effective SEO tools. Fortunately, there are plenty of great web-based SEO platforms out there that would make your life easier.
21 most powerful top SEO tools in 2018 that can boost your search engine strategy.
Before I spill the beans about the Top 21 Web-based SEO Solutions that you should try, I would like to give a worthy mention to my post – 101 Social Media Management Tools, which will help you up to your social game and 25 Social Media Influencers to Follow in 2017, which will help you stay on the zenith of Social Media News and Discoveries.
Without further ado, let me share the 21 web-based tools that I promised.
[Note: These tools are listed on the basis of their features, expert reviews, and their functionality. These are in no particular order. Each one of them has its own unique feature.]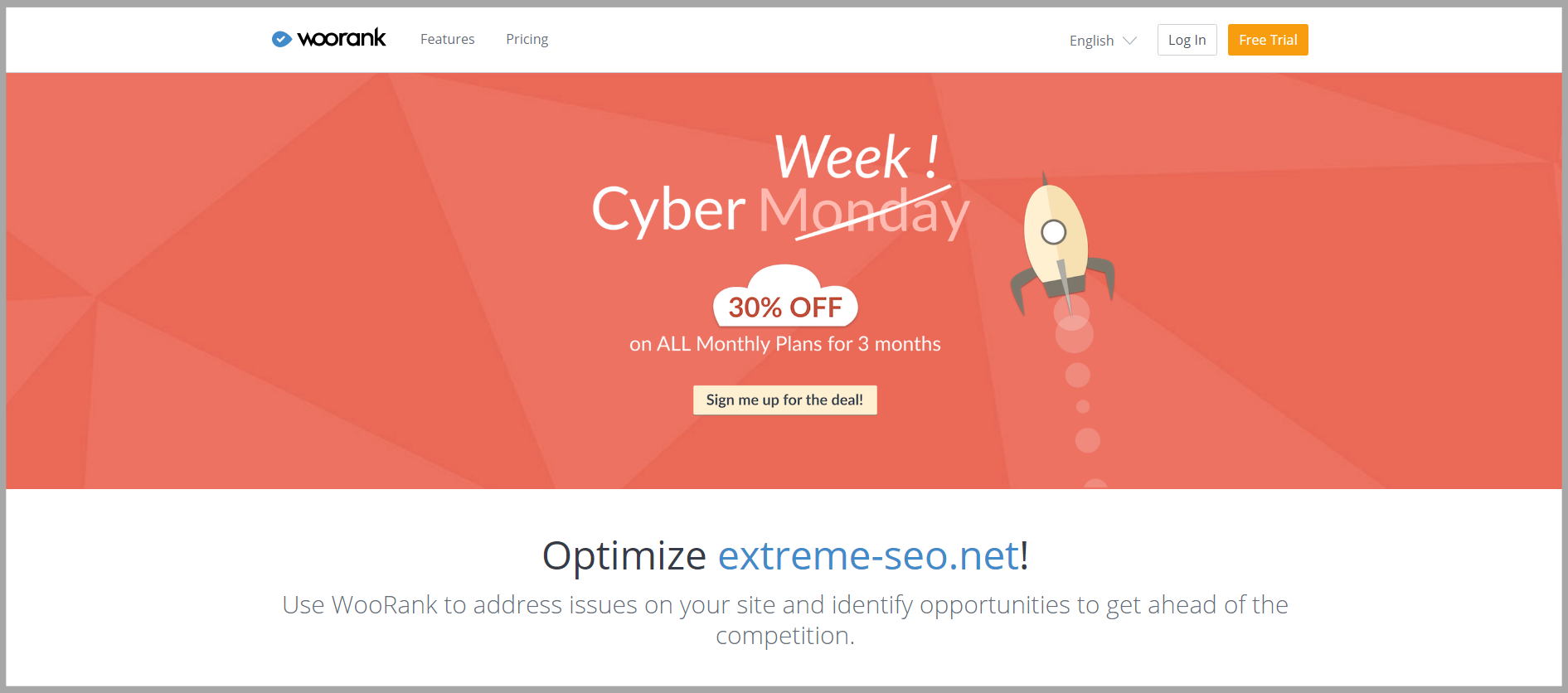 Why should you be using this tool?
The answer is simple –  Woorank provides analysis of On-Page SEO, Off-Page SEO with tracking traffic, backlinks and find out issues that need to be fixed boosting your online visibility.
With Woorank, you get a variety of features as mentioned below:
In-depth Reports
Competitive Analysis
Smart Dashboard
KPI Monitoring
Marketing Plan
Continuous tracking
Backlinks Analysis
SEO Tool
Keyword Tracking
SEO Audit
White-Label Report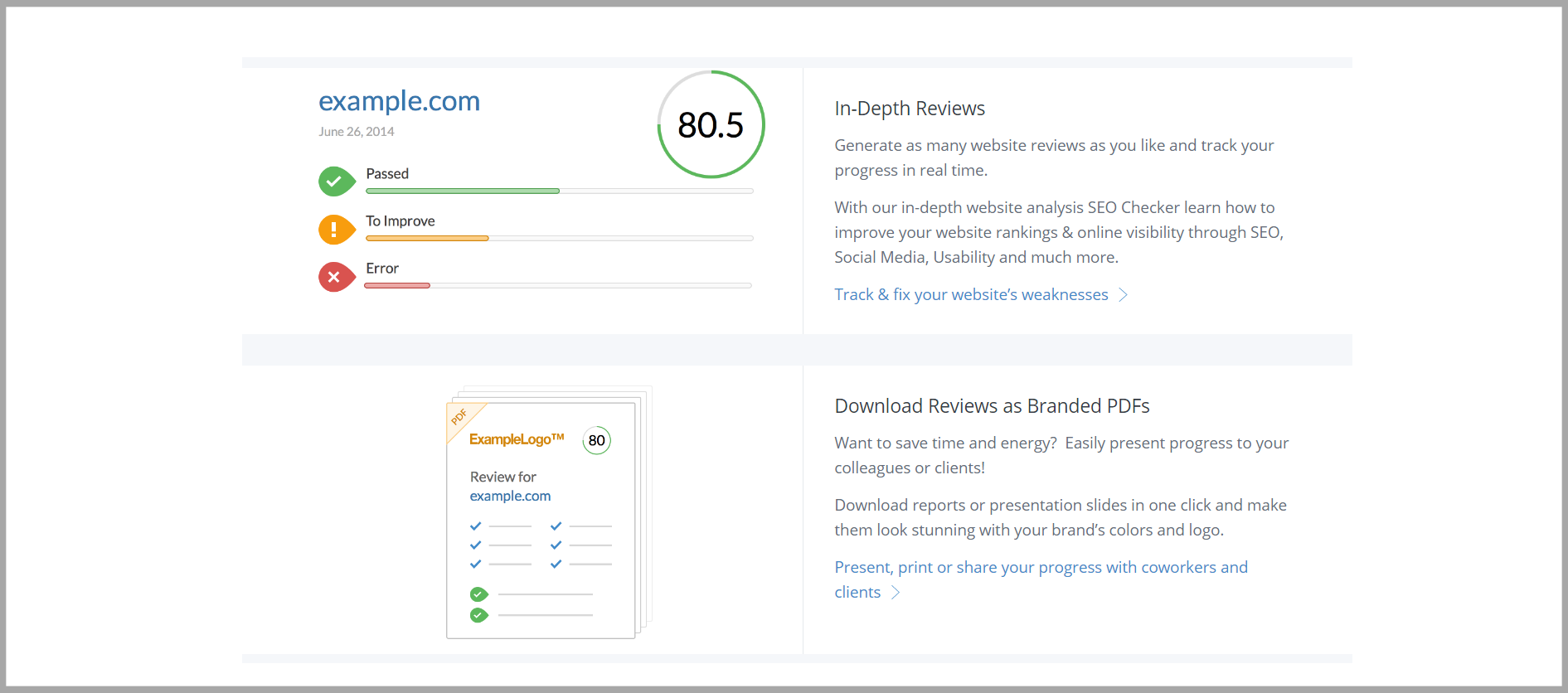 When you put a website's URL, it does an in-depth analysis of the website and gives you a brief report. The report is easy to understand, and with this report, you can easily understand your website issues and fix them in real time.
Price:
| | | |
| --- | --- | --- |
| Pro | Premium | Enterprise |
| $49/mo | $149/mo | $249/mo |
Like Woorank? Consider Reading: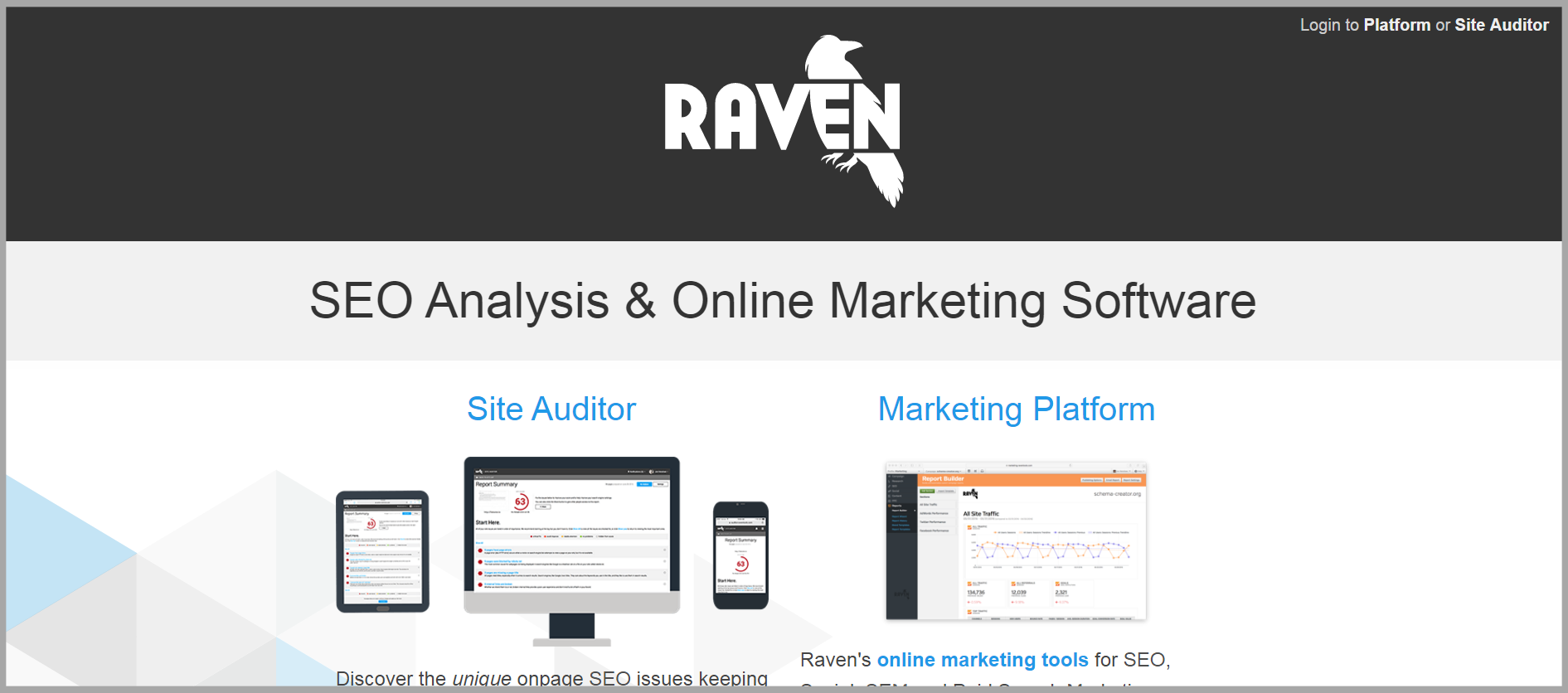 Why Raven Tools?
Raven tools offer you a full set of SEO toolkit to research, track, and optimize your SEO campaign. Their interface is entirely web-based, so it is convenient to use this platform from anywhere you want and monitor your campaign metrics.
Raven tools provide you following platforms to help you in your campaign:
If you are a newbie in the SEO world, nothing beats the excitement to measure the performance of your SEO campaign. And, if you want to increase your website's visibility and want an all-in-one solution for your marketing campaigns, then Raven tools is worth a try!
Price:
Like Raven Tools? Consider Reading: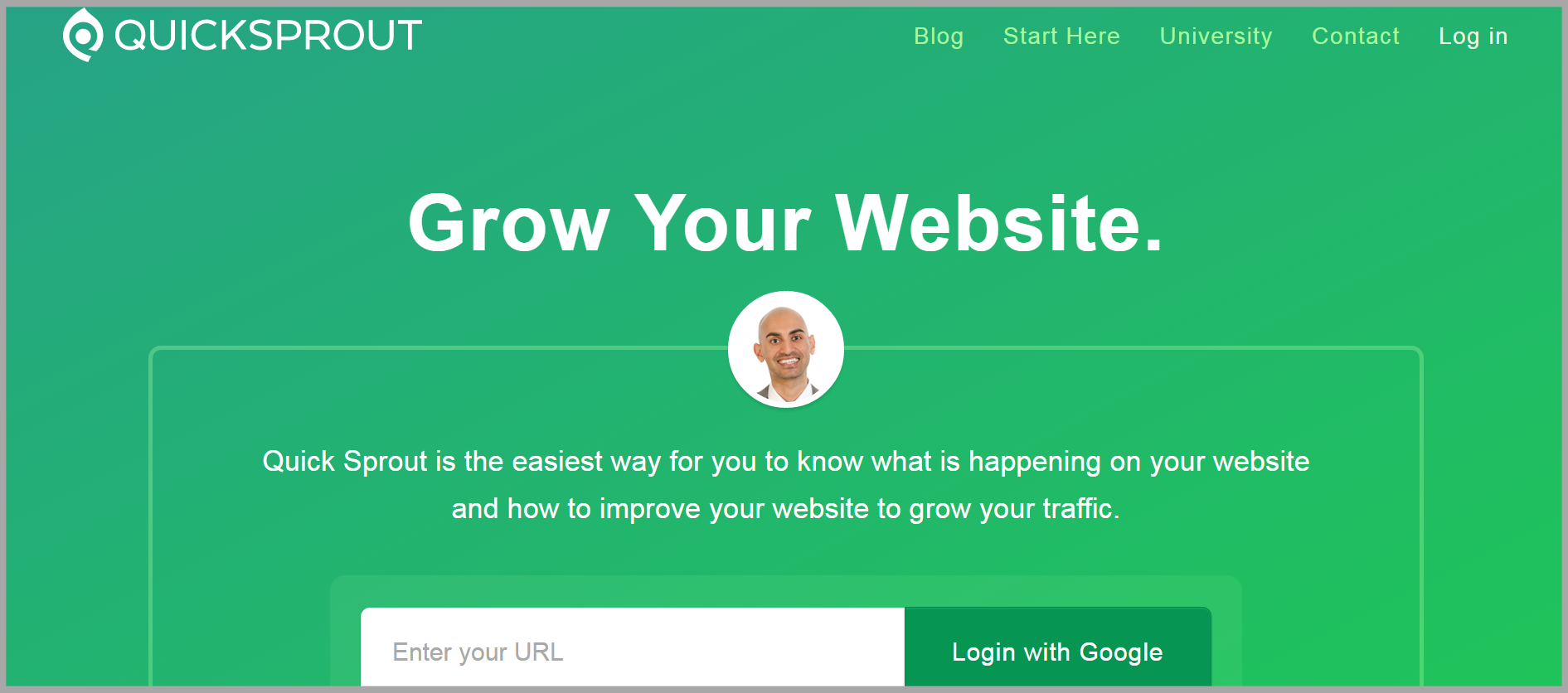 I recommend this tool to all my SEO Clients and will continue to do so for the rest of the years because it is backed by one of the most trusted names in the Digital Industry, Neil Patel. Ever since its launch in 2013, the tool has only grown more in popularity. This tool helps you understand what you are doing right and wrong in terms of your SEO and Social Media execution. Very recently the tool was augmented with advanced features that also give you actionable insights to improve your marketing as compared to your competitors.
Some of the features include:
See where you stand in Social Media Reach as compared to your competitors.
Learn how to get more social media traffic with actionable insights
Detail Social Media Chart gives a breakdown of shares of your competitors and your website
Displays page-level results to show which of your pages are performing well against your competitors
Displays key metrics to show why your competitors are doing better
Gives a complete competitive analysis table with a breakdown of all metrics of your website as compared to your competitors.
Still, need more reasons to try this tool?
Price: Free, Only for you!
Like Quicksprout? Consider Reading: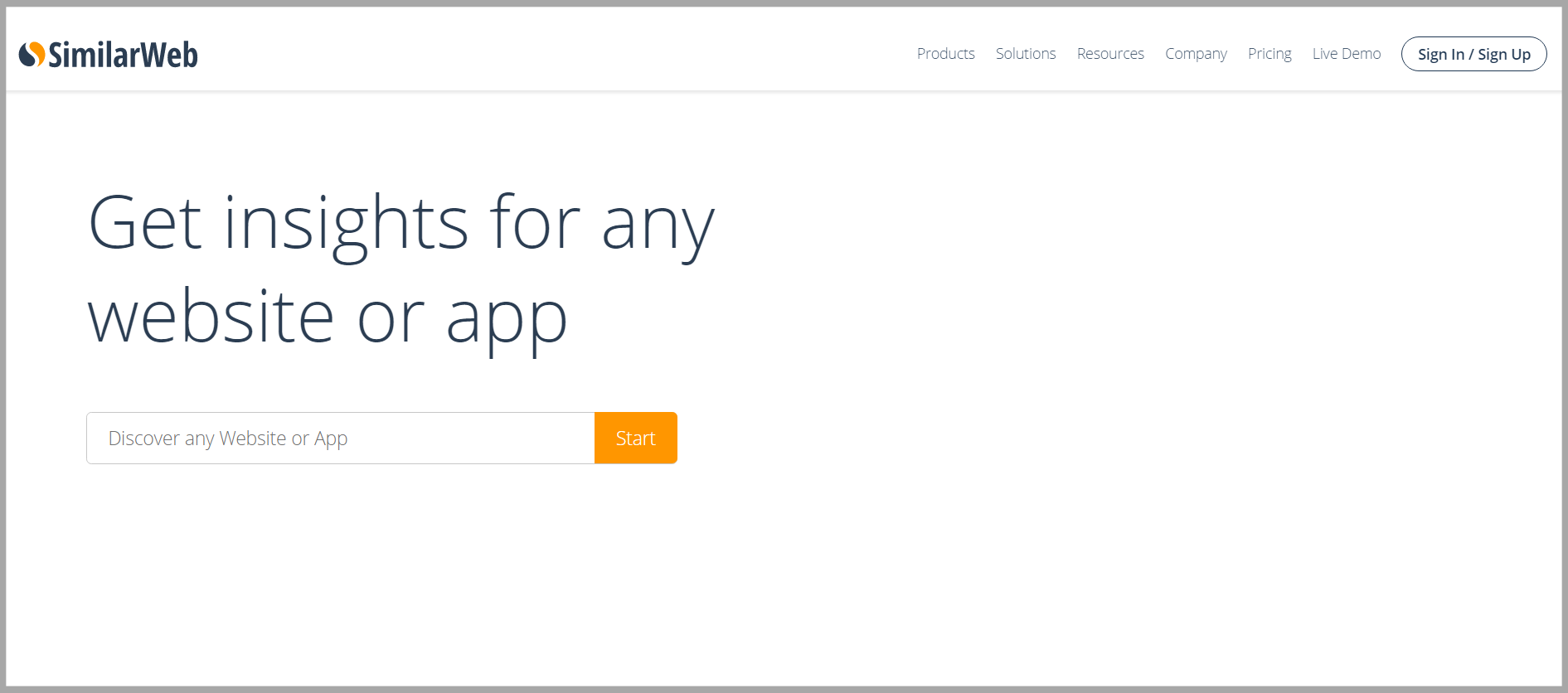 I mentioned so many tools in this list, but if there is one tool that will accurately predict the amount of traffic on a website, app, or platform – it is Similarweb. This feature along with its ability to give accurate insights about your competitors, their traffic, demographics, interests, main market channels etc., is what makes this tool a must use for SEO and Online Marketing.
Features:
Compare traffic statistics of two or more competitors
Check the primary traffic sources of your competitors
Also identifies other important competing websites in your niche
Get actionable insights from what is working for all your competitors to create your own master blaster SEO Strategy
Understand more about your Target Audience, their interests, and behavioral data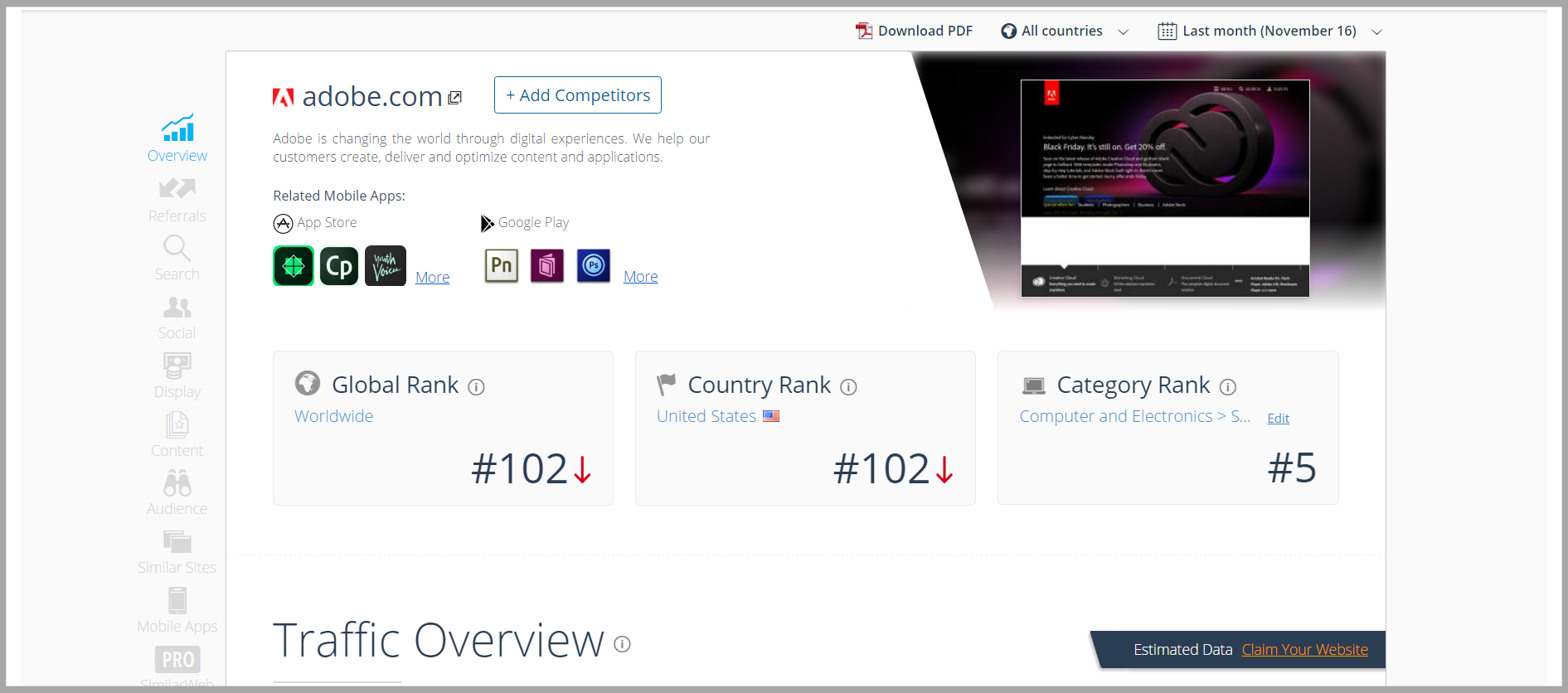 Price:
| | | |
| --- | --- | --- |
| Free | Premium | Custom |
| Free Plan | On Demand | On Demand |
Like SimilarWeb? Consider Reading: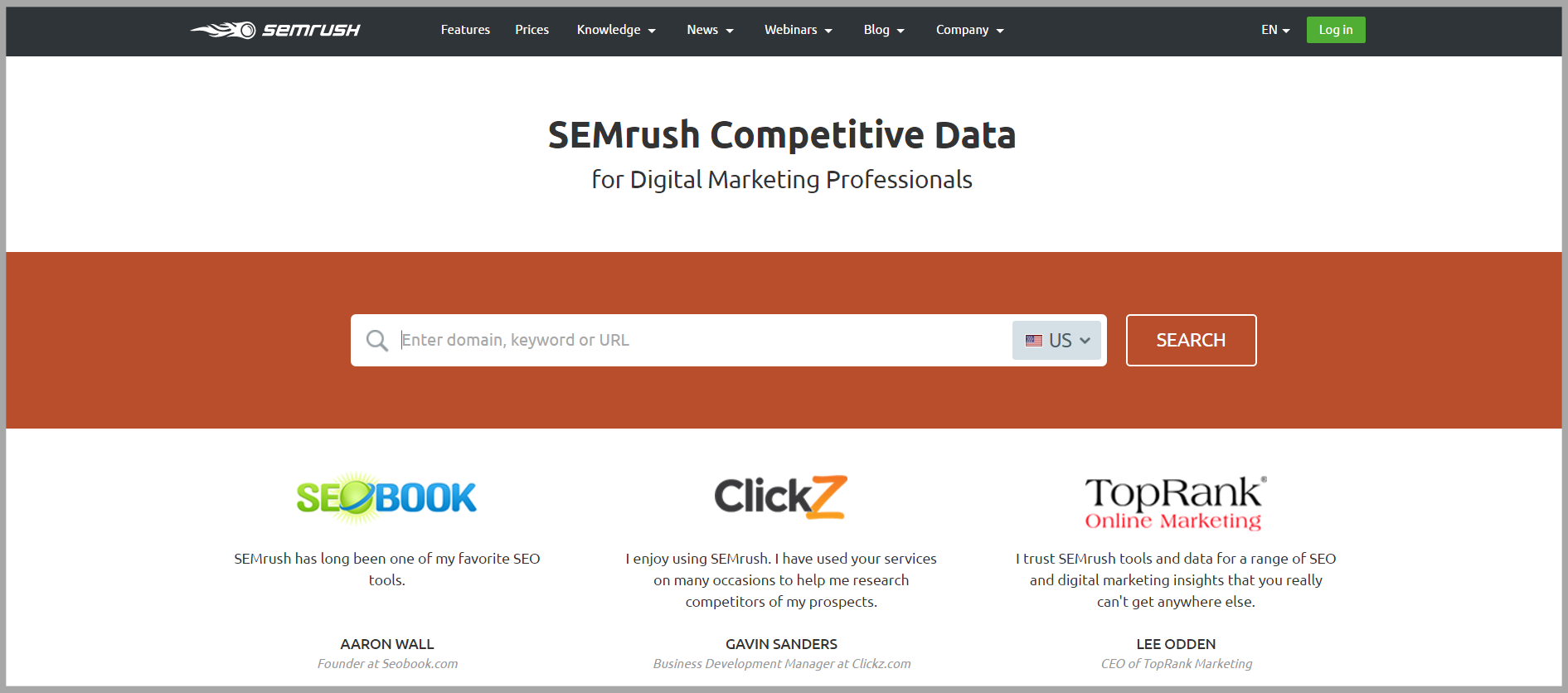 Another reliable tool in the arsenal for competitor research, organic ranking tracking, and ads keywords. I use this tool time and time again to understand what my competitors are doing and how I can use the things that are working for them, to get ahead of the game.
Features of SEMRush are:
Complete analytics and insights into competitors strategies in display and organic paid to advertise
Uncover competitor ad strategies and budget
Find our competitor ad copies
Find out top publishers and advertisers
Conduct in-depth backlink analysis
Complete Video Advertising Research
Create effective ad campaigns
Find best keywords for SEO and PPC
Collect phrase match and related keywords
Get detailed insights into PLA competitors product feeds
Uncover keywords with less competition
Compare your domain to your competitors
Export complete analytical reports in Excel Format
Complete website audit and position tracking in search engines
And more.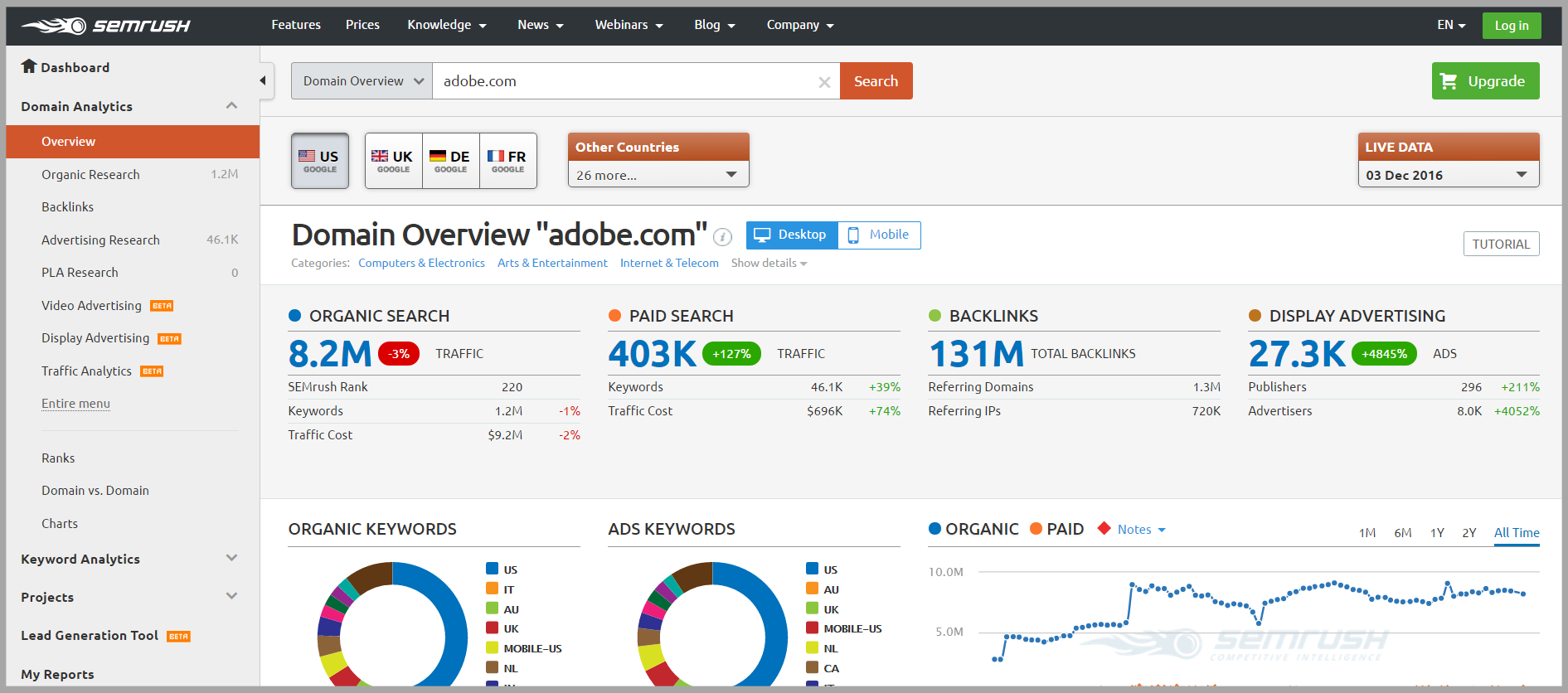 Price:
| | | |
| --- | --- | --- |
| Pro | Guru | Business |
| $69.95 | $49.95 | $549.95 |
Like SEMRush? Consider Reading: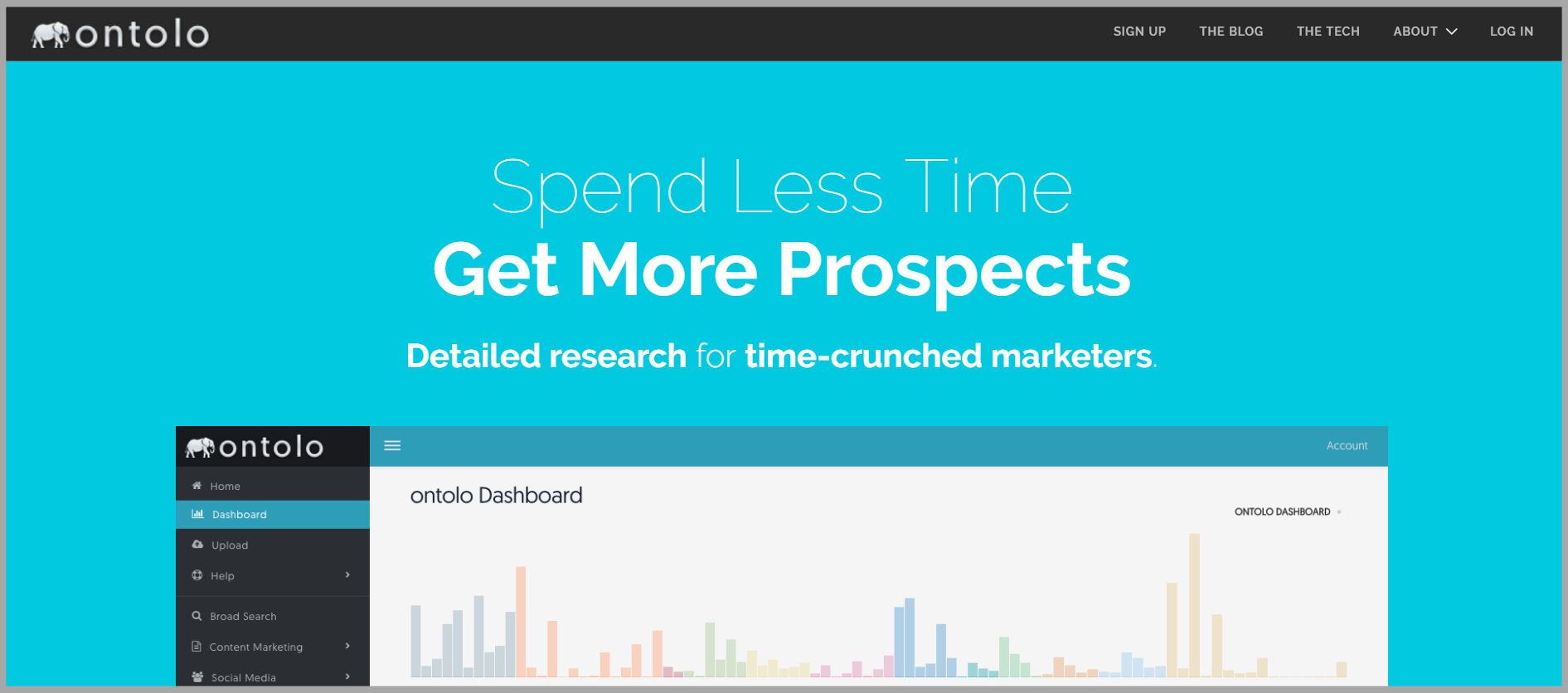 Powerful, powerful, powerful is just the word for this all in one complete marketing Dashboard for any business. Ontolo helps you discover prospects for Link Building, SEO, Content Marketing, Social Media Management, Competiton Analysis, Sales Pitching, Ecommerce, Multimedia and also Reputation Management, and more. I have been using this dashboard for around 2 months straight and I admit that it's well worth the price you pay.
Some Features Include:
Discover prospects from over 80 Sources to ease your marketing efforts.
Get unrivaled prospecting details with in-depth parsing details for all prospects like Navigation, Comments, Article Count, etc.
Get complete Social Media Contact Information from 9 Sources for all Prospects
Get all Contact Information like URLs and Emails
Find out accurate outbound link statistics
Discover content language patterns in competitor's content
Find out Advertising Opportunities for Display/Banner Ads, AdSense, Paid Content Ads, Advertising, Donations, and Sponsorships.
Technical features include GEO-Ip Tracking, Language Translation, Live Chat, Search Form, User Login, User Registration, Video Analytics, and Web Analytics.
Community Engagement, Affiliate Program Management, Prospect Meta-Analysis, and more….
Price:
| | | |
| --- | --- | --- |
| Pro | Agency | Custom |
| $97/mo | $297/mo | Contact Us |
Like Ontolo? Consider Reading?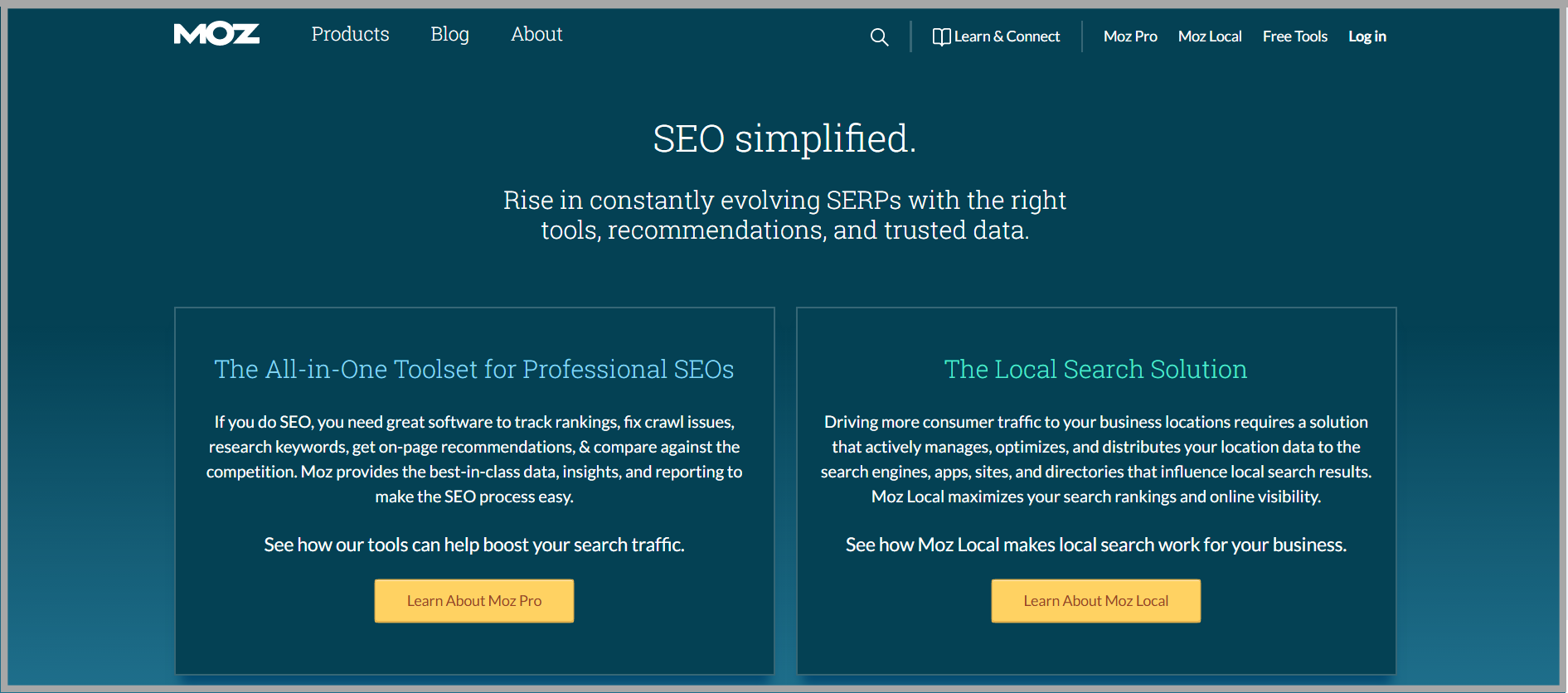 Now, this one is pretty self-explanatory. For those, who are not aware of this robust tool, then, let me introduce you to the 'Guru' of SEO word.
Moz is one of the best SEO tool providers on the web that practices both basic and advanced research tools to help you in your search engine optimization process. The list of features that are provided by this SEO toolkit can be difficult for those who have just started out with SEO thing and some features are so advanced that they may even deter experienced users.
It is designed for both small to enterprise business and it helps you monitor your website's SEO performance and detects your ranking on SERPs.
Its ranges of free tools are as follows:
Open Site Explorer
Keyword Explorer
MozBar
Business Listing
Business Console
Research Categories
If you are on a tight budget, you can check out their Free tools, or I'd highly recommend to check out their premium tools, which won't disappoint you.
Take some SEO inspiration with the wizard of Moz himself!
Price:
Check out different pricing plans of Moz here.
Like Moz? Consider Reading: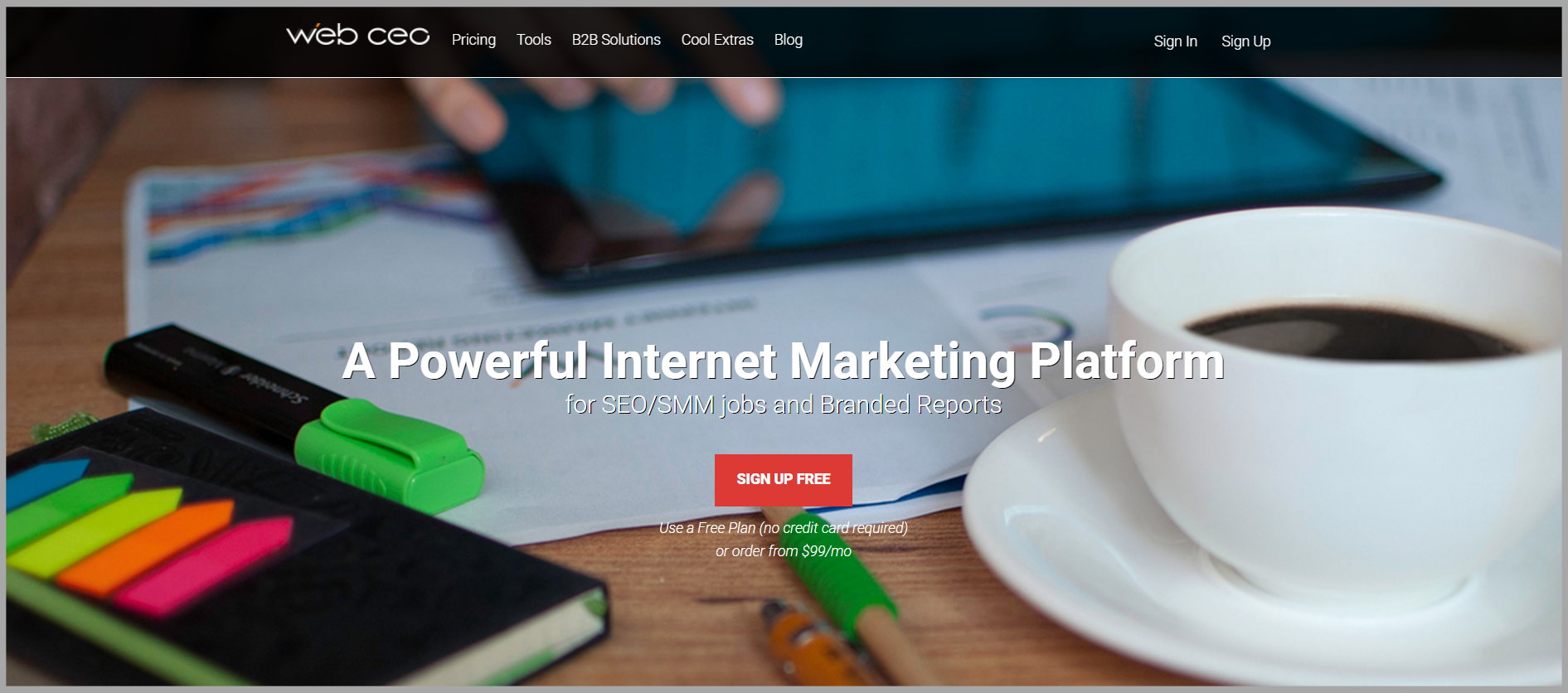 WebCEO is one of the best SaaS platforms made for tracking and managing Search Engine Marketing Campaign. This tool lets you build and manage links, optimize keywords, and track your competitors' SEO activity.
With WebCEO, you get a variety of features, including but not limited to:
Keyword Optimization
Link Building
Competitor Analysis
SEO Performance Reporting
So, if you are looking for a tool that is worth your penny, you have to try this out!
Its intuitive features make it one of the best picks in SEO platforms in 2017.
Price:
| | | | |
| --- | --- | --- | --- |
| Startup | Corporate | Agency Fixed | Agency Unlimited |
| $99/mo | $199/mo | $499/mo | $99/mo + scanning fees |
Like WebCEO? Consider Reading: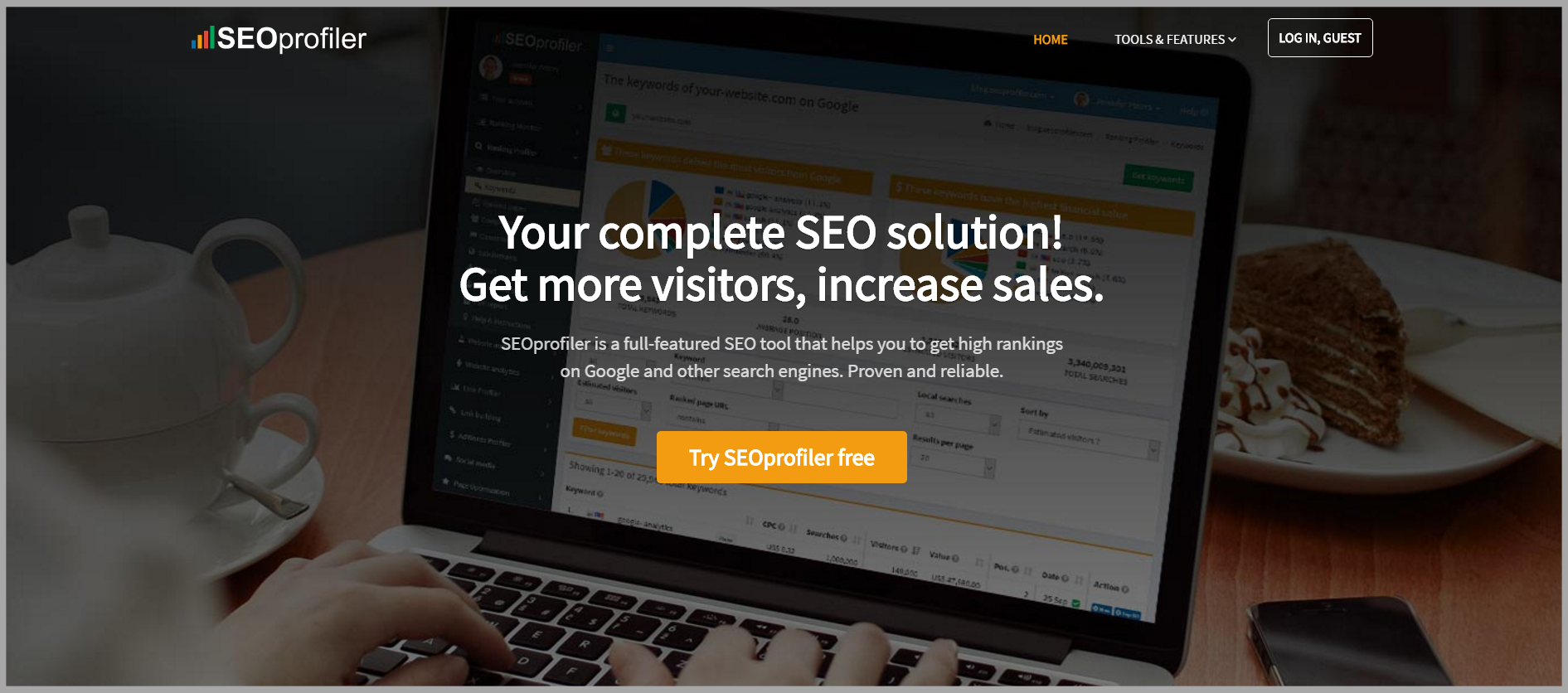 Have you ever used SEO Profiler?
If your answer is 'yes, then you must be aware of the features of this jam-packed tool.
SEO Profiler is an online web-based tool that helps you in your Search Engine Marketing Campaign. It points out technical errors of your web pages, helps you to find the buyer intent keywords and its Top 10 Optimizer helps you to optimize your pages to push them towards the top of the search engage ranking page.
It offers the following unique features:
Organic ranking Insight
Keyword Research
Link Manager
Ranking Monitor
AdWords Intelligence
Website Audit
And much more…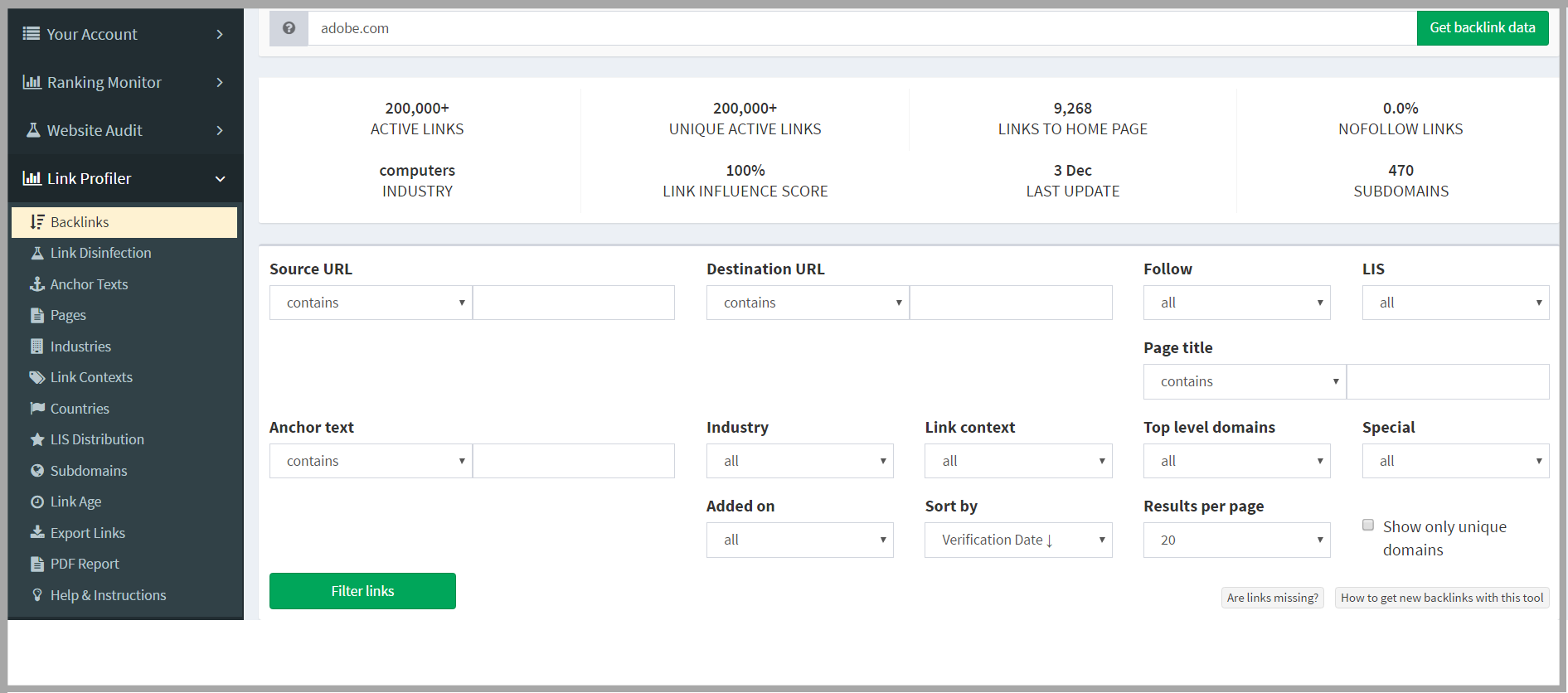 With SEO Profiler, you will have all the necessary SEO tools under one platform, which makes your SEO campaign effective and you will have a much better chance of reaching on top of your industry.
Price:
| | | | |
| --- | --- | --- | --- |
| Standard | Smart | Professional | Enterprise |
| $49.95/mo | $99.95/mo | $249.95/mo | $999.95/mo |
Like SEOProfiler? Consider Reading: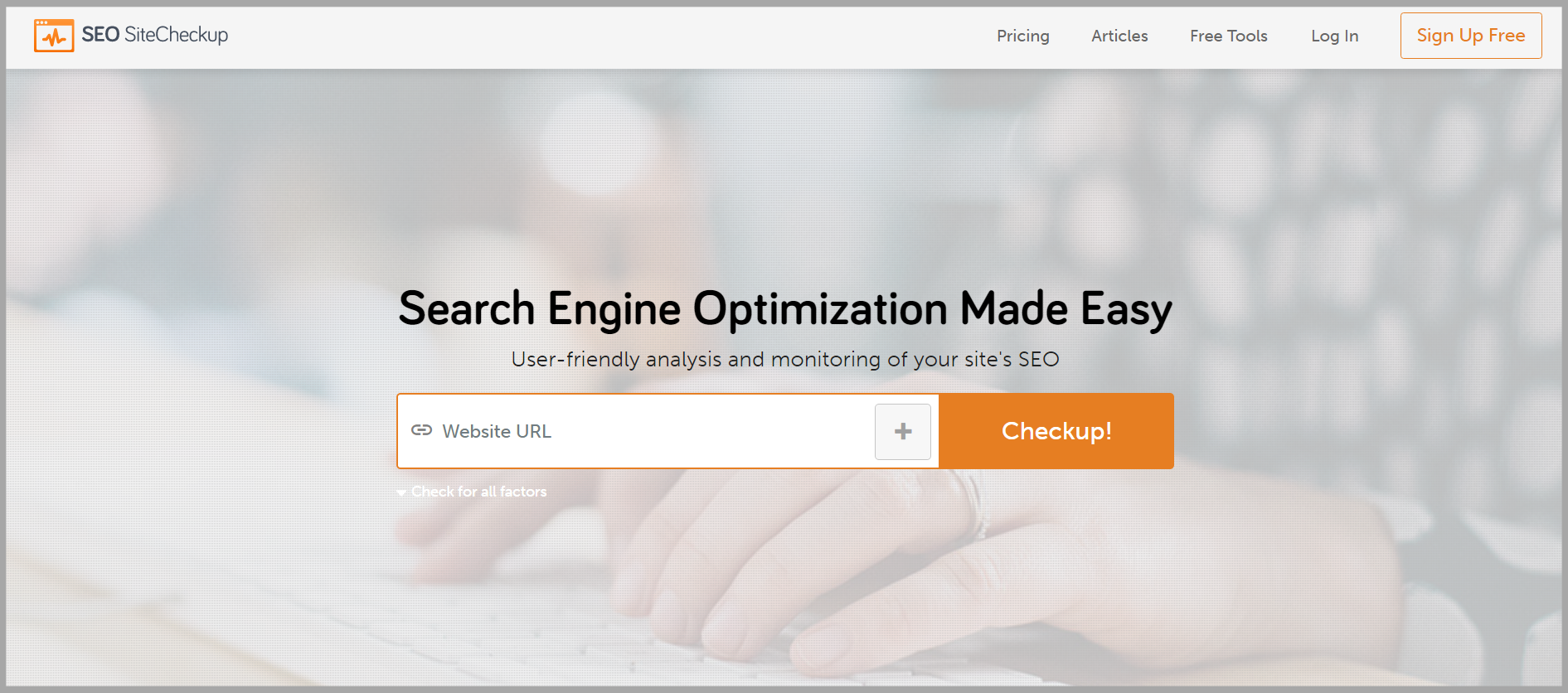 When the time comes to analyze your site, no other platform is more valuable than a comprehensive search engine optimization tool.
I recommend monitoring your site from day one once visitors start flooding in. And, what can be better than SEO Site Checkup tool?
SEO Site Checkup is a robust web-based SEO tool that fetches data from the search engine and gives you score on the performance of your website.
It offers a range of features like:
SEO monitoring
SEO issues repairing
Competitor Analysis
SEO Reporting
Take a closer look at how it works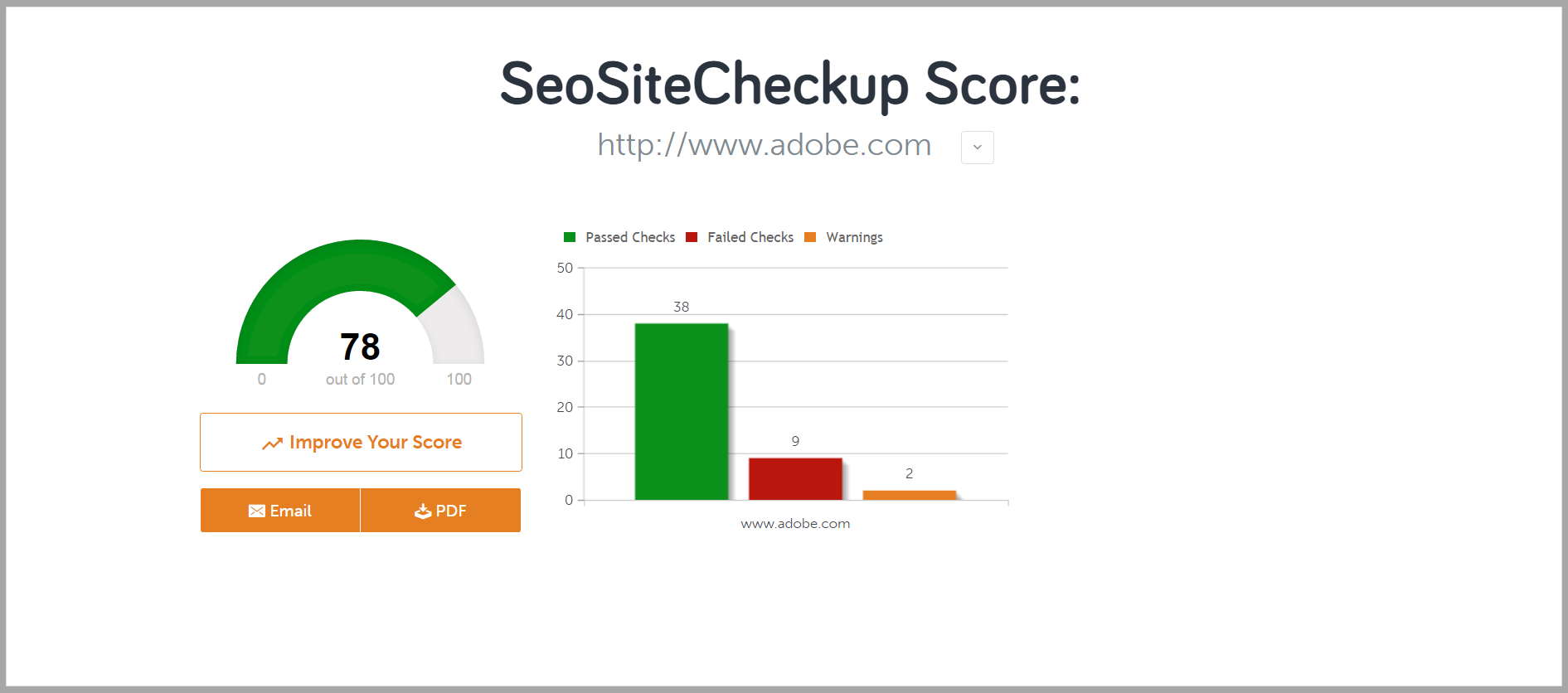 I really like its user interface and easy to understand dashboard. It is definitely not the best tool available, but it does give you all the necessary details that you need to have from an SEO perspective along with the chance to improve your site's performance.
What if you get a low score?
Don't get disheartened by the poor numbers on the screen; you always have a chance to fix it up. As they say, it's never too late!
Pro Tip: Don't forget to click on the "Improve Score" button.
Price:
| | | |
| --- | --- | --- |
| Professional | Webmaster | Basic |
| $79.95/mo | $39.95/mo | $24.95/mo |
Like SEO Sitecheckup? Consider Reading: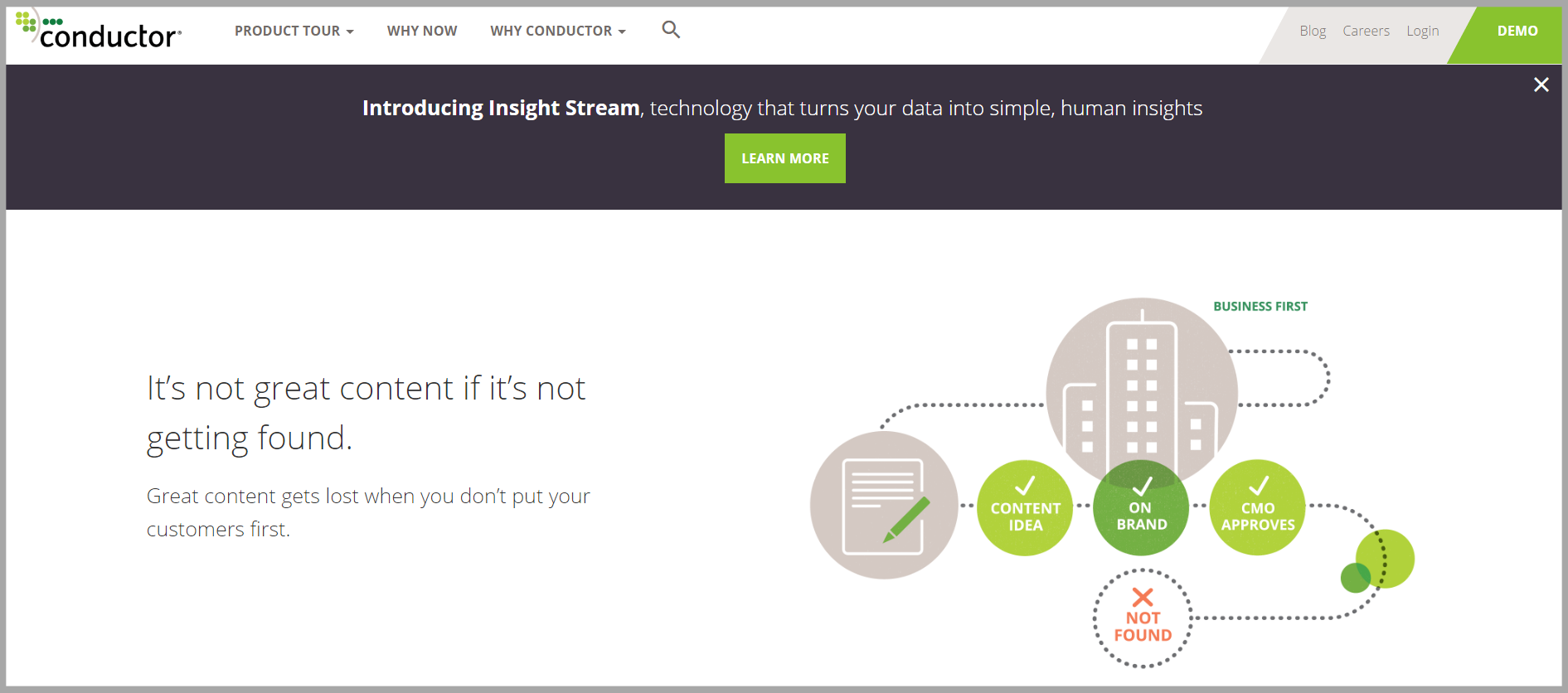 Although plenty of SEO tools are available on the web, Conductor comes very handy when it comes to vast features packed under one roof.
The conductor is a SaaS based SEO platform, and its in-depth site analysis helps marketers divulge opportunities for optimization and development. This analysis takes into account the performance of existing SEO initiatives, social media, and more.
It offers a variety of features:
Site Optimization
Competitive Analysis
Reports
Integration
Keyword Research
So, if you are looking for something that will help you in the journey of your SEO campaigns, You should head over to this giant platform that has never-ending features for your marketing campaign.
Price:
| | | |
| --- | --- | --- |
| Starter | Standard | Premium |
| $1995/mo | $3750/mo | Contact Conductor Team |
Like Conductor? Consider Reading: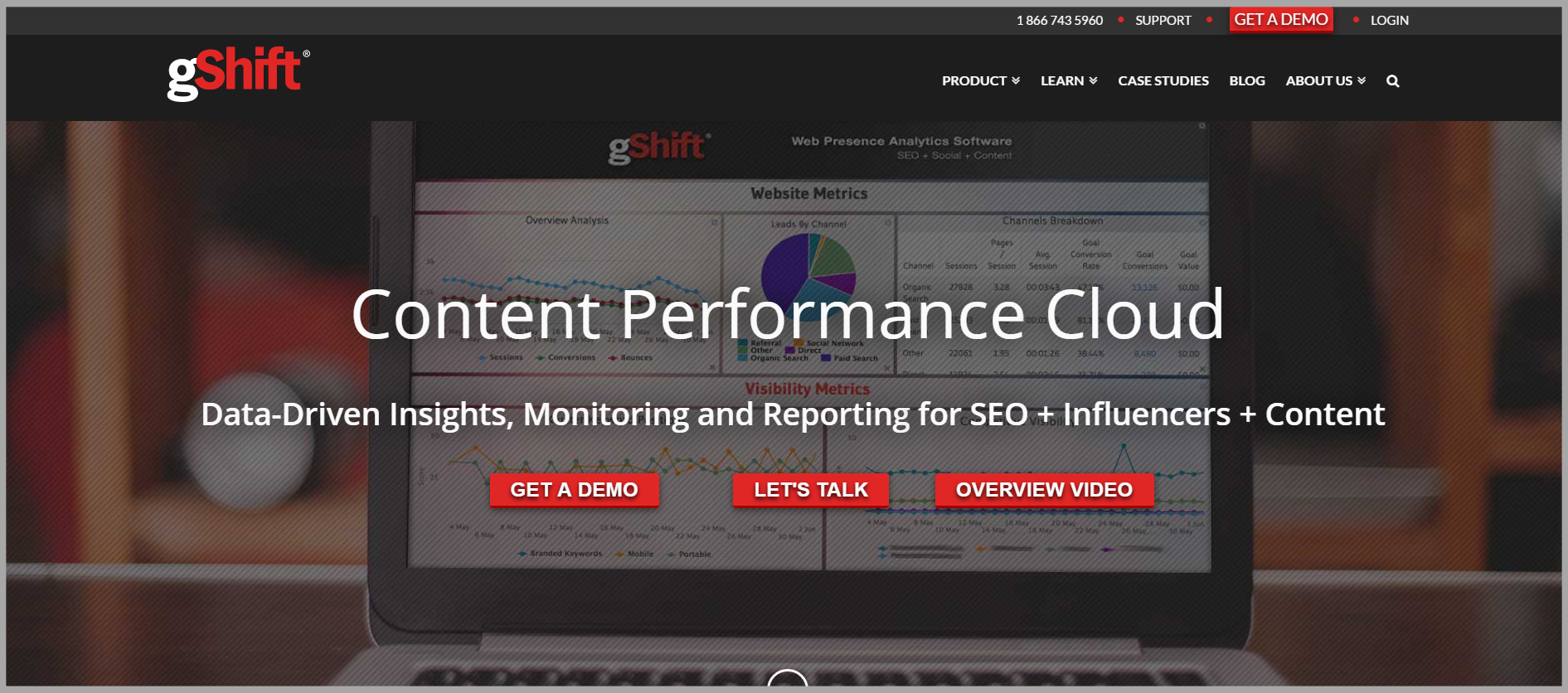 Do your monthly SEO reports look bland and unprofessional to clients?
I know the pain of making SEO reports by copy-pasting your brand logo on Clients' PDF reports. If you are in the same loop, then you should head over to this amazing tool naming gShift Labs.
gShift is a SaaS-based platform that fetches data from multiple platforms to make an easy overview of your website's performance. As well, it is a real time-savior that provides top-notch SEO reports that satisfy clients and retain them.
gShift offers you a range of features like:
SEO Analysis & Reporting
Competitive Analysis
Active Data & Reporting
Content Tracking
Influencer Identification
Site Audit
Want to add that extra touch of professionalism and credibility to your Client's SEO Campaign Reports? Then look no further than gShift Labs.
Price:
| | |
| --- | --- |
| Brand | Agency |
| $325/mo | $999/mo |
Like gShift? Consider Reading: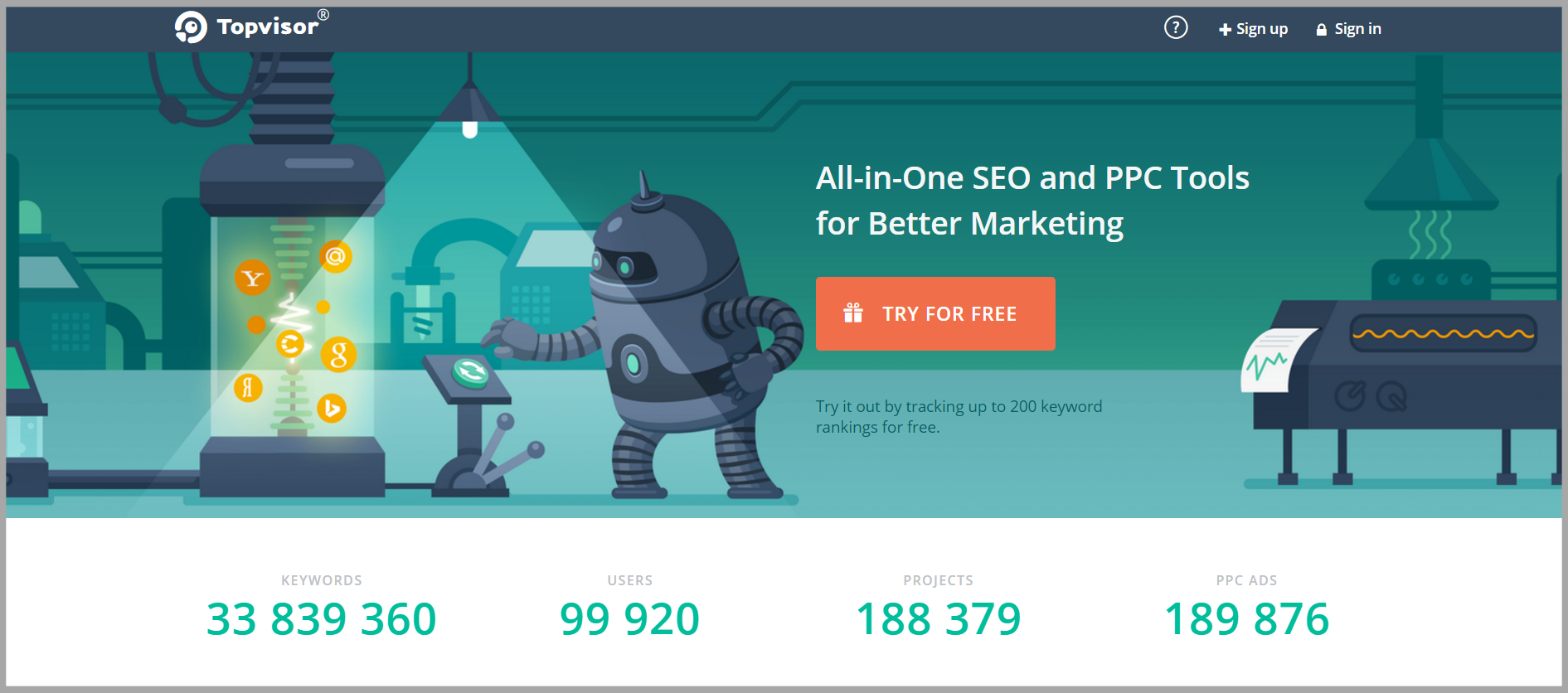 Now that your website is properly optimized, traffic from the search engines is probably coming in. This raises the most important question: how best to track your SEO progress?
Well, Topvisor is a cloud-based solution accessible from any browser with multiple levels of billing depending on your needs. Furthermore, Topvisor also prides a mobile app that lets you view rankings & analytics dashboards from anywhere, and this makes it more unique.
Topvisor offers a range of tools like:
Rank Tracker Tool
Keyword Grouping Tool
PPC Bid Manager Tool
Website Watcher Tool
Keyword Suggestion Tool
Keyword Research Tool
Website SEO Audit Tool
So, if you want an SEO and PPC tool to keep the best ROI in your online advertising under one roof, then stumble upon to this simple and organized platform Topvisor.
Price:
| | | | | |
| --- | --- | --- | --- | --- |
| XS | S | M | L | XL |
| $0/mo | $29/mo | $89/mo | $299/mo | $599/mo |
Like Topvisor? Consider reading: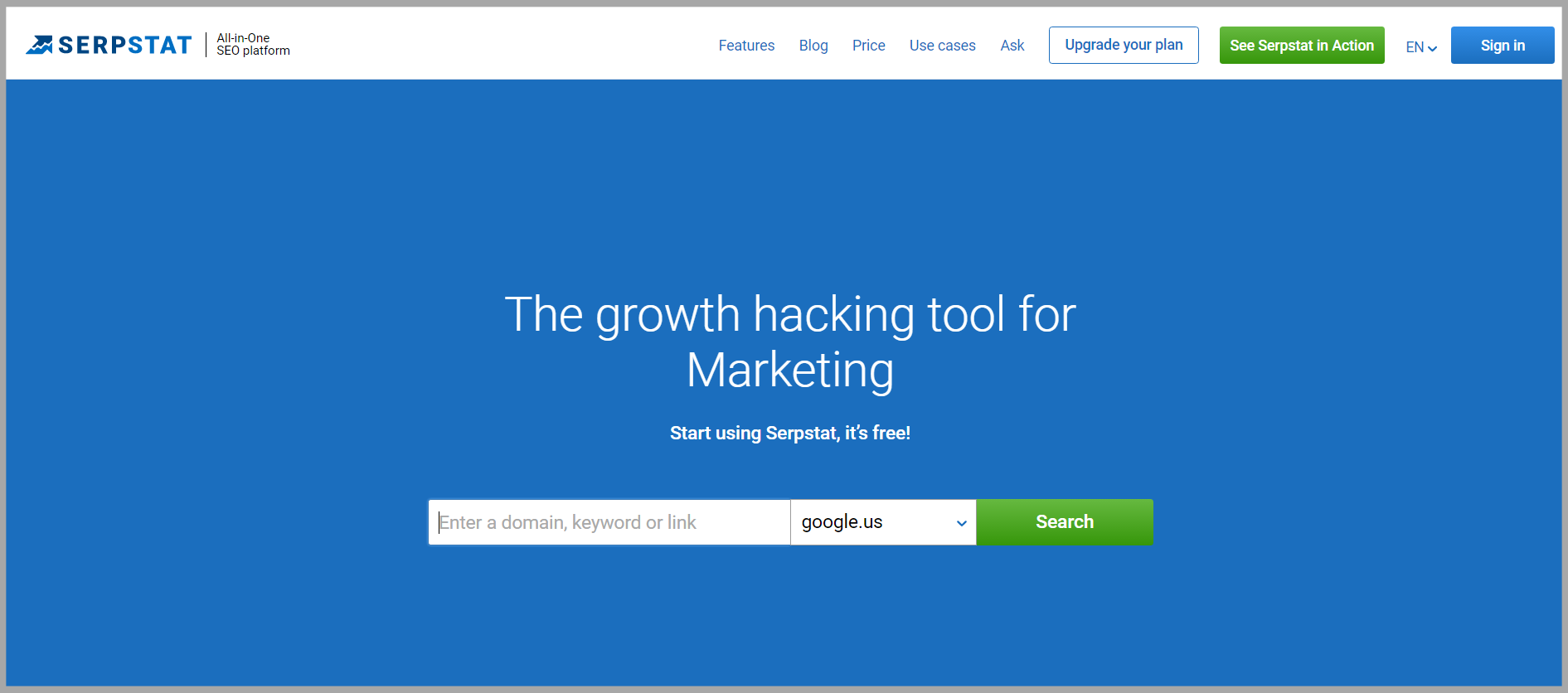 Want an all-in-one solution for your SEO campaign?
Head over to Serpstat, which is packed with 5 different SEO tools with decent pricing.
Serpstat provides an amazing user experience with multiple projects – single view, international search engines, organic keyword tracking, excellent competition research, and finds top pages from your site.
With Serpstat, you get:
Position Tracking
Backlink Analysis
Keyword Research
Site Audit
Competitor Research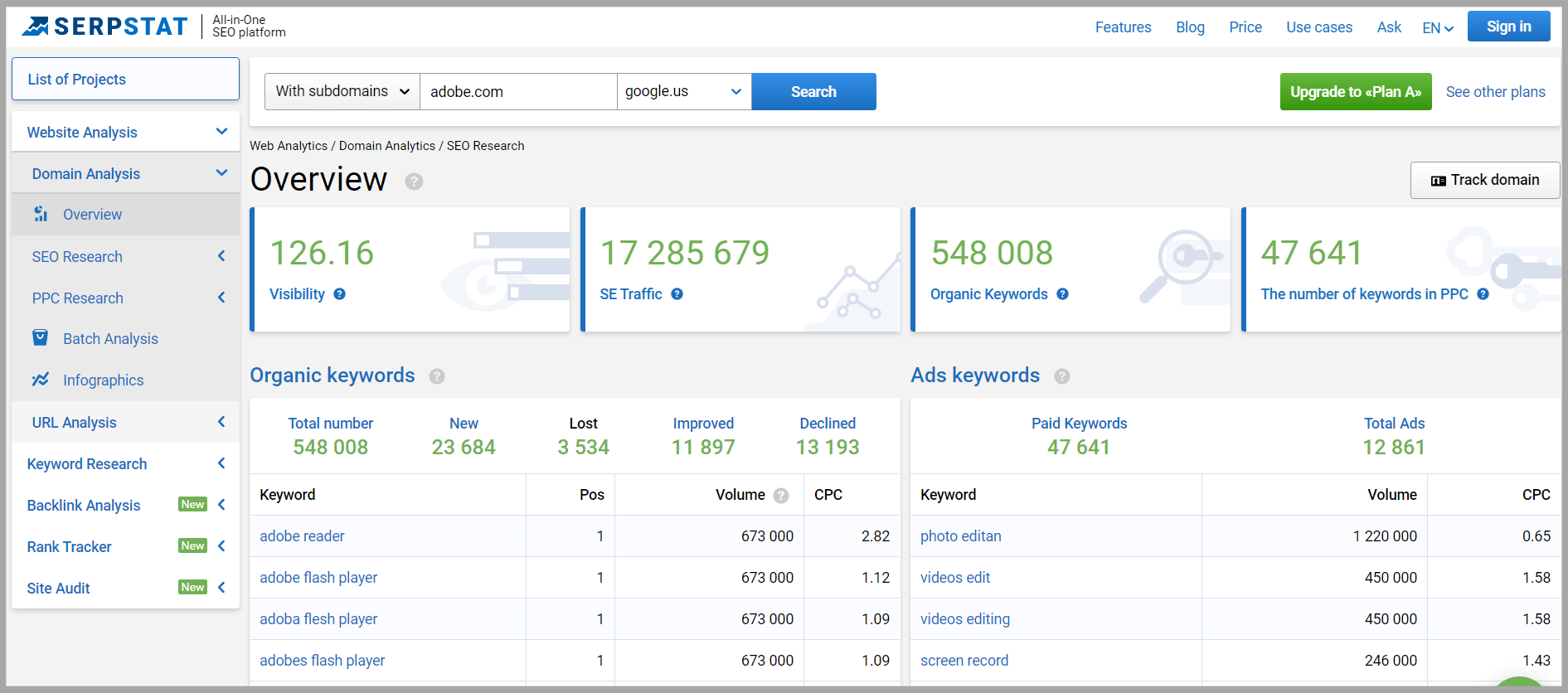 As you can see above, there is a lot of data including organic keywords, Ads keywords, Visibility, traffic, and a lot more. You may land up with new keyword ideas, which could be implemented into your marketing strategy.
So, if you are looking for a more streamlined tool without the unnecessary frills, stumble upon to Serpstat and it won't let you down!
| | | | |
| --- | --- | --- | --- |
| Plan A | Plan B | Plan C | Plan D |
| $19/mo | $69/mo | $149/mo | $299/mo |
Like SerpStat? Consider Reading: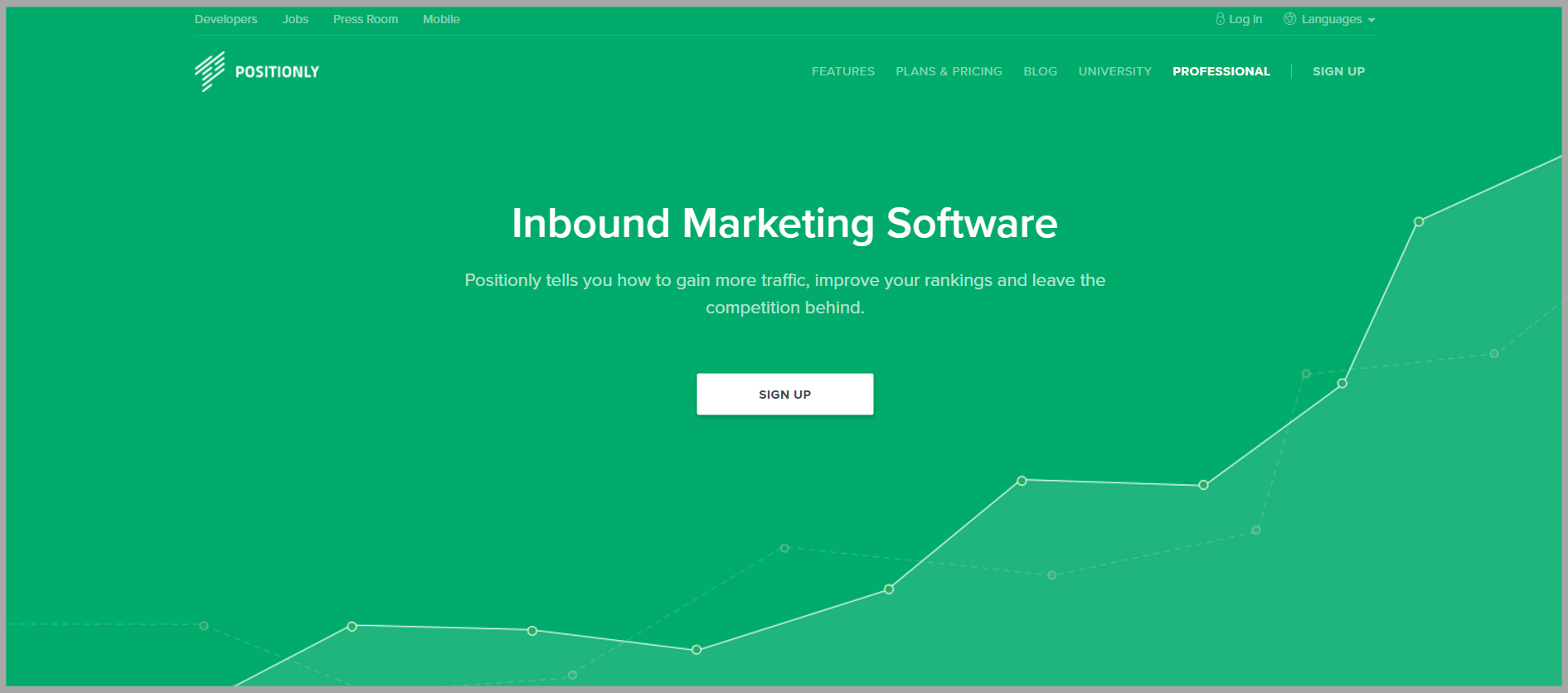 Why Positionly?
As a Digital Marketer, it's your job to track the performance of your SEO campaign consistently so that you can keep moving on with the right strategy for your company to generate more traction.  And when it comes to checking backlinks, track rankings and analyze competitors online, Positionly is the best pick for you!
With Positionly, you get a variety of features like:
SEO performance management
Dedicated mobile app
Website position tracking and API
Keyword research, analysis, and rank tracking
Competitive Analysis
Google, Bing, Yahoo and Yandex compatibility
Beautiful, user-friendly dashboard
Google Analytics Integration
Customizable Reports
Visual data reporting
Branding and White Labeling Options
So, if you want a user-friendly, SEO monitoring solution for your brand, you should definitely go for Positionly!
Price:
| | | | | |
| --- | --- | --- | --- | --- |
| Basic | Medium | Standard | Agency | Platinum |
| $15/mo | $39/mo | $79/mo | $159/mo | $399/mo |
Like Positionly? Consider Reading:
1.     How to Boost Conversions With Content Upgrades and Opt-ins
2.     How to Retain Keyword Rankings When Re-Launching Your Website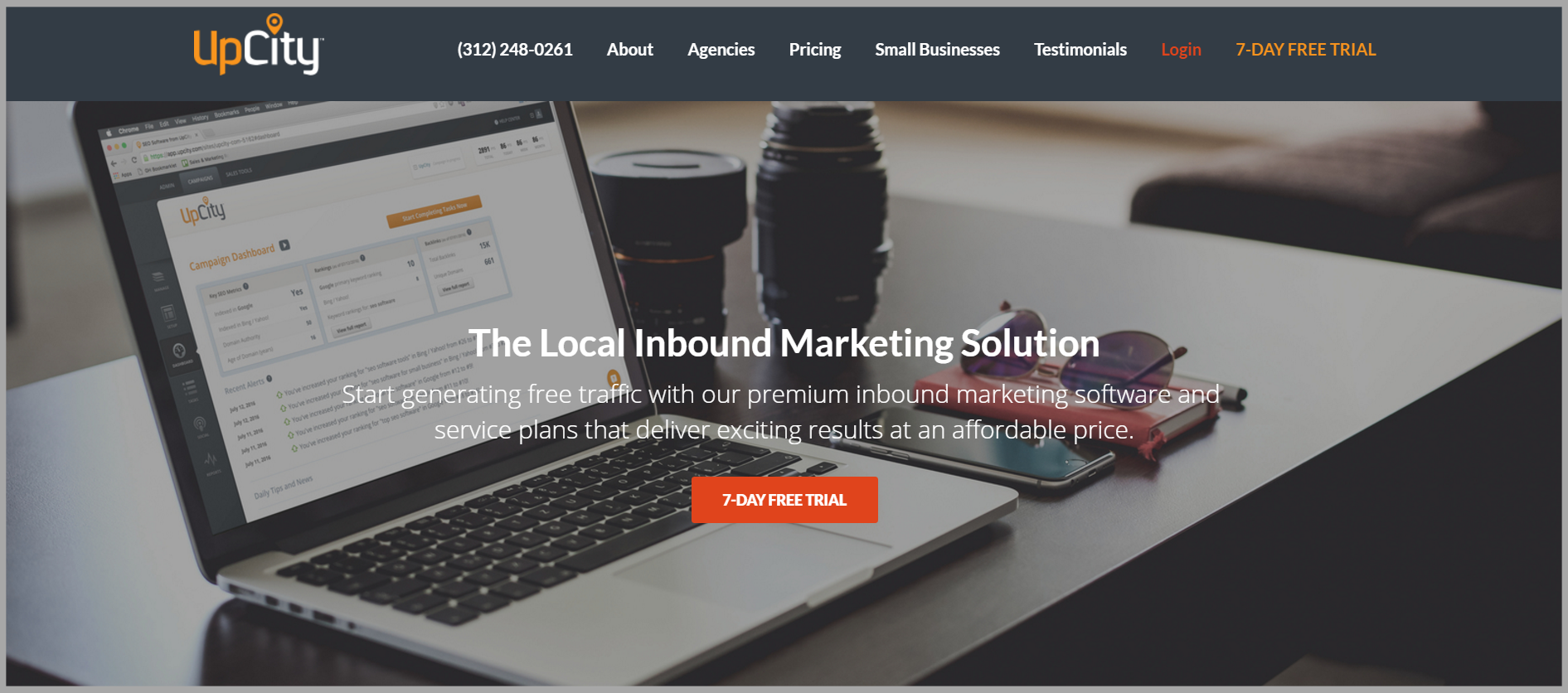 Which method do you employ to generate traffic for your business?
If you want an all in one solution for your marketing program, then you must be aware of UpCity.
UpCity offers an SEO toolkit packed with needful resources to run and manage search engine optimization campaigns. It provides a local inbound marketing solution and SEO report card for free to show your rank versus your competitor's rank.
With UpCity, you can track up to 3 competitors at one time to view their unique domains, backlinks, and keyword rankings.
How can UpCity help you?
UpCity help you to –
Optimize Your Presence
Manage Your Reputation
Become an Authority
Convert
Retain & Grow
If you want to stay organized, save time, and manage your Digital Marketing Campaign, then UpCity should be on your bucket list for the upcoming year.
Like UpCity? Consider reading:
Price:
| | | | |
| --- | --- | --- | --- |
| Basic | Agency Pro | Agency Pro Plus | Enterprise Agency |
| $50/mo | $150/mo | $300/mo | $800/mo |
Like UpCity? Consider Reading:
1.     Help! My Client Wants SEO Services. Now What?
2.     Google's Penguin Real-Time Update: The Lasting Effects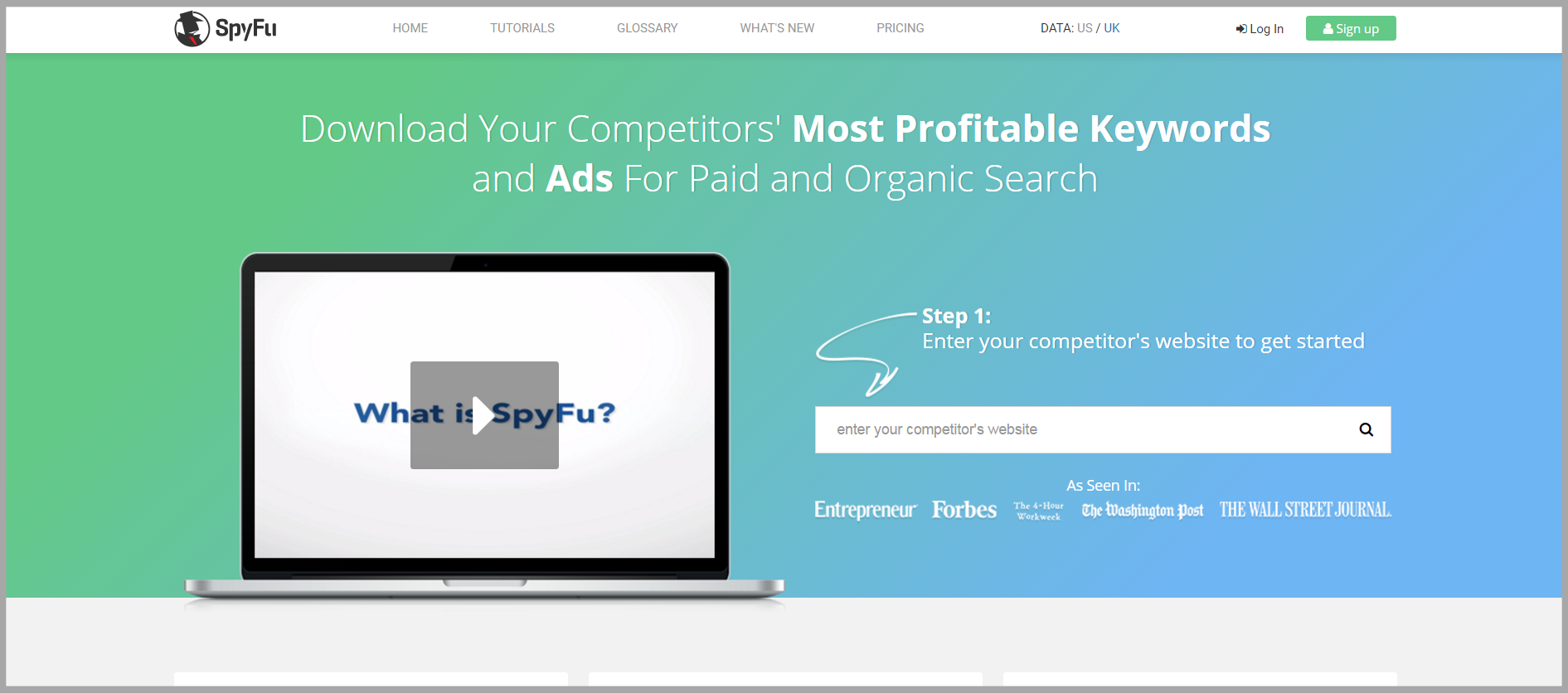 Who doesn't like to take a peek inside a competitor's insights?
With SpyFu in hand, you can do it all. You can simply keep a watch on your competitor's activity. Isn't that cool?
SpyFu is a comprehensive SEO tool packed with data and features pointing towards online marketing, sale, and digital marketing.
Just put a URL on the homepage of SpyFu, And, there you go with the insights within a couple of seconds.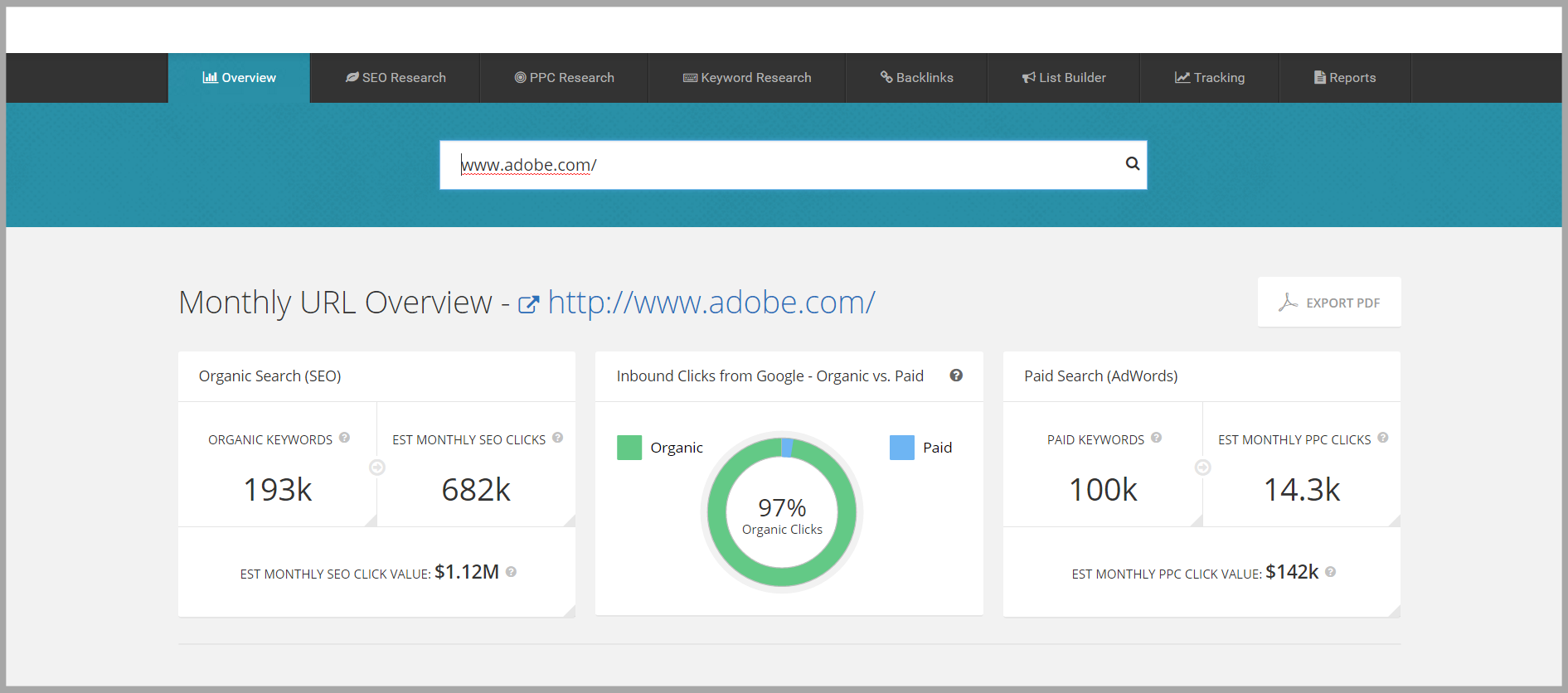 This is what it looks like. You will have data like:
Organic Search
Inbound Clicks
Paid Search (PPC)
Top Keywords
With SpyFu, you can easily uncover your competitor's keywords, backlinks, the number of searches and a lot more. By doing this thorough research, you can come across with some potential keywords that will help you boost your visibility in SERPs.
Price:
| | | |
| --- | --- | --- |
| Basic | Professional | Team |
| Starts from $44/mo | Starts from $74/mo | Starts from $199/mo |
Like SpyFu? Consider Reading: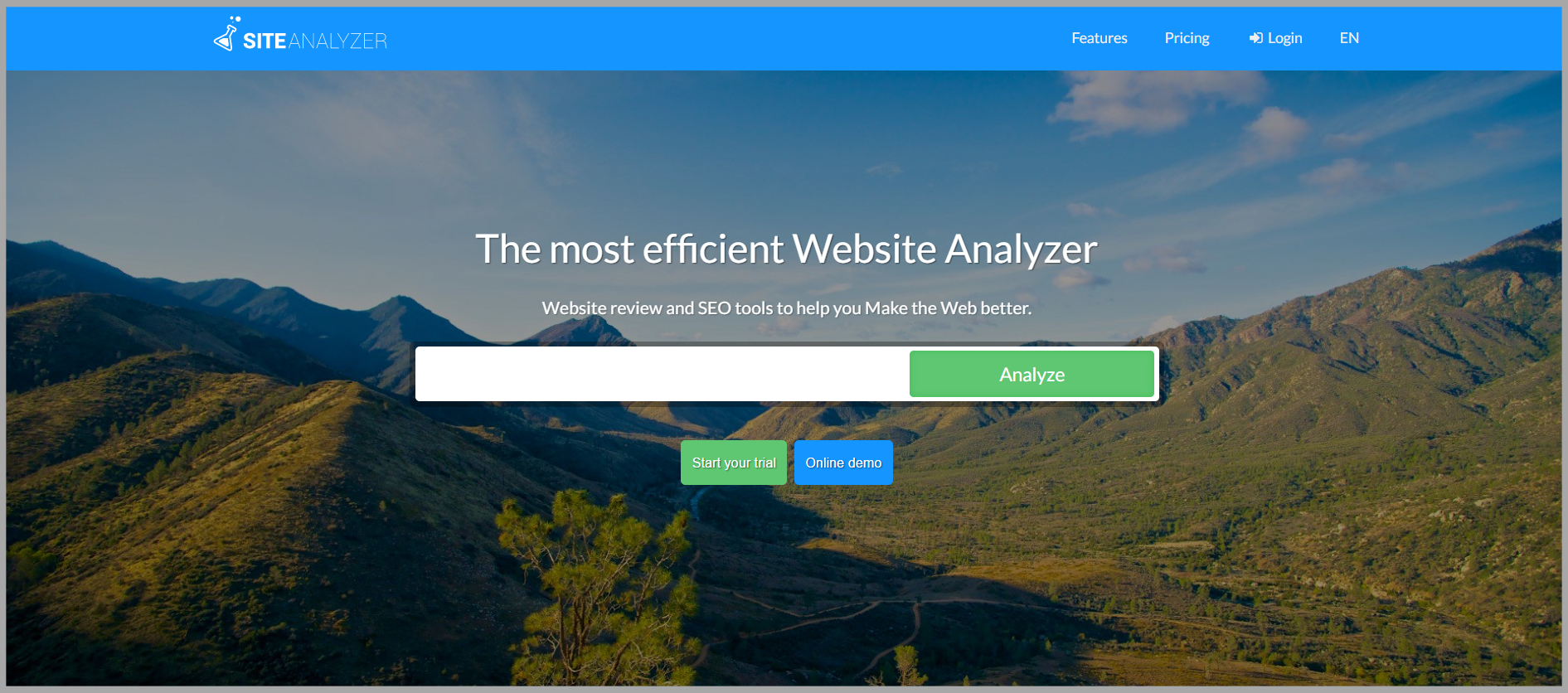 Are you using the Site Analyzer tool?
Site Analyzer is yet another easy-to-use SEO tool that performs in-depth analysis of a website and finds out critical errors, gives you an overview of the website including, On-Page score, Backlinks Details, Crawl and Rank Tracking Details.
It provides a variety of features, including but not limited to:
Page Analysis
Crawl Analysis
Rank Tracking
Backlink Analysis
SEO Benchmarking
Site vs. Site Analysis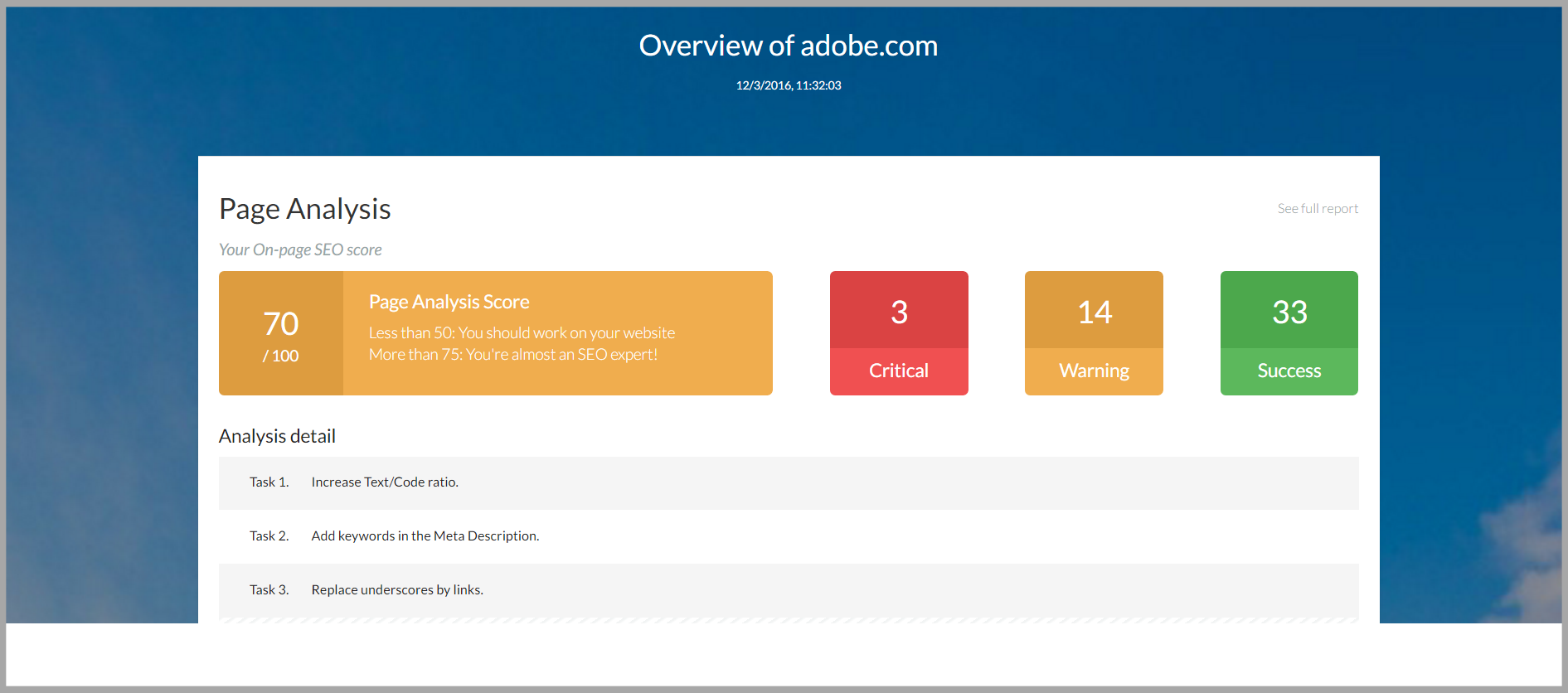 Its simple and easy-to-use dashboard makes it a hassle-free experience for beginners.
With this tool, you'll always know where your site stands, from an SEO perspective. Follow their guidelines to get rid of common problems, with the anticipation of ranking towards the top of the SERPs.
Price:
| | | | |
| --- | --- | --- | --- |
| Starter | Pro | Agency | Reseller |
| $39/mo | $99/mo | $259/mo | $559/mo |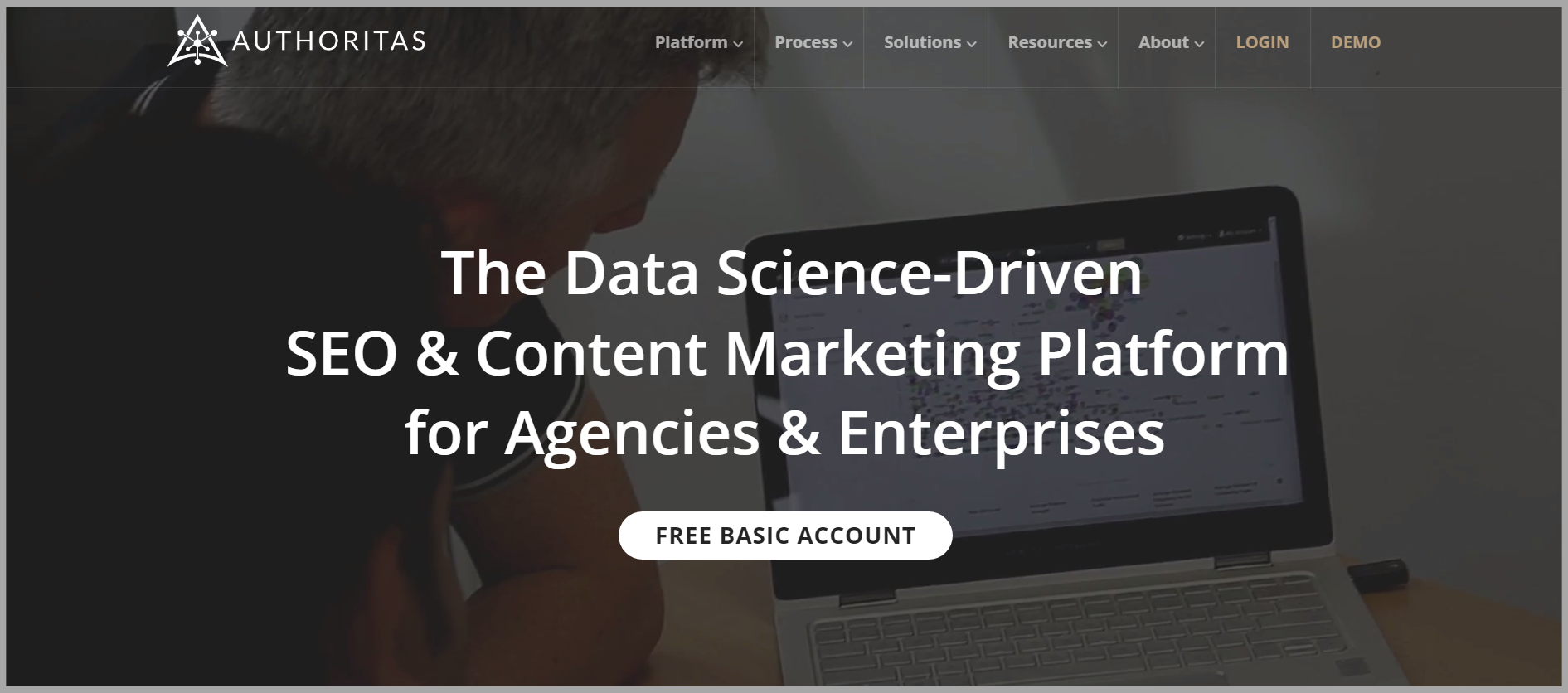 Authoritas is a revolutionary platform that delivers actionable Big Data Analytics for businesses. The technical module of Authoritas helps you build a robust foundation for your SEO by identifying key SEO and website performance issues.
Features:
Big Data Research
Technical Auditing
Crawling
Combine your own Internal Systems and Dashboards with Authoritas API
Content Auditing
Content Optimziation
Backlink Profiling
Competitive Link Analysis
Link Building and Removal
Analytical Integrations
Multi-site Management and more
Price: Request Demo | Free Account
Like Authoritas? Consider Reading: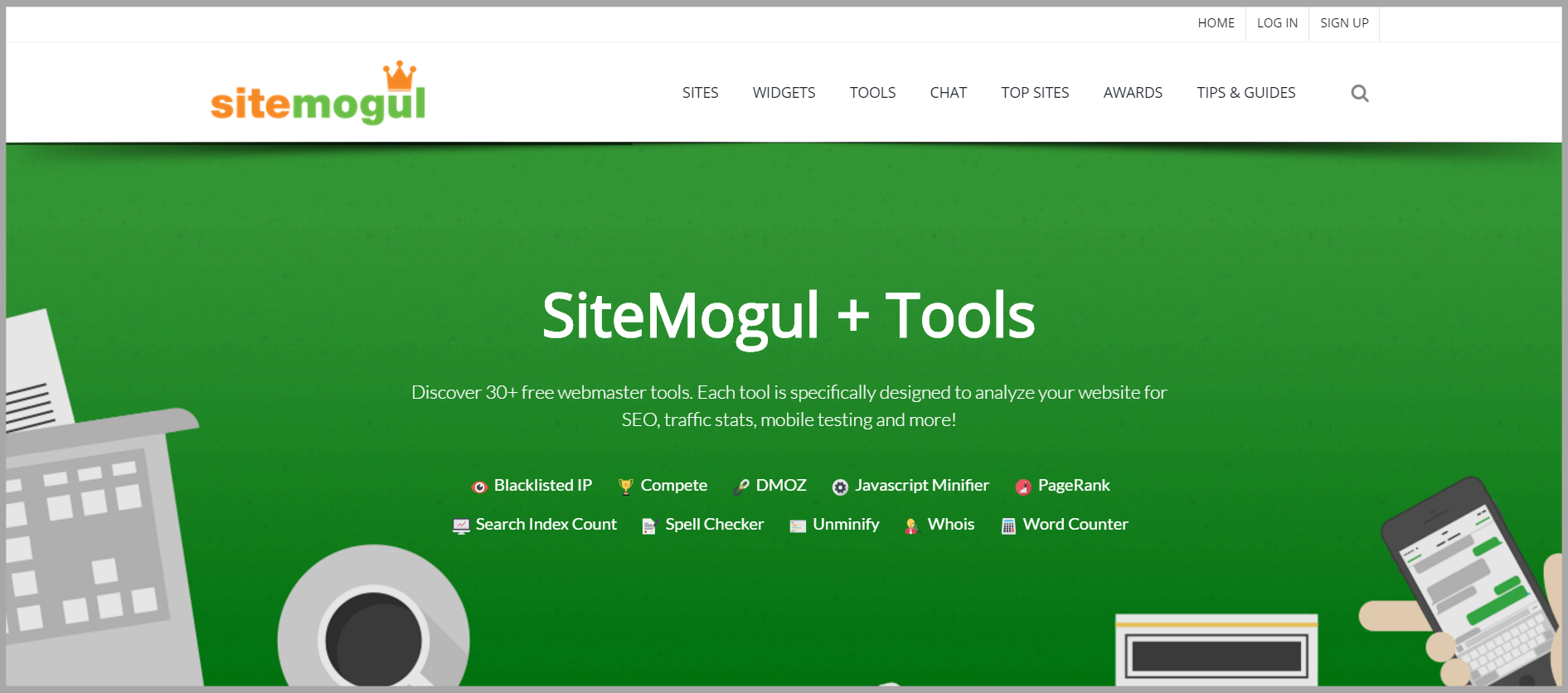 Another awesome tool to gain insights into the secrets of your competitors and what is making them so successful. The SiteMogul database uses a proprietary range of tools to give webmasters insights into what is helping a website rank so high on search engines.
Features of SiteMogul:
Complete Site Information, like how many errors in code, what nameservers it uses, broken links, user ratings and reviews, and other information
Gather KPI's like website rankings, position changes, page views, alexa stats, trustworthiness, and reputation.
Explore and Identify Similar Websites in your industry to uncover more competitors.
Learn about the performance of your website in Social Networks like Facebook, Twitter, Google, Pinterest, and Linkedin.
Tools include Website Tools, Traffic Statistics, Mobile Testing, Website Midgets, and more.
Price: Temporarily The Registration is Closed, will be back soon! Click Here To Find Out.
Some Honorable Mentions That Are Tools, Plugins, and Lists
Wrapping Up!
All in all, these are some of my all time favorite SEO Tools that will continue to shine in the coming years. I do understand that it is not possible to use all these tools at once, but if you are me, you would stick to QuickSprout, Serpstat, Similarweb, and Moz and I use Website Auditor from SEO Powersuite to make my reports.
I hope you find this list helpful. I made this list to keep you ahead of 2017. Don't hesitate to try out new tools, which might become your weapon in pushing you towards the top of Search engine rankings.
What do you prefer –  web-based tools or plugins? I'd love to hear from you.
Have you used any of these tools before? Let me know your experience in the comments section or if I missed something out, don't hesitate to give me a nudge about it.
P.S: If you're interested in even more tools—like, top 50 or 100!—Shoot a comment below.
Good day!
About

Anita Sharma

Anita Sharma is a Digital Marketing Strategist based in Kolkata, India. Anita covers SEO, SMM, E-commerce and Content marketing. A Marketer by day and reader by night is a graduate of the University of Calcutta with a degree in chemistry; she previously worked as a Tutor for 5+ years. Anita has a passion for helping people in all aspects of Digital Marketing through the latest industry blogs she provides. She is always up for consultations. Want her to plan and execute your Online Marketing Campaign? Contact her via her LinkedIn.