As they say, success is not easy. While some are comparatively lucky and take on businesses that were already successful, maintaining standards may be more difficult (look at Tim Cook) as expectations are involved. For others, and they are the majority in a world where everyone is hungry for everything, it is a matter of stretching the human limits to the extremes, though they go on to show what amazing creatures humans are. Here we look at five people who started with next to nothing in the most difficult circumstances and went on to build brands that still continue to inspire us with the effort that went into their making and the heights they are continuing to achieve.
Oprah Winfrey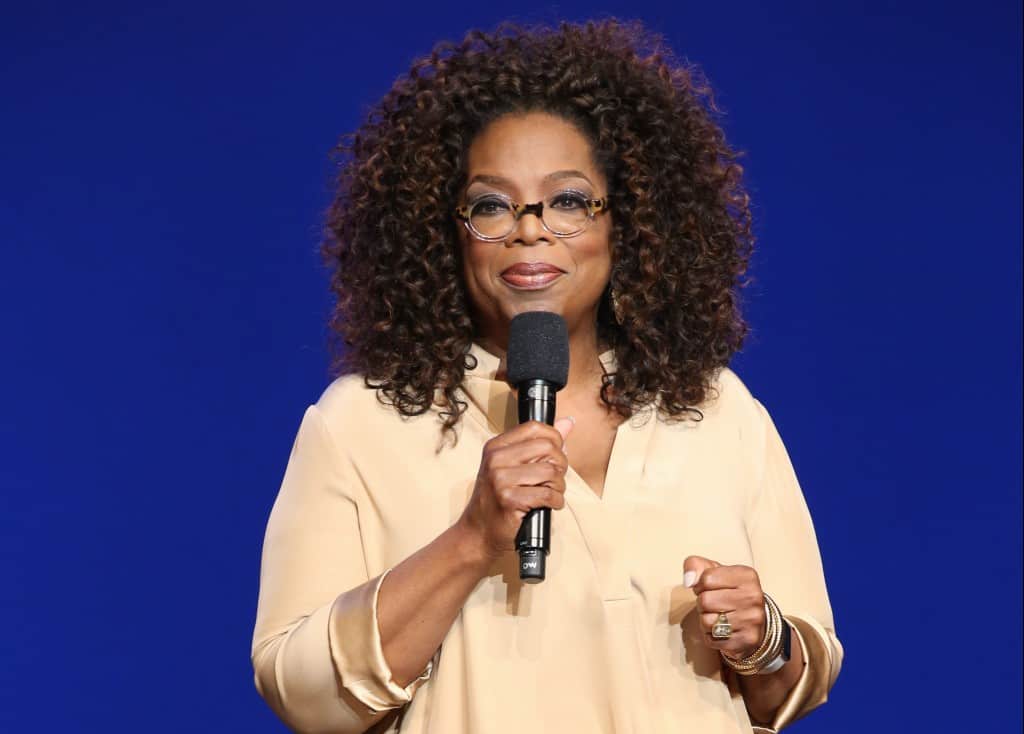 The 62-year-old Oprah Gail Winfrey may today be the most powerful woman in the United Sates, but that has not always been the case for her. Born in Kosciusko in Mississippi to a housemaid and a coal miner, Miss Winfrey had to endure such extreme poverty for the first 6 years of her life while living with her grandparents that she had to wear potato sacks and eat leftovers.
When she went back to live with her mother, she was violently assaulted, something she revealed to her viewers on her show much later, in 1986. At 14 years of age, she became pregnant with her first child, which ended in a premature delivery, much to her distress.
Things got better only when she went to live with her father, a man who was very strict and who was unwilling to settle for anything that he thought was not good for his daughter, in spite of the poverty. She won a full scholarship to the Tennessee State University.
The start to what was later to become one of the most successful careers in history was the job of a news anchor she got at the age of 19 at a local radio station for the black community in 1983.
Since then, there was no looking back for this woman, who found fame as the host of the most popular TV show of the time 'AM Chicago, which is now known as The Oprah Winfrey Show, and is the most successful chat show in American television.
She changed the course of television chat shows, through what is now known as the 'Oprah Effect', by shifting the focus to a confessional mode, often making it a cathartic experience for the participants. The 'Oprah Effect' was felt the most in the 2008 presidential elections, where her support drew in 42000- 1600000 votes for Obama in the Democratic primary alone.
Some of the most memorable moments of her show are the coming out of Ellen DeGeneres, another hugely successful chat show host, as lesbian, and the public confession of Lance Armstrong.
By 1988, in spite of the enormous success she had attained, she felt tired of working for others, not being in control of something which meant so much for her. So she founded her own production company Harpo Studios, which today has more than 250 employees, and for which she was named the most powerful woman in entertainment in 2008 by The Hollywood Reporter.
She is also an enthusiastic supporter of philanthropy, having created Oprah's Angel Network in 1988, and the Oprah Winfrey Leadership Academy for Girls in Johannesburg, a school spread over 22 acres where she still teaches via satellite.
Steve Jobs; Apple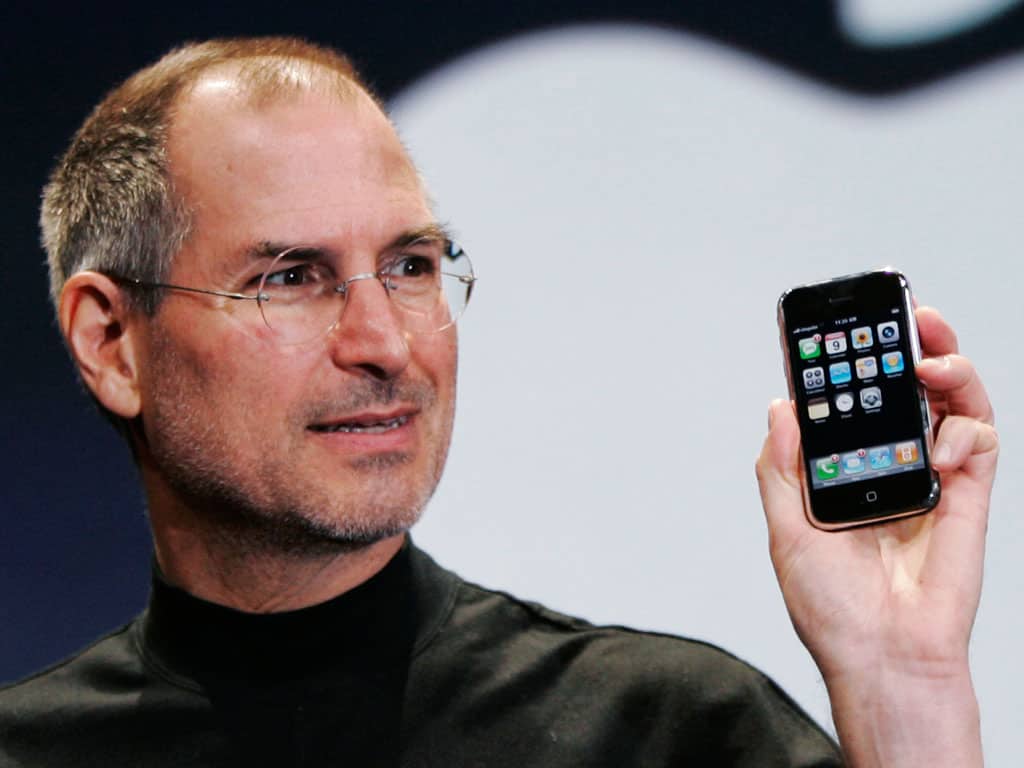 Born to a Syrian immigrant father and a Catholic mother and given up for adoption to parents who were too scared to love him for the first few years as they thought he would be taken away due to legal complications, Jobs's success story is truly phenomenal.
And that Steven could be adopted by the Jobs couple only after they promised that they would provide him with a college education, became ironical when they could no longer afford college for the already disinterested Steve.
Jobs' first job was to be a video game designer with Atari, which he left within a few months to run away to India to seek spiritual enlightenment. A thing called Apple Computer was started by the 21-year-old Jobs and his friend Steve Wozniak in 1976 in the garage at Jobs' place, and it was funded by the selling of Jobs' Volkswagen bus and Wozniak's scientific calculator.
Debuting with Apple I at $774,000, the company went on to have a 700% growth with $139 million in Apple II. In 1980, the company was valued at $1.2 billion on the first day of trading as a publicly traded company.
This unbelievable rise was not to last long, however. The next few products failed to cut through the public, and IBM took a sudden leap, something which even the Macintosh of 1984 could not salvage in a world where it was now required to have an IBM support system. This, in spite of being superior in quality and performance when compared to the IBM PCs.
This gradually culminated in the expulsion by the executives, headed by the CEO John  Sculley, of the man who had co-founded the company where he had no official position, in the year 1985. Again ironically, Sculley, previously the marketing expert of Pepsi-Cola, had been appointed by Jobs.
Not a man to take defeat lying down, what Jobs did next is a matter of fairytales. He began a new hardware and software venture called NeXT, Inc. In 1986, Jobs purchased an animation from George Lucas which went on to become Pixar Animation Studios, where he invested $50 million out of his own pocket.
Pixar proved to be hugely successful, with the first animation movie Toy Story, and has grossed $4 billion with movies like Finding Nemo and The Incredibles. In 2006, it was to merge with Disney, making Jobs the largest shareholder of the latter. But this was after the fizzing out of NeXT, Inc, which failed in marketing its specialized operating system.
NeXT, Inc. was bought by Apple for $429 million in 1996, and Jobs returned in 1997 as Apple's CEO at a time when the company was still struggling to gain back its former glory. Armed with a new management squad, changed stock options, and an annual salary of $1, Apple was brought back on track with products like the iMac, good and efficient designs, and effective marketing.
When Steve Jobs died in 2011, he had seen Apple rise to have a record-breaking stock value, and being ranked No. 1 on lists compiled by Fortune magazine. In November 2014, the company became the largest publicly traded corporation in the world by market capitalization, in addition to becoming the first American company to be valued over $700 billion.
And though it lost the man who made it, the company is worth $586 billion as of May 2016 under CEO Timothy Cook, who took over from Jobs. In May 2015, activist investor Carl Icahn had alleged that the company has assets worth $1.4 trillion, and thus should boost its share buyback program.
Richard Branson; Virgin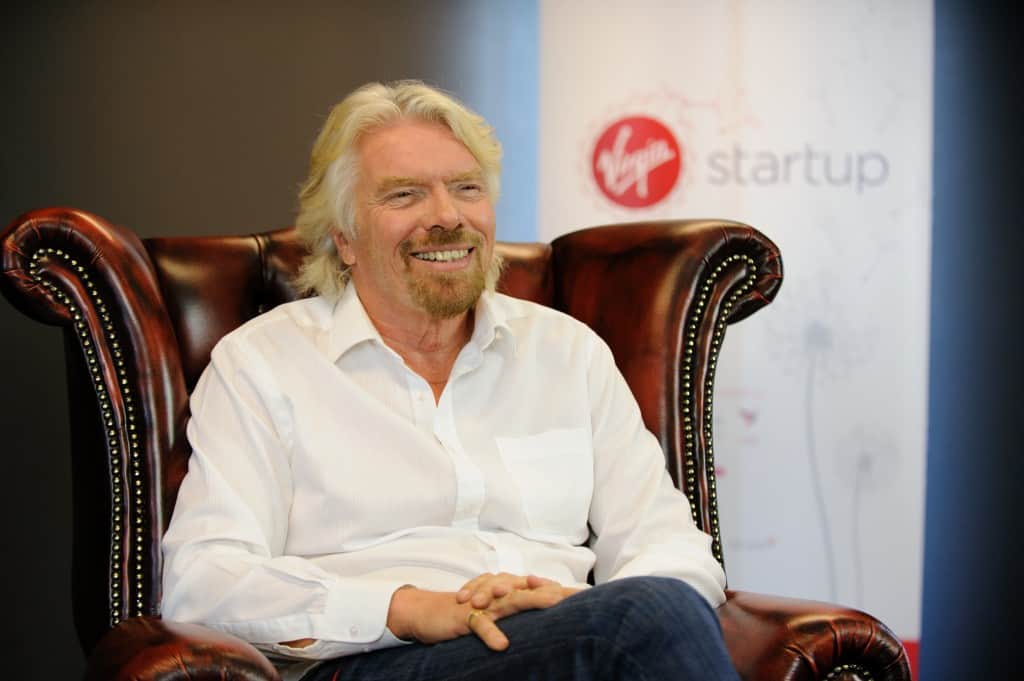 Richard Branson, knighted in 2000, and today the 4th wealthiest man in the UK, started with £300, and now is worth $5.2 billion, with $12 billion in sales.
Branson, with his love for adventure and perseverance, serves as an inspiration to many people worldwide, especially young children, for his fight with dyslexia, which he conquered at a time when people did not even know what dyslexia was.
His first venture was a magazine called Student, which he started as a sixteen-year-old college dropout. The Student was successful, making him earn good revenue, but it was not without its share of trouble. He was arrested for publishing information for treating venereal diseases, which was legally prohibited.
Virgin was started in 1970 as a mail order record retailer from the crypt of a church, with the name being chosen to signify Branson's being new in business.  His first brick and mortar outlet was opened at Oxford Street, and the success he achieved made him sign Mike Oldfield as the first 'Virgin' musician. In 1977, Virgin Records added the Sex Pistols to its folds.
Its success notwithstanding, Virgin Records was beset with cash-flow problems, and Branson had to pretend that he was buying records for export in order to get over the excise tax on sales. In 1992, Virgin Music had to be sold to EMI for $500 million in order to keep the airline company functioning in the face of rising fuel costs and recession. Later, he said that after the completion of the deal, he wept at having lost the very first venture of his empire.
V2 Records was created in 1996 by Branson as an effort to re-enter the music business, and he owned 5% of the shares. It was sold to Universal Music Group in August 2007 for $7 million.
The airlines business was started in 1984 with Virgin Atlantic. And it was riddled with misfortunes from the beginning, when birds flew into an uninsured engine during the Government certification flight, causing an explosion. This forced Branson to gather cash from his overseas investments in order to rebuild the company.
This was soon followed by a legal dispute with British Airways, whom Branson claimed was trying underhand methods to steal passengers.
Today, all this is hopefully history, with Branson having ventured into space tourism following telecommunications. Having dabbled in over 200 companies, Branson today is in a position to join Giving Pledge, the $500 billion philanthropy club co-founded by Bill Gates.
The members of this club, which includes the likes of Gates, Warren Buffett, Azim Premji and Patrice Motsepe among others, pledge to give more than half of their wealth to philanthropic causes.
Walt Disney; Disney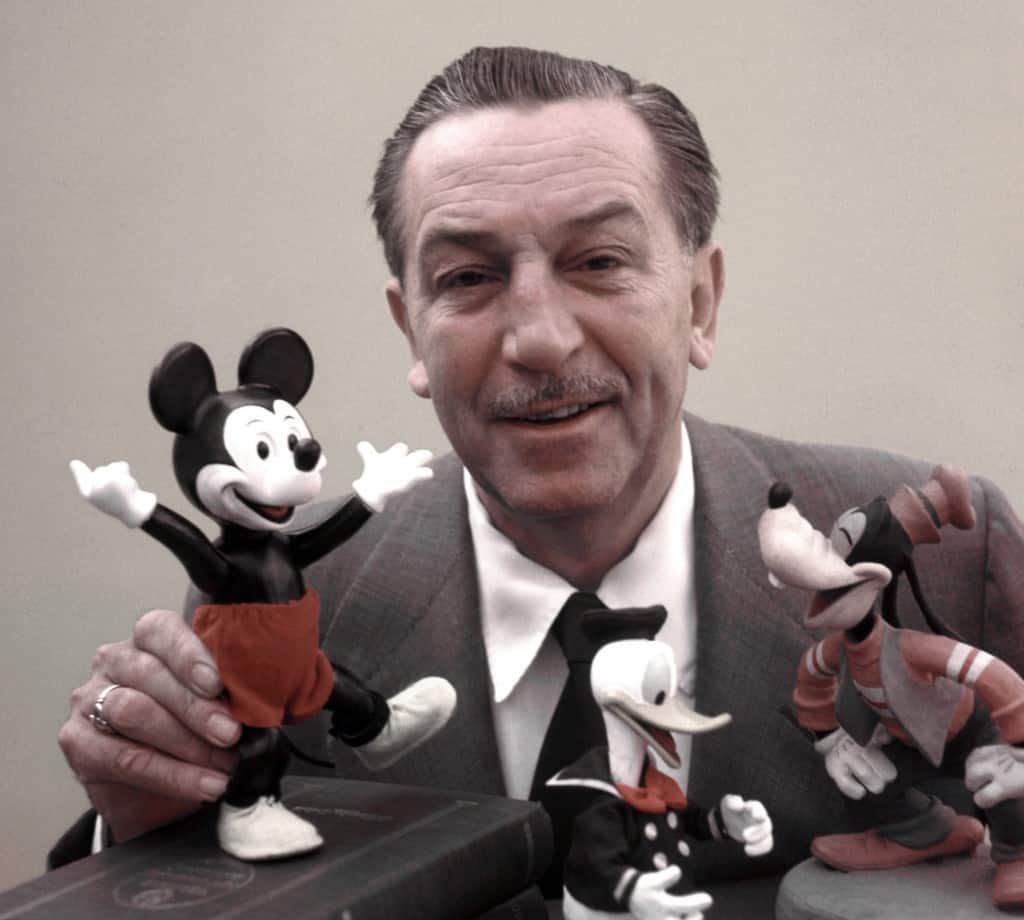 Once told to be a man lacking imagination and good ideas by a reporter, it was not easy to gain acceptance for this man who had wanted to be a newspaper cartoonist from a very young age, when he used to draw paid pictures for his neighbors and cartoons for his school newspaper.
Frustrated, Disney decided to tackle things head-on by founding his first cartoon studio as a 22-year-old. It was such a big failure that he was pushed towards bankruptcy.
Having suffered failure, Disney flew off to Los Angeles to be an actor, only to be disappointed yet again. But here, the Disney studios which he founded with his brother Roy soon became a success, starting with advertisements before graduating to animating Walt's own cartoons.
It was not a smooth transition. Soon after, Disney discovered that Margaret Winkler, the New York distributor who distributed the Disneys' Alice cartoons and looked into the invention of Oswald the Lucky Rabbit, had stolen the rights to the latter along with her husband. She had also been able to take in all of Disney's animators.
This made the Disney family immediately get into work with Mickey Mouse, whose first animated short films Plane Crazy and The Gallopin' Gaucho, failed to find any takers as they were silent films at a time when the genre was fast fading.
Soon, Disney created Steamboat Willie, the third film of the franchise with sound and music and having Walt as the voice of Mickey. The cartoon became an instant hit with the audience, and that was the beginning of what was to be the most phenomenal cartoon show of all times.
Snow White and the Seven Dwarfs, the first full-length animated film, premiering on December 1937 in Los Angeles, managed to rake in $1.499 million though it was the Great Depression, and won eight Oscars.
Disney did not remain untouched by the war though. During the Second World War, the Disney studios were taken over by the US army and converted to a repair shop for tanks and artillery. All his animators and Disney himself were required to join the war effort. It was bleak after the war ended as well, and the company ran up a debt of more than $4 million due to slow growth in business.
A strike by the animators in 1941 added to the woes, and ended with many resigning. Disney managed the difficult post-war decade with 'packaged features' and overseas investments, when the company was recuperating, but by 1950, he was back to his former self with his full-length animations.
Even the opening day of the first Disneyland theme park was not without setbacks. The park which was to be the first of many of Disney's theme park ventures (to fund which he entered television with shows like The Mickey Mouse Club), was opened by actor and future US president Ronald Reagan, and involved the distribution of thousands of counterfeit invitations.
In 1966, when a new theme park and Experimental Prototype Community of Tomorrow in Florida was under construction, Disney was diagnosed with lung cancer. When he passed away in December the same year, he had won 22 Academy Awards from the 59 nominations he had received, one Emmy Award and three Golden Globe nominations.
At present, with a price of $94 per share, the company's market capitalization is at roughly $150 billion.
Henry ford; Ford Motor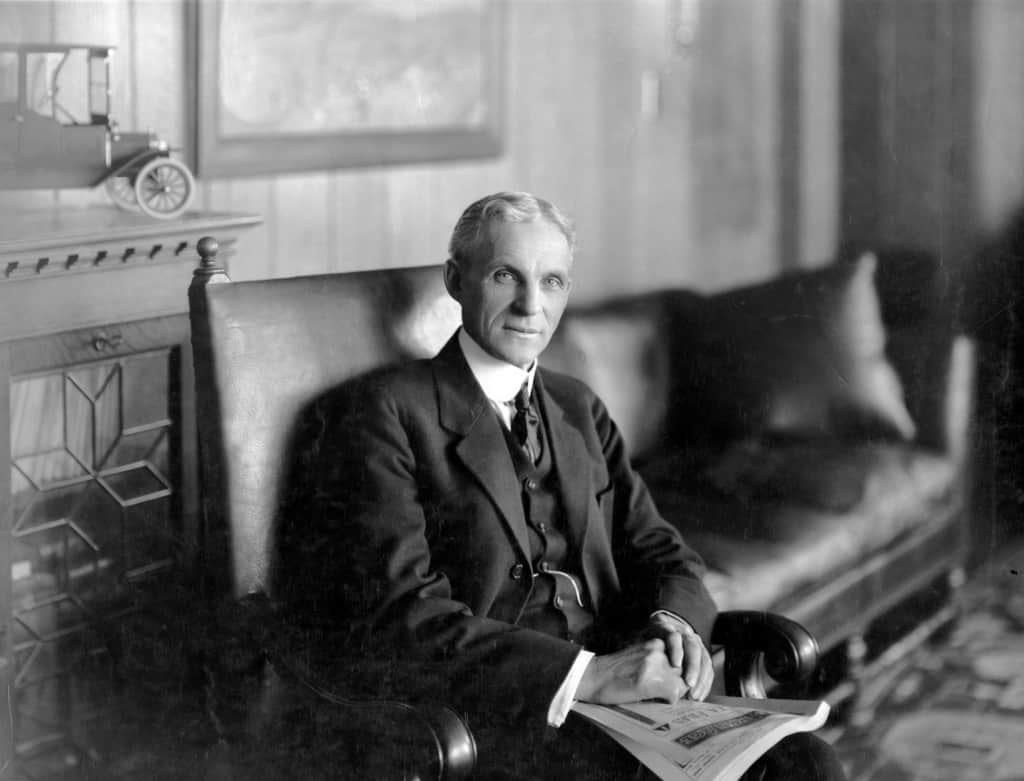 Although Ford did not invent the automobile, he was the man behind the manufacture of the first affordable vehicle for the middle class American.
He came from a family of farmers who had immigrated from England and Ireland. He displayed interest in mechanics from an early age when he dismantled a timepiece given to him by his father just to see if he could put it back together. The resulting success made him confident enough to proceed with other people's watches, and he soon took to repairing.
After his mother's death in 1876, he refused to join the fairly successful family farm business and instead completed apprenticeships with James F. Flower & Bros., and Detroit Dry Dock Company.
Though initially he thought of partnering with Thomas Alva Edison, he chose to found his own company, Detroit Automobile Company, backed by William H. Murphy, where he could work on his own conditions. This soon proved to be a failure, with the vehicles being produced not meeting Ford's expectations, and the company going bankrupt.
This did not dishearten him, who re-structured the remnants of this failed venture to form the new Henry Ford Company. Sadly, this too did not last owing to a dispute with Murphy when the latter brought in Henry M. Leland as a consultant. After Ford's departure, Murphy changed the name of the company into Cadillac Automobile Company.
In 1903, the Ford Motor Company was formed, and by 1918, half of all the cars owned by Americans were the Model Ts manufactured by the company. This phenomenal success, however, prevented Ford from looking into the new features being developed by rival companies for a long time. Finally, it was the declining sales that resulted in the release of Model A, which thankfully was a success.
Though having an ill-repute for being anti-Semitic, Ford introduced many progressive measures like the five-dollar wage and the five-day workweek. When the company almost faced a government takeover in 1945, he managed a turnabout by taking some wise business decisions.
The sales for Ford Motor as of May 2016 are estimated at $149.56 billion, and the company is worth $54.2 billion. Henry Ford is placed no. 9 in the list of the top 10 richest people of all time, with a current valuation at $199 billion.
[divider height="2″ line="I"]
As Steve Jobs once said, people don't know what they want unless they have it in their hands. Yet, we cannot forget that this was coming from a man who had a range of vision to include others in this world where he believed that most could not even look at themselves. True, it may sound dangerous when considering the prospects of exploitation, but maybe men and women like Jobs and Winfrey could find a footing for themselves only by realizing the hard truths. A valuable lesson for us to learn as humans.
About

Anita Sharma

Anita Sharma is a Digital Marketing Strategist based in Kolkata, India. Anita covers SEO, SMM, E-commerce and Content marketing. A Marketer by day and reader by night is a graduate of the University of Calcutta with a degree in chemistry; she previously worked as a Tutor for 5+ years. Anita has a passion for helping people in all aspects of Digital Marketing through the latest industry blogs she provides. She is always up for consultations. Want her to plan and execute your Online Marketing Campaign? Contact her via her LinkedIn.