In today's digital era, automation tools are transforming the way businesses operate, allowing brands to do more with less and scale in ways never before possible. As means, the size of the business doesn't matter and automation tools can actually give benefits to small businesses that are often able to react to new trends faster than big brands.
The only drawback is most of the automation tools on the marketing geared toward medium and larger businesses, but, still, you can find hands full of automation tools for small businesses.
Today, in this post, I've listed down the top 10 sales automation tools designed with small businesses in mind that can help you to take your venture to the next level.
If you're looking for a well-established and trusted sales automation tools provider, Hubspot Sales is the best choice for you. Hubspot's sales automation tool will automate your prospect's outreach, help you make sales templates, and track key performance throughout your entire sales funnel. Hubspot Sales is one of the flexible and easy-to-use sales automation tools that incorporate well with other products. If you're already a Hubspot's CRM user, this might be the obvious first choice of you. Some of the Hubspot Sales users report minor bugs with email sequencing and reporting, but overall it's one of the highest-rated solutions out there for sales automation.
Pricing:
Starter – $40/mo
Professional – $800/mo
Enterprise – $3,200/mo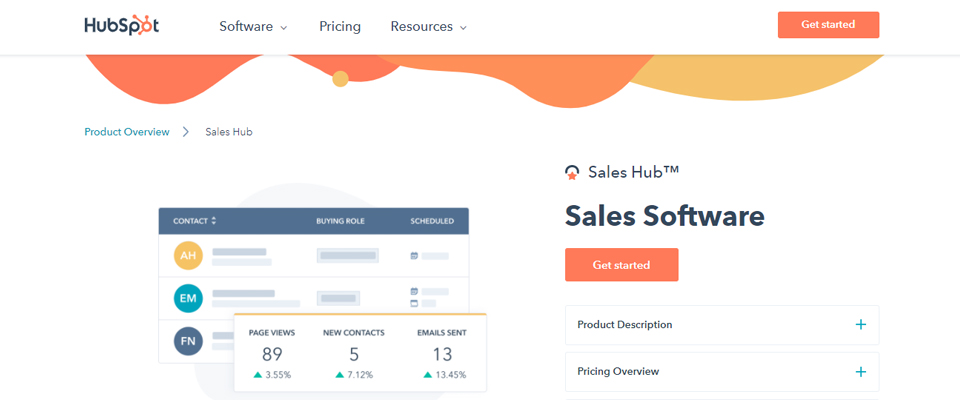 Features:
Email Templates
Email Tracking
Call Tracking & Recording
Appointment & Meeting Scheduler
Sales Automation
Sales Management Playbooks
Sales Analytics and Reporting
Mobile CRM App
Pipeline Management
Account-Based Marketing
This is one of the sales automation tools that have a lot of elements designed to help you get the most out of your sales team. With the standard features like email and scheduling automation, Outreach offers some exclusive and interesting features. It can allow sales reps to obtain live call coaching, and also features a comprehensive team performance dashboard so you can monitor your sales reps' activities and results in real-time. Outreach is recognized to occasionally crash at inappropriate times, but most of the Outreach users seem to be happy with how well this sales automation tool streamlines their sales processes and boosts the effectiveness of their sales team performance.
Pricing:
Free trial available / Need to contact them to know the pricing details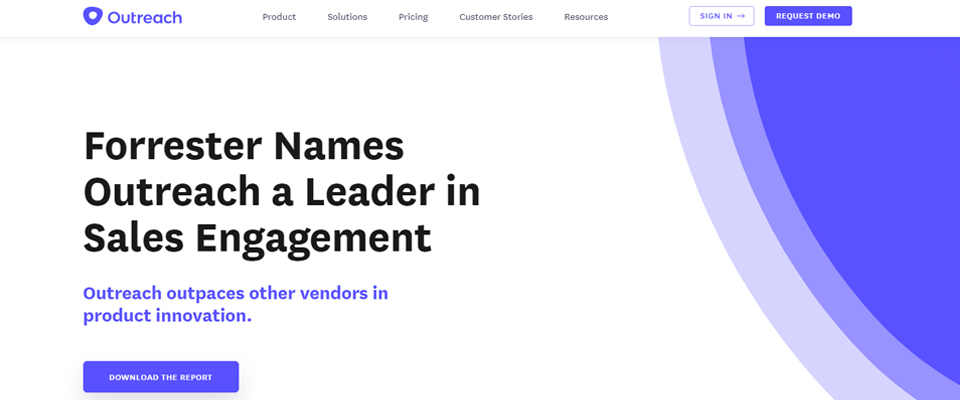 Features:
Sequences & Task Management
Integrated Sales Dialer
Email & Activity Tracking
Online Meeting Scheduler
Sales Intelligence Dashboards
Email & Content Templates
Overloop considers that sales lead prospecting is a boring activity. That's why they're looking to make sales lead prospecting more interesting and more operational with the Overloop effective multichannel sales automation tool. Overloop mainly focuses on two important elements of sales automation: abolishing the need for manual data entry and boosting your sales processes and performance via data analytics. While this is one of the highly recommended sales automation tools for its easy integration and usage, some users have reported problems with the quality of their customer service.
Pricing:
Essential – $89/mo
Business – $149/mo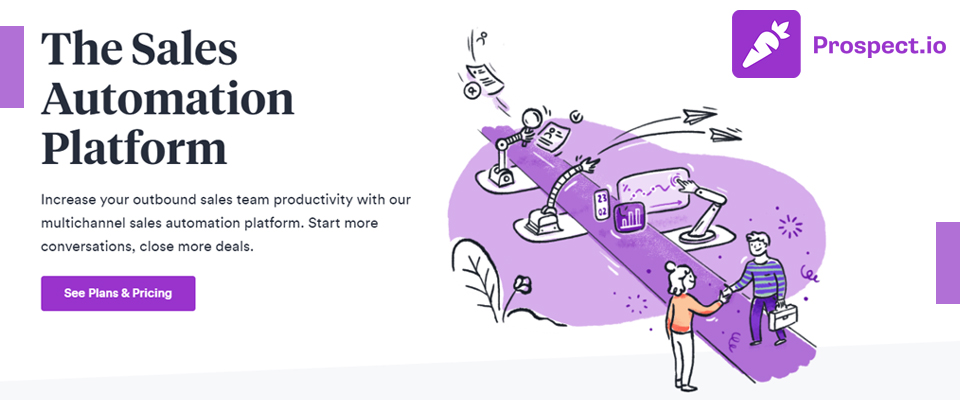 Features:
Email Finder and Email Verifier
Email automation and drip campaigns
Email tracking
Sales automation
Advanced CRM integrations
Reporting and insights
Now, this is a totally different sales automation tool. Well, practically. Gong brands itself as a revenue intelligence podium; so, sales software is the core element for it. Besides, Gong takes a more personal approach for their automation processes by helping sales managers get the most out of each sales rep. Gong provides features like AI-based sales coaching and contextual deal pipelines that help you to get insights into what's happening with your remote sales team, your deals, and your market.
Pricing:
Offer customized pricing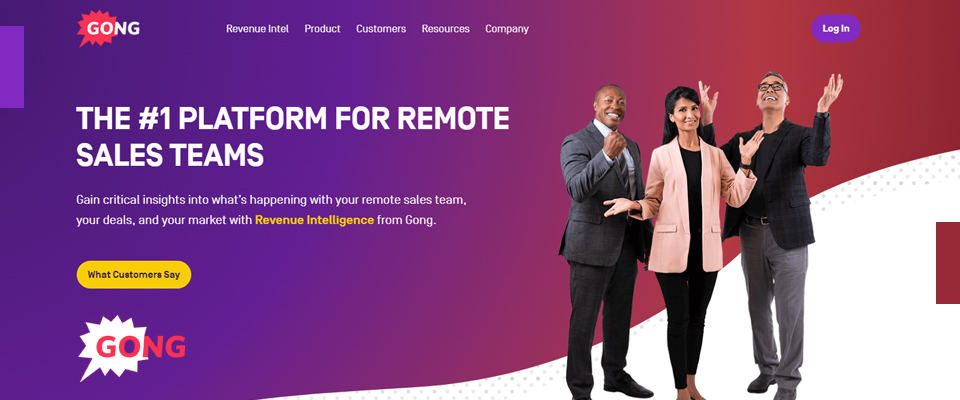 Features:
AI-based sales coaching
Sales calls recording
Automate sales calls transcribe
Contextual deal pipelines
Analytics and reporting
Companies that are looking for a structured solution with automated outbound sales should take a close look at Growbots. This sales automation tool offers to automate prospect outreaching from a pool of more than 100 million contacts, tools for A/B testing, facilities for multichannel follow-up sequencing, and comprehensive analytics & reporting. You can integrate Growbots with your existing CRM, but companies with long-established sales processes might prefer a more personalized solution. Growbots don't offer a free trial, so, you have to contact them to get pricing information.
Pricing:
Need to contact them to know the details about pricing.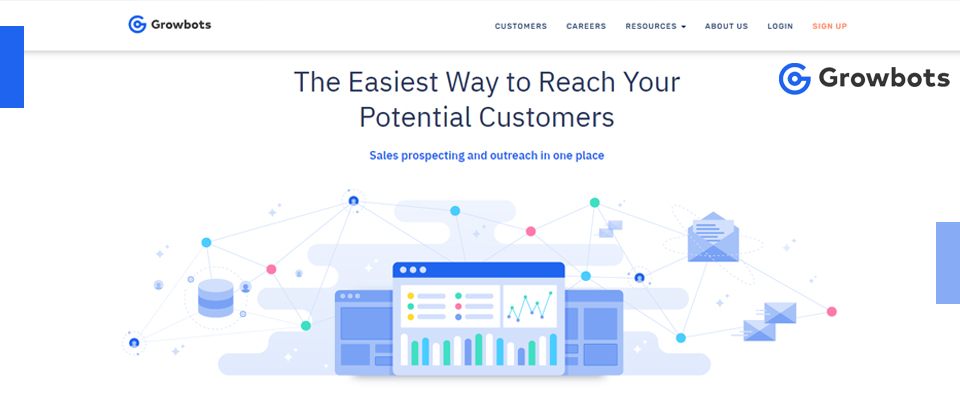 Features:
Personalize your emails
Automatic follow-ups
Multichannel sequences
Connect multiple email accounts
A/B testing
Analytics & reporting
SharpSpring is actually a marketing automation and CRM solution provider with a sales automation tool. However, it can be a great deal for businesses that don't already have a solution for their marketing and CRM management. SharpSpring is one of the easy-to-use and affordable sales automation tools for small businesses, but it doesn't have all of the reporting features and integrations you might find in competing, enterprise-centered sales automation tools.
Pricing:
1,500 Contacts Plan – $550/mo
10,000 Contacts Plan – $850/mo
20,000 Contacts Plan – $1,250/mo
Agency Plan – Customizable Pricing
Enterprise Plan – Customizable Pricing
Features:
Complete Sales & Marketing Platform
Marketing automation and CRM in one easy solution
Marketing Automation
Email Marketing
Campaign Tracking
App Marketplace
Third-Party CRMs
This is one of the sales automation tools that was purpose-built to launch, manage, and monitor B2B email marketing campaigns. Autoklose gives access to their lead database, reporting dashboard, and automated email sequencing. All these comprehensive features make it a good sales automation tool for companies that need to launch prospects' outreach efforts from scratch. Even though Autoklose doesn't have the greatest choice of CRM integrations, users praise it as one of the most cost-effective sales automation tools for email automation.
Pricing:
Starter – $49.99 month/user
Small Business – $149.95 month/5 users / paid annually
Enterprise – Customizable Pricing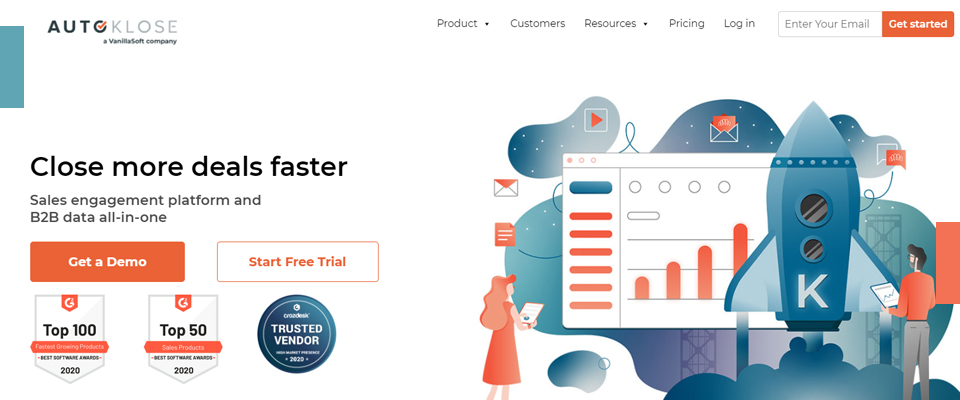 Features:
Real-Time Reporting and Email Tracking
Contact Management
Email Campaign Management
Email Sequence Templates
Sales Intelligence and Data
Team Management
Time-Saving Tools
AutoVerify
FreshSales is a CRM platform with sales automation tools; Freshsales is designed with a clean and intuitive interface. It targets users who don't prefer the full collection of complexity offered by other customizable CRM solutions. Freshsales offers crucial sales automation tools like AI-based lead scoring and pipeline tracking.
Pricing:
BLOSSOM – Perfect for small teams – $12 user/month, billed annually
GARDEN – Ideal for growing teams – $25 user/month, billed annually
ESTATE – Best value for large teams – $49 user/month, billed annually
FOREST – Made for enterprises – $79 user/month, billed annually
Offer Free Trials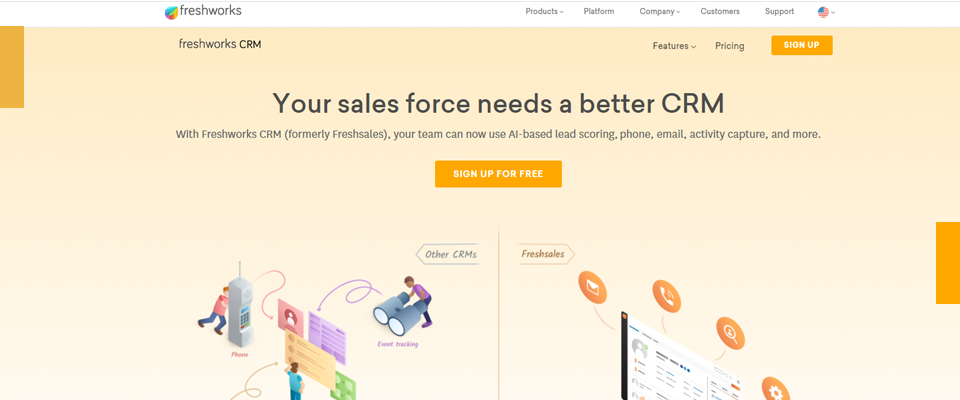 Features:
Email templates
Email Tracking
Phone, powered by Freshcaller
Live chat powered by Freshchat
Sales Sequences
Visual sales pipeline
Multiple sales pipeline
Analytics and reporting
Voicent offers a robust package of sales automation tools. The solution features lead assignment, cover pipeline monitoring, workflow triggers, visual performance reports, and many more. You also get access to powerful and multipurpose automation tools for making custom-made, multilingual voice messages. Voicent sales automation uses a one-time buying pricing model, so there aren't any monthly or annual subscription fees. You can contact them to customize pricing for your business.
Pricing:
Offer customized pricing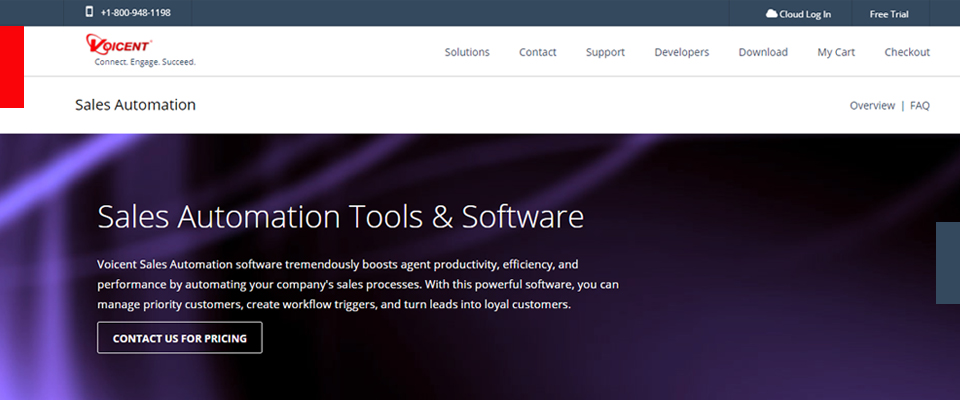 Features:
Sales automation
Marketing automation
Workflow automation
Email automation
Email Tracking
Voicent CRM
Sales Creatio is known for its business process management and sales automation software. This means you can get lots of advantageous features and customization options from this comprehensive sales automation tool. From lead management to email templates, Sales Creatio will have you covered all the sales processes. Some users may find the learning curve of Sales Creatio intimidating, but, luckily, Sales Creatio offers a 14-day free trial, so, you can decide whether Sales Creatio fit for your business.
Pricing:
Team – $30 user/mo
Commerce – $ 35 user/mo
Enterprise – $60 user/mo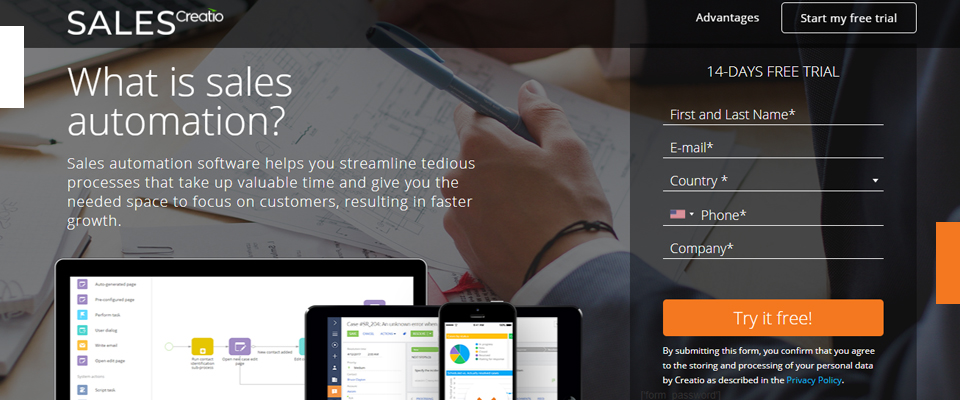 Features:
Forecast sales
Sales Management
Lead Management
Email Templates
Email Tracking
Analytics & reporting
Automate Your Way Ahead
For small businesses, growing their sales is an incredibly stressful task. But, with the right marketing and sales techniques, it is very much achievable. Sales automation tools provide the most effective and comprehensive marketing solutions, without much effort from your end. Before availing on one of the above tools, first, map out your sales processes, then use the above list of sales automation tools to narrow down your choices and select the right provider for your business needs. That would most definitely be the right move.
Get your sales automation process started with the tools we've looked at in this post!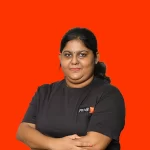 About

Abirika Soolabanee

Abirika Soolabanee is a certified content marketer with four years of experience as a Content Manager. Bringing expertise in content marketing, inbound marketing, blogging, copywriting, SEO, keyword research, and research & analytics. She is passionate about Blogging and Inbound Marketing. She writes in-depth articles and guides about digital marketing trends, technologies, and other lifestyle topics since 2018. Through her writings, she loves to help people in all aspects of their life.