More than 45% of all online purchases are initiated with a Search Engine Query. Thus making Search Engine Optimization, one of the most important factors for Ecommerce Businesses. You need to ensure that your products are found easily on Search Engines like Google, Yahoo, and Bing. Today, we will be comparing the Top 10 Ecommerce Platforms 2016, not only because of their SEO friendliness but also due to a lot of other factors that we shall discuss each one of them.
Where most online marketers fail to make the right decision is by sticking with the first Ecommerce Solution that comes to their mind, only to realize that the platform they have chosen does not have all the features that they require to sell their products online. There are some Ecommerce software that offers a full array of SEO features, while there are some that offer them at a cost, and there is also a breed of software that does not offer any SEO friendliness at all.
So, without further ado, let's dive into our Top 10 Rankings for Ecommerce SEO Software in 2017, taking into consideration the Alexa Rankings (which show popularity) as well.
First up on the line is definitely the Magento Platform…
Magento is an eCommerce platform based on open source technology, which provides online merchants a scalable and flexible online store with full control over the content, look, and functionality of the shopping cart system as well as it offers search engine optimization, robust marketing, and catalog-management tools.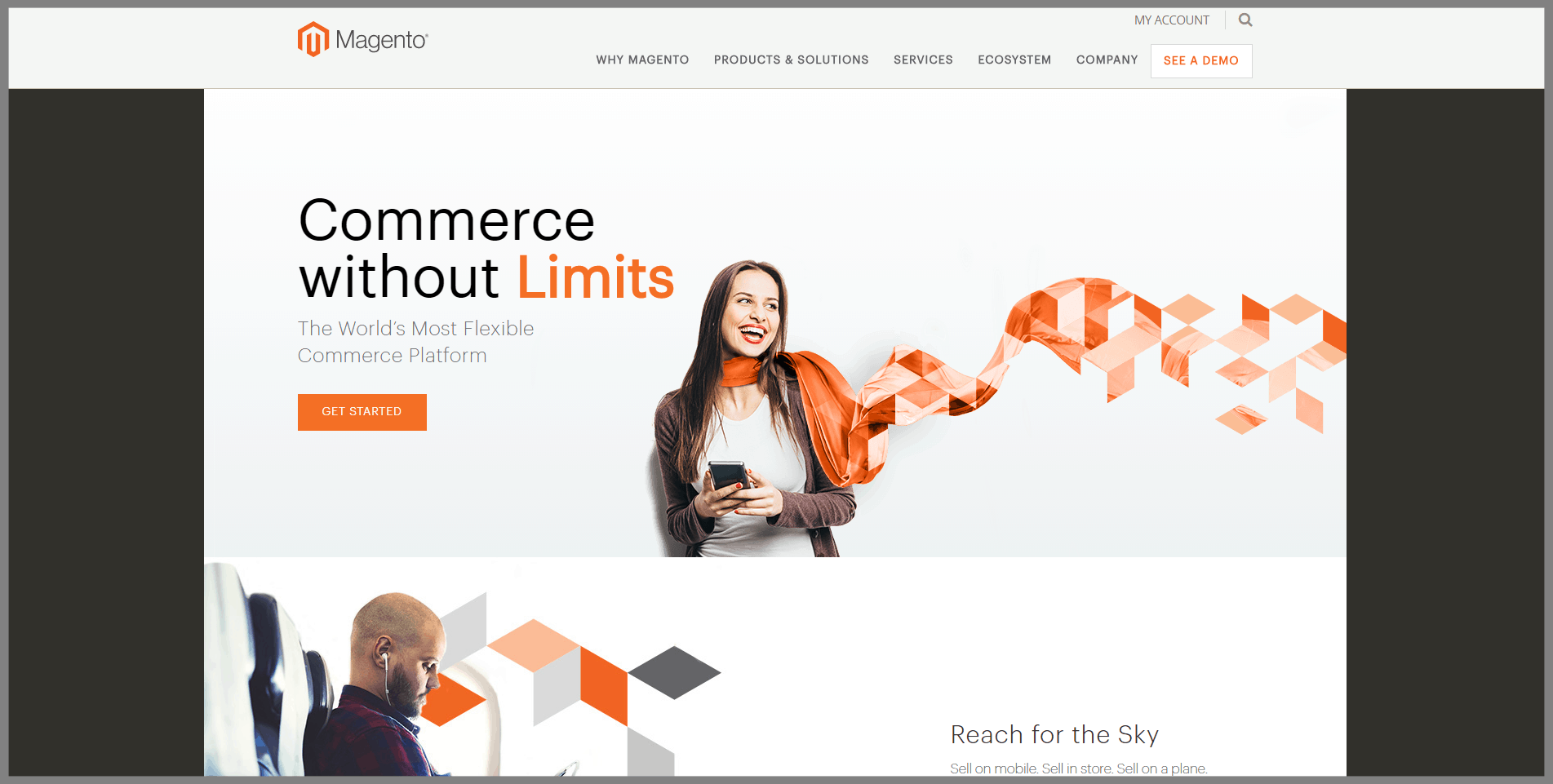 Pros:
Flexibility – The architecture of Magento allows you to customize templates and to develop functionality according to your needs as this is an open-source platform.
Feature-rich – Magento's community version allows you to manage multiple storefronts, multi-location, multi-currency, multi-language with a user-friendly UI and easy navigation.
Pricing – The community version is free for small to medium-sized businesses. Magento Enterprise costs $18,000 per year for enterprise business solutions.
Community – Magento has large community users, who have developed many plugins and extensions, which will help you in real-time. Apart from that, it has a simple back-end and organized store that can be easily manageable.
Cons:
Hosting – Magento needs a dedicated server that is specialized in Magento. Normal hosting platforms cannot handle it due to its bulkiness and that results in a slow and irritating user experience.
Pricing – The enterprise version will cost you around $18,000 a year, and it's more for a customized premium enterprise.
Developers – Magento developers are very hard to find because of extremely large database, and if you find one, their charges are exceptionally high.
Time – Even on having a flexible architecture, customization are hard to make because of its loading speed on different platforms.
Shopify is an all in one eCommerce solution, which allows you to set up an online store to sell your goods, and provides customers with a great user experience. It features customizable templates, an organized storefront, 'Buy Button' functionality, which allows you to use Shopify as a Point of Sale (POS) option and let customers buy your goods anywhere online.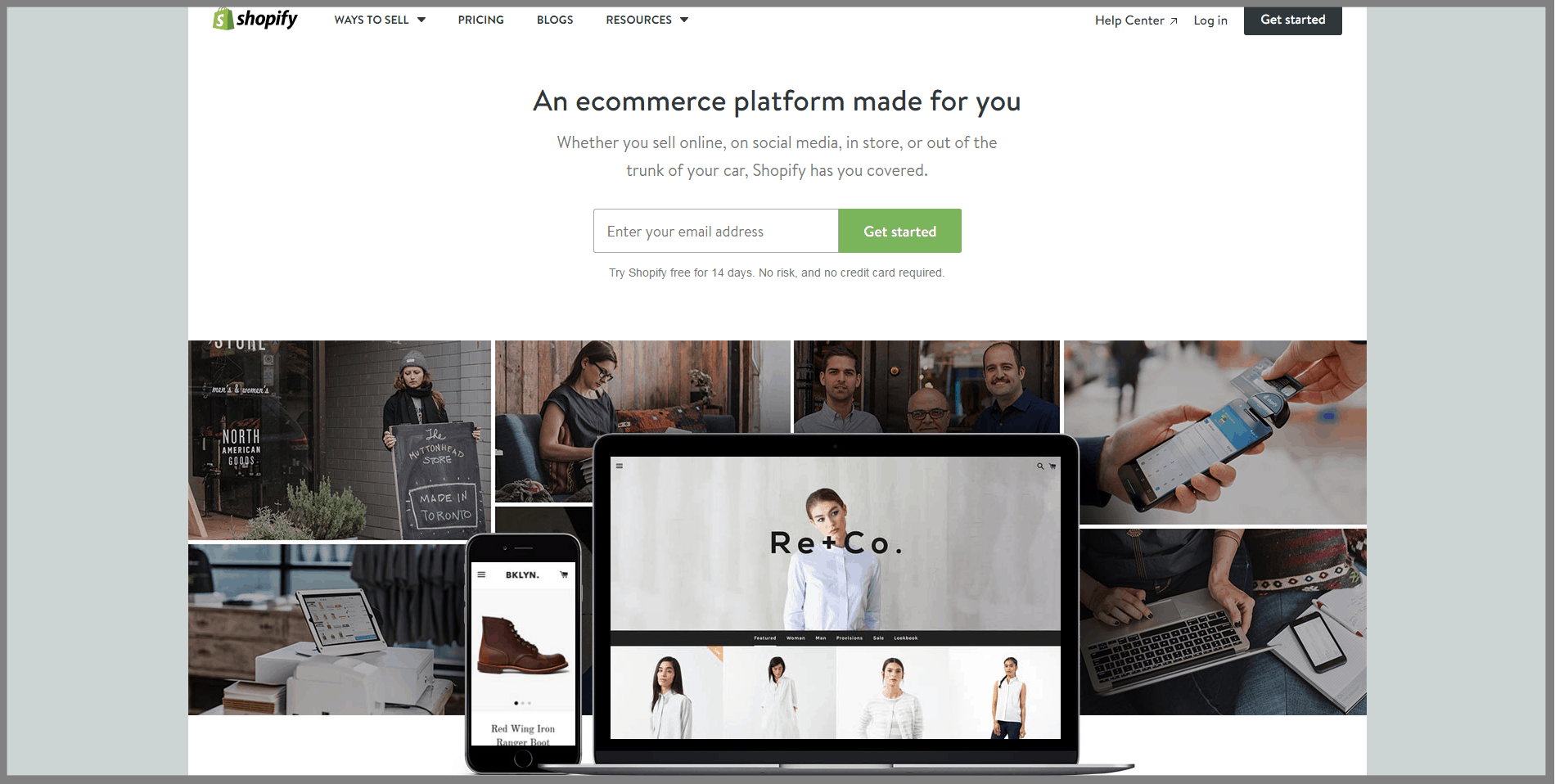 Pros:
Speed and security – Shopify is integrated with payment providers, and its built-in speed checkout allows customers to pay with minimal load time.
Marketing – Shopify allows custom Title tags, meta descriptions on every category page for SEO purpose and also allows you to build customized landing pages for marketing purposes.
Design – Shopify offers multiples free themes and numerous custom-built premium themes along with the option to customize and add features for Developers.
App Store – Shopify App store has all the features that you need to run an online business. It provides various free and paid Apps and adds flexibility for the brands having an online presence all around the web.
Cons:
Pricing – Shopify's basic plan starts from $29 a month; the average plan is for $79 a month, and advanced Shopify is for $299 a month.
Customization Hacking – Shopify uses a different setup to customize their themes rather than using PHP for their templates. It might be a problem for first timers on Shopify.
Content Marketing – Shopify's blogging platform is not as great as WordPress as it provides a basic layout for blogging.
Lock-In feature – Lock-in features to delete your online store permanently. Shifting from Shopify to another online store may not be a very smooth journey.
BigCommerce is a One-stop solution to build an online store. It provides you customizable storefronts with control of the database.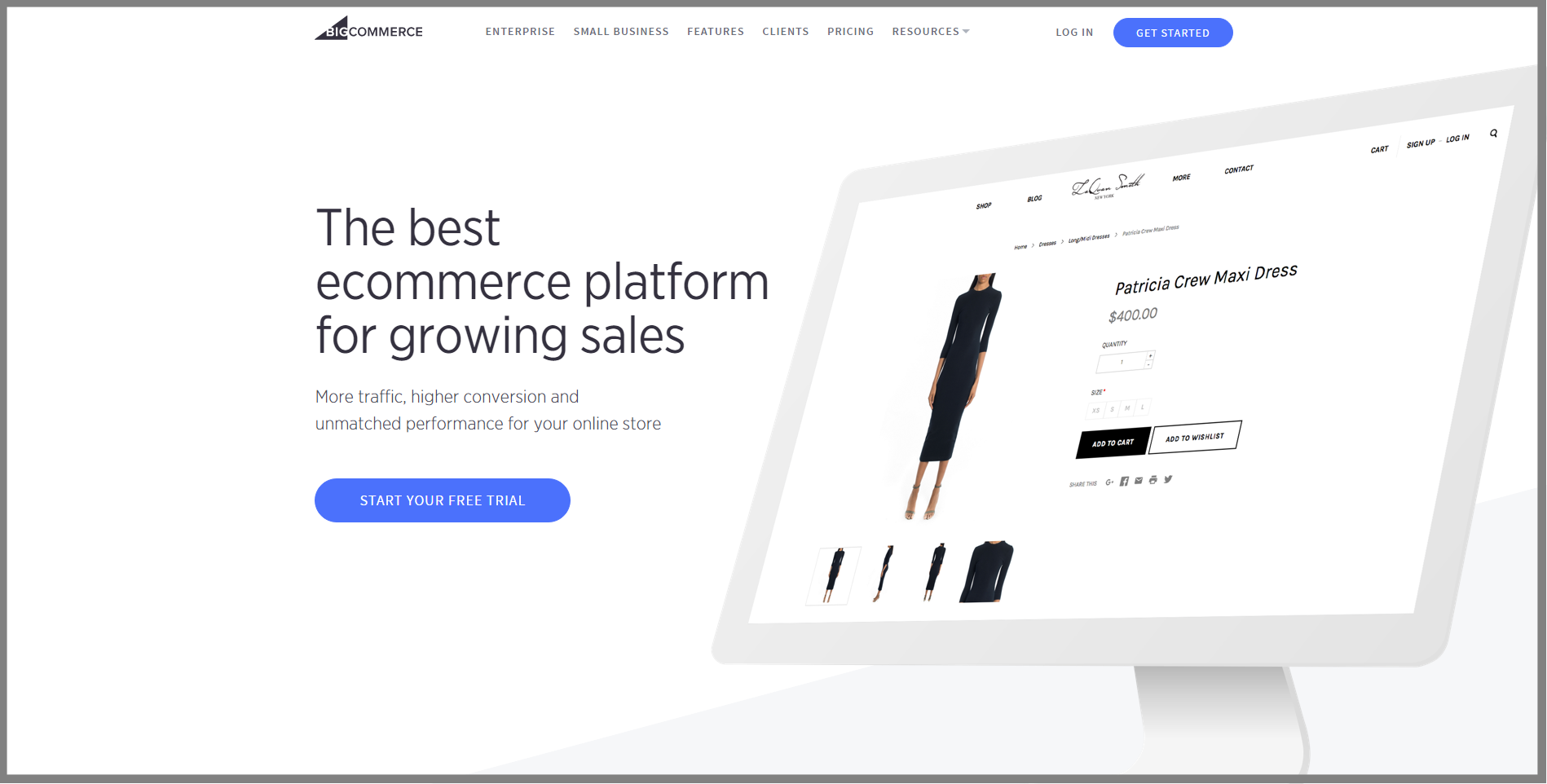 Pros:
Integrated Knowledge – BigCommerce provides you tons of learning materials (In-depth videos, how to – guides, automatic email series, setup wizard,) that helps you to learn and implement.
Good Speed & Security – BigCommerce allows you to divest the technical issues (without spending $ on developers) and easy POS gives your customers a hassle-free shopping experience.
Distinctive Built-in Features – BigCommerce is integrated with Alibaba, the world's largest marketplace for wholesalers, which is the intuitive feature of BigCommerce. Apart from that, it has a transparent technical insight, which is a plus for any business.
In-built Marketing Feature – It is integrated with Google Shopping, eBay Store, SEO set up and AdWords ad generator.
Cooperative Customer Service – BigCommerce has support via Facebook, active forums, learning modules and much more that helps you understand the platform.
Cons:
Pricing – For new and Emerging businesses, it costs around $29.95/mo. (Standard) and $79.95/mo. (plus). For fast growing and established brands, it's around $199.95/mo. (Pro) & for                         Enterprise, Charges are higher for customization packages.
Lock-in – If you are switching hosting platforms, then chances are high to lose all your content while shifting due to Lock-in feature of it or you would be facing pretty high switching charges.
List Management – List is accessible throughout the screen instead of having it's a dedicated area.
Functional Customization – It is not an open source platform. So, if you want to do few tweaks to your functionality, it'd be difficult for you.
NOTE: WooCommerce is not actually a platform, it is a Plugin for WordPress, which is again an open source Content Management System. It is free of cost.
You might not have heard about Magento or Shopify, but you have surely come across WooCommerce. It is one of the leading e-commerce platforms worldwide. WooCommerce Plugin turns your website into a robust Online Store in a matter of minutes.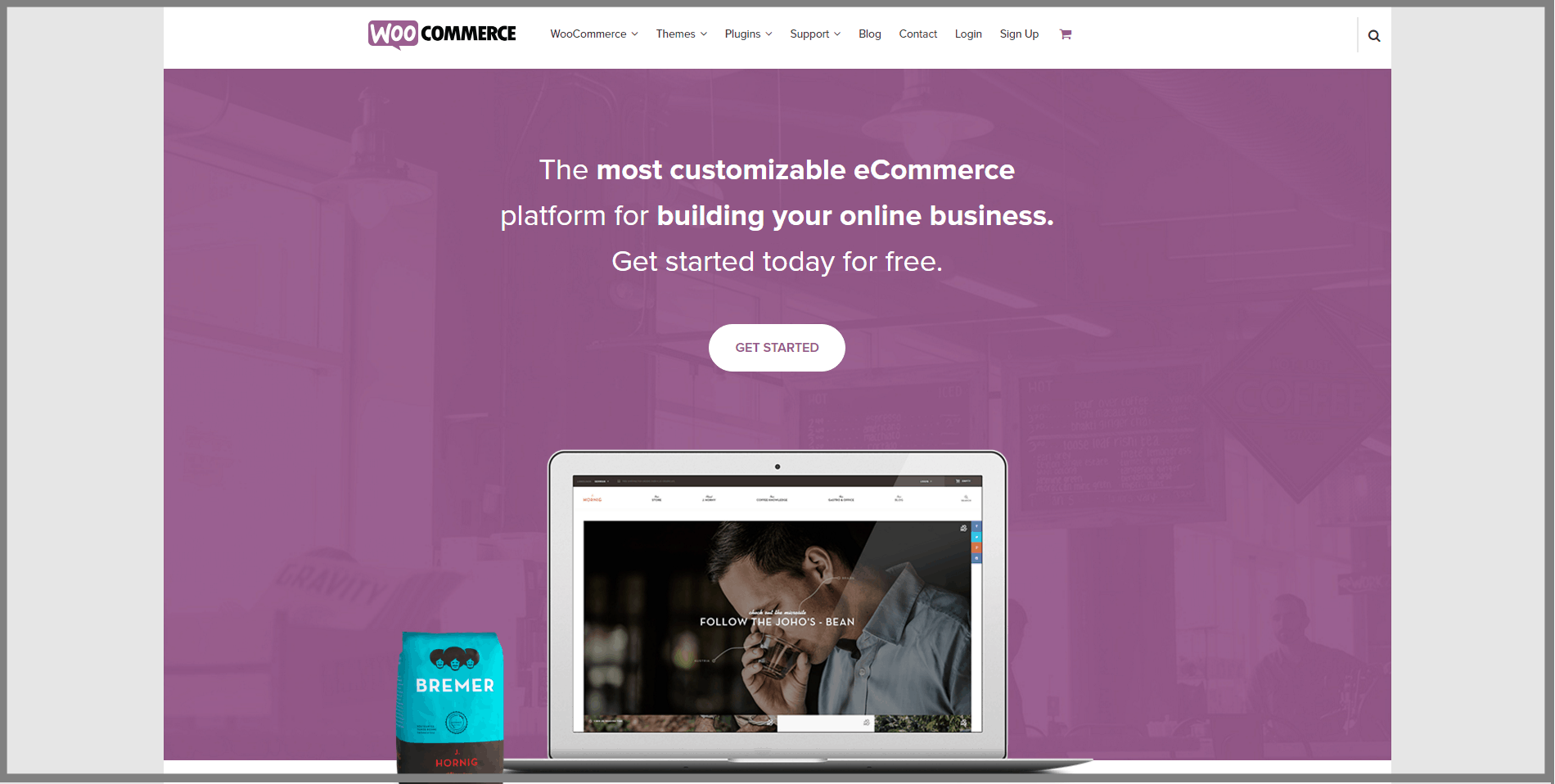 Pros:
Pricing – It's free! This is one of the biggest advantages of WooCommerce. All you have to do is to download the plugin in WordPress and build an online store with this toolkit without spending a single penny.
Familiarity – WooCommerce is familiar to those who have been working on WordPress or have a website on the platform as it is just a plugin to be installed to get started.
Customizable Toolkit – WooCommerce provides you various customizable standard templates for free.
Security – WooCommerce is a very secured platform with its updated POS.
Cons:
Frequent Updates – WordPress keeps updating its software frequently to avoid bugs, but the plugins aren't too quick to adapt to changes. So, the plugins won't be compatible with the changes and might leave you slow and frustrated User Experience.
Expensive Customizable theme – WooCommerce is an open-source platform that lets the developers play with the themes, and as each theme is programmed differently, it might cost you a lot to hire a developer to get done what you want.
OsCommerce is a popular eCommerce platform having thousands of community members including developers and support forums. It has an open source technology and is free of cost.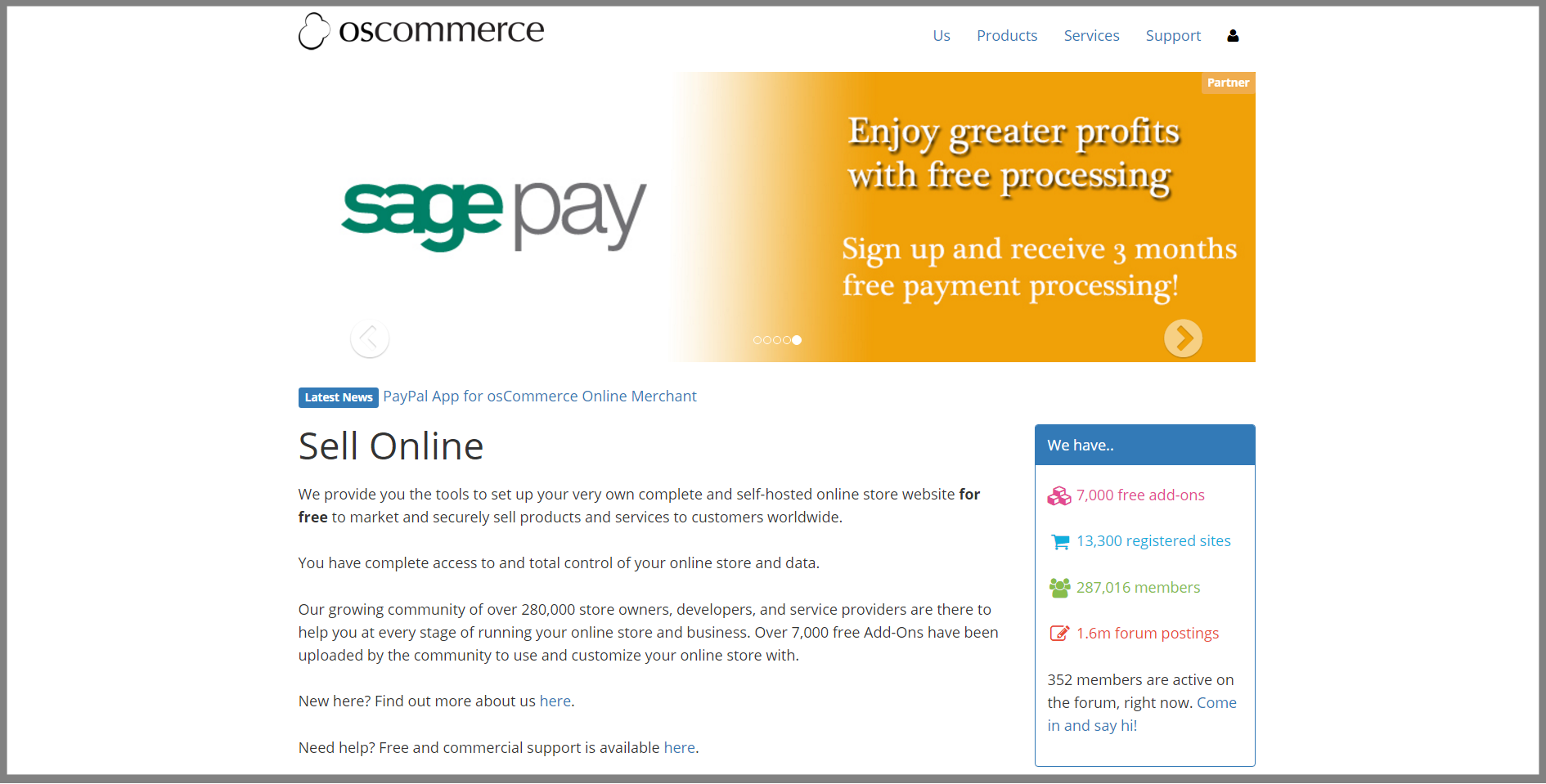 Pros:
Large community – The osCommerce community has over 1.5 million individual posts with hundreds of thousands of members. So, if you stuck at anything, you can always find a way out with the help of this forum.
Easy Modification – osCommerce comes with an easy modification panel even if you are doing it by yourself without any knowledge of codes.
Plugins & Add-ons – osCommerce provides a wide range of plugins and add-ons to enhance the features of your site.
Cons:
Error Prone – osCommerce can be prone to malware and bugs as most of the times, website breakdown while checking out.
Manual Involvement – Instead of having built-in features, it requires manual interference to manage the site. This makes osCommerce more time consuming than other platforms.
Not so scalable – This platform is only good for small to mid-size businesses. Not a great option for Enterprise Businesses.
Squarespace is a drag and drop web development site that delivers riche-imagery and a great user experience to users. All in all, if you want your website to look visually engaging, professional, and classy at the same time, Squarespace is surely a platform to consider. It is not free.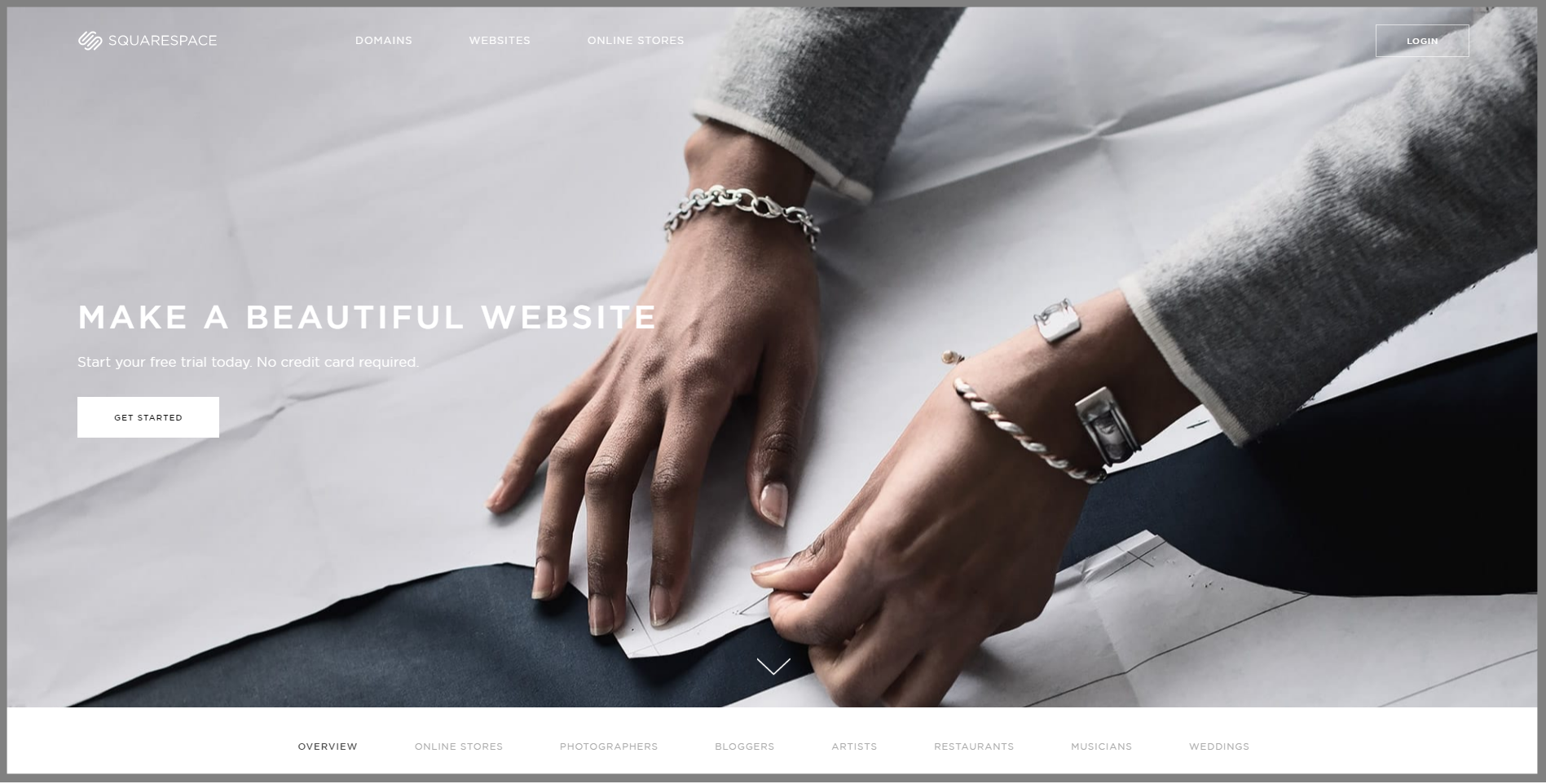 Pros:
Mobile Responsive – All Squarespace templates are mobile responsive across all the devices, which is a huge advantage as mobile usability has increased a lot today.
Professional Templates – Squarespace provides you with clean, elegant, and rich template designs with a sophisticated feel to make your website stand out.
Customizable Features – It provides you extensive styling options to choose from. You can easily do tweaks to your site without even knowledge of heavy coding.
Cons:
Different Design on Mobile – Although Squarespace templates are mobile responsive When you hit the publish button, the design differentiates from the website.
Wide-ranging styling options – Due to the extensive styling tools, provided by Squarespace, choosing a fixed design can be a tough task if you don't have the creative eye. Basically, you have to go for trial and error method to find out suitable design for you.
Single Integration – Squarespace's eCommerce platform only integrates with one payment processor (Stripe). Even though stripe is a secure platform, but we would love to see more Payment gateway integrations in the platform in the future.
Volusion is also a popular name in the Ecommerce Software arsenal. When you use Volusion, it is more like leasing an online store. As a business owner, you can take care of all the merchandising, marketing, sales and growth, and leave all the dirty work like security, updates, and maintenance to the owner.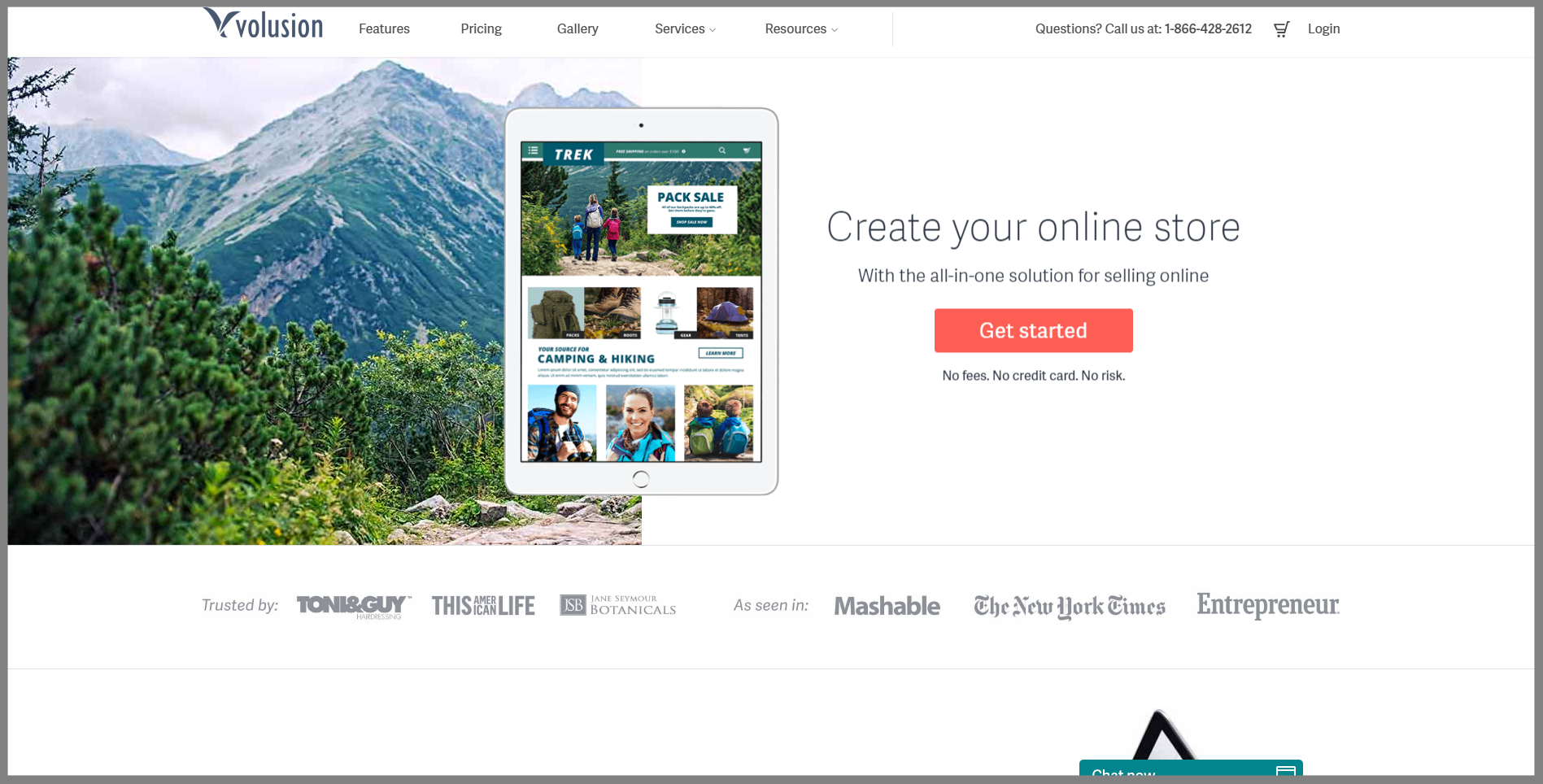 Pros:
Built in On-boarding Materials and Training – Paying a little extra for the Volusion Platform totally justifies the cost because not only do they have a library of troubleshooting guides, but every store comes with a Volusion Account Specialist, who will take special interest into setting up the store exactly the way you want.
Speed and Security – When you are hosting your own Ecommerce Website with WordPress and WooCommerce for example, two of the most common challenges you will face is optimizing the Speed and Security. With Volusion, that will never be a problem because their trained staffs will take care of all those factors.
Search Engine Optimization – Through Volusion does have some SEO hurdles to avoid like duplicate pages and wrong HTTPS redirects, other than that it does have a robust array of SEO functionalities inbuilt into the platform.
Cons:
The Pricing Is Ultra Complex – The pricing of Volusion is a pain to figure out as they have multiple point of charges. First, there is the recurring monthly fee that you have to pay for the Selected Package, then there are the platform transaction fees, credit card transaction fees, and your add-ons and extra features fees.
Separate Mobile Site Setup – Volusion Stores mobile version is not the responsive version of your website. Customers are redirected to the m.yoursite.com version of your store, which will not be able to offer the exact same or even close experience as your web store.
Not Many Add-ons Available – Unlike BigCommerce, Shopify and WordPress, Volusion fails to impress in the functionality end. Most eCommerce store owners would prefer to have modern features in their website, but Volusion does not have a massive list of add-ons, unlike its other competitors.
Prestashop surely makes it to our Top 10 List of Ecommerce Software in 2016. We believe that this platform has great potential. With its roots in France, Prestashop is considered the European answer to "Magento." The platform is open-source, and it also gives businesses the resilience and ease to build an inexpensive but modern and updated eCommerce Store.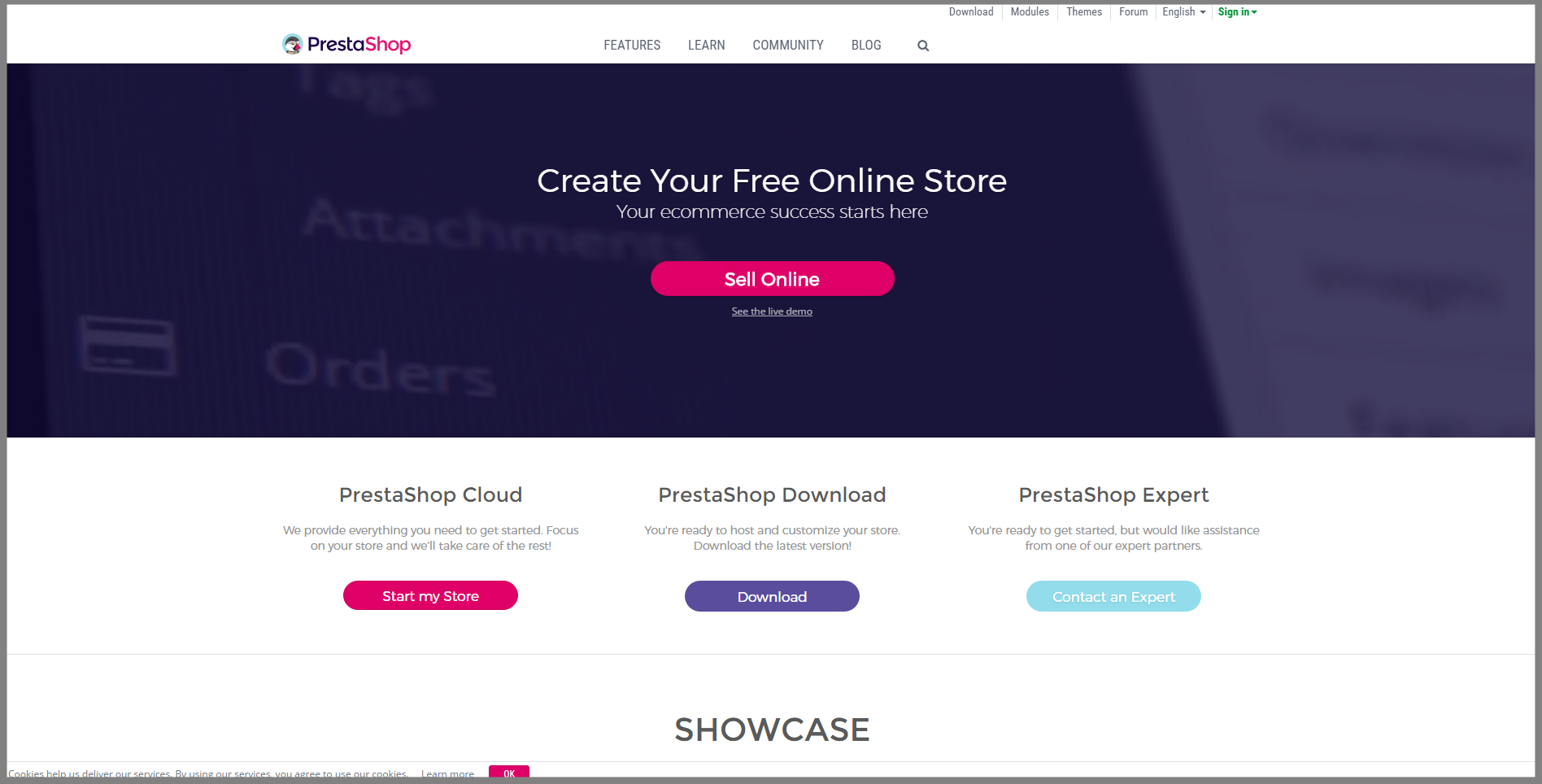 Pros:
Official Market Place – Prestashop has an official marketplace with over 3500 themes and customizations to choose from.
Intuitive and User-friendly Interface – Not only does this platform pack a punch of innovation, but it gives users the ability to customize each and every nut and gear on the platform.
Free of Cost – Being an open source platform means it is free of cost, which provides a low entry barrier for online merchants who want to get the feel of starting an Ecommerce Website.
Multiple Currencies and Languages – It supports multiple currencies and over 41 Languages and counting.
Cons:
Expensive Add-ons and Modules –  Though the platform is itself open source, you need to pay a hefty sum for getting additional modules and plugins from the marketplace.
Not Scalable – The platform is suitable for Small to Mid-sized businesses as it doesn't have a multi-store feature, which is the biggest requirement of large projects.
No Options for Cross-selling – There is no option to up-sell or cross-sell, which is a common feature in most other Ecommerce Platforms.
Open Cart is an online software dedicated to eCommerce businesses to make life easier for wholesalers and buyers by providing them open source environment. Its user interface is intuitive and the experience of working in Open Cart is great.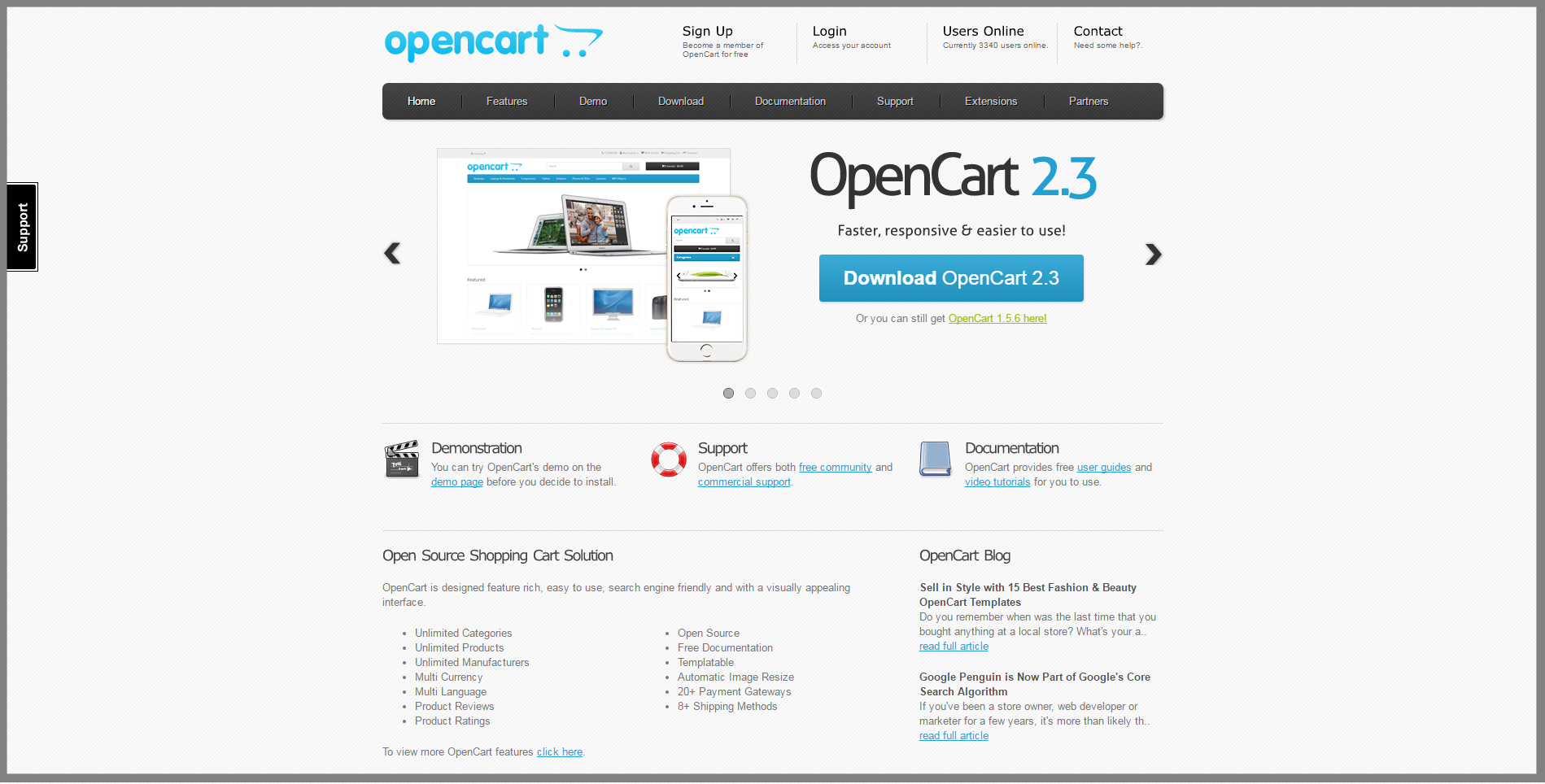 Pros:
Advanced Features – Open Cart offers a good set of features, including organized manner for order processing and robust catalog functionality.
Pricing – It is free to use unless you want to download and install multiple paid extensions, which is easily manageable by small to mid-size businesses.
Documentation – Open Cart comes with its own documentation modules with 'How to' guides and step by step tutorials including videos and screenshots.
User-Friendly Interface – Open cart's interface makes it more user-friendly even for beginners with its easy and simple dashboard.
Cons:
Not Proving Cache – Open cart doesn't provide you Cache, and in order to improve your website performance, you will need to install extensions.
Complex Customization – Store customization is a complex process in the Open Cart, which might be a big constraint for some businesses.
Zen Cart is an online eCommerce platform designed solely for online merchants. It is based on PHP, MySQL and is an open source technology built by developers, designers, and shop holders for creating a simple solution for eCommerce businesses.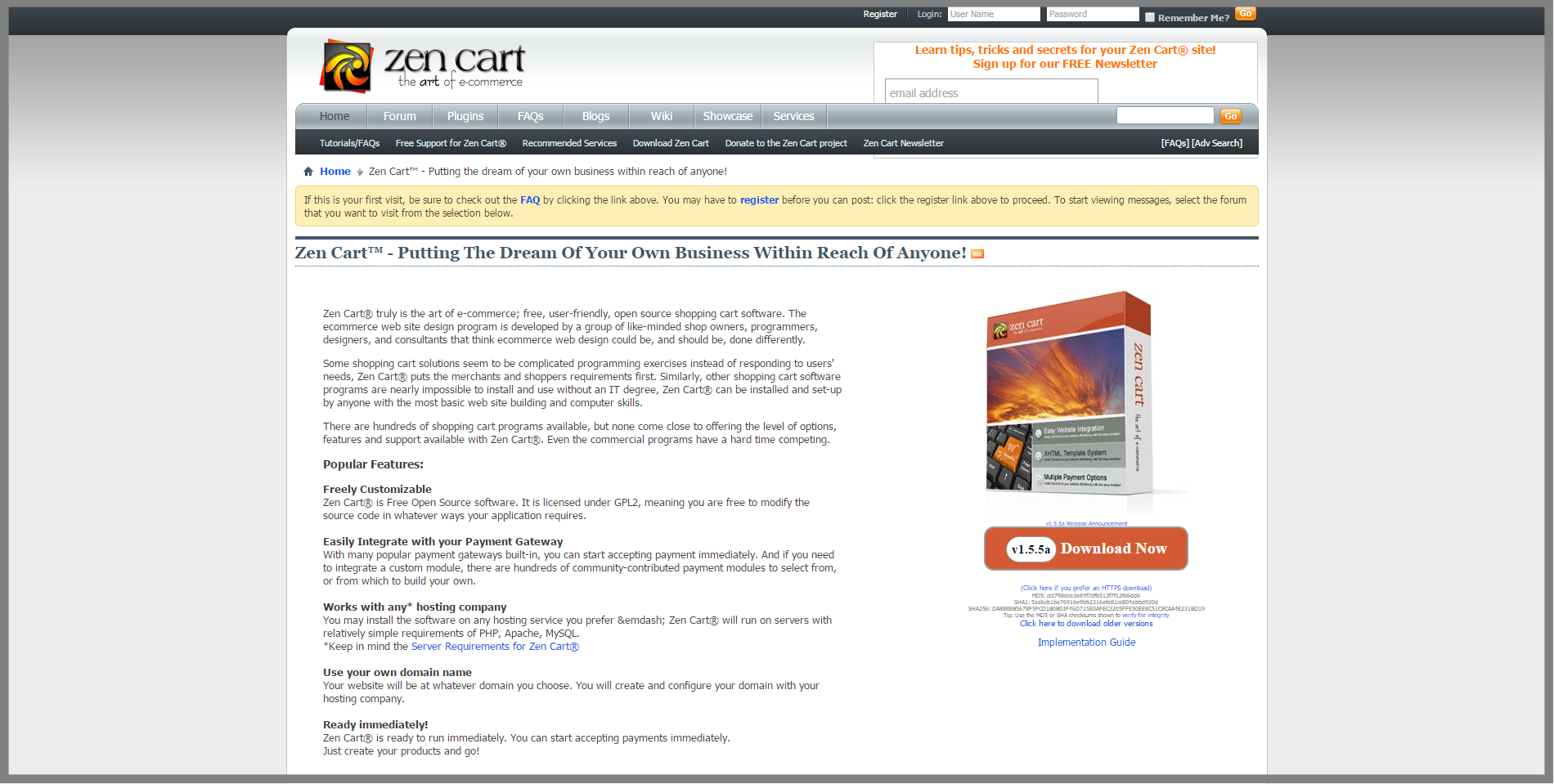 Pros:
Multiple Add-ons & languages – Zen Cart comes with multiple additional features, which are downloadable from the website itself. The Add-ons range from adding various languages to adding extra administrative tools.
Secure Platform – Zen Cart has a great product management system, and its automated features lessen the manual struggle. And, when it comes to security, the Zen cart won't let you down.
Scalable Software – Zen Cart offers a wide range of professional templates that allow you to customize your website to make it stand out for your customers.
Community support – Zen Cart has a robust forum and community, which supports you in real time with quick response and step by step tutorials.
Cons:
Average Templates – You must be thinking after bragging about its free and paid templates, why am I listing down this as a con. Well, the reason is their templates are not so appealing and do not stand in a competition where Magento and Shopify provide a classy look to your website.
Complex Upgradation – Once you settle down with your website modification you can forget about getting any upgrades shortly. In case you want to do so, you have to start from scratch, thanks to the complex Add-on Integration of Zen cart.
No Formal Support – There is no formal support for Zencart. But users in the forum are pretty active and they will help you out in most cases. Even their newsletter and autoresponders are unreliable.
Basic Reporting – The reporting of Zen cart is pretty basic, which means that apart from the number of products purchased, you won't have much statistics at the end of the month.
Concluding Remarks
If you are choosing an eCommerce platform for your online business, then you should always tread carefully. While you might think that going with a top class solution like Magento or Prestashop might do the trick, but it might not be a feasible option for your business scalability in the long run.
Take, for example, if you make a hurried decision today and select a platform that is not able to convince and convert your visitors, just because of the limited functionality on the platform, you will be at a point of no return.
WooCommerce is my most favorite Ecommerce Platform because of a variety of factors. It is open-source, most plugins are really cheap, and themes too. So all in all this is the best bet for anyone looking to host a self-hosted store online.
If you need any help with Setting up your Ecommerce Store, you can always get in touch with me through the comment section of this blog, or you can also put up a request on our Official Facebook Page.