Veracity AI was looking for an Enterprise SEO Agency in the hopes that SEO could help them expand the company's growth in the online marketplace, therefore, they brought on Prime One Global as their digital marketing partner to support their online growth.
We created this case study to share the strategy we implemented to help Veracity AI to increase their search visibility, capture quality web traffic, and convert site visitors into customers. Let's have a look at the preliminary results we've achieved for Veracity AI through our advanced enterprise SEO campaign.
As one of the region's fastest-growing Machine Learning Software Companies, Veracity AI is an organization dedicated to the commercial application of Data Science and AI product development. Veracity provides professional AI product development strategies and the best prototyping software in the areas of Data Science, Machine Learning and AI. Now Veracity AI has grown into one of the best data science services companies.
Veracity AI primary challenges included a lack of online brand visibility and poor organic search traffic which were directly impacting their business.
We worked together with the Veracity team to resolve the technical issues that prevented their business website from getting the search visibility and organic traffic they wanted. We found the following optimization strategy that could help Veracity AI resolves their challenges and reach their primary objectives.
Find the organic competitors of Veracity through advanced competitor research.
Conduct comprehensive keyword research for Veracity to find the most relevant, high-intent keywords.
Explore new link-building opportunities to increase the backlink profile of Veracity.
Re-engineered Veracity AI Website Robots.txt file and Sitemap to fix the website crawling issues.
Improve website performance through a complete technical SEO audit.
Here is an inclusive summary of what we did during each step of our enterprise SEO campaign. Take a brief look into each campaign process.
1. Define Online Competitors
We helped Veracity AI to better understand who their actual online competitors are with our advanced competitor research and analysis process. We used online competitor analytics tools and organic SERP results to identify top competitors who were in the same industry and ranked for similar keywords. Competitor research also helped Veracity realize that their most significant online competitors were different from their local, offline competitors.
2. Advanced Keyword Research Veracity AI
We focused on advanced keyword research to help Veracity AI attract the right visitors to their website. In collaboration with Veracity, we developed a finalized list of the most relevant, high-intent keywords. This list of keywords was then used in the link building process, website content as well as in Meta titles and Meta descriptions.
3. Find New Link-Building Opportunities to Upgrade Backlink Profile
After identifying the keywords and pages that helped competitor sites to generate the most traffic and how backlinks contributed to driving that traffic. We aimed to help Veracity build a strong backlink profile by getting more links to their website pages from other domains; also helped them increase their domain authority (DA) score and rank higher in the search results. Our link building strategy was to assess the Veracity backlink profile and find new backlinking opportunities.
Before Status of Veracity Backlink Profile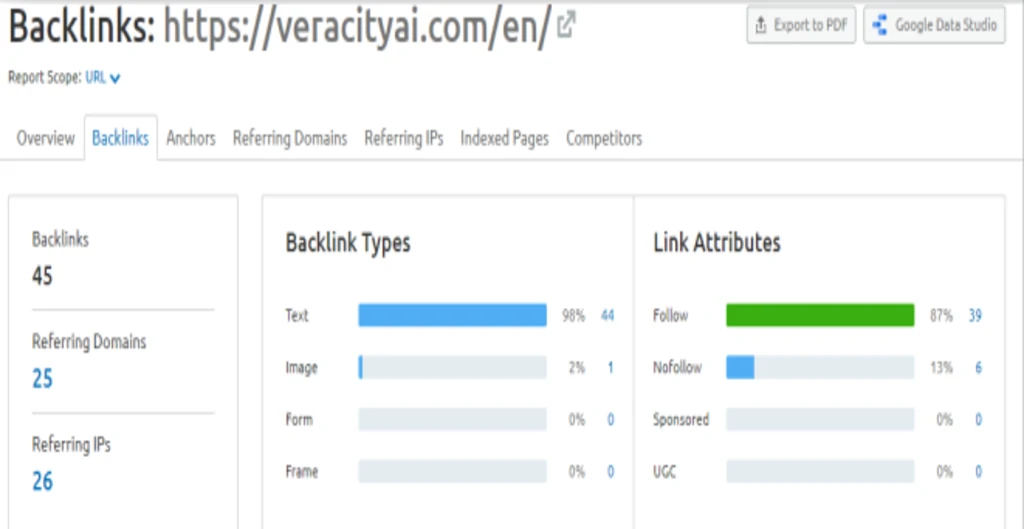 After Status of Veracity Backlink Profile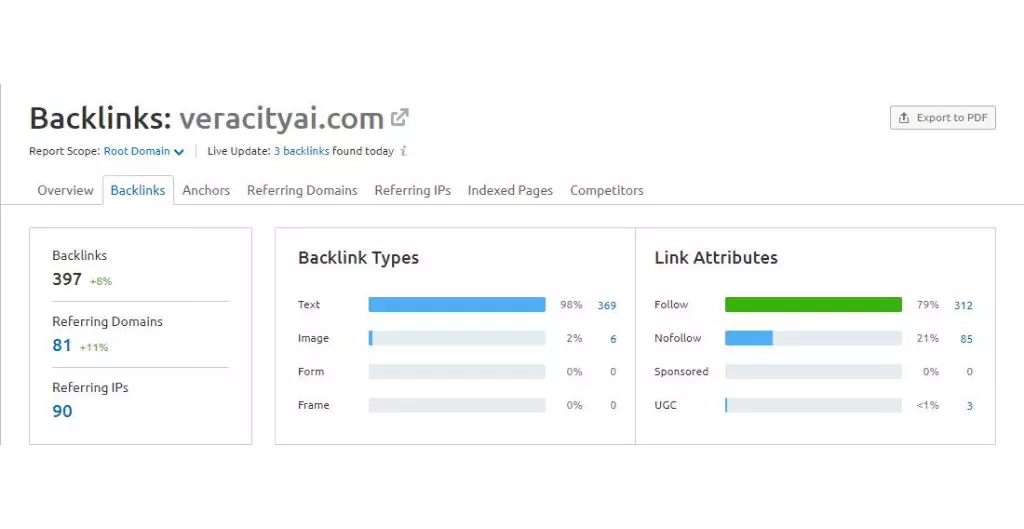 4. Re-Engineered The Robots.txt File and Sitemap of The Website
Crawl errors obstruct search engine bots from reading your website content and indexing your web pages. When a search engine is crawling your website and encounters an error, it will turn back to find another website. You can then end up with web pages that aren't getting crawled. Robots.txt failure and wrong pages on the sitemap are the two significant reasons for crawl errors. And, Veracity AI also had these two issues. However, with our thoroughly researched data, we were able to update and optimize the Veracity AI website Robots.txt file and Sitemap which helped us to improve the website crawlability.
Before  Status of Veracity Robots.txt File

After Status of Veracity Robots.txt File

5. Conduct A Complete Technical SEO Audit
To ensure that Veracity AI was not missing out on any potential opportunities to improve its SEO ranking, we conducted a complete technical SEO audit by analysing the technical state of the Veracity website, we gained better insight into where Veracity website was struggling, and then we compiled a list of issues for our technical team to address.
GTmetrix Performance Score Before Status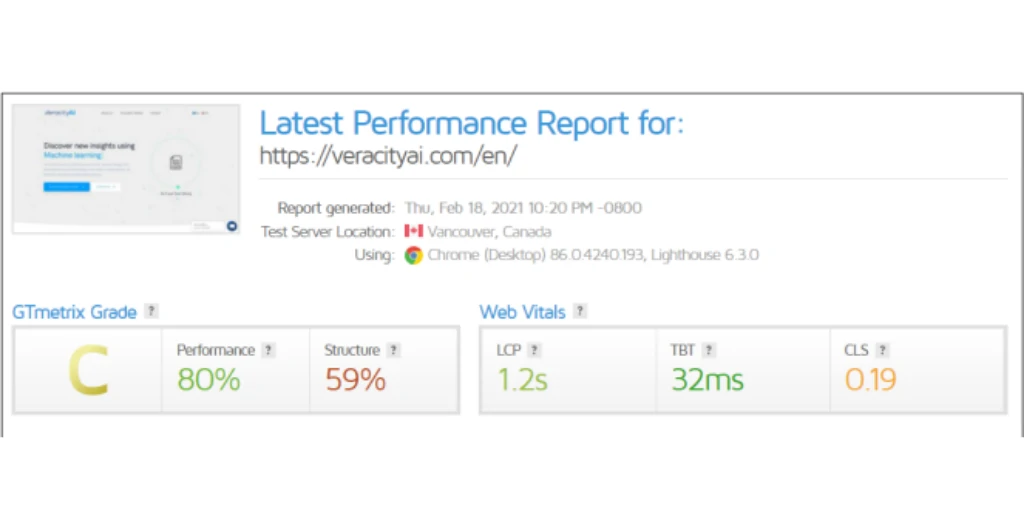 GTmetrix Performance Score After Status
6. Rise in Domain Authority Score & The Website Organic Traffic
After our On page/Off page SEO optimization process we noticed some significant improvement in the Veracity AI Domain Authority score and the website organic traffic.
Before Status of Domain Authority Score
After Status of Domain Authority Score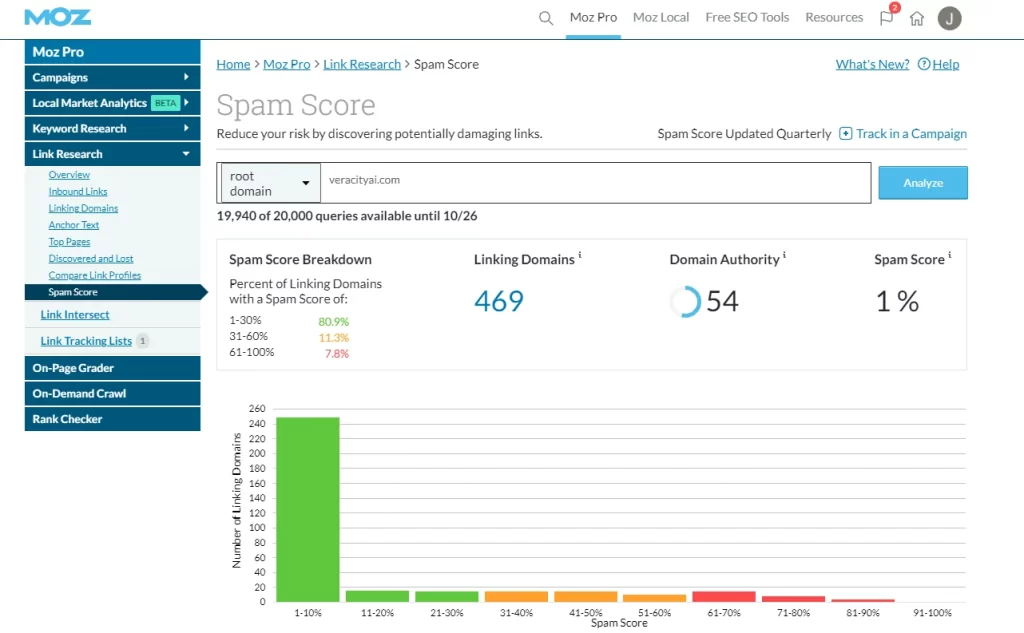 Before Status of Website Organic Traffic

After Status of Website Organic Traffic

By designing, deploying, and scaling Enterprise SEO campaign for Veracity AI, Prime One Global was able to increase the quality and quantity of backlinks for Veracity AI. As an ultimate result of our work, Veracity website performance, crawlability, organic traffic, and brand visibility also improved. And, we helped Veracity to increase their organic conversion rate by 16% within three months.