Over the past years, LinkedIn has turned into a crucial personal branding tool. This virtual professional network has transformed from an online resume to a professional networking platform for complete personal branding.
 Get to know about

LinkedIn
If you are a university student or a working professional, you must know about LinkedIn. But what is LinkedIn is exactly about that everybody is crazed over? LinkedIn is "the world's biggest professional networking platform with millions of users and its growing wild." The individuals at the LinkedIn platform have made it their mission to "join the world's professionals together to transform them more productive and successful." Lots of users on the internet have one or other types of social media accounts. LinkedIn also works in the same way as other social media platforms works, but instead of connecting you with your friends and relatives, it connects you with the professional people who work in your field or related to your profession. LinkedIn also lets users search for job opportunities and connect with their potential employers.
Video Source: YouTube/LinkedIn India
Why should you have a LinkedIn profile?
Many individuals in the corporate world have their own LinkedIn profile because they know why LinkedIn is important. You automatically make yourself searchable when you are online. Numerous recruiters search for their prospective employees online, often watching to fill particular job positions via professional networking sites like LinkedIn before they posting the job details on a job database. When this way is used, your LinkedIn profile will act as your resume. LinkedIn is also an influential networking tool. Your LinkedIn profile could be the first and foremost professional impression your potential employer has of you. If you have this question "Why use LinkedIn?" Then Continue your reading to get to know the importance of LinkedIn.
1) It is popular & has millions of users
LinkedIn has more than 500 million users; LinkedIn is the world's biggest professional networking platform. There is a saying that popularity is not ever a good enough cause to get into something, but in this situation – it actually is. Not having a LinkedIn profile is considered a foible, with how widespread LinkedIn has become. Actually, recruiters every so often assumes candidates without LinkedIn profiles are basically not in the loop of how things are happening in the world. For the worse, they might totally disregard your application because they don't consider you as a serious career-minded executive.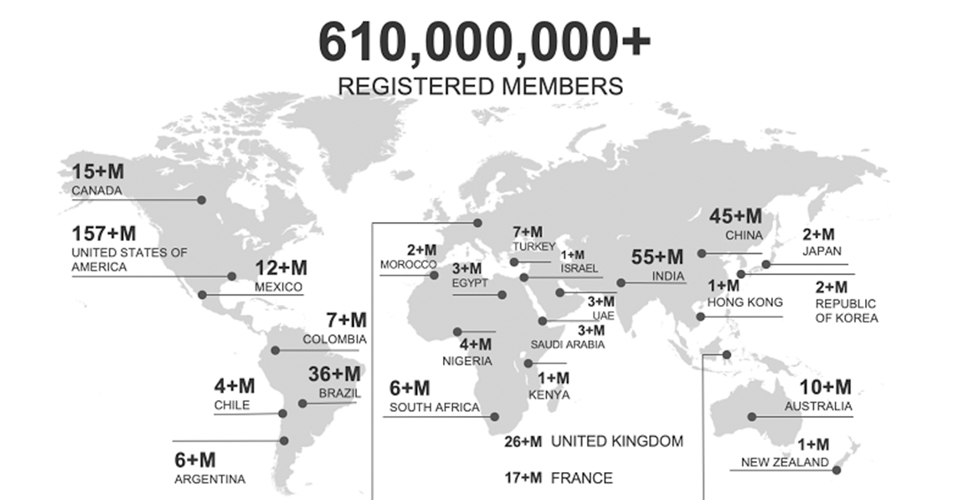 Information From – Social Media Today
2) Topmost position at Google searches
When somebody searches your name on Google, your LinkedIn profile will probably display in the first or second position – that's really powerful, isn't it? This is based on the Gravitate Online research of nearly 8 million clicks, in which more than 94% of users were clicked on the first page SERP results while lesser than 6% were clicked to the second page SERP results and 50% of all clicks got the first and second positions.
3) People are researching you online.
People use all kinds of methods to get to know about you and LinkedIn gives you a chance to regulate what they learn about you, for example, you can let them know about your strengths and about your company or brand. Now you have this question, who are these people? They can be the people who you know, the people who really want to know about you or the People who really matter to you, like your prospects, manager, employees, customers or competitors. All of these people use your LinkedIn profile to learn about you. People often search for you before they actually meeting you for the first time or after reading an article where you were featured in, or when they decide whether to reply to your email or not.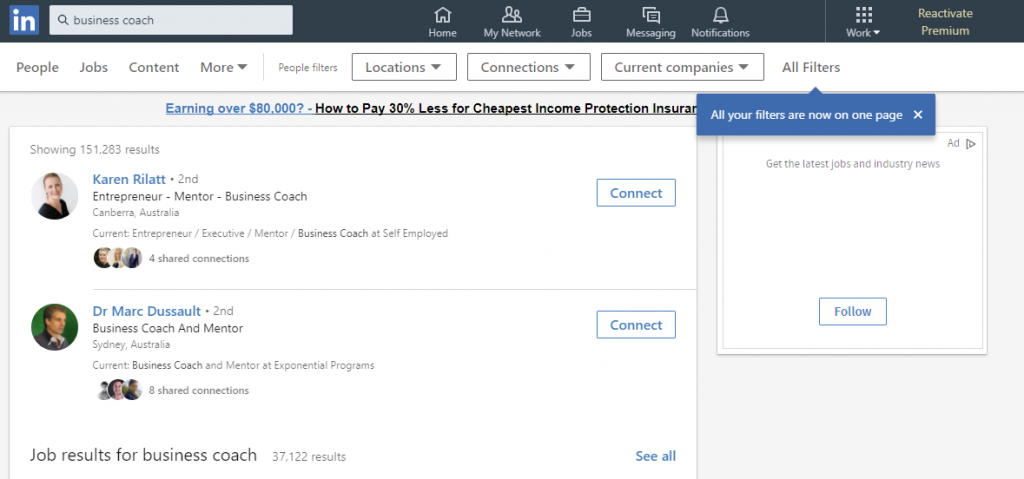 4) LinkedIn has invaluable resources.
LinkedIn supports you to grow your accomplishments by providing you key knowledge and connections. Do you need to source your workers? Want to resolve problems that can't be solved by the workers in your corporation? Need to connect with your customers? Need a service provider referral for your business? Want to research your competitor? Need to know who's in a potential customers' network? Then this professional networking site is the best choice for you as LinkedIn places all of these properties at your fingertips.
 5) You don't have any idea what you're missing out on.  
When you are reading this post, somebody is searching for you and your services on LinkedIn. You should make sure that you are highly noticeable to that person.  This means having a complete LinkedIn profile that's contained with the right information which is related to your thoughts, services and leadership so that opportunities can effortlessly reach to you. There will not be any job entries in the near future. Rather employing managers will use their social networks like LinkedIn to find their ultimate candidate.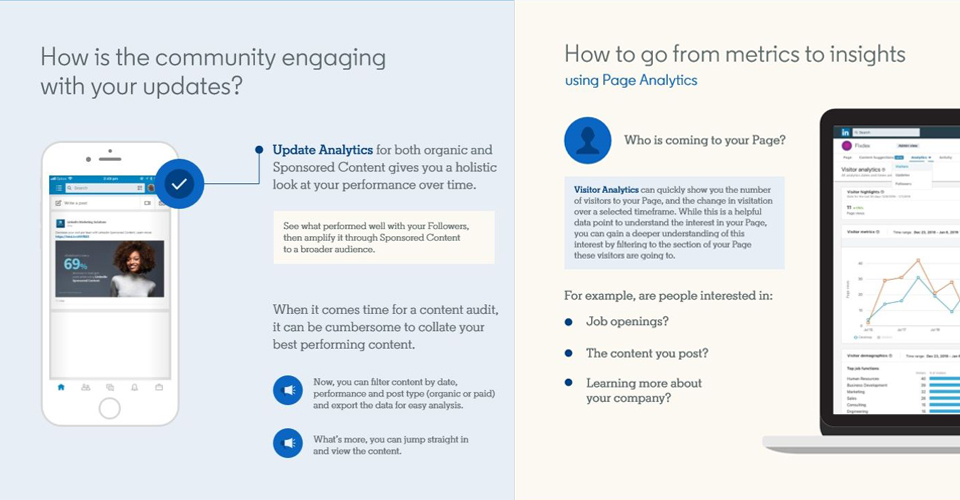 6) You will stay connected to the current trend.
Following other well-established companies and thought-leaders help you to get regular update about what's going around in your industry. You can easily get firsthand information that is not filtered by the media. Moreover, via brand connotation, you can make a clear statement about yourself every time you follow a leader or company because those names undeniably going to influence the individuals who are seeing your LinkedIn profile.
7) You will automatically get connected with people.
In a corporate world where we all are overwhelmed with more tasks than time, it's become a big challenge to staying connected on the ever-growing crowd of contacts. On the other hand, LinkedIn lets you to regularly update your status and instantly letting everybody in your connection know what are the new things happening in your world and where can they find you. You can grow these connections simply by joining other groups, which give you additional opportunities.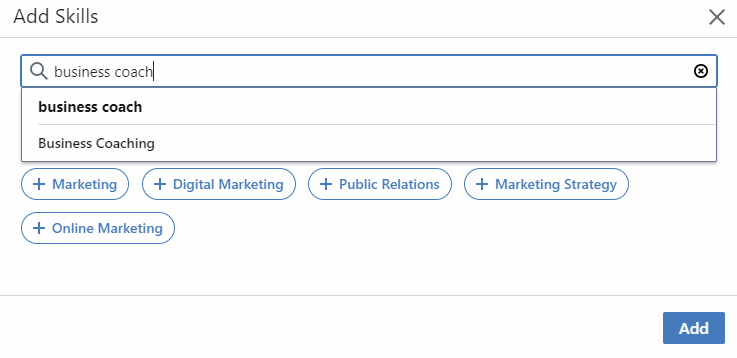 8) It's the most effective method to maintain your network.
By using tags you can organize your LinkedIn contacts into groups that make more sense to you. LinkedIn develops as your permanent contacts database whereas letting you share your information with numerous subgroups of your contacts. By using the "find alumni" feature you can easily add contacts from your schools, colleges and former employers. LinkedIn becomes your own CRM system for handling and interacting with your contacts. Now you no need to use your email as your contacts manager, therefore, you can use your LinkedIn profile to maintain your connection with people.
9) Best personal branding podium.
LinkedIn offers you lots of best opportunities to upsurge your credibility and visibility with the allies of your brand community. It allows you to be associated with huge networks of contacts. Now LinkedIn also allows you to add images and videos in your summary and experience fields, therefore you can develop a 3D view of your brand by using all the features of LinkedIn. It will help you to paint a convincing portrait of your real self.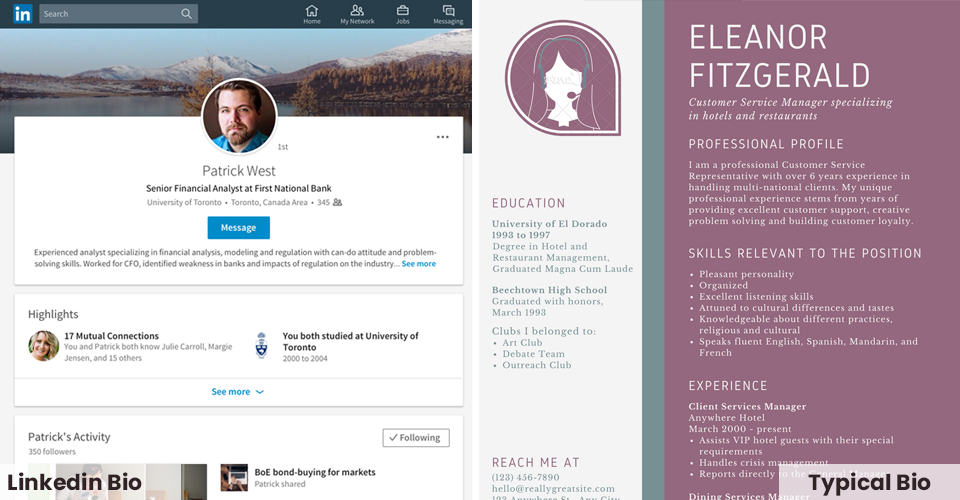 LinkedIn Free and Premium Account Subscriptions
Are you still unsure which LinkedIn membership is right for you? You are probably trying to figure out whether you can get going with a free LinkedIn membership or if there are any benefits to upgrading your profile to Premium. To help you out I have put the information about the different features and tools contained within the free and premium LinkedIn membership and how they can benefit you.
1) Free LinkedIn Account Membership
Let's begin with the free LinkedIn account, with the elimination of numerous features that were once existing in LinkedIn's free account, many people are left questioning if LinkedIn is still beneficial with a free account or if they need to shift to a premium account to remain valuable to the time and resources they have spent in. LinkedIn is still the best place for most professionals, salespeople and B2B businesses to discover and connect with their ideal customers.
You can still find and connect with people with your regular posts and status updates, also engage in many ways with your connections. These are the benefits you can get from LinkedIn as a free member:
You can create your professional identity online.
You can easily build and maintain a huge professional network for yourself.
Find and reconnect with your schoolmates and colleagues.
You can request and offer references.
You can search and view profiles of other LinkedIn users.
You can receive limitless In Mail messages.
You can save up to three search results and get weekly alerts of those searches.
LinkedIn is an active professional networking site for professionals with more than a half-billion memberships. The influence of the LinkedIn platform is that you can rapidly and simply discover and connect with professionals and industry people from all over the global.
2) Premium LinkedIn Account Membership
LinkedIn provides numerous varieties of premium memberships; below are the present premium options that are available on a monthly paid plan in USD. This professional networking site offers paid account choices for job hunters, sales and talent experts, as well as for the common professional people who wish to get more out of their LinkedIn profile. If you have a LinkedIn free account and wish to upgrade it to a premium account, you can compare and find out which account type is more suitable for you:
Premium Career Account –You wish to get hired then go ahead with a Premium Career option.
Premium Business – You want to get detailed business insights and expand your business then go ahead with the Premium Business option.
Sales Navigator Professional – You want to generate leads and build your clientele then go ahead with the Sales Navigator option.
Recruiter Lite – You want to find and hire talents then go ahead with the Recruiter Lite option.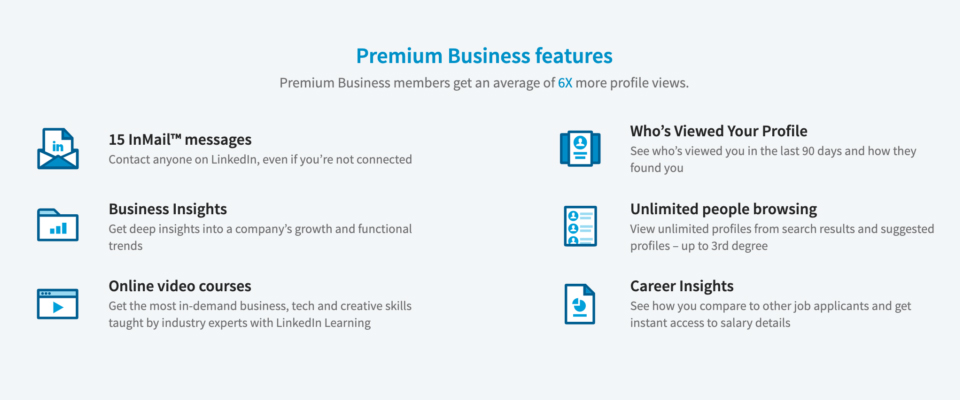 LinkedIn API Version 2.0 – 2019
LinkedIn API version 2.0 has the latest advanced technology associated with APIs and for authentication, they introduced OAuth, 2.0. From 1st March 2019, Developers who have been using LinkedIn APIs are requested to shift to LinkedIn API Version 2.0. This newest update will enhance numerous options through the developer's program. LinkedIn Developers program will allow apps and website owners to let their users have a personalized experience on their site and also allow them to use their professional identities for third-party services and share outside content from other apps and websites.
By Signing In with LinkedIn account users can also log in to other apps using their LinkedIn profiles data. API only acknowledged the "Lite Profile" data with limited profile arenas. LinkedIn users will be able to share links of other sites through their LinkedIn network. However, this API has been already available in Version 1.
For handling company pages, APIs version 1 was used. But version 2.0 will be combined with LinkedIn marketing developer Program which means only the developers who will take part in the marketing developer program will get permission to access API version 2.0.
LinkedIn is now disapproving of many other old features that are not popular among its users. Let's have a look at them.
1) Verification:  OAuth 1.0 will no longer be available and developers will have to use OAuth 2.0. This version meets all the business standards and by now used by numerous developers.
2) Software Development Tools: JavaScript and Mobile SDKs were removed from March 1. Now developers required to move to OAuth 2.0 from apps directly
3) Plugins: LinkedIn is disparaging the Member Profile, Company Profile, Company Insider and Alumni Tool plugins, or any other plugin used to enrich the functionality of the website by producing drop-in code.
After these changes have been implemented in the front-end design, there are expectations that the developers portal will also be reshaped, which will allow managers to access apps so that they can easily discover product information and read documents.
Conclusion
I think this post has stressed enough just how huge a role LinkedIn profile play in your professional life. Having it on the top of your resume can be the variance between having your job application avoided and obtaining an interview. Through the LinkedIn profile, you can build a virtual professional relationship with people in your field, get mutual connections and even connect with your ultimate role models. Don't forget that your LinkedIn profile should continuously be a work in progress. Update your LinkedIn profile regularly.
I hope that you have found this blog post to be beneficial in helping you to understand and build a LinkedIn profile that will work best for you.
Have any more questions about LinkedIn Profile? Let me know them in the comments.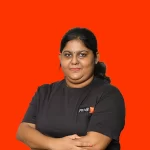 About

Abirika Soolabanee

Abirika Soolabanee is a certified content marketer with four years of experience as a Content Manager. Bringing expertise in content marketing, inbound marketing, blogging, copywriting, SEO, keyword research, and research & analytics. She is passionate about Blogging and Inbound Marketing. She writes in-depth articles and guides about digital marketing trends, technologies, and other lifestyle topics since 2018. Through her writings, she loves to help people in all aspects of their life.